HR
If you don't have any experience then finding the right job can be a little challenging. If you are looking for an HR job then it is certainly not easy to find HR jobs without experience as there are many HR graduates in the market that are going to give you a tough competition. But you can find a suitable job if you know the right way to go about it. In fact, you can get into Human Resources without an HR degree if you know the right way.
In this post, we have come up with the steps that can help you get into the human resource without HR experience.
How to Get into Human Resources without an HR Experience
Here are some guidelines to follow if you wish to get into the HR field:
Learn About PT, Minimum Wages etc.
It is extremely important o be aware of the labor laws and stay updated with the amendments. Make sure that you know about the minimum state wages, ESIC rates, PF, LWF, PT etc. You must also have knowledge of bonus, gratuity payments, performance appraisal etc.
Learn to Prepare Salary Statement
Making a salary statement is one of the most important roles of HR professionals and therefore, you must know how to go about it. This also includes knowing different components associated with salary that include DA, HRA, earnings, gross salary, net salary etc.
Learn About Pay Slips
If you wish to get a job as an HR then you must also know about the pay slips and for that you must start observing the pay slips of people around you. Notice what all components are included in it and what all deductions are made.
Follow HR Related Blogs
Widen your horizon by reading blogs related with HR field as they form an important and useful source of information about the various HR roles, functions and working.
Work on Your Communication Skills
You must improve your oral as well as written communication skills as they are extremely important for an HR personnel as you will be required to draft all kind of emails and communicate with all the employees of different levels.
Join Online Webinars
You can also participate in different online webinars and classes that are helpful in learning HR related skills for better understanding of the field.
Work on Computer Know How
MS Office is one of the most important computer skill that you must know which must include MS Excel and MS Word in order to manage the day to day working as an HR. It is important to know the different formula and shortcuts to make the job easier.
Other Related Post to Letter Formats
How to Write Mail to HR for PF Withdrawal
How to Ask for Offer Letter After Verbal Job Offer
Cover Letter for HR Coordinator Job
Job Experience Certificate Format
Job Offer Letter With Probationary Period
Email to HR Asking for Joining Date
Cover Letter for Teaching Position with Experience
Work Experience Letter for Green Card
Rescind Job Offer Letter Due to Background Check
How to Request for Change in Job Offer Letter
You should always send a request to the concerned authorities in your organization if you are going to come late to the office. This is not only a polite gesture, but also a necessary one so that they are informed about your whereabouts during the office hours. All you need to do is send a simple email format for coming late to office stating that I will be coming late to Office Due to Personal Reasons, Health Problems, Rain, Traffic, etc.
A simple Request Email format for Late Coming in office helps your reputation with your seniors and also reduces the stress on them when they don't know whether you will be coming to the office or not.
A list of samples for Coming Late to Office Email Formats have been given below:
Coming late due to Personal Reason
Subject: Coming Late to Office Today. Dear Sir/ Ma'am,
I will be coming in late to the office due to some personal reason. Please excuse me for the inconvenience caused. I will be able to come by_______ a.m./p.m.
Kindly approve my request. Thank you.
Sincerely,
__________________( Your name)
Coming late due to Rain
Subject: Coming Late to the Office due to rain. Dear Sir/ Ma'am,
I would like to bring to your kind notice that it has been heavily raining in my locality, due to which some roads have been blocked. Hence, I will be a little late to the office today. But, I will try to come as soon as possible.
Please consider my request. Thank you.
Regards,
__________________( Your name)
Coming late due to Health Issues
Subject: Coming Late to the Office due to fever. Dear Sir/ Ma'am,
I have been suffering from a fever since last night so I am going to visit the doctor before coming to the office. Hence, I am going to be late to the office today. I will come to work by_______ a.m./p.m.
Kindly consider my delay. Thank you.
Sincerely,
__________________( Your name)
Coming Late to Office Tomorrow Email Format
Subject: Coming Late to the Office Tomorrow. Dear Sir/Ma'am,
I have some important work at home that needs my attention tomorrow. It might take a few hours to complete the work. So I will be coming late to the office tomorrow. I will come in by_______a.m./p.m.
Please approve my request. Thank you.
Regards,
__________________( Your name)
Other Related Formats
Employee Late coming report format
Excuse Letter for Being Late at Work due to Traffic
Letter Offering Circular to Maintain Timings for Late Coming Employees
Sample of a Late Coming Warning Letter
Office Timings Email to Employees
Circular About Office Timing
Excuse Letter of Absence for Covid-19 Vaccine
There are many instances wherein candidates have submitted fake experience certificates for job. This has certainly given the HR personnel a tough time to find out whether it is a real or fake experience certificate. But no matter how difficult or easy it is, it is one of the most important things to find out whether it is a genuine or fake experience certificate a candidate is submitting as you cannot afford to hire someone fake in your company, someone who doesn't deserve to get selected.
In this post, we have made an attempt to find if is it a fake experience certificate. You can use these simple guidelines to find if it is fake experience certificate online or not.
Get more details during the interview
It is always a good idea to try and seek some more details about the company in which the candidate is working or has worked in the past. Ask questions in relation with the name of the supervisor, the size of the team, the role in the team etc. as this will bring more clarity about the kind of work the candidate has done along with some extra information about the working.
Do the background check
This is the first and the foremost thing an HR personnel must do while checking for the fake experience certificate company. You can always call at the concerned company or drop an email to them asking about the candidate you wish to enquire about to get a clear picture.
Ask for a blank email from company's email id
The simple and quick way to know whether a candidate is genuinely employed with the company or not is to simply ask him to send a blank email from his company's email id and this would certainly clear a lot of air.
Find out the reason for job change
You can always ask that why the candidate is looking for a job change. This answer can again reveal a lot of details as to why the candidate is here for the interview and what makes him unhappy at his present job.
Contact the references
Most of the companies ask for references which can be also be checked to know what kind of an employee the candidate has been and how experienced has he been at the job he has been doing.
You can follow all of these points to know how authentic or fake the experience certificate is. This will surely help you take a better decision in relation with his or her recruitment.
It is very important to follow the right people to have the right direction in your career. Though there are many HR leaders on LinkedIn but which one to follow is an important thing to consider.
In this post, we bring to you the top HR professionals to follow on LinkedIn. There HR (Human Resources) thought leaders make a great inspiration and the best ones to follow to have a bright and inspiring career. Have a look at these top HR LinkedIn profiles that can certainly help you rise above in your career and create your mark in the professional world out there.
Here is the complete List of top HR Leaders/ Professionals to follow on LinkedIn
1. Denise Moulton
LinkedIn Profile: https://www.linkedin.com/in/denisem1/
A well known HR and also a talent research leader at Bersin, she has been in the business of talent acquisition for over two decades and possesses rich experience in HR administration.
2. David Kuhl
LinkedIn Profile: https://www.linkedin.com/in/davidkuhl/
He is associated with Goldman Sachs and has worked in four different divisions in the florida with the organization that include team and organizational performance in complex, global organizations.
3. Jacqueline Welch
LinkedIn Profile: https://www.linkedin.com/in/jmmwelch/
She is the CHRO, SVP and chief diversity officer with Freddie Mac. Her expertise lies in human capital management and she has the talent of uniting leaders with employees for bigger good.
4. Ellyn Shook
LinkedIn Profile: https://www.linkedin.com/in/ellyn-shook-1b51127/
Heading a global HR team at Accenture, she is a renowned Human Resource office who has played in important role in the lives of many people for having a bright and shiny career.
5. Jan Becker
LinkedIn Profile: https://www.linkedin.com/in/jan-becker-a59a833/
She has worked at the position of Autodesk CHRO for almost 15 years where she was responsible for running globe CRE and HR functions along with safety, security and travel.
6. Mandy Sebel
LinkedIn Profile: https://www.linkedin.com/in/mandy-sebel/
She is based in New York and is the SVP of people with UiPath which has been awarded to be the best workplace in 2019 for the employee engagement, benefits and culture.
7. Leena Nair
LinkedIn Profile: https://www.linkedin.com/in/nairleena/
She is the first woman at Unilever to hold the position of CHRO. Based in London, she is responsible for leading over 160,000 employees across 100 countries.
8. Marcia Morales-Jaffe
LinkedIn Profile: https://www.linkedin.com/in/marcia-morales-jaffe-2a230174/
Having an impressive background, she has managed different fronts like people and culture, business strategy and technology and has built scalable enterprises with her hard work.
9. Margaret- Ann Cole
LinkedIn Profile: https://www.linkedin.com/in/margaretanncole/
She is a well known global talent leader and executive vice president at Porter Novelli. She has been responsible for change management, organizational development, developing talent and employee experience.
10. Marcus Buckingham
LinkedIn Profile: https://www.linkedin.com/in/marcus-buckingham-86516414/
She is the head of the research, people and performance at ADP Research Institute who focuses on managing the people to bring out their best performance and productivity.
11. Josh Bersin
LinkedIn Profile: https://www.linkedin.com/in/bersin/
He is the principal and founder of Bersin by Deloitte. He is also known for his research work that is considered to be of gold standards around the world.
12. Laszlo Bock
LinkedIn Profile: https://www.linkedin.com/in/laszlobock/
He worked hard to become the top executive and Google and has been awarded numerous times for his good work. He is one of the most dynamic and creative HR thought leaders to follow.
13. Meghan Biro
LinkedIn Profile: https://www.linkedin.com/in/meghanmbiro/
She has worked with various global brands but she is popular as the founder and CEO of TalentCulture. She is also a known speaker and writer who features in many radio shows and online formus as guest.
14. Kris Dunn
LinkedIn Profile: https://www.linkedin.com/in/krisdunn/
He is the CHRO at Kinetix and also a blogger behind Fistful of Talen and HR Capitalist. He strongly believes that the key to a successful business is to get the best people working for it.
15. Steve Boese
LinkedIn Profile: https://www.linkedin.com/in/steveboese/
He is an award-winning speaker, author, HR blogger, master moderator and also a co-host of the famous weekly HR Happy Hour podcast who is followed by HR leaders around the globe.
It is very important to understand a profile before applying for it. If you are planning to apply for the post of Human Resource Assistant job in India then you must know the HR assistant job duties and responsibilities. HR assistant is a professional who manages the everyday Human Resources duties and responsibilities and is the nexus between the company, its employees and vendors.
In this post we have included all the roles and responsibilities included in HR administrative assistance job description. Find out not only all the duties and responsibilities of HR assistant in India but also the qualifications and skills one must possess.
What does a HR Assistant do?
In simple words, if you wish to understand that what does an HR assistant do then they offer an extensive range of supportive management in HR department and are involved in various day-to-day activities, some of which are listed below:
They are the connection between the Human Resources and the employees of the company.
They ensure smooth and clean communication between employees and HR.
They coordinate meetings and take follow-ups.
They are involved in creation of policies.
They manage employee database.
Human Resources Assistant Duties and Responsibilities
As mentioned above, there are lots of activities included in Human Resources assistant job description resume. We have complied some of these important HR duties and responsibilities in India:
Keep the employee database up to date.
Regularly update and process reports in relation with different personnel activities.
Manage and fulfil requests of the employees in relation with HR issues or regulations.
Plan, coordinate and manage the HR projects and prepare reports on the same.
Manage and address grievances properly.
Work out the company's employee needs and manage recruitment and selection process.
Organize orientation for new employees
Assist in process of payroll preparation of employees.
Ensure effective communication between employer and employee.
Manage, plan and organize day to day working of the HR Department.
How Can One Become an HR Assistant
If you wish to become an HR Assistant in India, there here are the points to be kept in mind:
Must have a degree in Management course.
Possessing good theoretical knowledge on human resource is a big advantage.
Regular learning and updating about HR processes and developments like changes in labour laws etc.
HR Assistant Skills
We have shared some of the must have skills for Human Resources assistants to be successful in their field:
Effective skills to communicate across different levels in the organization.
They have to be a people person which requires inter-personal skills.
Skills to train the new employees of the company.
Skills to understand and recruit right talent for the employer.
Technical skills are also very important to deal with changing technologies at work.
Skills to plan, manage and organize.
Human Resources (HR) Assistant Qualifications
If you want to be come an HR assistant then you must also know the required qualification for HR assistant:
Degree in Human Resource Management is a must.
BBM or MBA are essential for HR Assistant profile.
For higher position in HR Department, PGDM or MBA in HR play significant role.
Salary for HR Assistant in India
The basic start salary for the profile of HR Assistants in India starts from 10,000 to 12,000 and goes up to 25,000 for a month. The bigger the company, the higher will be the salary. What is important is to start a job to have more experience and then you can comfortably rise to higher profiles in HR Department or otherwise.
You May Also Like
Role & Responsibilities HR Executive in a Company
Important Duties of a Project Manager
Role & Responsibility of Welfare Officer under Factory Act Rules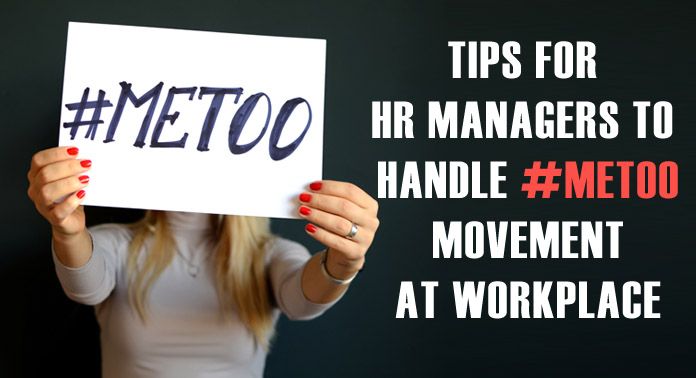 Last year some big names were revealed on the allegations of sexual misconduct and then they had to resigned or were fired from their prestigious positions. #MeToo movement in India and abroad has completely chanced the society and also the workplace. Since #MeToo movement has appeared in the headlines, the way sexual misconduct is handled has completely changed. #MeToo has opened a completely ignored issue which is now being discussed openly.
The wave of me too in the workplace is having a ripple effect across all the countries and therefor, hiring managers need to do some serious thinking. Me too movement business response has become significantly important.
Tips for HR Managers for Dealing with #MeToo Movement in India
Here are some important tips that are extremely helpful for HR managers to follow to their workplace a healthy and positive one:
1. Always Be Open to Listen
HR managers must always be open to listen carefully what accusers have to say. Ignoring them or not taking them seriously can be a big mistake. Therefore, HR managers must understand that all everyone should be given a fair chance to keep things sorted and right.
2. Greater Exposure
Since the times social media platforms have become an easy and popular place to express, taking sexual misconduct easy is making a big mistake. If there are cases of sexual harassment at your workplace and you have failed to address them then they can definitely surface as #MeToo movement damaging the reputation of the organization. Therefore, giving more time into hiring employees that are good in conduct is the need of the hour.
3. Reasons Causing Sexual Harassment
An effective solution of a problem is possible if you understand the reasons behind it. HR managers must find out the reasons which cause sexual harassment or have led to me too in the workplace. This would require to know what a male and a female employee undergoes. This is an extremely sensitive subject and requires managers to constantly keep understanding and evolving with times to know the behaviours and have policies to correct them.
4. Create a Complete Policy Sexual Harassment
HR Managers must work out to create a wholesome sexual harassment policy which is very clear and complete. This policy has to be fair and applicable to all the employees. This policy must contain the steps to be followed in case of sexual harassment at work. Not only that, the policy should also highlight the consequences an employee will face if charges of sexual harassment are proved.
5. Track Record of Employees
It is very important to keep the track record of employees. Recording smallest of the behavior that is not correct can be very beneficial in controlling problems like sexual harassment. It simply shows how vigilant is a company about anything wrong that happens.
6. Taking Right Actions
It is not enough to have sexual harassment policy because organizations have to take strong actions against those who are found guilty of it. If the organization takes strict actions against the culprits then they not only show their support to the ones who have undergone the torture but also put an end to many such episodes which could have otherwise happened. One right act sets many things correct for the future.
7. Conducting Training of Employees on Sexual Harassment
It is very important for employees to know what actions are considered sexual harassment and for that many organizations have started to conduct me too movement training. If employees are aware of the right and wrong conduct and they know whom to report then they will be able to report such incidents better and there will be a strong check on those who are involved in this kind of misconduct. By training employees on sexual harassment, they can be better clarity on what actions they can take.
By following these tips, you can save me too in the workplace by proactively solving the issues of sexual harassment.
Every organization has new employees joining the company and few leaving the company. The attrition retention report is designed with a purpose to look into the number of people who have left the company and the reasons behind leaving the company so that right strategy can be worked out in order to reduce the attrition rate based on the yearly reports. This report falls under the responsibility of the HR department and is very important as human resources are the strongest assets of any company.
If the HR manager of your company has been promoted to higher levels then this good news should be communicated to him with the help of a formal promotional letter. If you don't know how to frame such a letter then use the sample format for promotion letter for HR manager to create your personalized letter with all the details. Such letters have to be short and specific.
Sample Promotion Letter for HR Manager
Jacob Brown
Managing Director
ABC Corporation Pvt. Ltd.
52 Richmond Street
New York
Date: 3rd February, 2016
To,
Adam Smith
22, Richmond Street,
New York 1234
Dear Mr. Smith,
It gives me immense pleasure to inform you that the management has decided to promote you to the position of Senior Human Resource Manager from the position of Human Resource Manager with effect from February 1st, 2016.
Your performance has been minutely monitored and analyzed for the last two years as Human Resource Manager. With this analysis, it was concluded that you have been a wonderful performer. Your consistent efforts and dedication are worth the appreciation. It was a unified consensus of the management to promote to a higher position as now you are ready to shoulder more responsibilities and deliver effective results.
The Company expects high performance and great motivation from your side. We are hopeful that with your performance, you will be able to set high benchmarks for other employees of the organization. We wish you good luck and heartiest congratulations on this promotion. Keep up the great work.
Regards,
Jacob Brown
Managing Director
ABC Corporation Pvt. Ltd.
Other Related Promotion Letter Format
Promotion Letter from Employer to Employee
Professional Employee Promotion Letter with Salary Increase
Writing a Letter of Interest for a Promotion with Sample
Job Promotion Cover Letter for a Retail Job
Promotion Letter & Increment Letter Format
How to Write a Thank You Letter to a Boss for a Promotion
Useful Tips and Advice on Getting a Promotion
Search Sample Formats:
HR Manager is an important profile in every organization. This is the person who is responsible for managing the workforce details, their salary and everything else that is related with their working, promotion, transfers etc. HR Manager is needed in all kinds of industries and businesses and there are lots of variations in the salary depending upon the place where he is working. The present and future of this job are quite promising without any doubt. With time there will be an increase in the demand for more and more people for this profile. Hence, it is very important to know that how much salary is offered to HR Managers in different industries and various locations before sending an application for this job.
This article brings to you concise but complete information concerning remuneration paid to HR managers along with variations and fluctuations. This article also takes into account the future growth aspects of this profile to bring best clarity in terms of how beneficial it is for a person to apply for this position.
Average Salary
The average salary of HR managers across all kinds of industries was around $99,720 per year in the month of May 2012, as per the reports of Bureau of Labor Statistics. Here is a categorization which helped in reaching this average value.
The ones who worked for smaller companies and did not possess much of an experience formed the lower class which earned less than $59,020.
The ones who had a Master's Degree in Human Resource along with valuable experience in the same field formed the highest paid category of 10% employees which summed to an average value of $173,140 per year.
These salaries were made by the individuals who worked for full time during the regular business hours. It also included 30% of all those HR Managers who worked for more than 40 hours per week on a continuous basis.
Salary of HR Manager as per Industry
This is another very important categorization of salary. The amount of earnings by an HR Manager also depends upon the industry in which he or she is working. As per the reports of Bureau of Labor Statistics, the average salaries have been bifurcated as given below:
Those who were involved in management of companies along with general working earned an annual average salary of $112,550.
The professional HR Managers, technical and scientific service providers earned an amount of $112,210 every year.
Those in manufacturing industries earned $97,930 every year.
Those in government sector made an amount of $92,020 annually.
Those who are placed with healthcare industries earned $85,870 per year.
Salary as per Location
This is another factor which influences the salary of an HR manager. Having employed in some states helps you earn more money that the other. Here are some of the locations where individuals at this position earn far better than the ones who stay in other parts of the country.
New Jersey is the location with highest salaries. The annual salary in this area is approximately $137,850.
Delaware ranks the second highest paying state with $132,260 as the average remuneration.
Pennsylvania pays on an average $124,590 to individuals on this profile.
New York pays $124,280 annually for the similar position.
Future Aspects of Growth of HR Managers
This is one of the most important positions in an organization. It is expected that with time the demand for these professionals is going to increase. The expected increase by 2022 is around 13% which is an above average increase compared to other jobs. Hence, the success of those working on the post will depend totally on the growth of the company along with the importance and growth of HR department in the organization. You may have to face quite a lot of competition if you wish to apply for this job as more and more people are becoming interested in this amazing position. But to make a difference, you need to have wonderful understanding of employment laws along with a Master's degree and some experience which would add on to your resume. The job security is totally dependent upon your performance and your company's working.
So all these details bring to you complete information on the salaries and expected growth of this position in different industries. Hence, if you wish to apply for this profile, you can very smartly select the location and industry to make sure that you make the best earnings possible.