HR
It is very important to understand a profile before applying for it. If you are planning to apply for the post of Human Resource Assistant job in India then you must know the HR assistant job duties and responsibilities. HR assistant is a professional who manages the everyday Human Resources duties and responsibilities and is the nexus between the company, its employees and vendors.
In this post we have included all the roles and responsibilities included in HR administrative assistance job description. Find out not only all the duties and responsibilities of HR assistant in India but also the qualifications and skills one must possess.
What does a HR Assistant do?
In simple words, if you wish to understand that what does an HR assistant do then they offer an extensive range of supportive management in HR department and are involved in various day-to-day activities, some of which are listed below:
They are the connection between the Human Resources and the employees of the company.
They ensure smooth and clean communication between employees and HR.
They coordinate meetings and take follow-ups.
They are involved in creation of policies.
They manage employee database.
Human Resources Assistant Duties and Responsibilities
As mentioned above, there are lots of activities included in Human Resources assistant job description resume. We have complied some of these important HR duties and responsibilities in India:
Keep the employee database up to date.
Regularly update and process reports in relation with different personnel activities.
Manage and fulfil requests of the employees in relation with HR issues or regulations.
Plan, coordinate and manage the HR projects and prepare reports on the same.
Manage and address grievances properly.
Work out the company's employee needs and manage recruitment and selection process.
Organize orientation for new employees
Assist in process of payroll preparation of employees.
Ensure effective communication between employer and employee.
Manage, plan and organize day to day working of the HR Department.
How Can One Become an HR Assistant
If you wish to become an HR Assistant in India, there here are the points to be kept in mind:
Must have a degree in Management course.
Possessing good theoretical knowledge on human resource is a big advantage.
Regular learning and updating about HR processes and developments like changes in labour laws etc.
HR Assistant Skills
We have shared some of the must have skills for Human Resources assistants to be successful in their field:
Effective skills to communicate across different levels in the organization.
They have to be a people person which requires inter-personal skills.
Skills to train the new employees of the company.
Skills to understand and recruit right talent for the employer.
Technical skills are also very important to deal with changing technologies at work.
Skills to plan, manage and organize.
Human Resources (HR) Assistant Qualifications
If you want to be come an HR assistant then you must also know the required qualification for HR assistant:
Degree in Human Resource Management is a must.
BBM or MBA are essential for HR Assistant profile.
For higher position in HR Department, PGDM or MBA in HR play significant role.
Salary for HR Assistant in India
The basic start salary for the profile of HR Assistants in India starts from 10,000 to 12,000 and goes up to 25,000 for a month. The bigger the company, the higher will be the salary. What is important is to start a job to have more experience and then you can comfortably rise to higher profiles in HR Department or otherwise.
You May Also Like
Role & Responsibilities HR Executive in a Company
Important Duties of a Project Manager
Role & Responsibility of Welfare Officer under Factory Act Rules
Search Sample Formats: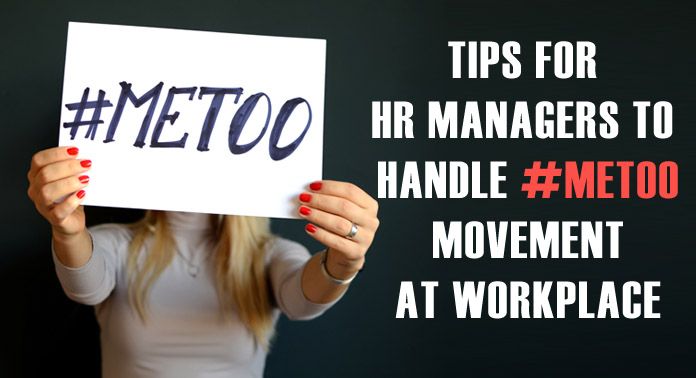 Last year some big names were revealed on the allegations of sexual misconduct and then they had to resigned or were fired from their prestigious positions. #MeToo movement in India and abroad has completely chanced the society and also the workplace. Since #MeToo movement has appeared in the headlines, the way sexual misconduct is handled has completely changed. #MeToo has opened a completely ignored issue which is now being discussed openly.
The wave of me too in the workplace is having a ripple effect across all the countries and therefor, hiring managers need to do some serious thinking. Me too movement business response has become significantly important.
Tips for HR Managers for Dealing with #MeToo Movement in India
Here are some important tips that are extremely helpful for HR managers to follow to their workplace a healthy and positive one:
1. Always Be Open to Listen
HR managers must always be open to listen carefully what accusers have to say. Ignoring them or not taking them seriously can be a big mistake. Therefore, HR managers must understand that all everyone should be given a fair chance to keep things sorted and right.
2. Greater Exposure
Since the times social media platforms have become an easy and popular place to express, taking sexual misconduct easy is making a big mistake. If there are cases of sexual harassment at your workplace and you have failed to address them then they can definitely surface as #MeToo movement damaging the reputation of the organization. Therefore, giving more time into hiring employees that are good in conduct is the need of the hour.
3. Reasons Causing Sexual Harassment
An effective solution of a problem is possible if you understand the reasons behind it. HR managers must find out the reasons which cause sexual harassment or have led to me too in the workplace. This would require to know what a male and a female employee undergoes. This is an extremely sensitive subject and requires managers to constantly keep understanding and evolving with times to know the behaviours and have policies to correct them.
4. Create a Complete Policy Sexual Harassment
HR Managers must work out to create a wholesome sexual harassment policy which is very clear and complete. This policy has to be fair and applicable to all the employees. This policy must contain the steps to be followed in case of sexual harassment at work. Not only that, the policy should also highlight the consequences an employee will face if charges of sexual harassment are proved.
5. Track Record of Employees
It is very important to keep the track record of employees. Recording smallest of the behavior that is not correct can be very beneficial in controlling problems like sexual harassment. It simply shows how vigilant is a company about anything wrong that happens.
6. Taking Right Actions
It is not enough to have sexual harassment policy because organizations have to take strong actions against those who are found guilty of it. If the organization takes strict actions against the culprits then they not only show their support to the ones who have undergone the torture but also put an end to many such episodes which could have otherwise happened. One right act sets many things correct for the future.
7. Conducting Training of Employees on Sexual Harassment
It is very important for employees to know what actions are considered sexual harassment and for that many organizations have started to conduct me too movement training. If employees are aware of the right and wrong conduct and they know whom to report then they will be able to report such incidents better and there will be a strong check on those who are involved in this kind of misconduct. By training employees on sexual harassment, they can be better clarity on what actions they can take.
By following these tips, you can save me too in the workplace by proactively solving the issues of sexual harassment.
Every organization has new employees joining the company and few leaving the company. The attrition retention report is designed with a purpose to look into the number of people who have left the company and the reasons behind leaving the company so that right strategy can be worked out in order to reduce the attrition rate based on the yearly reports. This report falls under the responsibility of the HR department and is very important as human resources are the strongest assets of any company.
If the HR manager of your company has been promoted to higher levels then this good news should be communicated to him with the help of a formal promotional letter. If you don't know how to frame such a letter then use the sample format for promotion letter for HR manager to create your personalized letter with all the details. Such letters have to be short and specific.
Sample Promotion Letter for HR Manager
Jacob Brown
Managing Director
ABC Corporation Pvt. Ltd.
52 Richmond Street
New York
Date: 3rd February, 2016
To,
Adam Smith
22, Richmond Street,
New York 1234
Dear Mr. Smith,
It gives me immense pleasure to inform you that the management has decided to promote you to the position of Senior Human Resource Manager from the position of Human Resource Manager with effect from February 1st, 2016.
Your performance has been minutely monitored and analyzed for the last two years as Human Resource Manager. With this analysis, it was concluded that you have been a wonderful performer. Your consistent efforts and dedication are worth the appreciation. It was a unified consensus of the management to promote to a higher position as now you are ready to shoulder more responsibilities and deliver effective results.
The Company expects high performance and great motivation from your side. We are hopeful that with your performance, you will be able to set high benchmarks for other employees of the organization. We wish you good luck and heartiest congratulations on this promotion. Keep up the great work.
Regards,
Jacob Brown
Managing Director
ABC Corporation Pvt. Ltd.
Other Related Promotion Letter Format
Promotion Letter from Employer to Employee
Professional Employee Promotion Letter with Salary Increase
Writing a Letter of Interest for a Promotion with Sample
Job Promotion Cover Letter for a Retail Job
Promotion Letter & Increment Letter Format
How to Write a Thank You Letter to a Boss for a Promotion
Useful Tips and Advice on Getting a Promotion
Search Sample Formats:
HR Manager is an important profile in every organization. This is the person who is responsible for managing the workforce details, their salary and everything else that is related with their working, promotion, transfers etc. HR Manager is needed in all kinds of industries and businesses and there are lots of variations in the salary depending upon the place where he is working. The present and future of this job are quite promising without any doubt. With time there will be an increase in the demand for more and more people for this profile. Hence, it is very important to know that how much salary is offered to HR Managers in different industries and various locations before sending an application for this job.
This article brings to you concise but complete information concerning remuneration paid to HR managers along with variations and fluctuations. This article also takes into account the future growth aspects of this profile to bring best clarity in terms of how beneficial it is for a person to apply for this position.
Average Salary
The average salary of HR managers across all kinds of industries was around $99,720 per year in the month of May 2012, as per the reports of Bureau of Labor Statistics. Here is a categorization which helped in reaching this average value.
The ones who worked for smaller companies and did not possess much of an experience formed the lower class which earned less than $59,020.
The ones who had a Master's Degree in Human Resource along with valuable experience in the same field formed the highest paid category of 10% employees which summed to an average value of $173,140 per year.
These salaries were made by the individuals who worked for full time during the regular business hours. It also included 30% of all those HR Managers who worked for more than 40 hours per week on a continuous basis.
Salary of HR Manager as per Industry
This is another very important categorization of salary. The amount of earnings by an HR Manager also depends upon the industry in which he or she is working. As per the reports of Bureau of Labor Statistics, the average salaries have been bifurcated as given below:
Those who were involved in management of companies along with general working earned an annual average salary of $112,550.
The professional HR Managers, technical and scientific service providers earned an amount of $112,210 every year.
Those in manufacturing industries earned $97,930 every year.
Those in government sector made an amount of $92,020 annually.
Those who are placed with healthcare industries earned $85,870 per year.
Salary as per Location
This is another factor which influences the salary of an HR manager. Having employed in some states helps you earn more money that the other. Here are some of the locations where individuals at this position earn far better than the ones who stay in other parts of the country.
New Jersey is the location with highest salaries. The annual salary in this area is approximately $137,850.
Delaware ranks the second highest paying state with $132,260 as the average remuneration.
Pennsylvania pays on an average $124,590 to individuals on this profile.
New York pays $124,280 annually for the similar position.
Future Aspects of Growth of HR Managers
This is one of the most important positions in an organization. It is expected that with time the demand for these professionals is going to increase. The expected increase by 2022 is around 13% which is an above average increase compared to other jobs. Hence, the success of those working on the post will depend totally on the growth of the company along with the importance and growth of HR department in the organization. You may have to face quite a lot of competition if you wish to apply for this job as more and more people are becoming interested in this amazing position. But to make a difference, you need to have wonderful understanding of employment laws along with a Master's degree and some experience which would add on to your resume. The job security is totally dependent upon your performance and your company's working.
So all these details bring to you complete information on the salaries and expected growth of this position in different industries. Hence, if you wish to apply for this profile, you can very smartly select the location and industry to make sure that you make the best earnings possible.
If you are planning to apply for the post of HR Coordinator then before submitting your resume take few minutes off to go through the cover letter which promises to make your CV look more professional and impressive. It is always better to attach a smart cover letter along with your resume to create that first impression on the mind of the interviewer and win his attention.
Read further to have a look at the professionally designed template of cover letter for HR coordinator job. Customize it as per your need and use it to frame your personal letter stating all your experiences and accomplishments in an impressive style.
Sample Cover Letter for HR Coordinator Job
Silver Street
Lynn, MA 1234
Date: 10th December, 2014
Andrew Smith
HR Manager
Herald Times
12 Gothic
Lynn, MA 1223
Dear Mr. Smith
I want to present myself for the post of Human Resources Coordinator with your company, Herald Times, as advertised in The New Times on 08.12.14. I have been working on this position from last 2 years in The Daily News which makes me aware of all the clerical and support duties of an HR Coordinator.
I possess secretarial skills, leadership qualities, experience in managing HR functions, judgment capabilities along with the art of maintaining confidentiality. I also possess the finest communication skills which are needed for this job. I also have the ability to take the best decisions under the most difficult situations. All these qualities make me an outstanding candidate for this profile.
Please find my resume attached with the letter which contains detailed information on my past work experiences along with my academic background. I have always been an efficient team worker who understands the value of group interaction and synergy. I have also been a great leader who understands the strengths and weaknesses of his team and uses them beautifully.
As a coordinator, my strength lies in working with employees to resolve issues and make appropriate suggestions in accordance with the policies of the company. I excel at the process pf hiring the best suited employees and firing employees with professionalism and sound judgment.
I would be more than happy to meet you so that we can discuss this Human Resources Coordinator position further. You can reach me at [email protected] or you can also call me at 123-456-0789.
Thank you for your time and consideration. Looking forward to meet you soon.
Yours sincerely,
Grace Jack
There are times that you face some kind of wrong behavior or pressure from your boss or coworkers while working in a company. Such issues are not to be neglected rather they should be reported to the Human Resource department so that management can take a quick action on it.
Here is a simple step wise process that you need to follow while writing such a complain along with a format sample for reference.
Stepwise Process for Writing Complaint Letter to Human Resources
Start with the past experiences or encounters with the employee
Talk about the incident that has taken place in the recent past. Make sure you cite a complete incident which reflects the improper conduct of the employee.
Now mention that this kind of behavior is against the policy of the company and must be corrected. Mention the kind of action that can be taken against him.
End the letter mentioning about correcting the behavior. Leave the final decision on the management.
This letter should have three copies. The main copy should go to the HR manager, one should be filed in the personnel file of the employee against whom the complaint is been made and last cop should go to the employee himself.
Sample Complaint Letter to Human Resources
Date: December, 05th, 2014
Robin Parker
Manager, Human Resources,
ABC Software,
New York.
Dear Mr. Roberts,
I have been associated with ABC Software from past five years. I have an excellent record of finishing my targets on time. I have always been regular and prompt with my reporting. Despite this I feel that I have been discriminated. I feel this discrimination has been on the basis of my age and gender. In last two years, I have observed that lesser experienced employees have been promoted over me, they all had average working records and they all were males. From last three years, I am working on the same profile and all my juniors have been promoted. Moreover, I feel men are getting all the important projects so that they can have more opportunities.
I have made complaints on the same issue earlier but nothing has been done so far. These were made on 10th June, 2014, 15th August, 2014, 15th September, 2014 and 10th October, 2014. The form numbers for these complaints have been A123, A210, A256 and A312 respectively. I have always enjoyed working in the company but this kind of discrimination has left me with a bad feeling. It is really disappointing to see your efforts go unnoticed.
When I have joined the company, I was told that I will be given equal opportunities to perform but nothing seems to go in sync with the promises made. If the same situation persists then I will be forced to take some legal action against the discrimination.
It is not right to discriminate employees based on gender or age. It is a serious offence. I am hopeful that this matter will be resolved at the earliest.
Thanks for your consideration and I will be looking forward to hear from you.
Yours sincerely,
Rose Thomas
Sales Executive
Search Sample Formats:
If you are planning to apply for a position of Director Human Resources then it is must that while submitting your resume, you must submit it with a professional and impressive cover letter. It is important to keep in mind that it is the first encounter with the company and you must work hard to stand out in the crowd.
Here is a sample cover letter for Director of Human Resource to help you draft a personalized letter that you can send with your resume.
Sample Cover Letter for Director of Human Resources
November 14, 2014
John Smith
Human Resource Manager
Zenith Properties Ltd.
123 Richmond Street
New York
Dear Mr. Smith,
I just came across the posting for a Human Resources Director in your company which caught my attention. I strongly believe it to be an ideal match for my experience, career goals and interests.
I possess an experience of 20 years in the industry as human resources professional. I have always worked hard to make sure that it is in the benefit to the company. I have a record in developing and executing best HR related practices in the company along with an experience of creating work environments that are healthy and cordial to retain talent people in the organization. I promise to offer the best of my services to your company to make it rich in human assets.
You can have a look at my resume which is enclosed with the letter which clearly indicates me to be person who works to bring more and more improvements in the workplace to make it a better place for employees. I work in creating synergy between the employees to help them work for the goals of the company.
My areas of strength include recruiting and retention employees, training and development, and benefits and compensation. I have always worked hard to seize the challenges and mentor the projects with high energies and hopes. I put in the best of my abilities to make every program a success by involving employees in it. I work as a team leader to bring out the best of the qualities of the employees. I possess excellent communication skills that help me bargain smartly. I promise to be a very useful asset to your company.
Thanks you for consideration. If you find me the right candidate for the job then please allow me to meet you in person so that we can mutually discuss our needs and goals. Please feel free to get in touch with me on my contact details stated below.
Yours sincerely,
Adam Gibbs
11, Anderson Park,
New York
Phone: 123-456-78
Email: [email protected]
Search Sample Formats:
It is very common to experience misbehavior when you work in big corporate houses. They are so many people of different kinds which interact with you and work with you. Coming across an unhealthy behavior is not a big thing. But it must be reported to the Human Resource department when you feel it is exceeding the limits.
Here is an example format of HR letter of complain about employee which has been mentioned below. Use it as a base for drafting a personalized but professional letter to the manager while clearly reporting the issue.
Example of HR Letter of Complaint About Employee
Date: November 20th, 2014
Sam Wright
Elite Technologies
HR Manager
Dear Mr. Wright,
I hold a position of marketing manager at the company. I want to file a formal complaint for discrimination to which my teammate Ms. Anan Christ has been a subject, and I request that you investigate our allegations and take appropriate action to stop it or remedy it. The harasser, Mr. Tony Gates is a marketing executive from my department. The following are the events which I believe constitute discrimination:
On November 10th, 2014, Mr. Gates approached her during the lunch break in the mess and said that blacks are not allowed to have their lunch in the same premises which I feel constitutes discrimination.
Likewise on November 12th, 2014, when she enquired about how she can apply for the promotion in the company, Mr. Gates told her that people with dark skin do not deserve to be promoted.
On November 13th, 2014, Mr. Gates approached her on her desk and said that the company requires fresh blood and that she is not fit for the job and should consider taking up an early retirement.
All these instances constitute discrimination at work. I would really appreciate to meet with you in person so that we can discuss this situation and decide on how it can be resolved. Mr. Gates has been a loyal and hard working employee of our company and has never shown such a conduct. I think with proper guidance, we can help him become a better person.
Thank you.
Yours sincerely,
Mary James
Manager, Marketing Department
The HR department is an important part of a company, which looks after many issues associated with the management of a company in an organized way. For a newly started company, it is really tough to design all plans of setting up an HR department and this needs a proper planning that definitely based on the company's working capacity. You need to focus on some issues related to your company's policy and according which you can set up HR functions.
An HR department is responsible to plan all the management related issues of a company, from pre-recruitment process to the employee relation and exit formalities. So, the needs of an HR department are essential and you can say that it is the center of all departments that maintains a good liaison between the various segments of a company.
The initial phase of setting up an HR department:
Being the owner of a company, you must be aware of the objectives of your organization that clears your idea to focus on what will be the vision of your HR department. Once you get the answer, you can proceed further.
Pre-recruitment phase:
An HR department handles all the issues in the pre-recruitment phase for which they need to have the idea of each department of a company and according to that, it notes down the number of vacant places in an organization. After completing this analysis process, an HR department should get the approval from higher authority. An HR department should prepare a budget of the recruitment process, including making salary packages of the employee.
Recruitment phase:
An HR department arranges all the recruitment process, including preparing advertisements, scrutinizing and short listing applications for the job opening, communicating with the selected applicants for conducting an interview process and many other things. This department also takes care of the interview process and after that it sends the offer letters to those shortlisted in the interview.
The job responsibilities of an HR team:
Preparing an employee register:
Maintaining employee register is an important task for an employee, especially checking the performance of an employee in his/her field. The register records all the details of the employee both personal and professional so that the management can use the information whenever they need. All the personal records should be prepared for the auditing process.
Preparing employee handbook:
Every company follows an employee handbook which records some rules of the company on the basis of its terms and conditions. The rules describe some issues that all employees should maintain in the work environment. HR department also verifies that the issues stated in the employee handbook compliance with the law of the state or not and need necessary changes if needed to make this a legal document.
Compensation and benefits:
HR department follows the company's guidelines for deciding the compensation and benefits for the employees. Every company has their own terms regarding calculating the Pf and Gratuity amount. In case, an employee needs compensation, the background should be checked before approving the compensation.
Training and development of appraising performance:
Conducting training process in an organized way is also an important issue that an HR department looks after. After appraising the performance of the employee, they consider which kind of training process can improve their skill that makes them efficient in managing the tough situation. Make necessary arrangements for this training and conduct it professionally.
Maintaining relation with clients and companies:
HR department needs to communicate with other companies and clients to make a good network of the concerned company. It is important to keep your clients updated with the policies and services that take your company ahead in the competition. This thing is also figured out by the HR department of the company. The HR team analyses the business and according which, they find out the clients who prove beneficial for the company.
Maintaining employee relation:
Maintaining employee relation can prove beneficial for a company as employee needs some motivational support that helps them to give the best to the work. Counseling is the process to manage such things; and for this HR, department is needed. Making a good relation with the employee is also part of the working area of an HR department. Employees should be informed any kind of changes in company's rules and policies through them.
Preparing report:
Producing reports for every project, be it related to the employee or a business deal, is the responsibility of HR team. The assessment of this report is necessary to make a summer and this should be submitted to the concerned department for the final decision. The whole task is performed by the specialized HR team who are skilled in auditing, analyzing, and deciding the right thing for the company.