Posts tagged "Job Offer"
There are many instances wherein candidates have submitted fake experience certificates for job. This has certainly given the HR personnel a tough time to find out whether it is a real or fake experience certificate. But no matter how difficult or easy it is, it is one of the most important things to find out whether it is a genuine or fake experience certificate a candidate is submitting as you cannot afford to hire someone fake in your company, someone who doesn't deserve to get selected.
In this post, we have made an attempt to find if is it a fake experience certificate. You can use these simple guidelines to find if it is fake experience certificate online or not.
Get more details during the interview
It is always a good idea to try and seek some more details about the company in which the candidate is working or has worked in the past. Ask questions in relation with the name of the supervisor, the size of the team, the role in the team etc. as this will bring more clarity about the kind of work the candidate has done along with some extra information about the working.
Do the background check
This is the first and the foremost thing an HR personnel must do while checking for the fake experience certificate company. You can always call at the concerned company or drop an email to them asking about the candidate you wish to enquire about to get a clear picture.
Ask for a blank email from company's email id
The simple and quick way to know whether a candidate is genuinely employed with the company or not is to simply ask him to send a blank email from his company's email id and this would certainly clear a lot of air.
Find out the reason for job change
You can always ask that why the candidate is looking for a job change. This answer can again reveal a lot of details as to why the candidate is here for the interview and what makes him unhappy at his present job.
Contact the references
Most of the companies ask for references which can be also be checked to know what kind of an employee the candidate has been and how experienced has he been at the job he has been doing.
You can follow all of these points to know how authentic or fake the experience certificate is. This will surely help you take a better decision in relation with his or her recruitment.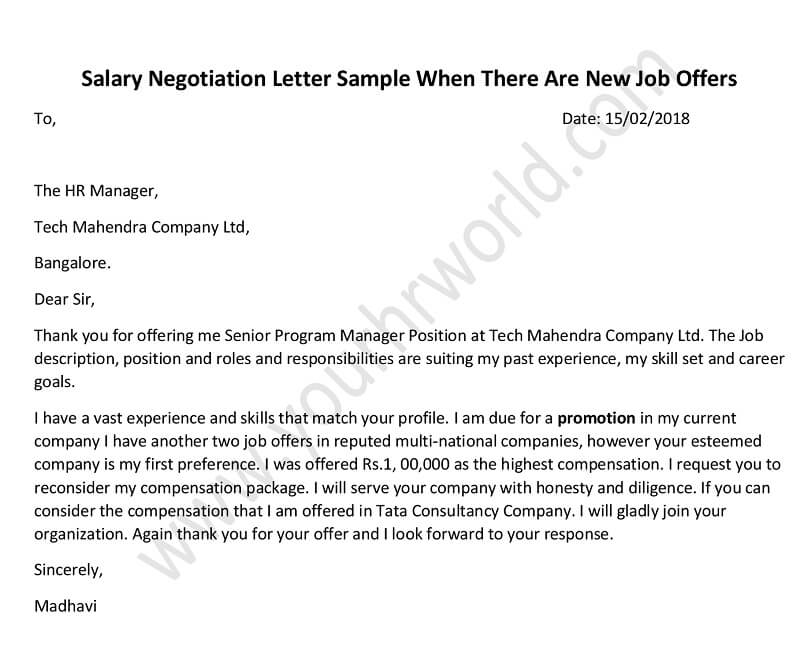 Salary negotiation is a crucial aspect in interview process, and commences almost at the last stage. After impressing the employer with your skill sets, and receiving the job offer, salary negotiation has to be done. For the negotiation to be successful it is important to understand the job role, the number of years of experience, industry standards, and the technical skills required to perform the job. The employer would offer a salary, based on your current job salary, expected salary increment and promotion. You can write a salary negotiation letter based on the template mentioned, stating your reasons for asking additional salary. You have to justify well about your skill sets, your previous experience and other job offers. You can write a letter or send e-mail after receiving job offer.
Salary Negotiation Letter Sample When There Are New Job Offers
To, Date: 15/02/2018
The HR Manager,
Tech Mahendra Company Ltd,
Bangalore.
Dear Sir,
Thank you for offering me Senior Program Manager Position at Tech Mahendra Company Ltd. The Job description, position and roles and responsibilities are suiting my past experience, my skill set and career goals.
I have a vast experience and skills that match your profile. I am due for a promotion in my current company I have another two job offers in reputed multi-national companies, however your esteemed company is my first preference. I was offered Rs.1, 00,000 as the highest compensation. I request you to reconsider my compensation package. I will serve your company with honesty and diligence. If you can consider the compensation that I am offered in Tata Consultancy Company. I will gladly join your organization. Again thank you for your offer and I look forward to your response.
Sincerely,
Madhavi
Click Here to Download Salary Negotiation Letter after New Job Offer in PDF Format
Other Related Letter Formats
HR Revision Policy Regarding Salary Increment Letter
Salary Increase Negotiation Letter Sample
Salary Hike Sample Letter
Salary Increment Letter to Employee for Performance
Salary Increment Letter After Completing One Year
Salary Increment Letter Format to Boss
Salary Increment Letter Format
Salary Increment Appraisal Letter Format
Salary Negotiation Email in Response to Job Offer
Tips For The Successful Salary Negotiation
Salary Negotiation Letter after New Job Offer
Life is really uncertain. You cannot predict what might happen next. While going for an interview, you always pray that you are selected and when you are selected, you feel extremely happy. But sometimes due to unforeseen situations, you might have to withdraw from an accepted job offer. If you are also trapped in a similar situation and you don't know what to do then writing a formal letter is highly recommended.
Here is a sample letter to withdraw from a job offer drafted for you. Use this format example to write a personalized letter rescinding an accepted job offer.
Sample Letter to Withdraw from a Job Offer
Jackie Brown
22 B Block
Swedish Apartments
California
Date: 12th July, 2016
To,
Robert Tims
HR Manager
ABC Finance Bank
52nd Harold Street
New York
Subject: Rescinding accepted job offer
Dear Sir,
I would like to thank you for offering me the position of Finance Manager in your esteem organization ABC Finance Bank. I would also like to thank you for all the time spent by you and your team members with me during the complete process of recruitment. When I accepted the offer, I was very much sure about the profile and duties and responsibilities associated with it.
I would like to inform you that due to some complications on personal front, I will not be able to accept your generous offer and I will have to rescind my acceptance. With highest regard to the company and your team, I state that at present I will not be able to move ahead with the offer.
I wish ABC Finance Bank and you great success in future.
Once again, I express my gratitude towards you, for giving your time and consideration. I am hopeful that we might get to work some other time.
Yours sincerely,
Jackie Brown
Other Related Formats
Non-Exempt Offer Letter Template
Request for Change in Offer Letter
Rescind Job Offer Letter Due to Background Check
Offer Letter Format
Job Offer Letter With Probationary Period
Terms and Conditions in Job Offer Letter
How to ask for Offer Letter by Email
Offer Letter for Marketing Executive Format
Request to Change Joining Date on Job Offer
Salary Negotiation Email in Response to Job Offer
How to Write a Counter Offer Letter for a Salary
Sample Letter of Initial Job Offer and Notice of Appointment
Salary negotiation is not so easy. You want the job but you don't want to price yourself for it. You are not even sure of what offer is the company going to make. You also need to make sure that you are paid what you deserve. You want at least an amount with which you can sustain yourself and pay your bills. All this is a part of salary negotiation and it depends on how smartly you are able to put across your price and leave the table with a good offer.
This post includes the best of the tips and tactics that can help you make smart negotiations with the employer without making any compromises. With these tricks, you can emerge as the winner in this struggle.
Always be patient and calm
Negotiations can happen only with a calm mind and patience. If you are impatient while discussing your salary or job then take three deep breaths and relax before speaking anything. Do not touch the topic until and unless, the employer does. And when you are posed with the question about your salary requirements, give a smart answer that they are subjective to roles, responsibilities and position.
Analyze and Evaluate the Job Offer
As soon as you receive the job offer, start analyzing and evaluating it from different angles. You cannot just simply depend upon the base salary but you also need to take into account other benefits that are being offered to you. Find out about the projected increase in salary, know about the bonuses that you can get, learn about the growth and promotion opportunities that the job brings for you. Prepare a list of all the advantages and disadvantages associated with the offer and then reach to the final conclusion. Never simply take your decision based on the base salary as it is incomplete.
Always Be Ready for a Counter Offer
In order to keep the discussions going, you must keep yourself ready with a counter offer. You can always ask for a meeting to discuss on it to keep the discussions open. You can also send a counter offer letter or email to maintain the flow of the conversation. Always be prepared and do not allow the conversation to drop at any point. You will have to keep holding on to it in a very smart manner so that you can strike the best deal.
Know Your Value
It is very important that you are prepared with all the information. You should know your worth and should also know the salaries that are being offered for the profile for which you have applied. This will help you quote a reasonable salary figure to the employer and your negotiation will give you more confidence. This will save you from quoting an unreasonable amount to the employer because of which you can actually lose a good job from your hands. Do homework is necessary to be able to quote the best price and this can actually help you land up with the best deserving job and salary.
Take Time to Decide
Never take a decision in haste. Take your time to decide what you want before taking a final decision. If you have any questions or doubts in mind, you must ask them to the employer. If you need time to think then you can ask the employer some time to consider the offer. This is always the right way of moving ahead with things instead of quickly taking a decision. Do mention it is an email or letter the date by when you are going to respond so that there is complete clarity in the statement you are making. Do not leave it incomplete or vague. Be specific in the amount of time you need to decide.
All these points must be kept in mind while negotiating on a salary. Use these tips to make your negotiation much stronger and promising.
A job offer letter must contain all the necessary terms and conditions to clarify all the aspects related with selection for job. Here is a point wise description of every point which are important and must be included while drafting terms and conditions for the job. Follow these points to draft your own terms and conditions in the best of the manner possible:
1. Title
It must contain the job title on which the candidate has been selected.
2. Start Date
The next important thing in the letter is the start date of the job.
3. End Date ( In case of fixed contracts)
The offer letter must also contain the end date of the employment of the candidate.
4. Roles and Responsibilities
The job offer letter must contain all the necessary points concerning the roles and responsibility of the job profile. There has to be a point-wise description of the main highlights of the job. This will help the candidate deliver his services with the best of the understanding of what is expected of him.
5. Reporting Relationships
There has to be a mention of the person to whom the new employee must report. Mention the name of that person along with his designation to bring more clarity in the reporting relationship.
6. Probation Period
There has to be well defined probation period, if any. The purpose of this period is to train the new appointment within a definite time to have complete understanding of his job so that he can achieve satisfactory levels of performance. It should also contain the information about extending this period in case the candidate fails to deliver expected performance levels along with the information on interim reviews.
7. Appraisal
There has to be a mention of appraisal scheme related with the job profile. The purpose is to encourage the candidate for his career development and personal development. It must contain information on implementation of appraisal specific to the department. This will work as the motivation for the employee to deliver better performance.
8. Salary
This is the most important segment of the job offer letter. It must contain the following information:
It must contain the title of the post, the commencing rate of pay along with salary scale which is mentioned in the letter of appointment. It must also be made clear that there will be no other remuneration other than the payment.
In case, there are other benefits like insurance, travel allowance, group incentives etc. they must be mentioned too. Put all the benefits with clear detailing about each.
9. Superannuation
There has to be a mention of superannuation plan of the company which is designed to benefit its employees after retirement. The offer letter must contain the deductions as per the pension plan. A new eligible employee gets enrolled in the appropriate pension scheme automatically when he joins the company.
10. Hours of Work
The next important thing to be mentioned is the hours of work. The letter must contain the daily working hours along with mention of special circumstances like part-time or extra-time working and the remuneration that will be paid for extra working.
11. Travel Requirements
Make a mention of travel requirements, if any. It must also include the frequency of travelling concerning the job profile.
12. Public Holidays, Overtime etc.
Information of public holidays and compensation for overtime on regular days and on public holidays must be mentioned in a simple and easy to understand language.
13. Holidays
This head must contain information on the number of paid leaves to which the candidate is entitled. It must also mention the exception holidays like locally agreed department closure holidays etc. along with the payment conditions on all such days. Special mention of conditions regarding holidays during probation etc.
Below are some of the conditions on which the letter must focus to bring more clarity:
Additional Holidays for Long Service
Holiday Entitlement for Part-time Workers etc.
14. Termination Clause
There are two conditions under this head which must be kept in mind.
Termination of Appointments by Notice
Make sure you mention the period of notice which you are obliged to give the candidate before terminating him. It must be given in writing. This period usually varies between weeks to a month depending upon the organization. Do mention all the other conditions concerning the termination.
Do make a mention of the normal date of retirement in your company. Also mention the age of retirement.
15. Restrictive Covenants
This is an important part of the terms and conditions. It is asking the candidate to maintain the confidentiality of the intellectual property of the company. This is a non-disclosure agreement which maintains the confidentiality of important information of the organization.
These are some of the important points which must be kept in mind while designing the terms and conditions in the job offer letter of your company. Customize these points as per the need of your company.
Other Related offer Letter
Internship Application Email Format
How to Ask for Offer Letter After Verbal Job Offer
Hourly Employee Offer Letter Template
Revised Job Offer Email to Candidate
Request for Change in Job Offer Letter
Rescind Job Offer Letter Due to Background Check
Paid Internship Offer Letter
Unpaid Internship Offer Letter

Appointment Letter for Commission Based Agent
Many companies appoint their commission based agents who act as the link between the vendors and the buyers.
How to ask for Offer Letter by Email
Offer letter is a formal confirmation that you have received the job and it always makes you happy. If you have received an offer letter then your appointment letter will soon follow it.
How to Write an Email While Giving Appointment Letter
Being the HR Manager of your company, you are the one who needs to send various letters in relation with recruitment like Appointment Letter for Internship Trainee and selected candidates, Job Offer Letter With Probationary Period etc.

Internship Offer Letter Format from Company to Students
Internship Offer Letter from company to students is a formal offer made by the company to the internees which has complete information about their internship i.e.