Effective Work from Home Policy Template – Sample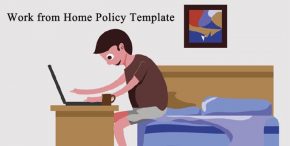 These days companies are giving their employees convenience of work from home. This latest trend has mutually benefitted the employers as well as the employees. Work from Home Policy document rolls out all terms and conditions in relation with Work from Home Policy guidelines in India. You can use the Work from Home Policy sample or Work from Home Policy examples that are extremely beneficial.
To help you with, we have come up with a Work from Home Policy sample for your reference. You can use this Work from Home Policy template to create one for your company. Download Work from Home Policy sample in PDF format.
Check this also: Letter for Allowing an Employee to Work from Home
Work From Home Policy Sample
Here is the Work from Home Policy example which you can use to draft your own:
Policy Purpose
We have designed our Work from Home Policy to ensure that the format of work from home is equally beneficial for the employees and the company.
Scope of Policy
Work from home policy of the company is applicable to all our employees who intend to work from home.
Conditions Which Allow Employees Work From Home
Here are the conditions in which an employee can work from home:
If the job duties permit it
Employees whose work is mostly related with working on computer can work off-site occasionally.
Elements of Policy
Employees are working from home when they finish their work at a place which is not a part of the premises of the company. They may work on this format:
On specific days, as mutually agreed
Full time
Reasons for demanding work from home include:
Parenting
Medical reasons
Emergency
Bad weather
Long duration commute
Imbalance in work and life
Reasons other than these are subjective to the decision of the Management.
Work from home arrangements can be permanent or temporary or occasional.
Concluding Whether An Employee is Suitable For Work From Home
Here are some points which must be considered by the employees and the managers before approving work from home:
Does the duty of the employee permit it?
Does it make coordinating with other team members difficult?
What are the working conditions at the alternative place of work?
Does employee have required equipment or software to work from home?
Procedure to Request Work From Home
If an employee plans to work from home then here is the procedure that needs to be followed:
Send a formal request on email to the Human Resource Department at least three days in advance
The duration of work from home at a stretch should not be more than 7 days. In case, the arrangement succeeds this number, it should be discussed with the manager and the team members.
The request must be considered under the conditions mentioned above by the managers for approval.
It is at the discretion of the management to approve work from home or not and for what duration.
Compensation of Employees
Work from home format doesn't affect the compensation of employees in usual circumstances. In case their working is affected because of the arrangement, the HR Manager needs to formulate a revised contact based on their present working.
Other Related Letter Formats
Excuse Letter for Being Late at Work due to Traffic
Request Email Templates to Boss to Work from Home
Office Etiquette Food and Drink Policy Letter
Work From Home A Boon or a Bane
Employee Return to Work Letter After COVID
Search Sample Formats: