How to Ask for Offer Letter After Verbal Job Offer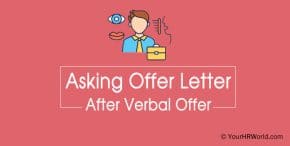 If the manager who was interviewing you has made an offer to you at the end of the interview then you must not get excited as there are some additional steps to follow before you have officially got the job. In case, you have not received any formal email or job offer letter from the company then you must write an email or letter asking for the offer letter for the verbal offer that was made to you by the hiring manager.
In order to make things simpler for you, we have included a sample verbal offer letter. You can use this request for offer letter sample to write an email to the company seeking an job offer letter in a formal manner.
Sample Letter Asking for Offer Letter After Verbal Offer
From,
John Smith
54, Anthony Road,
California
Date: November 8th, 2021
To,
Mr. Arnold Ray
Marketing Manager
Zenith Technologies
Sub: Regarding Offer Letter for the Position of Marketing Executive
Dear Sir,
I am really thankful to you for taking out the time to interview me on November 20th, 2021 for the position of Marketing Executive. It was wonderful to meet you and I am extremely thankful to you for offering me the job.
I am writing this letter to confirm the next set of steps in relation with the offer you had made. I would want to know if I will be receiving any formal employment contract or formal letter from your end. I am excited about working with your prestigious company and am available to join from December 1st, 2021.
Kindly let me know the next set of steps that I need to take in order to complete the process. In case you require any more information from my end, please feel free to ask.
Thanking you.
Sincerely,
John Smith
Other Related Internship Letter Format
Get A Job in HR Without Any HR Experience
Paid Internship Offer Letter
Internship Offer Letter Format from Company to Students
Appointment Letter for Internship Trainee
Terms and Conditions in Job Offer Letter
Tips for Writing Summer Internship Programme Offer Letter
Appointment Letter for Commission Based Agent
How to ask for Offer Letter by Email
How to Write an Email While Giving Appointment Letter
Bond For Freshers Appointment Letter
Job Appointment Letter for New Employee