Interview Format
Once you are done with a job interview, it is time to send a formal Thank You email or letter. But you can actually hamper your performance if you include certain things in your letter which should be avoided. This post brings to you a list of 10 things which should never be included in an interview letter.
Do Not Just Be Appreciating
It is important that you write a few lines of appreciation in your letter but do not just leave it like that. You are suppose to be expressing your strong interest in the job and you must also talk about the reasons which make it a perfect choice for you.
Do Not Talk Anything About Salary
A Thank You Letter after interview must not include any mention of salary. You are not suppose to be discussing the salary until and unless some offer has been made to you. Moreover, this is just not the right time to do that. Be patient and wait for the negotiations to start and do not bring them in this note.
Do Not Apologize or Give Reasons For What Went Wrong
If you feel that you committed some mistake in your interview then do not draw attention of the interviewer on it by stating them in your letter. Any kind of apologies or reasons would sound like clarifications which are not needed. Your letter must sound positive in every sense and must highlight your positive qualities.
Do Not Pose Any Query That Questions Job Suitability
This letter need not include anything unnecessary. You need to be very cautious while framing such a letter and you need to make sure that you don't end up asking any such questions that give the employer a doubt if you are suitable for job. Avoid giving a feel that you like the company but the job doesn't interest you or that you are interested to know if there are any other openings in the company.
Do Not Keep it Same For All
It is important that you change the contents of your letter as per the employer to whom you are sending it. Copy pasting the same letter to all is not the right thing to do. Every letter has to be personalized and this is one thing which can help you have a stronger impression.
Do Not Be Aggressive In Your Letter
Sometimes we end up being very aggressive in our thank you letter by writing I will call to check on the status of the candidacy. This is just not the right way of putting up things. Wait for the response of the employer and let him suggest you what needs to be done to know the status.
Do Not Make Exaggerated Statements
It is important to include a positive statement which can support your comments but never end up writing something that is making unnecessary claims. Rather you should make sure that you make a positive statement along with a convincing background which can support what you are saying in a positive way.
Do Not Mention References, Until Asked For
Thank You letter must not include references in it. You should only submit the list of references when you are asked for it. So just wait and let the interviewer ask for the references.
Do Not Include Reimbursement Queries
The purpose of writing a Thank You letter is to express gratitude for the interview that happened along with expressing interest in the job. You must not include queries related with reimbursement in this letter. In case you have any such queries, write a separate letter later. Do not let your Thank You letter become something else. Do not lose your focus from the purpose of the letter.
Do Not Forget to Check From Grammatical Errors
It is extremely important to check your letter for grammatical errors before submitting it. Also ensure that there are no spelling mistakes in it. It should be addressed to the right person. Include the job title and address of the person to whom you are writing.
If you are able to frame a perfect Thank You letter by omitting these mistakes then you can surely increase your chances of getting selected for the job. A perfect letter can help you create a stronger impression. So do not include any of the things mentioned above and you will nothing to worry about.
Thank You Letter from Supervisor to Employee
Supervisor is the person who knows the best about the performance of the employee. But it is not an easy job to gauge the performance. Supervisor has to be very smart at measuring the performance.
Search Sample Formats:
Saying a thank you never hurts and especially when you have just finished with phone interview. In fact, it shows a professional approach which never fails to impress. So once you are done with the telephonic round of interview, don't forget to send an email message to the interviewer thanking him for considering you for the job and taking time from his busy schedule to speak with you. This can really take you to the next level of recruitment process.
If you are not sure of what to write in such kind of an email then we are here to help you with the situation. Below is a format example of thank you email message for a phone interview using which you can frame your own customized message. Remember to keep it short and sweet with a polite formal tone.
Thank You Email Message for a Phone Interview Example
Sub: Thank you- Assistant Marketing Manager Interview
Date: 8th September, 2015
Dear Sir,
I really appreciate having the chance to speak with you today about the job opening in your company for the post of Assistant Marketing Manager. Having discussed the company's profile and the job description, I strongly feel that this job profile is a good match for my skills and experiences.
I am thankful that you gave me your precious time today for discussing the prospects of the job. It gave me opportunity to learn more about the job and I feel to have extensive discussion on the same, it is important to meet you in person so that I can also explain about my qualifications and my experience. I feel with my background, I can be a big contributor to your organization.
I am extremely excited about this job. Please email me or call me if case you need any more information about my career.
I would look forward to hear from you.
Thanking You.
Yours sincerely,
John Smith,
52 Part Avenue
Richmond Street
New York
Ph: 123-45666
Email: john@abc.com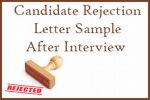 If you are confused about how to inform the applicant about the rejection on behalf of your company then it is quite natural because you want to keep it professional, polite and very encouraging. It is a formal process that you have to send rejection letters to applicants that have not been selected for a position once the interview process is finished. It is the duty of every good company to put it across the candidate the result of the interview so that he can move ahead and look for other options.
Here is a sample format that can help you manage this task very conveniently. Follow this template and create a personalized letter which is professional and pleasant in every sense.
Interview Rejection Letter Example
Sam Jackman
Hiring Manager
Sunshine Developers
42, Park Avenue
New York
Date: 26th November, 2014
Adam Gibbs
123, Greenview Apartments
California
Dear Mr. Gibbs,
We appreciate you for taking time out to interview with us for the profile of Marketing Executive. We highly appreciate your interest in the job and the company.
This is to let you know that we have made the final selection of the candidate for the position. After an in depth analysis and consideration, we have selected the candidate whom we feel is the perfect one to closely match with the job requirements for the position.
We thank you for taking the time to interview with us. We would be more than happy to receive your application for other openings at the company in the future.
All the best for your search. May you find a good job.
Yours sincerely,
Sam Jackman
Hiring Manager
I/ INTERVIEW ROUNDS
1. First-Round Interview
The first-round interview is an in-depth conversation between HR dept and candidates to check basic requirements of experience and skills relate to job specification.
2. Second interviews
This round is conducted between line manager, HR manager …and candidates to check background and technical competencies of candidate.
3. Final interview
This round usually conduct between director and candidate. This round also include discussion about compensations and benefits.
II/ INTERVIEW PROCESS:
1. Before the Interview
• Inform interview plan to all participants
• Prepare all interview forms, equipment, book interview room.
• Determine your options – which skills are vital as opposed to convenient.
• If other people are going to be involved in the interview process, make sure they have taken the time to prepare for the interview.
• Have detailed information about the candidate.
• Each person should have a couple of overlap questions to provide insight on the prospective employee's responses.
• Have company information available for candidates.
• Allow plenty of time for the interview.
2. During the Interview
• Interview the person.
• Tell the candidate what to expect in the hiring process.
• Tell them your expectations: experience expected, career advancement, training, duties the direction the department is headed in.
• Show the candidate where they would fit into the organization.
• Ask questions that are, broad, job-related, objective, meaningful, direct, clear, open-ended, understood & related.
• Be open and honest with the candidate.
• Don't talk money.
3. Closing the Interview
• Insure that you and the candidate have concluded on common ground.
• Review the next steps with a clear and honest timetable (and stick to it).
• Be friendly and honest to the end of the interview; don't give false encouragement or go into details for rejection.
• Ask if she/he has any other questions.
• At the end of the interview, if you are interested in the candidate, let them know.
4. After the Interview
• Rate the applicant on a 1-5 scale as a potential employee.
• Discuss the candidates reaction and interest.
• Take time to update the next person in the interview process.
Attach herewith Interview Feedback form in simple format for screening the candidates.