Excuse Letter for Being Late at Work due to Traffic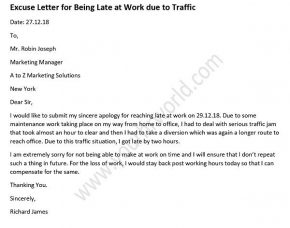 No matter how punctual we are, we all sometimes get late at work because of the inevitable traffic conditions on the road. If you also happen to reach office late because of traffic them you must write an apology letter for being late due to traffic. Submit to your boss a formal excuse letter for late coming to office along with stating the reason for being late to work.
We bring a sample apology letter for reaching late at work due to traffic. Submit this excuse letter sample to your boss to seeking his apology in a formal way.
Sample Excuse Letter for Being Late at Work due to Traffic
Date: 27.12.18
To,
Mr. Robin Joseph
Marketing Manager
A to Z Marketing Solutions
New York
Dear Sir,
I would like to submit my sincere apology for reaching late at work on 29.12.18. Due to some maintenance work taking place on my way from home to office, I had to deal with serious traffic jam that took almost an hour to clear and then I had to take a diversion which was again a longer route to reach office. Due to this traffic situation, I got late by two hours.
I am extremely sorry for not being able to make at work on time and I will ensure that I don't repeat such a thing in future. For the loss of work, I would stay back post working hours today so that I can compensate for the same.
Thanking You.
Sincerely,
Richard James
Click Here to Download Excuse Letter for Being Late at Work due to Traffic in Word Format
Other Related Formats
Request Letter for Late in Submission of Documents
Excuse Letter of Absence for Covid-19 Vaccine
Employee Return to Work Letter After COVID
I Will be Coming Late to Office Today Email Formats
Frame a proficient warning letter using the Sample of a Late Coming Warning Letter.
Send the perfect Circular Letter for Late Coming Employees using the format sample.
Letter for Allowing an Employee to Work from Home
Request Email Templates to Boss to Work from Home
Work From Home A Boon or a Bane
Search Sample Formats: