Contract Completion and Not Continue Further Letter Format in Word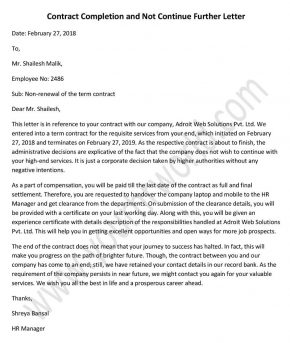 Within the corporate understanding, contracts or agreements are said to be documentary notations required by officials to decide over specified working terms and conditions. The contractual agreements are created for a specific time period and needs renewal or expiry after that time slot. This is the reason that professionals make sure to communicate about the continuation or termination of the contract through proper emails or letters. This tends to be an amicable way of communicating business necessities to the other person for sure. Here is the format of the letter, which informs about unwillingness to continue with a company or particular profession on completion of the contract.
Date: February 27, 2018
To,
Mr. Shailesh Malik,
Employee No: 2486
Sub: Non-renewal of the term contract
Dear Mr. Shailesh,
This letter is in reference to your contract with our company, Adroit Web Solutions Pvt. Ltd. We entered into a term contract for the requisite services from your end, which initiated on February 27, 2018 and terminates on February 28, 2019. As the respective contract is about to finish, the administrative decisions are explication of the fact that the company does not wish to continue with your high-end services. It is just a corporate decision taken by higher authorities without any negative intentions.
As a part of compensation, you will be paid till the last date of the contract as full and final settlement. Therefore, you are requested to handover the company laptop and mobile to the HR Manager and get clearance from the departments. On submission of the clearance details, you will be provided with a certificate on your last working day. Along with this, you will be given an experience certificate with details description of the responsibilities handled at Adroit Web Solutions Pvt. Ltd. This will help you in getting excellent opportunities and open ways for more job prospects.
The end of the contract does not mean that your journey to success has halted. In fact, this will make you progress on the path of brighter future. Though, the contract between you and our company has come to an end; still, we have retained your contact details in our record bank. As the requirement of the company persists in near future, we might contact you again for your valuable services. We wish you all the best in life and a prosperous career ahead.
Thanks,
Shreya Bansal
HR Manager
Click here to download Contract Completion and Not Continue Further Letter Format in Word
Search Sample Formats: