Posts tagged "Salary Format"
If you think you are underpaid and it has been long since you have got a salary hike or the salary that you are being offered for a new job is below your expectations then writing a salary increase letter is a good way to negotiate with your boss or management. A salary increase negotiation letter is a formal way of putting forward the request of increase in salary. Such a letter must include the reasons why you think you deserve a hike in order to have a decision in your favor.
In this post, we have come up with a salary negotiation letter example and Tips. You can sue this salary increase letter template to ask for a raise to your boss in a personalized manner.
How to write a Salary increase letter to ask your boss for a raise
Here are some steps that must always be kept in mind if you are aiming for a hike in your salary while drafting your letter:
Always be polite with your request but also be straightforward with the point you wish to keep forward.
Talk about your salary expectations with clarity.
Make sure you have data or reasons backing your salary expectations.
Mention that you are open for any further discussions on negotiations.
Salary Increase Negotiation Letter Sample Format and Example
From:
Andrew Black
54, Richmond Apartments
New York
Date: October 21, 2021
To,
Mr. Oslo Mathew
Human Resource Manager
Zenith Technologies
New York
Sub: Salary Increase Negotiation
Dear Mr. Oslo,
I am extremely excited about the offer of joining Zenith Technologies as a Deputy Marketing Manager.
With a management degree in Marketing and experience of over ten years in marketing, I have been able to achieve impressive results for New Age Technologies as Team Leader in the Marketing Department from last three years. I have been involved in creating marketing programs for the new product launches during this time and they have been successful.
I am writing this letter to discuss my base salary before signing the offer made by you. As per my research, the average salary of a Deputy Marketing Manager in New York is $ 150,000 to 200,000. Therefore, I would like to propose to move the offer closer to $ 150,000 consider my experience and my qualification.
Thank you again for your offer. I look forward to hear from you soon.
Sincerely,
Andrew Black
Other Related Letter Formats
Salary Hike Sample Letter
Salary Increment Letter to Employee for Performance
Salary Increment Letter After Completing One Year
Salary Increment Letter Format to Boss
Salary Increment Letter Format
Salary Increment Appraisal Letter Format
Salary Negotiation Email in Response to Job Offer
Tips For The Successful Salary Negotiation
Salary Negotiation Letter after New Job Offer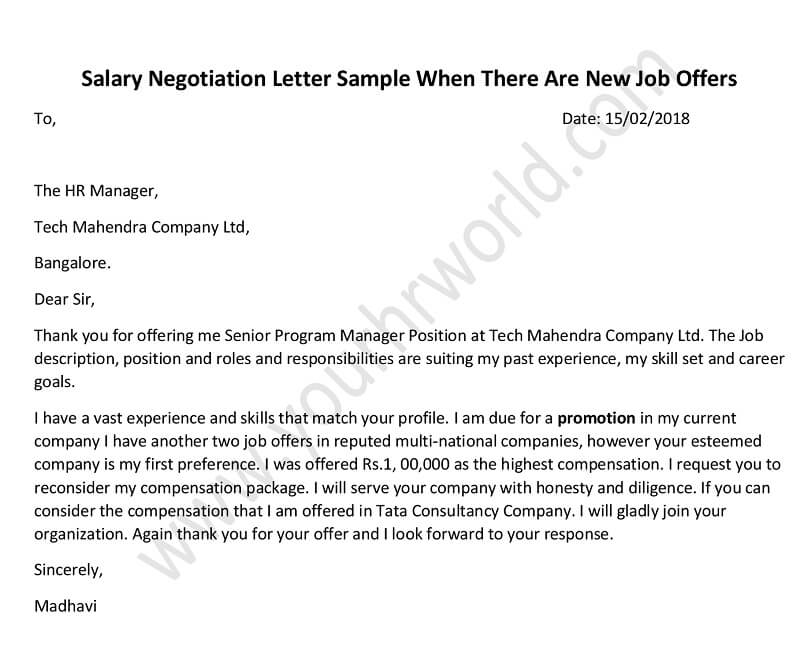 Salary negotiation is a crucial aspect in interview process, and commences almost at the last stage. After impressing the employer with your skill sets, and receiving the job offer, salary negotiation has to be done. For the negotiation to be successful it is important to understand the job role, the number of years of experience, industry standards, and the technical skills required to perform the job. The employer would offer a salary, based on your current job salary, expected salary increment and promotion. You can write a salary negotiation letter based on the template mentioned, stating your reasons for asking additional salary. You have to justify well about your skill sets, your previous experience and other job offers. You can write a letter or send e-mail after receiving job offer.
Salary Negotiation Letter Sample When There Are New Job Offers
To, Date: 15/02/2018
The HR Manager,
Tech Mahendra Company Ltd,
Bangalore.
Dear Sir,
Thank you for offering me Senior Program Manager Position at Tech Mahendra Company Ltd. The Job description, position and roles and responsibilities are suiting my past experience, my skill set and career goals.
I have a vast experience and skills that match your profile. I am due for a promotion in my current company I have another two job offers in reputed multi-national companies, however your esteemed company is my first preference. I was offered Rs.1, 00,000 as the highest compensation. I request you to reconsider my compensation package. I will serve your company with honesty and diligence. If you can consider the compensation that I am offered in Tata Consultancy Company. I will gladly join your organization. Again thank you for your offer and I look forward to your response.
Sincerely,
Madhavi
Click Here to Download Salary Negotiation Letter after New Job Offer in PDF Format
Other Related Letter Formats
Salary Increase Negotiation Letter Sample
Salary Hike Sample Letter
Salary Increment Letter to Employee for Performance
Salary Increment Letter After Completing One Year
Salary Increment Letter Format to Boss
Salary Increment Letter Format
Salary Increment Appraisal Letter Format
Salary Negotiation Email in Response to Job Offer
Tips For The Successful Salary Negotiation
Salary Negotiation Letter after New Job Offer
Being the HR manager of your company, the onus of salary transfer of your employees is on your shoulders. If you have some new employee in the company for which you want the salary transfer to be made or you want the salary transfers of your present employees to be made then you must write a formal employee salary transfer letter to the bank instructing the bank to do the needful.
Given below is a sample format for employee salary transfer letter to bank to help you create a personalized draft with important details required to be included. Use this template given for quick and easy reference.
Employees salary transfer letter format to bank
Andrew Cullen
HR Manager
XYZ Technologies Pvt. Ltd.
123 Prospect Ave, Apt 111
California
Date: 30th July, 2016
To,
John Smith
Bank Manager
ABC Bank Pvt. Ltd.
123 Park Avenue
California
Sub: Employee Salary Transfer Letter
Dear Sir,
On behalf of XYZ Technologies Pvt. Ltd., I request you to please debit salary of our employees from our bank account, the details of which have been mentioned below:
Name                          Account No.                 Amount
Mary Smith                 123-456-789                $5000
Hugh John                   111-222-444                $5400
Ana Maria                   781-456-113                $4800
Joseph Roy                  564-987-321                $3800
Thanking in anticipation
Yours sincerely,
Andrew Cullen
HR Manager
XYZ Technologies Pvt. Ltd.
Related Other Transfer Letter Formats
Employee Transfer Letter Intercompany
Transfer Letter Request From One Place to Another
Transfer Letter Format Due To Family Reason
Sample of Transfer Request Letter
Transfer Request Letter For Difficult Working Conditions
Offer Letter for Transferred Employees
Internal Job Transfer Letter as a Temporary
Employer issues salary slips at the end of every month to the employees at the time salary gets paid. Salary slip is an important document which is needed to be maintained by every employee and is of more importance when you are applying for a loan or credit card etc. It is a refined summary of all your earnings on one side and deductions on the other. The idea it to have a clear picture of your net salary and how it has been derived in order to avoid confusion and chaos.
Click to Download Salary Slip and Working Format
Salary negotiation is not so easy. You want the job but you don't want to price yourself for it. You are not even sure of what offer is the company going to make. You also need to make sure that you are paid what you deserve. You want at least an amount with which you can sustain yourself and pay your bills. All this is a part of salary negotiation and it depends on how smartly you are able to put across your price and leave the table with a good offer.
This post includes the best of the tips and tactics that can help you make smart negotiations with the employer without making any compromises. With these tricks, you can emerge as the winner in this struggle.
Always be patient and calm
Negotiations can happen only with a calm mind and patience. If you are impatient while discussing your salary or job then take three deep breaths and relax before speaking anything. Do not touch the topic until and unless, the employer does. And when you are posed with the question about your salary requirements, give a smart answer that they are subjective to roles, responsibilities and position.
Analyze and Evaluate the Job Offer
As soon as you receive the job offer, start analyzing and evaluating it from different angles. You cannot just simply depend upon the base salary but you also need to take into account other benefits that are being offered to you. Find out about the projected increase in salary, know about the bonuses that you can get, learn about the growth and promotion opportunities that the job brings for you. Prepare a list of all the advantages and disadvantages associated with the offer and then reach to the final conclusion. Never simply take your decision based on the base salary as it is incomplete.
Always Be Ready for a Counter Offer
In order to keep the discussions going, you must keep yourself ready with a counter offer. You can always ask for a meeting to discuss on it to keep the discussions open. You can also send a counter offer letter or email to maintain the flow of the conversation. Always be prepared and do not allow the conversation to drop at any point. You will have to keep holding on to it in a very smart manner so that you can strike the best deal.
Know Your Value
It is very important that you are prepared with all the information. You should know your worth and should also know the salaries that are being offered for the profile for which you have applied. This will help you quote a reasonable salary figure to the employer and your negotiation will give you more confidence. This will save you from quoting an unreasonable amount to the employer because of which you can actually lose a good job from your hands. Do homework is necessary to be able to quote the best price and this can actually help you land up with the best deserving job and salary.
Take Time to Decide
Never take a decision in haste. Take your time to decide what you want before taking a final decision. If you have any questions or doubts in mind, you must ask them to the employer. If you need time to think then you can ask the employer some time to consider the offer. This is always the right way of moving ahead with things instead of quickly taking a decision. Do mention it is an email or letter the date by when you are going to respond so that there is complete clarity in the statement you are making. Do not leave it incomplete or vague. Be specific in the amount of time you need to decide.
All these points must be kept in mind while negotiating on a salary. Use these tips to make your negotiation much stronger and promising.
You have received an offer letter for the job that suits your expectations but the salary that has been offered to you is not up to what you had expected. In such a case, you must send a formal salary negotiation letter to the company or the employer. Instead of saying a complete no for the offer, sending a negotiation letter is considered as the more practical and also rewarding step to take.
Given below is the sample of formal salary negotiation letter to the company from which you have received an offer letter. Use this template to create a personalized letter.
Formal Salary Negotiation Letter to Company
Julia Mars
11, Park Avenue,
St. George Village
Date: 05th February, 2016
To,
Mathew Jacob
HR Manager,
XYZ Corporation Ltd.
42 Richmond Street,
New York
Dear Mr. Jacob,
I want to thank you for the job offer for the position of Marketing Manager from XYZ Corporation Ltd. The areas of responsibility for the profile are as per my career goals and my expertise. I am very hopeful that with the foresighted growth plans of your company, I would have an excellent opportunity to make significant contribution to the overall growth and success of the organization.
Before moving ahead with accepting the offer made by you, I would like to discuss the salary that you have offered. As per my knowledge, the average salary for the post of Marketing Manager in the industry is $ 100,000 annually. Moreover, with my experience, education qualification and career record, I strongly feel that you must consider the offer you have made. I feel that the position of Marketing Manager demands high levels of commitment and I am completely prepared to give all my time and efforts.
I would like to thank you again for the offer and will look forward for your response. I am hopeful that together we can reach to a mutually beneficial agreement.
Sincerely,
Julia Mars
Finding a job of your choice is not easy. You have to look into different aspects to make sure that the offer you are accepting is beneficial to you. Sometimes everything goes good and you end up getting selected for the job and you receive an offer letter for the same. But unfortunately, the salary offered by the company is not as per your expectations. In such a scenario, the professional way of rejecting the offer is by sending a formal letter. Make sure you state the reason because of which you cannot accept the offer.
Here is the sample of rejecting offer letter because of salary which you can use to create a customized draft with all essential details. Refer to this example and create your own formal letter.
Sample Rejecting Offer Letter Because of Salary
Ana Simpson
25 Park Avenue Apartments
Silicon Street
New York
Date: 28th December, 2015
To,
Sam Anthony
HR Manager
ABC Corporation Pvt. Ltd.
St. Andrew Street
New York
Dear Mr. Anthony,
This is response to the offer letter for employment at ABC Corporation Pvt. Ltd. I am highly honored to have been selected for this job but unfortunately I will have to decline your offer. I have carefully analyzed and weighted this opportunity and the salary and I feel that the remuneration offered will not be able to meet my financial needs. It has been a tough decision to make because I was very excited to work such a reputed company. Moreover, I got to meet some wonderful people during the course of the interview. If possible, then I will be happy to negotiate the salary for the position offered, something that suits well with my experience and qualification will be a good deal.
Thank you for the offer and for your time. I hope we get to meet again.
Yours sincerely,
Ana Simpson
It is very important that if you are not satisfied with the offered salary then you must write a formal salary negotiation letter to the company. There is nothing bad about negotiating for a better salary provided you know the right way to put across your expectation. One thing that you must work on before framing this kind of a letter is that find out the standard salary in the industry for the profile that you have been offered. This would bring make you more confident while putting up the negotiation.
This post talks about the essential steps that you must keep in mind while framing a professional salary negotiation letter.
Start with Research
The first and the foremost step should be to research about the average salaries of the job for which you have been sent an offer letter. You can refer to internet or explore sources like business libraries and industry associations to find out about the salary. If you have friends working in other companies then make inquiries to them about the salary. You can even seek advice from independent consultants or recruiters who can provide you with complete information on the same.
Frame a Formal Letter
Once you have enough information in your hand, it is time to start writing the letter. Here are some important points that you should not miss.
Keep it traditional business letter format.
Do not make it a lengthy letter. Keep the length to around one page.
Make sure you keep it formal. It is good to send it through by regular mailing system.
Use the best available stationery.
Keep the tone respectful and formal.
Address it to the Right Person
While writing this letter, you should make sure that you are addressing it to the right person. Technically, you should be writing it to the hiring manager or the company official who has signed on your offer letter. Do not mistake to address it to the wrong person.
Begin with Thank You
When you start your letter, always express thanks to the company for sending you this offer and also show your interest in this opportunity. Then talk about the salary that has been offered to you, highlighting your expectation and making a counter-offer in a formal manner. You can even mention the average salary for the same profile in the industry and talk about the mismatch in the offer that has been made to you. You can also put up your worth by mentioning your experience or qualification. Make sure that you letter concentrate on the business aspects and not bring in any personal reasons.
Conclude Effectively
Once you have expressed your counter offer, it is time to conclude your letter by summarizing your letter in a professional way. Always end it with a hope for receiving reply from the other side. You can even offer to phone the receiver in few days to fix an appointment for a personal meeting. Make sure you are able to express your optimism and enthusiasm in your letter which will reflect your interest in the offer.
Follow these points to write a professional salary negotiation letter so that you can turn the table in your favor.
Salary increment letter is written with a purpose to inform the employee about increment in his or her salary. While writing such a letter, you must congratulate the employee and also state the reason for this increment along with the components of this appreciation. You must include the name, designation and the date of increment for making this letter complete in every sense. It has to be a letter that acknowledges the hard work of the employee and also motivates them to work harder.
If you are the HR manager of the company or the employer and you want to inform your employee about the increment then here is a formal format to help you frame a complete letter with all necessary points that must be included without fail.
Salary Increment Letter Format for Employee
Date: 27th June, 2015
To,
Mr. Jacob Smith
Sales Executive
Dear Mr. Smith,
We are happy to congratulate you on impressive sales target achievements which have set new record. Your wonderful contribution to the company is acknowledged and appreciated by the management. We are sure that you will keep up with the good work and in times to come you will again deliver unmatched performances with utmost dedication and commitment.
After reviewing your performance from January 2015 to May 2015, we take immense pleasure in announcing appreciation in your salary package for the current year. From 1st July, 2015 your revised salary will be $75,000 per annum.
The terms and conditions other than your revised salary package remain unchanged as per your letter of appointment.
We are hopeful that you will keep making such valuable contributions to the organization which will be helpful in the growth of the company. We also wish you the best of your luck for the year ahead. Looking forward for much better performance from you.
Please sign the duplicate copy of this letter in order to express your acceptance of the salary appreciation.
With best wishes
Yours sincerely,
Adam Lincoln
HR Manager
ABC Corporation Pvt. Ltd.
Other Related Letter Formats
Salary Increase Negotiation Letter
Salary Increment Letter to Employee for Performance
Salary Increment Letter After Completing One Year
Salary Increment Letter Format to Boss
Salary Increment Letter Format
Salary Increment Appraisal Letter Format
Salary Negotiation Email in Response to Job Offer
Tips For The Successful Salary Negotiation
Salary Negotiation Letter after New Job Offer