Compensation and Benefits
Eating food at work is a common practice and that's the reason companies role out office food etiquettes to define what is right and wrong as per their office etiquette food and drink policy to bring clarity on what conduct is acceptable and what is not. Office etiquettes for food for employees are of extreme importance to make sure everyone follows the rules. Rules for employee eating at desk or employees not allowed to eat at work must be defined and followed for maintaining discipline at work.
In this post, we have come up with the letter for employees that states the eating etiquettes for the workplace. You can use this no food at desk policy template or sample memo for no eating inside the office to create a personalized letter.
Office Food and Drink Policy Letter for Employees
Date: March 15th, 2021
Dear Employees,
In recent times, we have found many employees eating food during working hours. Managers have also been constantly reporting of misconduct in relation with consumption of food and drink at office. Therefore, we are writing this letter to share with all the employees the Office Food and Drink Policy which is required to be followed by each and employee of the company.
Here is the Office Food and Drink Policy that must strictly be kept in mind:
No food is allowed inside the office to ensure clean and hygienic environment.
None of the edible items are allowed inside the office.
Consumption of food and drinks must not interfere with the business operations.
Consumption of food and drinks is only allowed in pantry.
All eating is permitted only during lunch hour which is from 1 pm to 2 pm.
Employees are allowed to go outside office for lunch during the lunch break.
All the points mentioned in the policy should be followed without failure or else strict action will be taken against the defaulters. We request all the employees to cooperate with us in successfully implementing this policy. Team leaders are advised to make sure that this policy is followed by each and every member of the team.
In case of any deviation, you can report of the misconduct to the HR department.
For any further clarifications, please get in touch with the HR department.
Sincerely,
Andrew Gibbs
Manager
Allen Wellness Products
These days companies are giving their employees convenience of work from home. This latest trend has mutually benefitted the employers as well as the employees. Work from Home Policy document rolls out all terms and conditions in relation with Work from Home Policy guidelines in India. You can use the Work from Home Policy sample or Work from Home Policy examples that are extremely beneficial.
To help you with, we have come up with a Work from Home Policy sample for your reference. You can use this Work from Home Policy template to create one for your company. Download Work from Home Policy sample in PDF format.
Check this also: Letter for Allowing an Employee to Work from Home
Work From Home Policy Sample
Here is the Work from Home Policy example which you can use to draft your own:
Policy Purpose
We have designed our Work from Home Policy to ensure that the format of work from home is equally beneficial for the employees and the company.
Scope of Policy
Work from home policy of the company is applicable to all our employees who intend to work from home.
Conditions Which Allow Employees Work From Home
Here are the conditions in which an employee can work from home:
If the job duties permit it
Employees whose work is mostly related with working on computer can work off-site occasionally.
Elements of Policy
Employees are working from home when they finish their work at a place which is not a part of the premises of the company. They may work on this format:
On specific days, as mutually agreed
Full time
Reasons for demanding work from home include:
Parenting
Medical reasons
Emergency
Bad weather
Long duration commute
Imbalance in work and life
Reasons other than these are subjective to the decision of the Management.
Work from home arrangements can be permanent or temporary or occasional.
Concluding Whether An Employee is Suitable For Work From Home
Here are some points which must be considered by the employees and the managers before approving work from home:
Does the duty of the employee permit it?
Does it make coordinating with other team members difficult?
What are the working conditions at the alternative place of work?
Does employee have required equipment or software to work from home?
Procedure to Request Work From Home
If an employee plans to work from home then here is the procedure that needs to be followed:
Send a formal request on email to the Human Resource Department at least three days in advance
The duration of work from home at a stretch should not be more than 7 days. In case, the arrangement succeeds this number, it should be discussed with the manager and the team members.
The request must be considered under the conditions mentioned above by the managers for approval.
It is at the discretion of the management to approve work from home or not and for what duration.
Compensation of Employees
Work from home format doesn't affect the compensation of employees in usual circumstances. In case their working is affected because of the arrangement, the HR Manager needs to formulate a revised contact based on their present working.
Other Related Letter Formats
Excuse Letter for Being Late at Work due to Traffic
Request Email Templates to Boss to Work from Home
Office Etiquette Food and Drink Policy Letter
Work From Home A Boon or a Bane
Search Sample Formats:
The old style of recording employee time sheet was using a sheet of paper and a pen. There was a time when employees were asked to record their entry, exit and break times. There was an old school of thought where punch card system was used. But the point is, are the employees recording their time accurately and honestly. Also the challenge is to turn this data into reports to use them for business decisions. Employee time clocks have resolved this issue for small businesses.
Five good reasons why a small business should have Employee time clocks are:
Time saving: The employee time tracking software automates thereby saving a lot of time for employees and for the HR department.
Human error: There are chances of under paying or over paying to an employee when time sheets are not calculated properly. There will be re-work which is a waste of time.
Save money: Time is money. If you save your business hours doing a productive job, you indirectly save a lot of money. You will also see a dollar reduction by using Time clock.
Reduce fraud: The manipulations involved in calculation of time either by employer or employee is eliminated.
Burden shift: The burden of calculation of the time sheet will be shifted from the employer to employer who will have to take the responsibility of entering individual data.
1. Employee Time Clocks Help You Save Time and Money
The employee time clock helps to save money and time by reduction of work. The data collection and calculations are automated. Elimination of human errors is possible with Time clocks. The employee fraudulent entries in time sheet calculation is eliminated. The employer need no keep running behind employees to fill the data. The responsibility shifts on the employee as he will be concerned with his salary. It is easy for management to identify issues relating to time in and time out calculations very soon.
2. Employee Time Clocks Are Fairer
The Time Clock & Employee Scheduling calculations are fairer than human calculations. The human element of bias, sympathy. The employee time clock does not have any feelings and it just follows the process. A sense of justice and responsibility also confers on the employees as they know they won't be paid if they won't work. They have to be physically present in the office to enter the data. The automated employee time clock can calculate better and also resolve issues like rounding off to the nearest while calculation. Rounding off to the nearest when done manually, has a human bias. But Time clock does it with precision and accuracy.
3. Employee Time Clocks Alert You to Attendance Issues
The time clock will generate reports, which will help you to identify timely issues in attendance before you take a business decision. When absenteeism increase at work place it impacts the employee morale. The employees who are present have to take the burden of additional work which creates resentment. When there is absenteeism, and there are ongoing projects, the productivity gets impacted. This will have impact on the cost factor too.
4. Employee Time Clocks Show You Real-Time Labor Costs
When you want to calculate the cost of labor, employee time clocks will give you accurate information. Hand written data can be inaccurate will have impact on cost of labor. You can have employee data to analyze the portion of labor which is costing more to the company. It is easy to identify the unproductive employees, and the employees who are doing over time. Labor tie and cost of labor can be compared with industry standards. The time clock helps to identify which employee time sheet is showing high despite of low production.
5. Employee Time Clocks Keep Payroll Accurate
The time clock will generate accurate payroll. This software takes into account the payroll policies while calculating the time sheet. The damage of costly errors is reduced with the help of this software. The time clock can integrate well into the existing payroll system, which reduces paper cost, processing cost, printing cost etc. These days the law has become more complex, it makes more sense to have an automated system than going through a tedious process.
 The normal work schedule for all employees is 8 hours a day, Sunday to Thursday.
Usually companies include the clause of notice period in their offer letters. The purpose of including notice period is to get some transition time so that when the employee leaves, the work that was handled by him could be handed over to someone else. If the employee is really good then companies try to retain them by writing a formal employee retention letter with notice period. The idea is to have an extra time to find a better substitute and have important things accomplished during this duration.
We have come up with sample retention letter for notice period which can be used for writing a personalized letter.
Sample Format for Employee Retention Letter For Notice Period
From
Samantha Brown
HR Manager
Global Investments Ltd
New York
Date: 18.10.17
To,
Robert Smith
45, Gold Oak Apartments
New York
Dear Robert,
This is in response to your resignation letter received on 28th September, 2017. We would like to bring to your notice that as per your offer letter, you cannot leave your job before serving the notice period of one month. And in case you do so then as per the policy of the Company, salary of one month will be deducted from your remuneration.
We would like you to stay with us for another one month and train Mr. Adam Jack for your profile. This would help him learn all the duties and responsibilities during this while and then you can move ahead with your new job.
For any further discussions, please feel free to write me a [email protected]
Looking forward for your response.
Regards,
Samantha Brown
HR Manager
Global Investments Ltd
Click Here to Download Employee Retention Letter For Notice Period
Other Related Post of Resignation Letter Examples
Employee Death Benefits Letter Sample
Relieving Letter From Group Company
Relieving Letter Format For Employee
Example of Resignation Letter Acceptance
Sample Resignation Letter with Complaint
Employee Documents Joining to Leaving
Acceptance of Resignation Letter Format
Acknowledgement Resignation Letter Template
Acceptance of Resignation Letter of Director
How to reply a Resignation Letter
Acceptance of Resignation Letter from Board Member
Requesting for Resignation Acceptance Letter
Acceptance of Resignation Letter without Notice
Sample Resignation Letter Due to Relocation of Spouse
Employee Resignation Letter Template
Formal Resignation Letter Template With One Month Notice
Part-Time Job Resignation Letter Sample
Sample Resignation Email Or Letter Example
Employee Resignation Letter
Sample Resignation Letter Format
Letter to Employee for Recovering Training Expenses of Company
Search Sample Formats:
If the employees of your company have submitted the request for a team outing and the management has agreed to their request then in that case,  the company is suppose to write a formal memo to inform staff company trip. The letter to employee team outing consists complete detail of the outing that has been planned for the employees thereby leaving no room for confusion. It is a way of formal company outing announcement followed by company.
To help you write a Letter to Employees on sanction of their team outing we have come up with an outing letter sample. Use it by customizing it as per your requirement.
Sample Letter to Employees on Their Team Outing Sanction
Date: 12.09.2017
Dear Employees,
This is to inform you all that the Management as accepted the request for team outing for the employees that you submitted on 05.09.2017. Given below are the details of the outing that have been sanctioned:
Date of Journey: From 25.09.2017 to 30.09.2017
Destination: Mussorrie
Accommodation: Hotel Park View
This request has been approved subjective to the following conditions mentioned in your request letter:
This outing has been organized on your own and therefore, this will not attract any TA or DA claims.
You will take complete care of your travel, baggage and insurance.
You will be responsible for your safety and your belongings.
You will be responsible for any accidents or incidents that take place during the event.
Management has agreed to mark all the employees as "Present" from 20.09.2017 to 24.09.2017 even though employees will not be present at work to attend to their duties.
You may work on your plan and submit the final details of the outing with the company. In case of any other help, you may get in touch with the HR department.
Sincerely,
Radika Sharma
Click Here to Download Letter to Employees on Their Team Outing Sanction
Companies which involve jobs with risky nature need to have tie ups with hospitals to address to the
medical emergencies
that might surface on a regular basis. In such a scenario, it is important to have a formal tie up the hospital to keep the process smoother and faster. You can do so by
writing a proposal letter
for tie up with hospital. With this kind of
request letter
to hospital, you can explain the need of tie up and go ahead with agreement format. We have come up with tie up
letter sample proposal
which you can use to request first aid treatment for employees in a formal manner.
Sample Tie Up Letter with Hospital for Employee First Aid Treatment
From: Aaryahi Goyal Manager, Zenith Constructions Pvt. Ltd. A – 791, Bandra Reclamation, Mumbai Date: 17
th
July, 2017 To, Advika Agarwal Manager, Green World Hospitals M. L. Dahanukar Marg Mumbai Dear Mr. Mars, I would like to submit my request for tie up with your hospital for first aid treatment of our employees. I would like to introduce my company Zenith Constructions Pvt. Ltd. We are into the construction business and we have over hundred workers working with us. Due to the nature of the
business
, we require first aid treatment for our employees time and again. You are a prestigious name in the health industry and you have various setups across the city. Therefore, we would like to have a corporate tie up with your hospital to handle all the first aid treatments for our company. If you are interested then please feel free to get in touch with me at 9898989898 so that we can discuss further on this subject. Looking forward for your response. Regards Aaryahi Goyal Manager, Zenith Constructions Pvt. Ltd.
Click Here to Download Format for Tie Up Letter with Hospital for Employee First Aid Treatment
Other Related Letter Formats
Request Letter to First Aid Training for Staff
Search Sample Formats:
Government of India has planned to cut down the number of registers from 56 to just 5. The idea behind this remarkable reduction is to make the business operations easier and more comfortable for the employers. This will reduce the burden on companies significantly. Government of India has announced to launch a format of employee register Form A which will soon be available for easy download on Shram Suvidha Portal.
Given below is the format for the same for your reference.
There are two parts to Employee Register Form A:
Part A: It applies to all the establishments
Part B: It applies to all the establishments under Mines Act, 1952.
We have both the parts of the form given below.
Employee Register Form A- Part A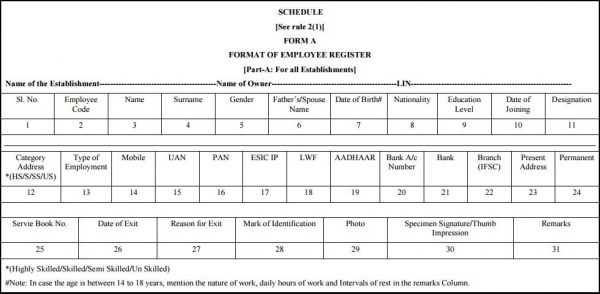 The revised format for T Employee Register Form A- Part A consists of 31 different fields which are to be filled. Some of the columns included in the form are Sl. No. Employee Code, Name, Surname, Gender Father's/Spouse Name, Date of Birth, Nationality, Education Level, Date of Joining,  Designation etc.
In addition to these 31 columns, the employer is also required to include additional information in the Remarks column, if the employee falls in the age bracket of 14 to 18 years. The additional information includes:
Nature of work
Daily working hours
Interval of rest
Employee Register Form A- Part B (For Mines Act, 1952)
Part B Consists 15 fields which are applicable for establishments under Mines Act 1952.
The Employee Register Form A- Part B form consists of 15 fields which are designed for all the establishments that fall under Mines Act, 1952. These fields include SI number, Name, Token Number Issued, Date of First Appointment with First Owner etc.
With these two formats, GOI has taken a strong step to reduce the large number of forms to just a few. The forms shared above contain all the important details of the employee and will surely reduce the everyday working hassles for the employer.
It is the duty of the manager to motivate his employees. Motivation is extremely important to make your employees aim higher and work harder. Without motivation, no organization and no employee can improve.  Therefore, managers should know what motivates their employees and serve them the same thing to get better performance.  For some money is the motivation and for some recognition is. Some enjoy new challenges and competition while some are contented with their work. It is very much subjective to a candidate what motivates him.
Understanding the Motivational Issues
Sometimes people fail to act, not because they are not motivated but because they have other issues which make it difficult for them to accomplish what they can. Here are some situations:
Time Management Issue: Some people lack the ability to use their time and as a result they are unable to perform even when they are motivated.
Procrastination Issue: Some people delay things not because they are not motivated but because they have some fear or they lack confidence.
Issues with Approach: Some people have a typical that they cannot do a particular job or they should have done that job. They are somehow stuck with the past.
Issues with Thinking Pattern: Some people think differently. They jump to conclusions, mislabel, magnify or minimize problems. They can do things but they are unable to.
A Guide to Motivation
We have come up with few motivating techniques that will help you and your organization grow.
Motivate Them to Be More Productive
Almost all the companies use rewards and competition to motivate their employees to be more productive but this kind of approach loses its luster with time. Here are a few tips to help:
Know various kinds of rewards:
Big and unexpected rewards are used seldom but motivate employees very well.  Scheduled rewards are very much expected and regular rewards that are easy to attain for anyone in the company. Rewards depending upon everyday work of employees. Companies have to use mix of these rewards to motivate the employees.
Maintain transparent work culture
Not all companies are comfortable with this idea but maintaining transparency in company actually helps in motivating employees. This helps them trust their company better and work harder to be a stronger part of it.
It is not easy to find employees who are loyal to companies. So focus on this attribute which every company desires for.
Profit sharing with employees
This is another kind of reward. Employees feel motivated because increased productivity reflects in their income as well. They are motivated to work continuously to give better results as each and every attempt that they make brings about a change in their overall earnings.
Reward them for their hard work
It is important to reward employees for their hard work. When they get bonus for their extra commitment and new leads, they feel motivated to work harder. It is for the managers to see that each one gets paid for the hard work in the reward system.
Excessive pressure hampers performance
If in the name of motivation, you end up putting extra pressure on your employees then it is quite damaging. It actually turns out to be the biggest demotivator for them. It is nothing but bad management skills that end up putting their employees under unnecessary performance because of which they fail to deliver even their regular performance. Be justified with what you ask your employees for.
Motivate Them to be More Creative
Make your employees more innovative, encourage them to think differently. Here are the tricks that are of great help:
Allow Them To Have A Little Fun: If you want them to be creative, you have to allow them to have some fun. Creativity flourishes in an easy and fun-filled setting.
Let Them Have Freedom to Think: Let your employees have their own ideas put into action, learn from their mistakes and enjoy their success.
Motivate Them to Work In Synergy
Companies have to strike the right balance between having their customers work together but not against each other. Managers have to be smart with using their motivational tactics to motivate their employees effectively so that team dynamics don't get affected and also that employees don't care about competition.
Don't let competition damage teamwork
Companies have various teams and managers must check that outputs of these teams don't get hampered because of competition. Synchronization between the both is a must.
Fair competition is healthy competition
The spirit of the competition has to be positive. Don't let any kind of negative behavior surface during the competition or else it will again act as a demotivator.
Managers must make sure that any kind of practices like gossiping and backstabbing don't surface in the company. They have long lasting damages.
This is a complete guide to help managers motivate their employees in the right way.
Most of the companies take training very lightly. Not only this, if the organization has to cut on budget, the first thing that comes to their head is employee training because it doesn't give immediate financial benefits and consumes lots of money and time. This happens because companies often forget to take into account the loss a company bears because of low employee moral or the expenses incurred on hiring new people. Training has the potential to keep employees highly motivated, thereby retaining them for longer and it also helps in keeping them competitive and smart, which in turn helps in having better productivity and more profits for your company.
Here are the reasons why every company should invest more in training their employees and not cut down on their budget.
1. Probability of Trained Employees Quitting is Lesser
Usually employees quit their job in the very first year of their joining. This happens because they are not able to deliver what it expected of them which makes them lose their confidence and they have no motivation to work. On the contrary an employee who is trained well has better command over his work, he explores his potential to perform, he wins laurels at work and enjoys all the appreciation which in turn works as a strong motivation for him to work harder.
2. Training Boosts Morale
It is very normal for a person to be unable to perform his job as expected if he is not trained. This results in drop in interest to work, lack of confidence and fear from work. Such employees end up losing their moral. On the other hand, companies can transform average recruits to star performers by training them the right way. This will not only enhance their performance levels but will also increase their morals. Their high morals will always keep them happy which will reflect in other professional relationships.
3. Entry Level Employees Always Need Attention
Most of the companies don't wish to invest their money on new recruits for entry level jobs because they consider them of no importance. But on the contrary, the entry level jobs need your attention because these employees are the face of your organization and your customers deal with them all the time. To make sure that they leave a good impression on your clients, you must train your entry level employees without worrying about your investment. Never underestimate the importance of these jobs. If you have hired someone to manage the cash counter, other than managing cash, he also needs to be warm to your customers, he should be able to communicate effectively with them. So make sure you train them all.
4. Trained Employees Help in Cost Reduction & Increasing Customers
Trained employees are blessed with more benefits, which have been listed below:
More efficient
More stable
More productive
High on morale and confidence
Better control over their work
Maintain stronger and healthier associations with clients, customers etc.
All of these points clearly state how amazingly trained employees are able to control and reduce the costs borne by the company and bring more profits to the organization by increasing profits and increasing the number of customers. As each of the employee excels in his job, he will deliver great performance, maintain healthy relationships which will constantly contribute to the growth of the company. Moreover, the cost of recruitment will be reduced to the minimum as attrition rate will always be low.
5. Enjoy the Best of the Performers
We cannot negate the fact that we have to make compromises as finding the most suitable candidate for a particular job happens rare. But making compromises with skills needed for the job are always better than making compromises with his values and attitude. A good training model is very effective in bridging the gap between the skills needed for the job and skills possessed by the candidate. Training helps you bring your employees at par with your expectations. You can comfortably hone their skills of communication, conduct, technology and various other facets thereby having the best of the performers in your company.
These are some of the reasons which are good enough to understand the importance of investing time and money in training your employees.
Other Related Letter Formats
Every employer understands the importance of employee recognition. Appreciating employee for his good work or amazing performance with a special reward always creates a strong connect between the employee and the Company. It is a way of boosting the self esteem and establishing more than just a professional relationship. Good companies have rewards programs for employees and various appreciation activities to acknowledge and give them rewards for job well done.
Being the employer, if you are in search of unique and useful employee reward ideas then here is a list of amazing 15 employee reward program examples under INR 500 that will be loved by your employees for sure. Have a look at this list to offer amazing rewards to the people who work for you.
1. Shopping Gift Cards
You can gift your employee a shopping voucher of any of the popular retail outlets. This is a very good recognition reward which he or she can use as per their own choice. This kind of voucher is loved by all the employees as it gives them the comfort of shopping what they want which makes them happy.
2. Lunch or Dinner
Another interesting choice of reward can be a paid lunch or dinner for the employee. This is a sweet gesture from the company's end as a small token for all the hard work. A delicious meal is something that is always appreciated.
3. Personalized Mug
Have a coffee mug with his or her name written on it along with a caption like "Most Hard Working Employee of the Month" or anything else. You can even have his or her picture printed on it making it a perfectly customized reward.
4. Relaxed Spa Session
To ease your employee who has worked hard to deliver the performance and what better than a spa session. Pick up a spa session which falls your budget and let your employee enjoy a soothing comforting massage. He or she will completely love the experience.
5. Movie Tickets
Let your hard working employee go for a movie with his or her partner. You can give movie tickets for a recent movie as a reward to him or her. This is one thing no one says a no to. A session of entertainment will surely boost your employee to work harder for more such rewards.
6. A Car Wash
If your employee maintains a car then you can gift him a free car wash which will easily fit in the 500 INR bracket. This will add more shine to the car and smile to his face. This is a very simple yet a thoughtful reward to offer.
7. Branded Lunch Boxes
You can also find branded lunch boxes in different colors and patterns to give as rewards to your employees who are the best performers. Select from wide range of brands and patterns to make your pick.
8. Custom Phone Cover
Everyone carries a mobile phone and every phone requires a case. As a reward, you can present the team members with a case. You can have it custom made with names of each of the team mates on it or you can keep it simple.
9. Cookie and Chocolate Hamper
You can even have an assortment of sweets like cookies, biscuits and chocolates to reward your employee. It is indeed a "sweet" way of appreciating him or her for all the efforts and delivering an amazing performance.
10. Inspirational Books
Another thoughtful present to give your employees are inspirational books related with their work profile which can motivate them and help them become better in their jobs. This is a remarkable gift to offer.
11. PAYTM Recharge
This is another useful reward. Just punch the number and send the amount to your employee's PayTM account which he can or she can use as per requirement and for the things they want. This is the new kind of reward which fits in the era of technology.
12. Mobile Accessories
We all love our mobile phones and their accessories. This can be another choice of reward for employees which will comfortably fit in the range of INR 500. You can go with trendy earplugs or mobile holders or anything else.
13. Food Vouchers
Get them food vouchers of the local eateries or cafes or Domino Pizza which are loved by all. Treat them with food your team members do their job with perfection which surely calls for a small celebration. They make a wonderfully delicious reward.
14. Free Cab Service
Make their commute easy and happy with free cab rides. You can offer them free rides of different taxi services available in your city which will surely add more comfort to their travelling without costing a penny.
15. Off From Work
Get your employee some free time by offering early off from work. It can be for a few hours or for one complete day depending upon the size of the reward. An early off from work will surely make him smile.