Others
In this busy world, we often forget to thank people around us and in such a scenario, a thank you letter or note is considered a very sweet gesture. In professional life, business thank you notes are highly appreciated. Thanking colleagues, clients, customers is not just a way to acknowledge the good they do but also a way to build stronger relationships. You can write thank you letter to clients for business or great business thank you notes to appreciate someone.
In this post, we not only bring you business thank you tips to write best thank you notes but also customer thank you note example, small business thank you notes formats to thank in a sweet way.
Business Thank You Notes Writing Tips
Here are some very useful business thank you Note tips to keep in mind. Using these guidelines, you can certainly frame fantastic thank you notes in professional life:
Make sure you send the thank you note as soon as possible. Any kind of delay will reduce the effect of the letter.
A personal hand written note is way better than a thank you email.
Keep it short and sweet.
Do include the reason for which you are thanking the receiver of the letter.
Express your gratitude as well as appreciate.
Keep the format formal.
Thank once again before ending your letter.
Sample Business Thank You Notes
Simran Kaur
Sales Manager,
Gupta Furnishings Pvt. Ltd.
New Delhi
Date: February 07th, 2020
To,
Mr. Ashok Sharma,
54, Gulmohar Apartments,
Greater Kailash,
New Delhi
Dear Mr. Sharma,
Greetings!!
Thank you for visiting our store and making your very first purchase with us. We are happy that we were able to serve you with the right kind of furnishing you were looking for your new house. Our team works very hard to make sure that each and every customer that visits us is always happy with the complete shopping experience. Please let us know if there is anything that you would like us to improve on. We will look forward to have you again at our store.
Best Regards,
Simran Kaur
Sales Manager,
Gupta Furnishings Pvt. Ltd.
New Delhi
Other Related Letter Formats
Thank You Letter for Leave Approval
Thank You Letter from Supervisor to Employee
Thank You Letter to a Boss for a Promotion
How to Write an Employee Thank You Letter
Thank you Letter to Employees for Hard Work
Thank you Letter for Gift from Company
Interview Evaluation form Example
Job Refusal Letter after Interview
Candidate Rejection Letter Sample After Interview
Group Discussions have been an integral part of studies in India. Whether you are seeking an admission in a college or facing an interview, you might have to participate in GDs. Therefore, it is extremely important to stay updated with GD topics on current affairs along with Engineering GD Topics if you are from that field.
In this post, we have come up with latest GD topics for engineering students. These are the easy topics for group discussion for college students, civil engineering students and electrical engineering students on which one must have thorough knowledge.
Here are the 20 best group discussion topics for engineering students for the year.
1. Future of cryptocurrencies.
2. Present day challenges for IT industry.
3. Is India ready to have 5G?
4. What is more important- Innovation or Invention?
5. Technology impacting job opportunities.
6. Can human intelligence be replaced by artificial intelligence?
7. Government's contribution to IT industry.
8. China- A threat to Indian software industry or not?
10. Education in India versus Education Abroad.
11. Role of technology in saving environment.
12. Whose responsibility is environment?
13. Is China a threat to India?
14. Role of MNCs in growth of India.
15. Pros and cons of blockchain technology.
16. Importance of globalization.
17. Dependence on computer- Good or Bad?
18. How is technology affecting our health?
19. Are MNCs devils in disguise?
19. Advertising is nothing but wastage of resources.
20. Indians are poor team performers.
Group discussions are the best way to improve communication skills, gain confidence and knowledge. This is the reason many colleges and companies organize this activity by picking unique, difficult and sometimes easy group discussion topics.
We have come up with a list of latest GD topics on current affairs 2019. These are the best group discussion topics on current affairs in India. You can select from these group discussion topics related to current affairs to organize a sizzling GD for your students.
Given below is a list of top 15 Group Discussion (GD) topics on current affairs.
1. Is BJP better than Congress?
2. Being secular is good for India or not?
3. Bitcoin is good or bad for India
4. Facebook can be a big boost for business.
5. Is India all set to become a cashless economy?
6. How Modi's "Make in India" is better than "Made in India"?
7. It is time that India should have Uniform Civil Code.
8. How GST has helped India grow?
9. How Chinese goods are a threat to Indian economy?
10. Replacing caste-based reservation with economic status-based reservation.
11. Is Modi the best prime minister of India in last two decades?
12. India needs a war or diplomatic cornering of Pakistan?
13. Juvenile crimes are on the rise in India. Yes or no?
14. Is women empowerment the solution for crime against women?
15. Are Indian states poorer than African states?
You May Also Like Other Group Discussion Topics
Group Discussion Topics for Engineering Students
Group Discussion Topics for College Students
Group Discussion Topics for HR Interview Round
Group discussions for school students and college goers have become an integral part of learning because they not only help students expand their knowledge but also add on to their confidence levels.
In this post, we have come up with Group Discussion (GD) for college students. These group discussion topics for engineering students prepare them for facing various entrance exams and interviews in the career.
Latest Topics for group discussion (GD) for College Students on current affairs:
1. Should NOTA be removed from voting?
2. Business and Ethics don't go hand in hand.
3. Is reservation for women good for India?
4. Are Indian news channels responsible or irresponsible?
5. Should live-in relationships be encouraged?
6. How big a threat is China to India?
7. How good a decision is to stop giving subsidy to agriculture is?
8. Which is a better system of politics in India- Two party or multi-party?
9. Is India really growing with increasing stress and health problems?
10. Television shows are badly influencing the youth.
11. Impact of social media on Indian values.
12. Pros and cons of using Facebook for business.
13. Entrepreneurship is not everyone's cup of tea.
14. Leaders are born and not made.
15. Managers are same as leaders.
You May Also Like Other Group Discussion Topics
Group Discussion Topics for Engineering Students
Group Discussion Topics for HR Interview Round
Group Discussion Topics on Current Affairs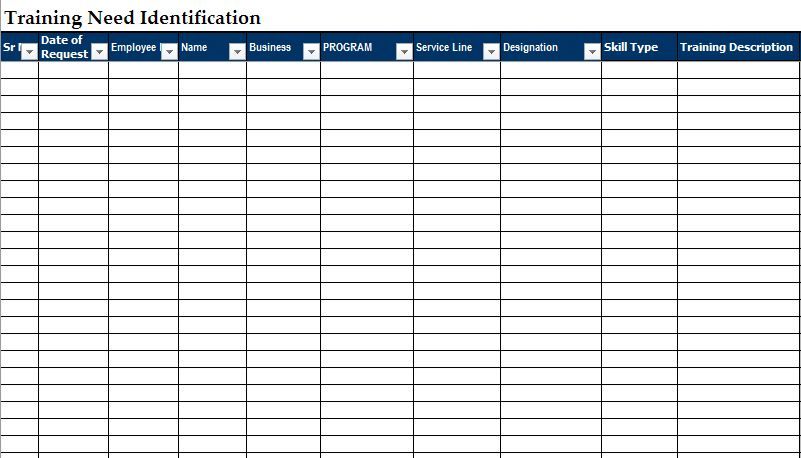 Write brief about What is training need analysis? an following are templates which are required to done the analysis
Training Need Analysis is used to identify the gap between the needs of training and the training of employee. This forms the first stage of the process of training to know whether training can resolve the issues that have been identified. TNA comprises of training needs analysis worksheet which forms the training needs analysis form for employees. Sample Training Needs Assessment template and Training needs analysis questionnaire are very helpful in this process.
Given below is a Training Needs Analysis template in Excel format. Use this organizational training needs analysis template subjective to your needs.
Training Need Identification Format in Excel
Given below is a Training Need Identification format for your reference. This format consists of functional and behavioural aspects along with proposed area for development. This form also defines the criticality of development.
Use this Training Need Identification sample designed in Excel format. You can download it and use it to have all your needs met.
Learning History, Education Qualification and Experience
It is a self declaration format which consists of complete declaration of an employee. It includes history of his learning in form of training programs he has been a part of, his professional experience, his academic qualifications, his professional qualifications, his professional memberships and details on his work exposure. This gives complete detail on the knowledge, experience and learning a person possesses.
Search Sample Formats:
Companies roll out policies for everything to ensure smooth and controversy- free working with their employees. In some companies, employees have to travel often, domestic or international. For that purpose, they design Foreign Travel Policy for employees and also Domestic Travel Policy. This policy has clearly state company travel policy and procedure. It works as company employee handbook with Local Travel Policy for employees in India along with travel reimbursement policy for employees.
In this post, we have come up with a sample corporate travel policy for employees. This business travel policy sample includes all important points that are a part of the policy.
Domestic Travel Policy
Here are some of the essential points that are included in Domestic Travel Policy of a company in India:
Complete format for travel policy
Details of company's travel policy, rules and procedures
Details on boarding and lodging as stated in the HR policy
Travel guidelines to be followed by employees on their official travel
Arranging conveyance in the city
Details on entitlement for different levels
Defining different categories of cities
Defining entitlement of cities
Details on Per Diem
Rules on safety and security of employees
Other Related Articles
Read about Employee Leave Policy Overview Purpose Scope Policy to create your own
Study and understand the sandwich leave policy followed by various companies
Stay updated with Sandwich leave rule Policy that various companies follow to avoid losing your hard-earned money
Learn about the Employee Retirement Policy in India For Pharma Company
Search Sample Formats:
When you take leaves on Saturday and Monday then Sunday is also counted as a leave as per Sandwich leave name. This kind of combination is called Sandwich Leave concept when a paid holiday gets sandwiched between two leaves. Sandwich leave policy is followed by many companies with an intention to stop their employees from taking leaves at a stretch and also enjoy benefits of paid leaves. There are various other policies in this like Sandwich Leave Policy for earned leave.
So if you plan to take leave between two holidays then get prepared to witness the loss of pay. In this post, we have come up with some small and smart moves to make the most of your leaves along with Sandwich Leave policy rule in your company.
Managing Sandwich Leave
Here are some points that you must keep in mind while submitting your sandwich leave application:
If you are planning to take Saturday and Monday as off then you must serve your office for half day either on Saturday or Monday.
You can keep your loss to minimum by taking off on Friday and Saturday along with Sunday or Monday and Tuesday along with Sunday to at least enjoy one paid leave instead of no paid leave.
If your company allows work from home then you can work from home one day before or after Sunday and take one day as leave.
This is quite a debatable issue and is very subjective to the HR policies of the company. Therefore, have everything clarified with your HR Manager before taking an off like that.
Other Related Post of Leave
Frame a customized letter using Sample of Circular for Leave Request
Submit a professionally drafted Thank You Letter for Leave Approval
Use the sample for Employee Retirement Policy in India For Pharma Company
Design the Leave Policy of your company using the draft as the base for customization.
New employee ID card request form is an official document using which employees can submit their formal request to the company to issue the identity card to them. This application for new ID card in office is great help to employees as they can easily write to the concerned department about this. It is a very simple request form which contains all essential details about the employee like his name, age, gender, address etc.
We have a ready to download New Employee ID Card form template in PDF and Word format. Use this identity card application format by printing it or customizing it as per your need.
Other Related Formats
Request Letter for New Employee ID Card
Sample Letter for Lost Company ID Card
Search Sample Formats:
Employee verification is an important process before finally recruiting any person in the company. For this, you can submit a request for employee verification to the company where the employee is presently working or has worked in near future. Some companies have HRs doing this job while some companies hire third party services to do the same. Warning Letter for not submitting documents for Employee Verification and email for the same are few important formats you might require.
Given below is a formal employee verification email format. Customize and use this employee verification email sample and template as per your requirement.
Employee Verification Email Format Addressing HR
Date: 03.07.2018
Dear Sir/ Ma'am,
Greetings!!!
I am Ritu Maheshwari and I am working with Zenith Technologies Pvt. Ltd. as Asst. Human Resource Manager. You must be aware the during the process of recruitment, employee verification is an important step and therefore, I am writing to you, to seek your assistance in verifying the details given below of the following candidate:
Name of the Candidate: Mr. Arun Kumar
Company's Name: Authentic Automobiles
Employee Code: 12345/2015
Position/ Profile: Marketing Executive
Kindly provide the following details of the above mentioned candidate.
Date of hiring
Date of joining
Salary Gross/ CTC
Reason for Leaving
Eligible to hire (Yes or No)
Name of the Verifier:
Position of the Verifier:
We will look forward for your responses and would appreciate if you could fill the details at the earliest. Please get in touch with us at 9898989898 or revert us on the same email.
We are thankful for your time and help.
Best Regards,
Ritu Maheshwari
Asstt. HR Manager
Zenith Technologies Pvt. Ltd.
Click here to download Employee Verification Email to HR in Word Format
oOher Related Formats
Employee Death Benefits Letter Sample
How to Write a Letter for Verification of Employment with Sample
Search Sample Formats: