Others
Working from home during COVID-19 pandemic has become a routine across different industries which earlier, were out of the purview. The outbreak of this pandemic has transformed the work pattern in a significant way. With WFH becoming a usual pattern of work, both employees and employers have been benefited in different ways.
In this post, we are going to be discussing whether work from home is a boon or a bane. Before moving ahead discussing whether Work From Home (WFH) is boon or bane, we must remember that both come with their own positives and negatives. Let us browse through work from home boon or bane points to get more clarity on the subject.
Advantages of Working From Home (WFH)
Employees have performed better while working from home.
Employers have been able to save on a lot of overheads.
There has been a serious deduction in costs that involve commuting to and from work.
Employees have been able to save on a lot of commute time on daily basis.
There has been a better work-life balance for the employees.
The pollution levels have gone down.
Disadvantages Of Working From Home (WFH)
Many companies had to invest in developing the IT infrastructure which they otherwise lacked.
Companies had to work harder to monitor the performances of employees.
Not all kinds of jobs were fit for work from home pattern.
Employees were compelled to work beyond their usual working hours.
Work from home added on to internet and electricity expenses of the employees.
Every day turned out to be a working day for many employees.
These are some of the advantages and disadvantages associated with work from home that certainly make it a boon as well as a bane in different situation for different people.
Other Related Articles
Letter for Allowing an Employee to Work from Home
Request Letter/Email to Boss to Work from Home
Work From Home Policy
Excuse Letter for Being Late at Work due to Traffic
UAN is the 12 digit Universal Account Number that is allotted to all the employees who are making any kind of contribution to EPF or Employee Provident Fund. The idea behind introducing UAN number is to take the EPF services the online platform and therefore, make the whole process much more user-friendly. The important point to note here is that the UAN number doesn't change for the employee and remains same throughout the lifetime.
In this post, we have included all the important details about UAN that one needs to know.
How to Know Your Universal Account Number (UAN)?
In order to find out your UAN number, here are two ways:
Check it with employer: If it is your very first job then once you start contributing towards EPF, UAN number will be notified to you by your employer. Mostly, companies have it printed on your salary slip once the deductions towards your PF start taking place.
Check it on UAN portal: In order to check your UAN number, you have to visit the website and or simply click on the link shared below:  www.unifiedportal-mem.epfindia.gov.in/memberinterface
Just click on this link and select "Know Your UAN status". Next, you will be required to fill in your basic details and follow the step-by-step procedure.
Check this: How to get a UAN number through a PAN/ Aadhar/ PF Account number
Need of Universal Account Number (UAN)
Earlier an employee was allotted different member IDs by different employers for each PF account when a salaried individual made contribution towards EPF.
On October 1st, 2014, PM Narendra Modi made the whole process a lot simpler by bringing down all the PF accounts under one number.
Having just one UAN number makes it much more sorted and convenient to manage your EPF.
Documents Required For Generating UAN
Here is the list of documents that are required for generating UAN from anywhere:
Bank account details that include your bank account number, branch name and IFSC code
ID proof that can include any of the following- Driving license, Aadhaar card, Voter ID, Passport etc.
Address Proof which can be in any of the ID proofs mentioned above or your ration card.
ECIS card, in case you already have an account.
Aadhaar card and PAN card.
Benefits of Universal Account Number (UAN)
Here are some of the advantages associated with UAN. They are:
You can link all your previous PF accounts under one UAN number.
You can download updated EPF passbook.
You can make changes in your personal contact details.
You can conveniently upload KYC data.
You can have your UAN login, EPFO login on UAN activation.
You can also apply for online transfer of PF.
Allotment of UAN For New Employee
UAN number is allotted by EPFO i.e. Employment Provident Fund Organization.
It is allotted when the employer submits the request for UAN number for an employee.
Details of UAN ae provided to the employer
Employer is required to communicate the UAN along with member ID to the particular employee.
Though there is a lot of ambiguity and debate surrounding the availability of COVID-19 vaccine for the common people but whenever, it happens, we must be prepared for it.
If you are an organization and if you are thinking about getting your employees vaccinated then you must develop a COVID-19 vaccination plan. It is extremely important that we have done all the ground work before the vaccine has finally become public.
In this post, come up few points that will help you create your plan for COVID-19 vaccine in your company.
Whether to make vaccination compulsory for employees?
This is the very first question that pops up that whether to mandate the COVID-19 vaccine for all the employees or not. It not only depends upon the kind of industry your company belongs to about also state laws and religious concerns that play an important part in taking this important decision.
Points to Keep in Mind While Planning COVID-19 Vaccine for a Company
Communicating with employees: It is important to communicate the reasons to your employees if you are planning to make the vaccinate mandatory for the staff. For instance, if your employees are involved in interaction with customers or travel then that should be presented as the reason.
Costs involved: In case the vaccine is not completely funded by insurance then you must work out how you should be bearing the cost of vaccines if you are making them mandatory.
Managing medical records: All the medical information of all the employees must be handled separately and must be kept confidential.
Maintaining safety: Having your employees vaccinated is not enough. It is important to make sure that the working environment is completely safe for your staff.
Place of vaccination: You must also take into consideration the location where the employees will get vaccinated.
Choice of vaccine: If there is more than one vaccine available in the market then you must know which one should be finalized for your staff.
Efficacy: It is important to know the effectiveness of the vaccine and make sure that all the guidelines are followed.
Priority of vaccination: In case there is limited supply or shortage of vaccine, you must have a list of priority employees made who must get vaccinated first based on valid and unbiased grounds.
Compensation to workers: In case of side effects from vaccine, can the staff be compensated also needs to be decided.
Consider religious and medical objections: You must clearly define cases where requests for accommodations can be accepted under religious and medical concerns.
In situation where employee refuses for vaccine
Evaluate if the employee's refusal for the vaccine is a threat to other employees or customers.
Take into consideration the safety measures to control the spread of COVID-19
Making the use of gloves, masks and PPE kits along with social distancing for employees who refuse to take the vaccination.
Planning encouraging vaccination
Offering incentives to employees who take flu shots.
Offering vaccines at subsidized rates is also a big motivation
Encouraging vaccination over making it mandatory always receives fewer issues.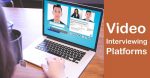 Technology has impacted every facet of our lives. With changing times, the face-to-face interviews are not replaced by interviews on videos. Seeing the high demand, in a short span of time many video interview websites using different video interview tools have made a name in the market.
Whether you are looking for the best free video interviewing software or best virtual interview platforms in India, you have come to the right place. We bring to you the best options for video interview recruitment in India. Browse through these best video interviewing platforms in India that make recruiting so much easier and convenient.
Top Video Interviewing Platforms in India
Skype.com
Skype is a popular software that is designed to enable online conversations beyond boundaries. Used by millions of businesses and individuals, this is one of the best video interview software that allows us to make group calls, one-to-one voice calls, video calls and also share files and send instant messages with the other people present on Skype using our mobile phones or computers.
Zoom: Video Conferencing, Web Conferencing, interview
In 2020, Zoom has become the most popular software apps for video conferencing. Known for its user-friendliness and features, this is a platform which allows you to interact virtually with co-workers and clients and the good thing is that it is not just limited to the professional world but off late, it is widely used for social events. Designed to have meetings and chats with clients, conduct video webinars and online conferences; it makes a one-stop solution of video interviewing.
Google Hangout
Google Hangouts is a communication service designed to allow members to communicate over text chat, video chat or video call with an individual or with a group. This cross platform messaging app was developed by Google and makes one of the most popular choices. It is available on both Android as well as iOS devices.
In this busy world, we often forget to thank people around us and in such a scenario, a thank you letter or note is considered a very sweet gesture. In professional life, business thank you notes are highly appreciated. Thanking colleagues, clients, customers is not just a way to acknowledge the good they do but also a way to build stronger relationships. You can write thank you letter to clients for business or great business thank you notes to appreciate someone.
In this post, we not only bring you business thank you tips to write best thank you notes but also customer thank you note example, small business thank you notes formats to thank in a sweet way.
Business Thank You Notes Writing Tips
Here are some very useful business thank you Note tips to keep in mind. Using these guidelines, you can certainly frame fantastic thank you notes in professional life:
Make sure you send the thank you note as soon as possible. Any kind of delay will reduce the effect of the letter.
A personal hand written note is way better than a thank you email.
Keep it short and sweet.
Do include the reason for which you are thanking the receiver of the letter.
Express your gratitude as well as appreciate.
Keep the format formal.
Thank once again before ending your letter.
Sample Business Thank You Notes
Simran Kaur
Sales Manager,
Gupta Furnishings Pvt. Ltd.
New Delhi
Date: February 07th, 2020
To,
Mr. Ashok Sharma,
54, Gulmohar Apartments,
Greater Kailash,
New Delhi
Dear Mr. Sharma,
Greetings!!
Thank you for visiting our store and making your very first purchase with us. We are happy that we were able to serve you with the right kind of furnishing you were looking for your new house. Our team works very hard to make sure that each and every customer that visits us is always happy with the complete shopping experience. Please let us know if there is anything that you would like us to improve on. We will look forward to have you again at our store.
Best Regards,
Simran Kaur
Sales Manager,
Gupta Furnishings Pvt. Ltd.
New Delhi
Other Related Letter Formats
Thank You Letter for Leave Approval
Thank You Letter from Supervisor to Employee
Thank You Letter to a Boss for a Promotion
How to Write an Employee Thank You Letter
Thank you Letter to Employees for Hard Work
Thank you Letter for Gift from Company
Interview Evaluation form Example
Job Refusal Letter after Interview
Candidate Rejection Letter Sample After Interview
Search Sample Formats:
Group Discussions have been an integral part of studies in India. Whether you are seeking an admission in a college or facing an interview, you might have to participate in GDs. Therefore, it is extremely important to stay updated with GD topics on current affairs along with Engineering GD Topics if you are from that field.
In this post, we have come up with latest GD topics for engineering students. These are the easy topics for group discussion for college students, civil engineering students and electrical engineering students on which one must have thorough knowledge.
Here are the 20 best group discussion topics for engineering students for the year.
1. Future of cryptocurrencies.
2. Present day challenges for IT industry.
3. Is India ready to have 5G?
4. What is more important- Innovation or Invention?
5. Technology impacting job opportunities.
6. Can human intelligence be replaced by artificial intelligence?
7. Government's contribution to IT industry.
8. China- A threat to Indian software industry or not?
10. Education in India versus Education Abroad.
11. Role of technology in saving environment.
12. Whose responsibility is environment?
13. Is China a threat to India?
14. Role of MNCs in growth of India.
15. Pros and cons of blockchain technology.
16. Importance of globalization.
17. Dependence on computer- Good or Bad?
18. How is technology affecting our health?
19. Are MNCs devils in disguise?
19. Advertising is nothing but wastage of resources.
20. Indians are poor team performers.
Group discussions are the best way to improve communication skills, gain confidence and knowledge. This is the reason many colleges and companies organize this activity by picking unique, difficult and sometimes easy group discussion topics.
We have come up with a list of latest GD topics on current affairs 2019. These are the best group discussion topics on current affairs in India. You can select from these group discussion topics related to current affairs to organize a sizzling GD for your students.
Given below is a list of top 15 Group Discussion (GD) topics on current affairs.
1. Is BJP better than Congress?
2. Being secular is good for India or not?
3. Bitcoin is good or bad for India
4. Facebook can be a big boost for business.
5. Is India all set to become a cashless economy?
6. How Modi's "Make in India" is better than "Made in India"?
7. It is time that India should have Uniform Civil Code.
8. How GST has helped India grow?
9. How Chinese goods are a threat to Indian economy?
10. Replacing caste-based reservation with economic status-based reservation.
11. Is Modi the best prime minister of India in last two decades?
12. India needs a war or diplomatic cornering of Pakistan?
13. Juvenile crimes are on the rise in India. Yes or no?
14. Is women empowerment the solution for crime against women?
15. Are Indian states poorer than African states?
You May Also Like Other Group Discussion Topics
Group Discussion Topics for Engineering Students
Group Discussion Topics for College Students
Group Discussion Topics for HR Interview Round
Group discussions for school students and college goers have become an integral part of learning because they not only help students expand their knowledge but also add on to their confidence levels.
In this post, we have come up with Group Discussion (GD) for college students. These group discussion topics for engineering students prepare them for facing various entrance exams and interviews in the career.
Latest Topics for group discussion (GD) for College Students on current affairs:
1. Should NOTA be removed from voting?
2. Business and Ethics don't go hand in hand.
3. Is reservation for women good for India?
4. Are Indian news channels responsible or irresponsible?
5. Should live-in relationships be encouraged?
6. How big a threat is China to India?
7. How good a decision is to stop giving subsidy to agriculture is?
8. Which is a better system of politics in India- Two party or multi-party?
9. Is India really growing with increasing stress and health problems?
10. Television shows are badly influencing the youth.
11. Impact of social media on Indian values.
12. Pros and cons of using Facebook for business.
13. Entrepreneurship is not everyone's cup of tea.
14. Leaders are born and not made.
15. Managers are same as leaders.
You May Also Like Other Group Discussion Topics
Group Discussion Topics for Engineering Students
Group Discussion Topics for HR Interview Round
Group Discussion Topics on Current Affairs