10 Best of Outdoor Team Building Games & Activities In India
Life and learning are not just limited to office boundaries. Taking your employees outside the work place and arranging for some outdoor corporate events is a delightful activity for which everyone looks forward for. Outdoor team building programs and activities for adults are not just a mere way of adding some fun to monotonous lives but a great way of learning new things, learning to work as a team. Outdoor team building games for employees are used by many managers to keep their workers happy and energetic and this reflects in their performances. We have often heard of outdoor team building activities for kids but now let us have a quick look at outdoor team building activities for youth.
We bring to you the top 10 team building outdoor games for corporate employees that make work more fun and help in breaking the ice which often restricts them from delivering their performance.
1. Treasure Hunt
The team is required to find the hidden treasure using different clues given to them. This activity is quite fun and requires team efforts, coordination, leadership skills and problem solving skills to reach to the treasure with combined efforts.
2. Plank Walk
Legs of 4-5 team members are tied on the planks on both the sides. Using the ropes attached with the plank, the group has to reach to a certain point. This task involves coordination to lift one leg at the same time so that they can reach the finish line without falling.
3. Jungle Survival
As the name suggests, the team has to survive in the jungle, facing different challenges they find the setting. It is a wonderful outdoor group activity which requires leadership skills and problem solving skills to come up with solutions to different problems that come up while living in jungle.
4. Pipeline
One pipe is broken into many pieces and each member is handed over one piece. Now the team has to carry the fragments of pipe like one pipe without breaking the pipeline and reaching the destination in a well coordinated manner.
5. Raft Building
This entertaining outdoor activity involves making a strong raft as a team. The team is provided with all the raw material to make a raft and has to create a perfect raft which functions properly. This is a wonderful constructive activity which involves problem solving skills.
6. Acid Walk
In this kind of walk, all the team members are required to walk very close to their partners in order to reach the finish line. This demands coordination and synchronization in order to reach the destination and be a winner.
7. Camping
You can even take you team out for night camping to any of the places. This activity would involve them to set up the camps, prepare bonfire and make meals for everyone. This would involve team building skills and leadership skills to make this outing a success in every sense. Surely, it requires lots of management.
8. Military Warfare
Select a few military warfare tasks and allot these tasks to the groups, to accomplish them in a limited time period. You can select these tasks based on their difficulty levels which will require participation and group coordination to finish these tasks successfully.
9. Transporting
This activity involves transporting the group members from one place to another using the props that are given to them. You have to be creative in using the things that are provided to reach to the destination and make your team a winner.
10. River Rafting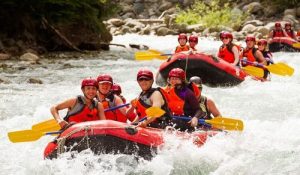 This is another very popular corporate group activity which involves going on a river rafting expedition with your team members. It requires you to face the challenges in the river and reach to the destination with group coordination.
These are some of the most trilling and exciting outdoor corporate events which can be organized to bring together all your employees and have them participate in such fun outdoor team building activities for youth.