Warning Letter to Employee Taking Leave Without Handing Over Work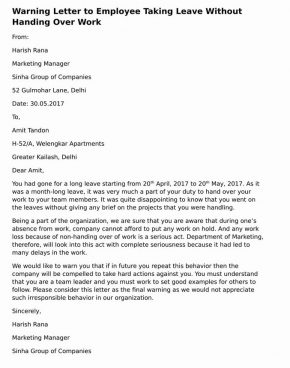 Organizations often face problems when employees go on leaves without handing over their work to their co-workers. In this case, it becomes extremely difficult for others to work as they have no idea of the work in progress. In such a scenario, writing a warning letter to the concerned employee on this issue is the professional thing to do.
Given below is a sample draft of warning letter to the employee who has gone on leaves without work handover. Use this template to create your letter.
Warning Letter to Employee Gone on Leaves Without Work Handover
From:
Harish Rana
Marketing Manager
Sinha Group of Companies
52 Gulmohar Lane
Delhi
Date: 30.05.2017
To,
Amit Tandon
H-52/A, Welengkar Apartments
Greater Kailash
Delhi
Dear Amit,
You had gone for a long leave starting from 20th April, 2017 to 20th May, 2017. As it was a month-long leave, it was very much a part of your duty to hand over your work to your team members. It was quite disappointing to know that you went on the leaves without giving any brief on the projects that you were handling.
Being a part of the organization, we are sure that you are aware that during one's absence from work, company cannot afford to put any work on hold. And any work loss because of non-handing over of work is a serious act. Department of Marketing, therefore, will look into this act with complete seriousness because it had led to many delays in the work.
We would like to warn you that if in future you repeat this behavior then the company will be compelled to take hard actions against you. You must understand that you are a team leader and you must work to set good examples for others to follow. Please consider this letter as the final warning as we would not appreciate such irresponsible behavior in our organization.
Sincerely,
Harish Rana
Marketing Manager
Sinha Group of Companies
Resources Related To Warning Letter Formats
Maternity Leave Expenses Disbursement Letter
Warning Letter to Employee for not following Uniform Dress Code
Compassionate Military Leave Letter
Garnishment Notification Letter to Employee
Letter Format to Employee for Misbehaving at Workplace
Warning Letter to Employee for Cigarette Smell
Material Handover Letter Sample
Warning Letter to Employee for Careless Attitude
Warning Letter for Usage of Mobile Phone on Workplace
First Warning Letter to Employee
Warning Letters for not attending Office regularly
Warning Letter to Employee for Salary Deduction
Writing Warning Letter to Employee
Warning Letter to Employee for Poor Performance
Warning Letter For Alcohol Consumption During Working Hours
Warning Letter for Misbehavior with Senior
Warning Mail on Resignation Without Notice Period Completion
Warning Letter to Employee Taking Leave Without Handing Over Work
Warning Letter to Employees Refusing to Work
Writing a Warning Letter to Employee for Poor Attendance
Warning Letter or Memo To Employee
Poor Performance Warning Letter Format
Handover Job to Colleague Email Sample
Search Sample Formats: