Posts tagged "Employee"
Leave extension letter for family problems is written in order to put forward the request for extending the leave for a certain number of days. This application format for leave extension is designed so that you can professionally mention in the letter the reason for seeking the extension. Make sure that you mention the number of days for which you need the extension.
Application for Leave Extension due to Family Problem
Sub: Regarding Extension of Leave
Dear Sir,
I am writing this letter to request you for extension of my leave by two days. As mentioned in my leave application, I needed a leave from May 08th, 2022 to May 10th, 2022 because some emergency situation in my family. My grandfather is admitted in the hospital due to heart condition and therefore, I will need two more days leave so that I can take care of him once he is home.
I am hopeful that you will understand my situation and will grant me the leave extension. Please accept my sincere apologies for the inconvenience caused. I will be reporting to work on May 12th, 2022.
Thanking in anticipation.
Sincerely,
Robert Smith
Other Related Leave Email/Letter Format and Sample
Leave Email Due to Mother and Father Death
Leave Extension Email for Maternity Leave
Sick Leave Email to Boss for One Day
Maternity Leave Expenses Disbursement Letter
Compassionate Military Leave Letter
Marriage Leave Application Format
Sample of Circular for Leave/Leave Request Procedure
Earned Leave Application Format for Employees
Leave Application for Own Marriage to HR
Permission Letter to Leave Office Early
Letter format for half day leave for employee
Format of Half Day Leave Application Email
If your boss has appreciated you for your good work then it is always recommended to write a thank you reply to boss for appreciation. Writing reply to appreciation email from boss will hardly take any time but will always get noticed. The thank you reply email for boss has to be a simple email which thanks him or her in a warm manner.
In this post, we have come up with a thank you replay to boss for appreciation email format. You can use this sample thank you response email to boss to create your own thank you email.
Sample Thank You Reply Email to Boss for Appreciation
Dear Sir/Madam,
Thank you for your appreciation. Each and every word from you has infused me with high spirits and I will make sure that I continue to keep working hard and keep making you proud of me. Today is one of the most important days in my professional career and I am really thankful that you appreciated me for all the work that I have done.
Thank you once again.
Sincerely,
Ana Smith
Resources Related To Thank You Letter Formats
Thank You Email Message for a Phone Interview
Thank you Letter for Second Job Interview Invitation
Thank You Letter for Leave Approval Sample
Thank you Letter for Gift from Company
How to Write an Employee Thank You Letter
Thank You Letter After Phone Job Interview
Thank You Letter Example for an Administrative Interview
Things To Keep Out of An Interview Thank You Letter
Tips for Writing Great Business Thank You Notes
Thank You Letter from Supervisor to Employee
Thank You Letter for Leave Approval
In most of the companies, a new recruit has to serve the probation period before having a permanent job in hand and when the probation period ends, the company writes a job offer letter after probation period to the candidate. The probation confirmation letter format is simple and congratulates the candidate for job confirmation. The Job Confirmation Letter After Probation Period is a short and specific letter that also includes the designation on which the job is confirmed. And on receiving one such letter, the candidate must also send a job confirmation letter after probation period reply to the letter.
In this post, we have come up with Job Confirmation Letter Format, Sample, Template which can be used for creating a confirmation letter.
Job Confirmation Letter Format for Employee after Probation Period
From:
Ana Smith
HR Manger
Zenith Technologies
New York
Date: April 23rd, 2022
To,
Ms. Rose Jacob
45, New House Villa
New York
Dear Ms. Rose,
We would like to congratulate you on successfully completing the probation of six months with Zenith Technologies. We are happy to receive satisfactory reports on your performance from your supervisor, Mr. Andrew Black. You have been a hardworking and punctual employee for all these months. You have been a supportive and understanding team worker and have always been able to meet your targets.
Considering your impressive performance during the probation period, the management would like to confirm your appointment with the company as Marketing Executive, effective May 1st, 2022. Congratulations!
You will be reporting to Mr. Ben Hay, Marketing Manager. The terms of employment will be same as earlier and you are soon going to receive your appointment letter which will include all the details in relation with your appointment. Now that you will be our permanent employee, there will be an immediate hike in your salary.
As you are now going to be an important part of our company, we would expect that you will continue to work with dedication and commitment and keep contributing towards the success of our company.
Congratulations once again and welcome aboard!
Regards,
Ana Smith
HR Manger
Zenith Technologies
New York
Related To Confirmation Letter Formats
Confirming Attendance Letter
Confirmation Email for Attending Meeting
Apprenticeship Confirmation Letter
Letter of Confirmation for Industrial Training
Meeting Confirmation Email Sample
How to Write a Meeting Confirmation Letter Reply
Appointment Confirmation Email Sample
Letter of Confirmation Management Trainee
Recommendation Letter for Job Confirmation
Letter of Confirmation for Industrial Training
Letter for Verification of Employment
Letter to Get Police Verification Certificate for Job
With life getting back on track after COVID-19, offices are ready to have their employees work from office. And in order to do that, writing letter inviting employees back to work is a sweet gesture. Welcome back employees to the office after COVID-19 in a formal manner by sharing some important guidelines that they need to be following to keep it safe. As Employee Return to Work Letter After Coronavirus, make sure that you write a letter to all of them to make it a healthy working experience for all.
This post includes draft for inviting employees to return to office after work from home letter sample. You can use this template or example for creating a personalized letter.
Letter Format Inviting Employees Return to Office After Work From Home
Dear Employees,
Welcome back to office!
It has been a long while since you all had been working from home but now we all very happy to welcome you back to office. We want to make sure that working at office is safe for each one of you and therefore, we are sharing some guidelines that must be kept in mind all the times at office by each one of us.
We will be sanitizing the office frequently
We will be distributing the working hours for all employees
All employees will have to compulsorily work from office for three days in a week which will be shared in the roaster every week.
There will be limitations on number of employees gathering at a time.
Employees will have to maintain distance while working in the office.
Thank you to all our employees for all your patience and support during these difficult times.
Regards,
Ana Hathaway
HR Manager
Zenith Technologies
Sometimes companies require their employees to always wear their employee ID cards as they make it easier for the governing bodies to manage the movement of staff. In order to do so, companies can write letter to employees for wearing identity cards. Before writing warning letter for not wearing ID cards, it is important to write letter of compliance to the staff.
In this post, we have come up with a sample letter of compliance to staff for wearing employee ID card. You can use this format to create your own draft.
Letter Format of Compliance for Wearing Employee identity Cards
To,
The Staff Members,
New Age School
New York
Sub: To request compliance for wearing ID cards
Dear Staff Members,
Keeping in mind the safety and security of all the students at our school, we have decided to take some precautionary actions and in order to have a complete and foolproof security clearance, it has been decided by the governing body to make the wearing of employee Id cards compulsory for all the staff members at the school.
We hope that all the staff members are going to understand the situation and will always wear their ID cards when at work. This will be extremely helpful for security clearance and will help us manage things in a better manner.
We will highly appreciate your cooperation towards this issue.
Thanking you.
Regards,
Andrew Gibbs,
HR Manager
New Age School
Other Related Formats
Request Letter Format for New Employee ID Card
Sample Letter for Lost Company ID Card
New Employee ID Card Request Form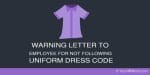 Some companies have strict dress codes at work which every employee must follow and in case, some employees fail to follow then a warning letter to employee must be written. This disciplinary warning letter format is quite simple and works as a warning letter to employee for not following dress code. This is a short and precise warning letter to employee sample which has been shared in this post.
Here is the Warning Letter to Employee for not following Uniform Dress Code which can be used for creating a customized letter that fits in the situation perfectly.
Warning Letter Format to Employee for not following Uniform Dress Code
To,
Mr. Richard Smith
54 New Town
California
Date: March 23, 2022
Sub: Warning letter for not following uniform dress code.
Dear Mr. Richard,
It has been observed that you have not been adhering to the company's dress code. We have noticed that from last one month you have not been wearing the staff uniform during the working hours and therefore, not following the dress code guidelines of the company.
As you are aware that this kind of behavior can attract serious actions against you as it is a serious disciplinary violation and will not be tolerated at any cost. Such actions can lead to salary deductions and can also impact the process of evaluation of performance.
We are hopeful that you will take this as a serious and final warning and will follow the dress code without any failure while at work.
Thanking you.
Regards,
Samantha Brown
HR Manager
Zenith Technologies
California
Resources Related To Warning Letter Formats
Garnishment Notification Letter to Employee
Letter Format to Employee for Misbehaving at Workplace
Warning Letter to Employee for Cigarette Smell
Material Handover Letter Sample
Warning Letter to Employee for Careless Attitude
Warning Letter for Usage of Mobile Phone on Workplace
First Warning Letter to Employee
Warning Letters for not attending Office regularly
Warning Letter to Employee for Salary Deduction
Warning Letter to Employee for Poor Performance
Warning Letter For Alcohol Consumption During Working Hours
Warning Letter for Misbehavior with Senior
Warning Mail on Resignation Without Notice Period Completion
Warning Letter to Employee Taking Leave Without Handing Over Work
Warning Letter to Employees Refusing to Work
Writing a Warning Letter to Employee for Poor Attendance
Warning Letter or Memo To Employee
Poor Performance Warning Letter Format
Handover Job to Colleague Email Sample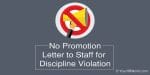 We all look forward for getting promoted but sometimes companies stop promotions for various reasons and in such a situation writing a no promotion letter to the employees is the right thing to go. Just like a new promotion letter to employee, a no promotion letter intends to inform the reason for which there will be no promotion.
This post includes a sample for No Promotion Letter to Staff for Discipline Violation. You can use this no job promotion letter example, format and template to create a customized letter to inform your employees in a formal manner.
No Promotion Letter Example to Staff
From:
Andrew Black
Human Resource Manager
Zenith Technologies
New York
Date: March 14, 2022
To,
Members of Staff
Sales Department
Zenith Technologies
Sub: No promotion due to violation of discipline
Dear Staff Members,
I have been informed that the because of the violation of discipline by the sales department, the promotion of the complete department has been cancelled. On March 5th, 2022, a heated argument followed by a clash between two sales teams created a lot of ruckus in the office.
After this kind of behavior, the company has decided to not promote any of the staff members of the sales team because violation of discipline is the last thing that will be tolerated at Zenith Technologies. This kind of behavior is not expected out of any of our employees and two teams getting into a fight at work is the least expected and unprofessional thing to happen and that's the reason the management is compelled to take such a harsh action against the department.
As per the policy of the company, any issue must be resolved by sitting on the table and not getting involved into any kind of fights and what happened that day exhibits a very unprofessional and unacceptable conduct from our employees. We are hopeful that all the staff members are going to ponder on their actions and will show improvement in their conduct.
If things improve then the company can think of revoking their decision. In case of any queries, please get in touch with the HR Department.
Regards,
Andrew Black
Human Resource Manager
Zenith Technologies
Other Related Promotion Letter Format
Reprimanding Officer Letter for Being Angry On Not Getting Promoted
Promotion Letter from Employer to Employee
Promotion Letter for HR Manager
Professional Employee Promotion Letter with Salary Increase
Letter of Interest for a Promotion
Job Promotion Cover Letter for a Retail Job
Promotion Letter & Increment Letter Format
Thank You Letter to a Boss for a Promotion
Tips and Advice on Getting a Promotion
Cover Letter for Promotion to Management Position
If you have to frame a culmination letter for new hiring then it can certainly be a confusing task if it is your first time and you are not aware of how to create a culmination letter format for new job.
In order to help you create a joining letter format, we have come up with a sample culmination letter format of new hiring. You can use this simple job offer letter format that will make it extremely convenient for you to draft a letter that is complete and perfect in every sense.
Sample Culmination Letter Format of New Hiring
From:
Adam Jacob
Human Resource Manager
Zenith Technologies
New York
Date: March 2, 2022
To,
The Editor
New York Times
New York
Sub: Culmination Letter For New Hiring
Zenith Technologies is a renowned name in the industry that has been supporting many families across the country with the financial assistance. The company has been known to offer a wide range of countless jobs of all kinds on full time as well as part time format for the students so that they can work as well as support their studies and families in a convenient way. Zenith Technologies had advertised the new hiring shared below for the new office they are launching in the city:
Sales Manager with a salary of $500
Deputy Sales Manager with a salary of $350
Receptionist with a salary of $250
Office Boy with a salary of $200
Sales Executive with a salary of $300
With regret, we would like to announce that the above openings do not exist anymore. The reason for such a decision that Zenith Technologies is facing severe financial issues because of the pandemic and because of the uncertainty of the market conditions, they came as a shock to everyone. We are feeling extremely low to culminate the jobs that we had offered and we are hopeful that the public is going to understand our condition and situation. We can only hope that the things improve and this culmination is only for a shop period of time. We will be happy to reopen these jobs in the coming months.
With best wishes,
Adam Jacob
Human Resource Manager
Zenith Technologies
New York
Other Related HR Letter Formats
Email to HR Asking for Joining Date
Email Format for New Employee Joining Announcement to Related Departments
Announcement Letter Of New Employee Joining
New Joining forms formats
Recruitment & Joining Checklist
Request to Change Joining Date on Job Offer
Address Proof Letter Format Date Of Joining
Many organizations require the employees to submit their documents and so does many universities. If you are also required to submit the documents but there is some kind of delay then you must write a letter for delay in submitting documents or late submission of documents. The purpose of writing this letter is to inform about the delay along with the reason of the delay.
Shared below is the sample apology letter for delay in submitting the documents. You can use this format for drafting a customized letter that suits your subjective situation.
Sample Request Letter for Late Submission of Documents
From:
Robin Smith
54, Richmond Towers
New York
Date: February 19th, 2022
To,
Mr. Adam Jacob
Human Resource Manager
Zenith Technologies
New York
Sub: Request for Delay in Submission of Documents
Dear Sir,
I am writing this letter in reference to you letter dated January 30th, 2022. I would like to inform that there will be a delay in submitting my documents that were requested to complete the recruitment process for the profile of Marketing Executive with your company. This is because all my documents caught fire because of a fire breakout at my residence. Due to the accident, I have lost all important documents that include my educational and experience certificates.
Therefore, I am writing this letter to request you to consider my situation and grant me some more time as I am arranging for the duplicate copies of the same from the respective institutions. I have already submitted the request letters to my university as well as my previous companies to grant me a duplicate copy of my certificates and I shall receive the documents by the end of this week.
I hope you will understand my situation and will grant me an extension of time for submitting these documents.
Thank you for consideration.
Sincerely,
Robin Smith
Search Sample Formats:
A letter reprimanding an officer for being angry on not getting the promotion is a formal letter written by the employer to the employee who was expecting the promotion but is not promoted and therefore, is getting angry at work. This letter is the right way to professionally express the disapproval towards the employee for being angry on not getting promoted.
Just like a promotion letter sample, you can use the sample format for reprimanding officer for being angry on not getting promoted. It works as a warning as well as disapproval in a formal manner. You can use this template to create a personalized draft to warn and reprimand the employee.
Format of Reprimanding Officer Letter for Being Angry On Not Promotion
From:
Mack Smith
Human Resource Manager
Zenith Technologies
New York
Date: January 17, 2022
To,
Mr. James Gibbs
54, Anthony Road
New York
Dear Mr. James,
The purpose of writing this letter is to highlight that from past few months, your behavior has been quite unprofessional and this is not appreciated and accepted at Zenith Technologies. I am writing this letter to warn you that you are required to change your behavior to make sure that no strict action is taken against you.
We are aware that you were expecting to get promoted this year but things did not happen as per your expectations. And that's the reason you have been expressing your anger at office which is not acceptable at any cost. We would like to highlight that our company strongly believes in our values and we expect our employees to always display a good conduct. And it is not just your promotion that has been put on hold but it is also the promotion various other employees which has been delayed for now because the company is in no state to support the finances associated with promotion. As you are aware, from last one year, the company has been facing serious financial crunch because of the remarkable drop in our sales due to COVID-19. This is the reason we are unable to announce the promotions for you and various other employees.
In last three months, we have been regularly receiving complaints against your uncontrolled anger and these episodes have happened after the promotions were announced on October 15th, 2021. We would again like to highlight that this kind of behavior will not be tolerated. You must work on your anger issues or else the management will be compelled to terminate you as the respect of each of our employees is important to us.
We are hopeful that you will take this warning seriously and will improve your behavior.
Regards,
Mack Smith
Human Resource Manager
Zenith Technologies
New York
Other Related Promotion Letter Format
No Promotion Letter to Staff for Discipline Violation
Promotion Letter from Employer to Employee
Promotion Letter for HR Manager
Professional Employee Promotion Letter with Salary Increase
Letter of Interest for a Promotion
Job Promotion Cover Letter for a Retail Job
Promotion Letter & Increment Letter Format
Thank You Letter to a Boss for a Promotion
Tips and Advice on Getting a Promotion