Posts tagged "Warning Letter Format"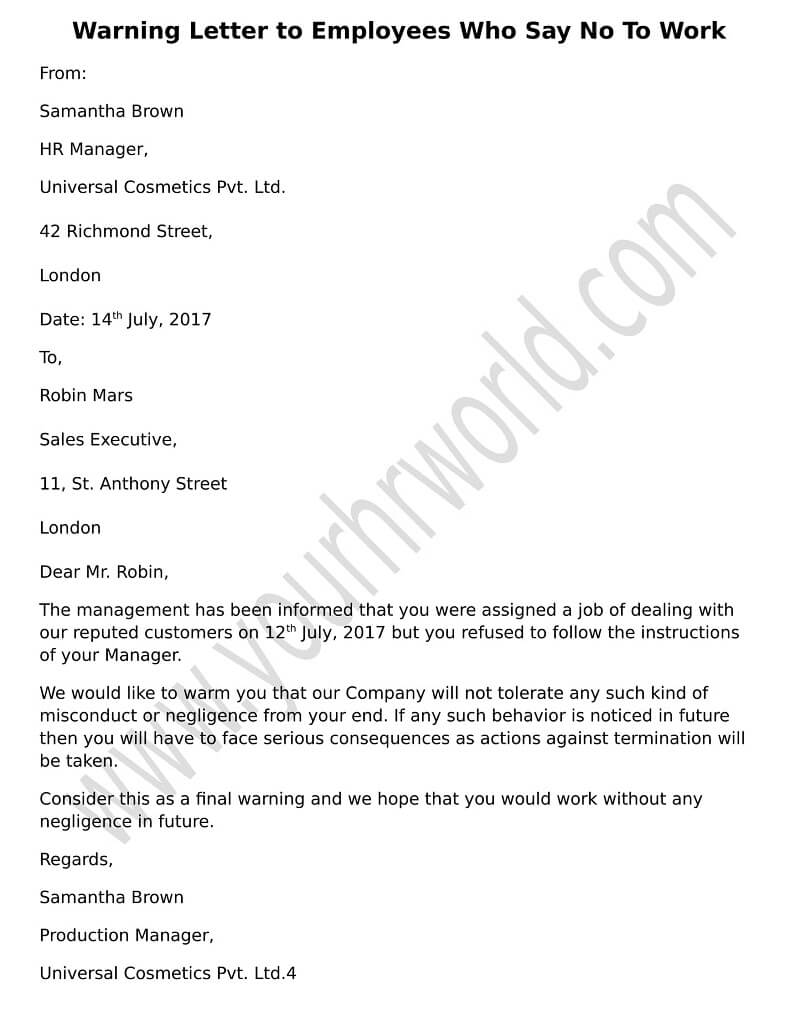 An organization has all kinds of people. Well some are very prompt with doing the task assigned to them and some on the other hand simply refuse to work. Every company has its own style of dealing with employees who say no to work. Writing a formal letter to employee who refuses to work is one way of warning them. Good companies always send warning letters in such scenarios.
If you also have to frame a warning letter to employees who say no to work then given below is a template sample that you can follow.
Warning Letter to Employees Who Say No To Work
From:
Samantha Brown
HR Manager,
Universal Cosmetics Pvt. Ltd.
42 Richmond Street,
London
Date: 14th July, 2017
To,
Robin Mars
Sales Executive,
11, St. Anthony Street
London
Dear Mr. Robin,
The management has been informed that you were assigned a job of dealing with our reputed customers on 12th July, 2017 but you refused to follow the instructions of your Manager.
We would like to warm you that our Company will not tolerate any such kind of misconduct or negligence from your end. If any such behavior is noticed in future then you will have to face serious consequences as actions against termination will be taken.
Consider this as a final warning and we hope that you would work without any negligence in future.
Regards,
Samantha Brown
Production Manager,
Universal Cosmetics Pvt. Ltd.
Click here to Download Warning letter to employee who refuse to work
Writing a Warning Letter to Employee for Poor Attendance
Every employer educates his employees about the HR policies, leave policy, and attendance letter at the time of on boarding.
Letter Format for Intimating the Workers that Sunday is a Working Day
A letter format for intimating the workers that Sunday is a working day is issued when the workers are asked to work for some important reasons.
Warning Letter To Employee Who Visited Client's Premises Without Permission
Employees have to follow the discipline in whatever job they do as they are the face of the company.
Format for Employee Verification Email to HR
Employee verification is an important process before finally recruiting any person in the company.
Search Sample Formats: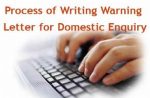 A domestic Inquiry in a company is an internal inquiry made into some alleged misconduct by a company's employee. The purpose of conducting such an enquiry is to find out whether the alleged misconduct is proven or not. In case the misconduct is proven then action has to be taken to recommend a punishment that is right for the offence committed. At the domestic inquiry, the employer presents his case and the employee is awarded an equal chance to put up his defense against the charges.
Here is a sample for your reference.
Sample of Warning letter for Domestic Enquiry
Sterling Stones Pvt. Ltd.
Adams Garden,
New York.
Date: 05/11/14
Mr. George Shalom
Employment No. 1234
Marketing Department
Dear Mr. Shalom,
It is alleged against you that you Mr. Shalom, Emp. No.1234, Designation: Assistant Manager (Marketing) had found sharing confidential details of the department with personnel of other department.
This act of your as constitutes misconduct according to the certified Standing Orders of the Company, as read
"Clause No. 5.a. The confidential details of the company shall be kept confidential and must not be shared with anyone else, without a reason. "
Therefore, your are hereby required to submit a written explanation stating as to why a suitable action should not be taken against you for the above said misconduct.
Your written explanation should reach to the management within 48 hrs of receipt of this notice. Failing to do so, it will be assumed that you have no explanation to offer and an action deemed fit shall be taken against you.
Thanks
Shery Jackman
Manager (Human Resources)
(The signatory)
Warning Letter To Employee Who Visited Client's Premises Without Permission
Employees have to follow the discipline in whatever job they do as they are the face of the company.
 I have Attached Warning Letter Format
Date: 10.09.2010
NAME                        :           Mr…………………
DEPARTMENT       :           ……………………..
DESIGNATION       :           ………………………..
This has reference to  letter sent by Mr. Vijay, Executive  ……., that you did not report to the  duty on the scheduled shift, on 08.09.2010 & 09.09.2010  and  also  there was no intimation from your end regarding the same. It is also been observed from the attendance record that you have been absented yourself from duty without prior permission, sanction of leave or any intimation whatsoever  on 08.09.2010  and 09.09.2010, thus dislocated the work of the organisation.
Your negligent act as above amounts to serious misconduct in accordance with provisions of the certified standing orders of the company warranting severe disciplinary action.
However in view of your admission of your act and your assurance that you will not give room for such or similar instances in future, you are hereby let off with WARNING.
It is hoped that you will take good advantage of the leniency shown to you and you will strictly keep up to your assurances.
For ………………..
MANAGER- H.R