Posts tagged "Uniform Dress"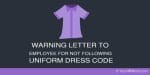 Some companies have strict dress codes at work which every employee must follow and in case, some employees fail to follow then a warning letter to employee must be written. This disciplinary warning letter format is quite simple and works as a warning letter to employee for not following dress code. This is a short and precise warning letter to employee sample which has been shared in this post.
Here is the Warning Letter to Employee for not following Uniform Dress Code which can be used for creating a customized letter that fits in the situation perfectly.
Warning Letter Format to Employee for not following Uniform Dress Code
To,
Mr. Richard Smith
54 New Town
California
Date: March 23, 2022
Sub: Warning letter for not following uniform dress code.
Dear Mr. Richard,
It has been observed that you have not been adhering to the company's dress code. We have noticed that from last one month you have not been wearing the staff uniform during the working hours and therefore, not following the dress code guidelines of the company.
As you are aware that this kind of behavior can attract serious actions against you as it is a serious disciplinary violation and will not be tolerated at any cost. Such actions can lead to salary deductions and can also impact the process of evaluation of performance.
We are hopeful that you will take this as a serious and final warning and will follow the dress code without any failure while at work.
Thanking you.
Regards,
Samantha Brown
HR Manager
Zenith Technologies
California
Resources Related To Warning Letter Formats
Garnishment Notification Letter to Employee
Letter Format to Employee for Misbehaving at Workplace
Warning Letter to Employee for Cigarette Smell
Material Handover Letter Sample
Warning Letter to Employee for Careless Attitude
Warning Letter for Usage of Mobile Phone on Workplace
First Warning Letter to Employee
Warning Letters for not attending Office regularly
Warning Letter to Employee for Salary Deduction
Warning Letter to Employee for Poor Performance
Warning Letter For Alcohol Consumption During Working Hours
Warning Letter for Misbehavior with Senior
Warning Mail on Resignation Without Notice Period Completion
Warning Letter to Employee Taking Leave Without Handing Over Work
Warning Letter to Employees Refusing to Work
Writing a Warning Letter to Employee for Poor Attendance
Warning Letter or Memo To Employee
Poor Performance Warning Letter Format
Handover Job to Colleague Email Sample