Process of Writing Warning Letter to Employee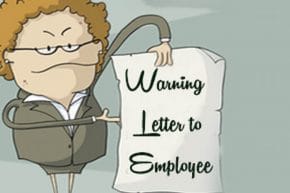 Warning letters are written by employer in order to bring in notice Here is the process of writing a first warning letter to employee which ensures a disciplined behavior.
Step 1
Show you concern over the deficiency in performance. Mention about the indiscipline noticed by some person over the behavior or actions of the other.
Step 2
Mention about the specific expectations for performance which have been laid out by the organization. There can be a reference of the clause mentioned in the terms and conditions mentioned by the company.
Step 3
Ask the employee to present clarifications and answers in response to the letter stating the reasons for such behavior.
Step 4
Do mention the time deadline within which the employee is suppose to respond. If he fails to respond then he will assumed as the offender and required action will be taken against him.
Step 5
Make sure it is signed by the authorized person for authenticity.
This is a short and simple process for writing a professional and crisp warning letter to employee containing all important information and details.
Resources Related To Warning Letter Formats
Warning Letter to Employee for not following Uniform Dress Code
Letter to Employee for Misbehaving at Workplace
Employee Warning Letter for Negligence of Duty
Warning Letter to Employee for Careless Attitude That Caused Financial Loss
Warning Letter for Usage of Mobile Phone on Workplace
First Warning Letter to Employee
Warning Letters for not attending Office regularly
Warning Letter to Employee for Salary Deduction
Writing Warning Letter to Employee
Warning Letter to Employee for Poor Performance
Warning Letter For Alcohol Consumption During Working Hours
Warning Letter for Misbehavior with Senior
Warning Mail on Resignation Without Notice Period Completion
Warning Letter to Employee Taking Leave Without Handing Over Work
Warning Letter to Employees Refusing to Work
Writing a Warning Letter to Employee for Poor Attendance
Warning Letter or Memo To Employee
Poor Performance Warning Letter Format