Posts tagged "Employees Performances"
The purpose of an employee performance concern letter is to express concern over the performance of the employee by the employer. The employee performance issue letter highlights the unacceptable performance levels of the employee and issues a warning against the same. Using this warning letter to employee for poor performance, the employer gives a strong signal to the employee to pull up his socks and start improving the performance.
This post includes a poor performance letter template. You can use this format for employee performance concern letter to create a personalized draft.
Employee Performance Concern Letter Template, Sample Format
From,
Simon Smith
HR Manager
Zenith Technologies
London
Date: October 2nd, 2021
To,
Mr. Andy Jacob
Marketing Manager
Zenith Technologies
London
Dear Andy,
The purpose of writing this letter is to highlight my concerns over the declining performance of our Deputy Marketing Manager, Mr. Richard Bay, whose performance has been delaying from last six months. He has been displaying negligence and disinterest in work. He, being the in-charge of some of the significant projects, needs to be focused and dedicated towards his roles and responsibilities.
It has been observed that he has not been attending the monthly meetings of the department from last two months. He has also been reporting to work at late and leaving the office early without prior information. All this has led to declining performance as he is not able to devote enough time to the projects of which he is the in-charge. In addition, we have received many complaints for his inaccurate and unacceptable behavior with the juniors. All these things are not acceptable at our organization.
You are required to investigate his performance and behavior and take immediate action against him by September 10th, 2021 or else the Management will have to come in the picture and take required disciplinary action against him.
Thank you.
Regards,
Simon Smith
HR Manager
Zenith Technologies
Resources Related To Warning Letter Formats
Sample Letter to Express Concern about Team Member
Warning Letter to Employee for Cigarette Smell
Warning Letter to Employee for Negligence of Duty
Warning Letter for Usage of Mobile Phone on Workplace
First Warning Letter to Employee
Warning Letters for not attending Office regularly
Warning Letter to Employee for Salary Deduction
Writing Warning Letter to Employee
Warning Letter For Alcohol Consumption During Working Hours
Warning Letter for Misbehavior with Senior
Warning Mail on Resignation Without Notice Period Completion
Warning Letter to Employee Taking Leave Without Handing Over Work
Warning Letter to Employees Refusing to Work
Warning Letter or Memo To Employee
Poor Performance Warning Letter Format
Performance Annual Bonus Letter to Employee: Employees who work really hard for the company truly deserve to be appreciated and are also entitled for annual bonus and therefore, annual bonus letter to employees are what all employees look forward to receive. Performance bonus letter for employee contains the bonus that the company intends to give the employee and also contains a few words appreciating the hard work and dedication of the employee. Many companies give bonuses and this is announced through incentive or bonus letter for top performers which makes them stand out in the crowd.
If you are looking for sample company bonus letters then you are at the right place. With these sample bonus letters to employees, you can share with them the good news in a formal way.
Annual Bonus Letter Format to Employee
From:
Anant Sharma
Manager
Zen Technologies Pvt. Ltd.
Delhi
Date: May 9th, 2020
To,
Mr. Abhishek Jain
78, Kalyan Apartments
Delhi
Dear Abhishek,
Warm congratulations to you for making it to the list of "Best Performers of 2019". We highly appreciate you for working hard on the launch of our new manufacturing unit in Delhi and making it a great success. It was an important launch for Zen Technologies Pvt. Ltd. and with your dedication and commitment, we have certainly had a terrific launch.
As per the company policy, we offer annual bonus to all our employees who feature in the list of best performers as a gesture to show our appreciation towards the hard work you have put in. We, therefore, announce a bonus of Rs. 50,000 for you which will reflect in your next pay check.
We again extend a warm thank you for being an inspiring and committed employee. We are certainly fortunate to have you in our company.
Regards,
Anant Sharma
Manager
Zen Technologies Pvt. Ltd.
Delhi
Click here to Download Annual Bonus Letter to Employee in Word Format
Other Related Letter Format
Notice to Employees of Bonus Cancellation
Poor Performance Warning Letter Format
Salary Increment Letter Based on Performance
Letter of Recommendation for Performance Bonus
Search Sample Formats: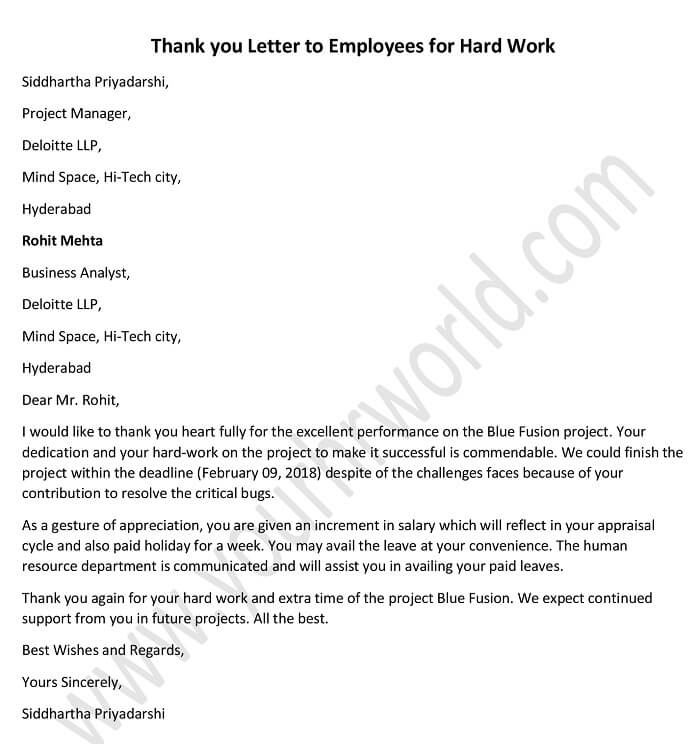 Writing a letter has become old fashioned style of communication. It is still a good practice to express a token of gratitude and appreciation for a good work done or an achievement. A letter of appreciation format should mention the specific accomplishment of the person, how it impacted the overall business and the time frame of the accomplishment. It should mention about the excellence performance of the person, and how the person had exceeded expectations.
Express a sincere gratitude to the staff for the significant hard work Appreciate his/her efforts and specific skills used. Acknowledge the help and support extended by the employee.
Ask for suggestions from the employee for the improvement in organization structure, and make him feel important. Value his ideas.
Give your employee a small gift as a token of appreciation along with the letter. The cost and value of the gift does not matter.
After drafting the letter, check for spelling mistakes and grammatical mistakes. It's nice to send a neatly drafted letter, with a nice warm message.
Sample Thank You Letter to Employees for Hard Work
Siddhartha Priyadarshi
Project Manager,
Deloitte LLP,
Mind Space, Hi-Tech city,
Hyderabad
Rohit Mehta
Business Analyst,
Deloitte LLP,
Mind Space, Hi-Tech city,
Hyderabad
Dear Mr. Rohit,
I would like to thank you heart fully for the excellent performance on the Blue Fusion project. Your dedication and your hard-work on the project to make it successful is commendable. We could finish the project within the deadline (February 09, 2018) despite of the challenges faces because of your contribution to resolve the critical bugs.
As a gesture of appreciation, you are given an increment in salary which will reflect in your appraisal cycle and also paid holiday for a week. You may avail the leave at your convenience. The human resource department is communicated and will assist you in availing your paid leaves.
Thank you again for your hard work and extra time of the project Blue Fusion. We expect continued support from you in future projects. All the best.
Best Wishes and Regards,
Yours Sincerely,
Siddhartha Priyadarshi
Click Here to Download Thank you Letter to Employees for Hard Work in Word Format
Other Related Thank You Letter
Thank You Mail for Appreciation Received from Client
1 Year Completion in Company Thank You Letter
Thank You Letter Example for an Administrative Interview
Tips for Writing Business Thank You Notes
Thank You Letter from Supervisor to Employee
Supervisor is the person who knows the best about the performance of the employee. But it is not an easy job to gauge the performance. Supervisor has to be very smart at measuring the performance.
Thank You Letter for Leave Approval Sample
When an employee joins an organization, he is given a certain designation to perform his role. Over a period of time, if he is performing well and additional responsibilities are given, he may be given a change of designation.
10 Things To Keep Out of An Interview Thank You Letter
Once you are done with a job interview, it is time to send a formal Thank You email or letter. But you can actually hamper your performance if you include certain things in your letter which should be avoided.
Thank you Letter for Gift from Company
A gift always makes you feel special. If you have received a gift from some company then writing a business thank you letter is a sweet gesture.
Search Sample Formats:
Performance appraisal is an important and interesting time for every employee because this is the time when the performance of every employee is reviewed over a certain time period. This also involves feedbacks on his working and appreciating his dedication and work. But when managers send these appraisal letters there are all kinds of emotions seen amongst employees; some are happy as they have been fairly rewarded and some are disappointed as they have not received what they were expecting. Workers never utter a word when they have received a good hike but they always have complaints when appraisals don't go as per their expectations.
Hence, it is extremely important for the managers to handle employees after their appraisal because it is essential for the organization and its performance. This article talks about some of these points.
Congratulate the ones who have received a decent appraisal
As a manager you must never forget to appreciate and congratulate the worker who has either good a hike in his salary or has been promoted. This is important as desires your acknowledgement and it works as a dose of motivation for him to work with more of dedication and enthusiasm to deliver better performance. Also a person who has worked with honesty, dedication and discipline throughout the year deserves to be congratulated and appreciated for this performance. It is a sweet gesture which infuses him with energy and zeal.
Attend the ones who have received a bad appraisal
These are the most sensitive employees at present because after for one year, they feel all their efforts have gone down the drain because the appraisal that they have received is not what they had expected. As a result of this, suddenly they become extremely negative about the organization, about the reviewing authorities and about their immediate supervisors and managers. Well, such a behavior is quite expected when you are expecting something big. Hence, it is the duty of the management to handle these employees with utmost care because the way they behave after a bad appraisal is negative and immature. You need to sit with them and ask them to look for reasons because of which they have not been able to achieve what they had desired for. As a senior, it is your duty to show them a positive path and ask them not to lose to lose hope. You must cheer them and help them revive their confidence levels so that they can start working with greater force. You need to tell them that thinking negative about the organization and fighting with your colleagues will not do any good to you.
Here are some steps which you must keep in mind while speaking with them.
Help them find reasons for such an appraisal
It is very much important that you ask them to look into reasons because of which they have been given a bad appraisal. This will help them find negatives in their working which they can improve and give their performance a boost. Self introspection is something that they need. This will help them not to think negative about the situation rather find out reasons for failure so that they can develop and become a better person. And for sure they will be able to look at the positive side of the situation and take a lesson from what has happened. And you would also come to know if your worker is facing some problem while delivering his duties. This way you will become aware about the weak aspects of your organization which you can also improve. Such a session can be mutually beneficial.
Ask them to speak their heart to vent out the frustration
It is important to help these candidates find a vent to let their frustration and irritation out. This will help them speak their heart out. What they feel about management, what wrong has the managers done to them and various other things will help them feel at ease. You can send them motivational mails and quotes to help them perform better and not lose hope. You need to encourage them to work better and read motivational books. You can even ask them to talk their heart and they will surely feel better. You can even guide them to do the right thing. You will have to be really very patient with them.
So keep all these points in mind to make sure that you are able to deal with your workers in the most effective way once they have been appraised. If the one who is happy is not appreciated then he feels sad and likewise, the one who is not satisfied is not counseled rightly then he may feel negative about the organization.
Training is an essential part of any organization because it is the technique which is used for helping employees learn new technologies to hone their skills and enhance their capabilities in order to have better understanding and knowledge of various new things in the market. This is important for growth and development of employees and also for the organization. It is helpful in widening their ability to think so that they can come up with innovative ideas and think beyond the obvious so that they can become improvised and more beneficial resources for the company.
Here is this article to help you introduce training in your organization so that even you can enjoy workforce which is more skilled, talented and in synch with the present technologies and market trends. But before that you must understand that lots of money, time and energy goes into training individuals hence, managers must know about the weak areas of their teammates which require attention so that a well focused training program can be developed for them which caters these requirements. It can be for existing employees and also for the new entrants.
Training Methods
Let us have a look at the different methods of training which are used by organizations to make their employees competent.
On The Job Training
The best way to learn is in the practical world. On the job trainings have been designed keeping in mind this logic. They are given to employees at the office or the workplace by their managers or superiors. The superiors train their teammates regularly in order to tell them about new market trends, train them on new technologies, help them acquire skills which are supportive in their working. This makes employees better aware of their roles, responsibilities and the right way of accomplishing their tasks.
There are different kinds of on job trainings which can be used to train your workforce.
As the term suggests, in this method the employee moves from one position to another. The idea is to help him learn new skills and ways to perform different kinds of jobs that are related with each other to have better understanding of work. This way they become exposed to different jobs, how they need to be performed and what challenges they need to meet in order to accomplish those jobs. This makes them an all rounder.
This is another method in which the manager allots different job responsibilities to different employees and then he monitors the performance of each one of them. He points out their weak areas, their mistakes and provides them with feedbacks so that they can improvise on their working. The idea is to make the team handle their job and learn the right way of performing it.
Off the Job Training
This is opposite to the above mentioned technique. In this kind of training, the process of training takes place outside the workplace. They are again of different types and kinds.
In this process, the individuals are trained in an artificial environment which closely resembles their actual working area so that they can have better understanding of their job.
This kind of technique is very effective when the numbers of trainees. When the audience is large then trainers use seminar or conference methods to share relevant information with them; they also talk about the recent developments in the market, the latest technologies used in industry and various other topics they wish to cover. They even use case studies to make these sessions more interactive.
In this kind, employees are trained to work on a new machine or equipment they will soon be using at their actual workplace. This is done so that they are able to learn all the technicalities involved in using that particular machine so that they can clear their doubts and perform with greater effectiveness and lesser errors.
Induction Training
Whenever a company recruits new employees, it is the responsibility of the organization to familiarize these new candidates with the organization, its policies, its structure, its rules and regulations in order to make him feel part of the family. It is very important for the newcomers to become aware about the working process of the company so that he is able to deliver what is expected of him. These induction training programs need to be designed intelligently. You must know what all information you must put across on the first meeting with these new entrants and what information must be shared later. These programs have to be short and informative. You must not miss anything important and you must not make it boring and uninteresting. Make sure you strike a balance to make it effective.
Refresher Training Programs
You need to train your existing employees from time to time. These are essential for refreshing their knowledge and help them learn new skills, technologies and understand present market trends so that they are able to work in synch with the present markets. These are important to prepare your existing human resources and make them competent to meet the challenges in the market. This makes them more responsible and better learned individuals.
These are different kinds of training methods which are used by most of the organizations to keep their employees updated and competent because human assets are the strongest assets for any organization.
I am enclosing herewith one format of Employee Performance Review Form from which you can evaluate Employee Performance.

                                                               ­
PERFORMANCE REVIEW FORM
| | |
| --- | --- |
| Name of the employee | |
| Job Title | |
| Department / Site | |
| DOJ – Hofincons | |
Legends :-                                        Marks
Excellent         ..     Above 85 Marks       
Good              ..     71 to 85    Marks                     
Average        ..      60 to 70    Marks                    
Poor                ..      Below 60  Marks                                 
Please tick the appropriate column
Please consider performance of the employee for the entire period you are evaluating.