Warning Letter to Employee for Cigarette Smell in Office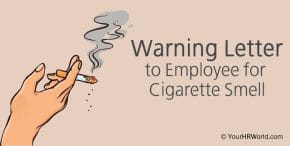 Smokes of cigarettes are something that many organizations do not approve of because many people are allergic to it. That's the reason many companies issue circular for no smoking and tobacco in office. If there is some employee who smells of cigarettes then the organization can write a warning letter to employee for smoking in office.
Just like any other sample warning letter, we have come up with a warning letter to employee for cigarette smelling that can be used for writing a customized letter draft for warning the employee in a formal manner.
Sample Format of Warning Letter to Employee for Cigarette Smell
From,
Mack Smith
Human Resource Manager
Zenith Technologies
New York
Date: October 30, 2021
To,
Mr. James Gibbs
54, Anthony Road
New York
Sub: Warning for smell of cigarette at office
Dear Mr. James,
I am writing this letter to inform you that I have been receiving complaints from various clients about your cigarette smell. As a relationship manager to our esteem clients, we do not expect you to smoke during working hours at office and then attend meetings with our clients.
As per the policy of our company, we do not bear with any kind of unprofessional attitude and we expect our employees to keep themselves clean, presentable and free from any kind of bad smells. This issue has surfaced quite a few times in the past and many verbal warnings have been issued to you in this context but you have paid no attention to them.
Please take this letter as the formal warning from the management. I would like to mention that any employee with smell of cigarette will not be tolerated in the company. You are expected to report to work maintaining the cleanliness you are supposed to maintain. If you cannot give up on smoking then look for other alternatives to keep the smell away. Make sure that such kind of complaints do not surface again as you are dealing with high profile clients.
I am hopeful that you will take this warning letter seriously and will avoiding smoking at the workplace. If you don't take this complaint seriously and continue smelling of smoke then the management will be compelled to take strict actions against you.
Regards,
Mack Smith
Human Resource Manager
Zenith Technologies
More Other Warning Letter Format, Sample and Examples
Employee Performance Issue Letter Example
Warning Letter for Usage of Mobile Phone on Workplace
Sample of Circular for No Smoking in Office
Employee Warning Letter for Negligence of Duty
First Warning Letter to Employee
Warning Letters for not attending Office regularly
Warning Letter to Employee for Salary Deduction
Warning Letter to Employee for Poor Performance
Warning Letter For Alcohol Consumption During Working Hours
Warning Mail on Resignation Without Notice Period Completion
Warning Letter to Employee Taking Leave Without Handing Over Work
Warning Letter to Employees Refusing to Work
Writing a Warning Letter to Employee for Poor Attendance
Warning Letter or Memo To Employee
Poor Performance Warning Letter Format