Thank you Letter to Employees for Hard Work – Letter Writing Tips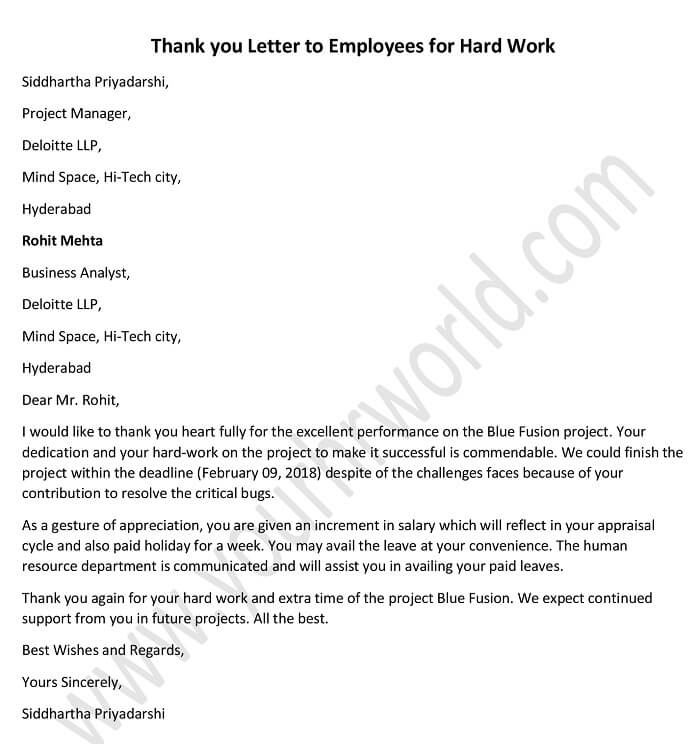 Writing a letter has become old fashioned style of communication. It is still a good practice to express a token of gratitude and appreciation for a good work done or an achievement. A letter of appreciation format should mention the specific accomplishment of the person, how it impacted the overall business and the time frame of the accomplishment. It should mention about the excellence performance of the person, and how the person had exceeded expectations.
Express a sincere gratitude to the staff for the significant hard work Appreciate his/her efforts and specific skills used. Acknowledge the help and support extended by the employee.
Ask for suggestions from the employee for the improvement in organization structure, and make him feel important. Value his ideas.
Give your employee a small gift as a token of appreciation along with the letter. The cost and value of the gift does not matter.
After drafting the letter, check for spelling mistakes and grammatical mistakes. It's nice to send a neatly drafted letter, with a nice warm message.
Sample Thank You Letter to Employees for Hard Work
Siddhartha Priyadarshi
Project Manager,
Deloitte LLP,
Mind Space, Hi-Tech city,
Hyderabad
Rohit Mehta
Business Analyst,
Deloitte LLP,
Mind Space, Hi-Tech city,
Hyderabad
Dear Mr. Rohit,
I would like to thank you heart fully for the excellent performance on the Blue Fusion project. Your dedication and your hard-work on the project to make it successful is commendable. We could finish the project within the deadline (February 09, 2018) despite of the challenges faces because of your contribution to resolve the critical bugs.
As a gesture of appreciation, you are given an increment in salary which will reflect in your appraisal cycle and also paid holiday for a week. You may avail the leave at your convenience. The human resource department is communicated and will assist you in availing your paid leaves.
Thank you again for your hard work and extra time of the project Blue Fusion. We expect continued support from you in future projects. All the best.
Best Wishes and Regards,
Yours Sincerely,
Siddhartha Priyadarshi
Click Here to Download Thank you Letter to Employees for Hard Work in Word Format
Other Related Thank You Letter
Thank You Mail for Appreciation Received from Client
1 Year Completion in Company Thank You Letter
Thank You Letter Example for an Administrative Interview
Tips for Writing Business Thank You Notes
Thank You Letter from Supervisor to Employee
Supervisor is the person who knows the best about the performance of the employee. But it is not an easy job to gauge the performance. Supervisor has to be very smart at measuring the performance.
Thank You Letter for Leave Approval Sample
When an employee joins an organization, he is given a certain designation to perform his role. Over a period of time, if he is performing well and additional responsibilities are given, he may be given a change of designation.
10 Things To Keep Out of An Interview Thank You Letter
Once you are done with a job interview, it is time to send a formal Thank You email or letter. But you can actually hamper your performance if you include certain things in your letter which should be avoided.
Thank you Letter for Gift from Company
A gift always makes you feel special. If you have received a gift from some company then writing a business thank you letter is a sweet gesture.