Posts tagged "Video Interviewing Platforms"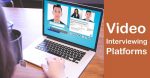 Technology has impacted every facet of our lives. With changing times, the face-to-face interviews are not replaced by interviews on videos. Seeing the high demand, in a short span of time many video interview websites using different video interview tools have made a name in the market.
Whether you are looking for the best free video interviewing software or best virtual interview platforms in India, you have come to the right place. We bring to you the best options for video interview recruitment in India. Browse through these best video interviewing platforms in India that make recruiting so much easier and convenient.
Top Video Interviewing Platforms in India
Skype.com
Skype is a popular software that is designed to enable online conversations beyond boundaries. Used by millions of businesses and individuals, this is one of the best video interview software that allows us to make group calls, one-to-one voice calls, video calls and also share files and send instant messages with the other people present on Skype using our mobile phones or computers.
Zoom: Video Conferencing, Web Conferencing, interview
In 2020, Zoom has become the most popular software apps for video conferencing. Known for its user-friendliness and features, this is a platform which allows you to interact virtually with co-workers and clients and the good thing is that it is not just limited to the professional world but off late, it is widely used for social events. Designed to have meetings and chats with clients, conduct video webinars and online conferences; it makes a one-stop solution of video interviewing.
Google Hangout
Google Hangouts is a communication service designed to allow members to communicate over text chat, video chat or video call with an individual or with a group. This cross platform messaging app was developed by Google and makes one of the most popular choices. It is available on both Android as well as iOS devices.