Others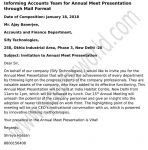 A professional get together purposed to exchange ideas and innovations in the business sector; Annual Meet Presentation unleashes the requisite understanding of growth prospects. It allows senior professionals to put a spotlight on the achievements in varied department's productivity and plans to enhance productivity in the near future through work email templates to accounts team. Certainly, it has to be professional email templates mailed to the colleagues at all levels. This is a formal invitation for the accounts team.
Format:
Date of Composition: January 18, 2018
Mr. Ajay Banerjee,
Accounts and Finance Department,
Sify Technologies,
258, Okhla Industrial Area, Phase 3, New Delhi -20
Subject: Invitation to Annual Meet Presentation
Dear Sir,
On behalf of our company (Sify Technologies), I would like to invite you for the Annual Meet Presentation that will unveil the achievements of every department by throwing light on the progress reports of the company professionals. They are valuable assets of the company, who have added to its effective functioning. This Annual Meet Presentation will be held at India Habitat Centre, New Delhi from 11am to 1pm, which will be followed by lunch. Our 15th Annual Meeting will unleash the potential of the company personnel and give an insight into the adoption of newer technologies on work front. The highlighting point of the meeting will be our CEO's motivational conversation with us, which is powered by innovative thinking methodologies.
Your presence in the Annual Meet Presentation is Vital!
Regards,
Shreya Hassan
8800156408
Click here to Download Informing Accounts Team for Annual Meet Presentation through Mail in Word Format
No organization can negate the importance of an effective team and to build that companies organize various team building programs. Having a strong team is good for organizations in more than one ways. Not just it results in stronger performance but it also ensures that employees stay associated with the company for longer.
How Games Help Build Teams
Well, there are various ways of building a strong team and games and fun activities one of them.
Engaging in any kind of playful activity makes a person happy from within.
Not only this, it helps in inculcating relationships, abilities to solve problem and come up with new ideas.
Compared to other ways, games are never boring and promise a good break from work.
Help in establishing stronger bond with co-workers, team leaders etc.
Help strike a balance between different strengths and weaknesses to get optimum results.
Help people relax and have a break from monotonous life.
How to Incorporate Games into Work
To make meetings at work more interesting, you can plan to induce some games or fun activities into it. As a manager, you can even decide your team members to gather post working hours and have one of the team members do all the planning in context of the meeting, but make sure he keeps it short without losing on the main point.
Do not miss on arranging some refreshment and maintain the element of surprise to keep all the team members excited to know what is going to happen.
Guidelines on Including Fun Activities to Build Team
Attending meetings every now and then surely becomes boring and monotonous. And games at work are a great way of inducing some fun time. Here are some tips that can be of great help to you.
Arrange team building activities at least once a year. You can go for more such activities as they help connect people.
Planning outings is definitely a great idea. Focus completely on the games and say a big no to work on that day.
If possible then you can arrange for some outdoor activity that is a different experience. For instance, a cooking competition seems to be a great thing.
In case you don't have the budget or the time then you can include some fun activities during or after the meeting on a regular day.
So don't just let your employees work, allow them to have some relaxation time which will help them bond better, go beyond their targets to work as a stronger team. A little play time can charge up their bodies and brains and will them focus better and perform better.
Don't wait and start planning some playful activities to build stronger teams and have a stronger organization.
All work and no play surely make life very dull. To make sure that your team is highly energetic and beautifully synchronized, corporate team building games are always a good choice.  Fun-filled indoor team building activities for corporate are not just a great idea to break the monotony at work but also a wonderful way to induce team building skills in the employees. If you cannot arrange for an outdoor visit, you can utilize free indoor time with these unique team building activities and programs that induce learning without killing the fun of the games.
Being the manager, if you are looking for indoor team building activities for youth, this post unveils some of the most entertaining and interesting corporate games for fun which ensure great learning. Include these corporate team building activities to give your employees a break from work by engaging them in activities that develop team building skills and inter-personal skills that help them perform better at work. Let us have a look at these wonderful indoor team building activities for youth that you can try with your team.
1. Poker Tower
Make a team of 2-5 people and given them a pair of scissors with a pack of poker cards. They will need to create a poker tower using the things allotted to them. This is a game of 15-20 minutes which intends to develop team building and innovation in the participants.
2. Keep the Balloon High
It starts simple with teams given a set number of balloons with instructions to keep them in the air using just one touch. Gradually the numbers of balloons are increased making it a difficult task. The aim of this game is to develop coordination between the group members.
3. Egg Drop Game
Make teams of 2-3 people. Give each team tape, balloons, plastic, newspaper, rubber bands, straws etc. and a set time of an hour to create a package of eggs which keeps the eggs intact when they are dropped from 2nd or 3rd floor.
4. Break the Code
Each team is allotted a code and the team which is able to crack the code wins the game. The idea of this game is to develop problem solving skills and teamwork between the members.
5. Cross the Mine Field
In a hall arrange the mines like cones, bottles, squares etc. from one end to another in a random pattern. Create teams with two persons in each. Blindfold one member and now ask him to go from one corner to another without touching these mines based on instructions given by the other member.
6. Talk in Circle
Take a long piece of string and place everyone around it forming a circle. Let them hold the string to the height of their waist. Now with their eyes closed, they ask them to form different geometric shapes. This is quite a challenging game with form rectangles, triangles, octagons etc. without opening their eyes.
7. Pepper and Salt
This fun activity involves a big group in even numbers. Create papers with pair of things like honey and jam, Mickey and Minnie, salt and pepper etc. Tape one paper at the back of each person without letting him know what's written on it. As the game starts, each one has to find out what's written on his paper by asking simple yes and no questions.
8. Hula Hoop Circle
Team is made to stand in a circle and two hula hoops are introduced to the group at different points. Now the team has to move the hoop in the circle without breaking the chain of hands. This activity demands coordination and skill to accomplish this goal effectively.
9. Group Juggle
It is quite a fun activity which requires a group of 4-6 people standing in a circle. It starts with juggling one ball with one touch at a time. More balls are added to see how many balls can stay in the air. This activity is all about mental alertness and coordination with team members.
10. Moon Ball
With a large inflatable ball, the team is suppose to keep the ball in the air for the longest time possible and make sure that every team member has touched it before it finally falls the ground. This is an amazing activity when the numbers of team members are quite large.
These are some of the entertaining, exciting and learning corporate team building games which make amazing choices of indoor games which can be easily played in the office during coffee breaks or weekends. They surely develop group coordination, individual skills and mental effectiveness.
To know about equally energetic and vivacious outdoor corporate games, click here.
Life and learning are not just limited to office boundaries. Taking your employees outside the work place and arranging for some outdoor corporate events is a delightful activity for which everyone looks forward for. Outdoor team building programs and activities for adults are not just a mere way of adding some fun to monotonous lives but a great way of learning new things, learning to work as a team. Outdoor team building games for employees are used by many managers to keep their workers happy and energetic and this reflects in their performances. We have often heard of outdoor team building activities for kids but now let us have a quick look at outdoor team building activities for youth.
We bring to you the top 10 team building outdoor games for corporate employees that make work more fun and help in breaking the ice which often restricts them from delivering their performance.
1. Treasure Hunt
The team is required to find the hidden treasure using different clues given to them. This activity is quite fun and requires team efforts, coordination, leadership skills and problem solving skills to reach to the treasure with combined efforts.
2. Plank Walk
Legs of 4-5 team members are tied on the planks on both the sides. Using the ropes attached with the plank, the group has to reach to a certain point. This task involves coordination to lift one leg at the same time so that they can reach the finish line without falling.
3. Jungle Survival
As the name suggests, the team has to survive in the jungle, facing different challenges they find the setting. It is a wonderful outdoor group activity which requires leadership skills and problem solving skills to come up with solutions to different problems that come up while living in jungle.
4. Pipeline
One pipe is broken into many pieces and each member is handed over one piece. Now the team has to carry the fragments of pipe like one pipe without breaking the pipeline and reaching the destination in a well coordinated manner.
5. Raft Building
This entertaining outdoor activity involves making a strong raft as a team. The team is provided with all the raw material to make a raft and has to create a perfect raft which functions properly. This is a wonderful constructive activity which involves problem solving skills.
6. Acid Walk
In this kind of walk, all the team members are required to walk very close to their partners in order to reach the finish line. This demands coordination and synchronization in order to reach the destination and be a winner.
7. Camping
You can even take you team out for night camping to any of the places. This activity would involve them to set up the camps, prepare bonfire and make meals for everyone. This would involve team building skills and leadership skills to make this outing a success in every sense. Surely, it requires lots of management.
8. Military Warfare
Select a few military warfare tasks and allot these tasks to the groups, to accomplish them in a limited time period. You can select these tasks based on their difficulty levels which will require participation and group coordination to finish these tasks successfully.
9. Transporting
This activity involves transporting the group members from one place to another using the props that are given to them. You have to be creative in using the things that are provided to reach to the destination and make your team a winner.
10. River Rafting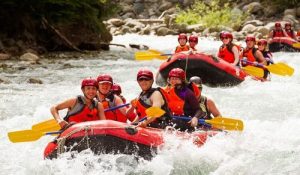 This is another very popular corporate group activity which involves going on a river rafting expedition with your team members. It requires you to face the challenges in the river and reach to the destination with group coordination.
These are some of the most trilling and exciting outdoor corporate events which can be organized to bring together all your employees and have them participate in such fun outdoor team building activities for youth.
Resume is always the most important document when we talk about job search. Therefore, it is very important that you must focus on creating an impressive resume using the best of the format which brings out your achievements and qualifications in the most pleasant manner.
This post talks about essential tips which will help you select the best format for creating your resume. But before that let us read more about different types of resume formats.
Different Formats for Resume
Chronological
This is the most widely used format in which you begin listing everything in a reverse chronological manner. You start with the most recent of the events and go backwards. Peoples of all profession have been using this format from the longest times. But it is quite strange that person applying for managerial post is using the same format as used for the worker for the position of a peon. This is just not right and would completely fail you in creating an impression.
Functional
This is a much recent format and it focuses on mentioning particulars the concentrate on the profile for which you are applying by highlighting the important skills and talents in relation with that specific job. The idea is to be specific and keep the information limited by targeting on the position and qualities you possess for that possible. This is a more focused and personalized resume format.
Combination Format
This is a blend of the formats mentioned above. This format focuses on the relevant skills, achievements, qualifications, abilities related with the job and synergizes all this information using the chronological format. This makes it a perfect choice which helps you focus on the profile without missing on the order of dates.
But this information doesn't really bring clarity on which format you should select for creating your resume. Well the next section of this post can help you answer this question.
Tips on Picking Perfect Format for Resume
Here are some tips which will help you make the right choice. As you are aware about the kinds of resume formats that are used, the next step is to know that which format fits well with what kinds of profiles, industries etc. Read on and learn which format is good for what profiles.
Using Chronological Resume Format
If you are a beginner or you have just spent few years in the industry then again, this is a good choice for you.
If you are a beginner or you have just spent few years in the industry then again, this is a good choice for you.
Good for all those people who have stayed and worked in the same field for a very long period and have had a smooth and steady career in it. If you are applying for the job in the same industry or field, chronological resume is a good pick.
With a steady career in the same field, employer wants to know about your progress, achievements and performance in a chronological order to have a better understanding of your performance over a long period.
This format helps in showing a smooth progress to the top which would work in the benefit of the candidate.
Using Functional Resume Format
Functional resume format is good when you have had some gaps in your career. This means that you started working and then took a break from work or you have made a big change in your career like change in industry or profile.
Such formats are also effective when you are focusing on a specific profile. In such a case, mentioning information like abilities, performance, achievements in relation with that position are required to be mentioned.
Using Combination Resume Format
If you wish to have a change in your career, for instance, you want to switch from one industry to another, then you must select combination resume format.
If you wish to focus on specifically developed skills, abilities and potential in connection with some specific profile then again you can use this format.
If you are highly skilled and a great performer in some specific field then again you can select this format.
So keep these tips in mind while selecting the format for resume and you would never fail to impress the employer. Always remember that resume marks your first impression and therefore, you must never make any compromise with drafting a finest resume that highlights your strengths.
Switching a job is surely not an easy thing to do. It demands lots of efforts from looking for a job to applying for it and finally facing the interview. There is one very important thing to do while you are going for the interview and it is to have a strong reason prepared for leaving your present job.
Well it is very important that you frame a proper reason before heading for your interview. So here are 10 smart reasons which are good enough for quitting your job.
1. Did Not Like What I Was Doing
It is quite genuine that you are leaving your job because you were not enjoying the work you were doing. May be the job did not turn out to be what you anticipated it to be at the time of job acceptance. There are times in our career when one day we suddenly realize that we are interested in something else on reevaluating our goals.
2. Don't Gel With My New Boss
Yes, it does happen. When your old boss leaves and you are not able to work under your new boss, you decide you leave. The organizational changes in the company often result into many employees looking for a change because their bosses change and they no longer are able to work with the new bosses and deliver with their services.
3. Got a Better Offer From Another Organization
Many a times you leave a job because you have got a better deal with some other company. You have been offered a hike in salary, a promotion or you just wanted to switch the company, all these reasons work very well because employees switch jobs for better jobs, for higher salaries and it is very much acceptable.
4. Under-utilized or Over-qualified
We all look for jobs which are perfect for us, which perfectly satisfy all our needs but sometimes we end up accepting jobs which are not are dream jobs because our priority is to earn money. In such a scenario, quitting a job is the right thing to do because you are not doing justice to your skills and to your future and moving ahead is the right thing.
5. Other Goals to Accomplish
There is no harm is leaving a job when you realize that you have various other goals in life which you want to achieve. You can always include them as reasons for leaving your job but make sure these goals are for self improvement. You may want to travel, you may want to strudy….. know what your goal is and just say it all.
6. From Part-Time or Freelance to Full-Time
If you are working on part0time basis and not you want to want to head for a proper full-time job then this is again a very strong and valid reason for quitting for you to make a move towards a better job.
7. Personal Issues Needed Attention
Sometimes in life you have more important things to take care of over your career. You have to step back from a job and take care of the situation. It can be some emergency in the family or some medical condition that has compelled you to take such a decision.
8. Long Term Pending Promotion is Still Due
This is one of the worst things to happen. When you have given your best at your job and you are expecting a promotion and it doesn't happen, it gets very frustrating. When the promotion is pending  for too long, it is always good to walk out of the job.
9. You Have Been Laid Off
It's a bad news but you don't have to feel bad about it provided you have not been laid off because of your ineffective working. Many a times during mergers and acquisitions, regardless of performance, you are laid off by companies.
10. You Were Fired
If you have been fired then surely this is not a very good thing to share in an interview but you must not even lie about it. And of course you will be asked about the reason for getting fired, so be prepared for it. While answering this question, make sure that you don't end up saying anything bad about your employer. You have to be very cautious about the reason you state.
So with these reasons, you can always have your answer ready for quitting the job without any doubts. Use these reasons with smartness and you will crack it right!!!!!
Resigning from your job is as important as applying for a new job. You cannot simply leave a note at the desk of your boss saying that you are resigning or you cannot even have a heated argument with me and simply walk out. There has to be a proper and graceful resignation. It is important because you are leaving your last impression with the organization you have worked and it is recommended that you do it in a professional and pleasant manner.
This article talks about the 10 important dos and don'ts that you must follow while resigning from your job. Keeping these tips in mind can help you leave a positive impression on your employer and will always be helpful in your career directly or indirectly.
Dos To Follow While Resigning
Here are some of the most important dos that you must follow to make it a pleasant experience for you and your employer…
Inform to your boss personally
Make sure you inform your boss about your intention to resign face to face. Sending him an email or leaving a note on his desk is not the right way. Be confident of sharing your decision with him without any fail. Keeping him informed is following the right protocol and will never put you in any kind of tension.
Be prepared
On sharing this information, your boss might propose some offer to you in order to motivate you to stay back. Be prepared with your answer and know how much you are worth. Stay strong and stay practical.
Keep it constructive
While giving reasons for resignation, be positive in criticizing. You have talk with facts and figures in mind as this will make your stand powerful and logical. Keeping it vague will never be a good justification to your decision.
Be helpful
While handing over your work to your colleagues always be helpful. Be ready to guide them as and when it is needed.
Focus on references
During this process, be sure about the people you would want a job reference. This will help you get a better job.
Don'ts To Follow While Resigning
Now we have the list of things you must never do while resigning from your job…..
Don't make things awkward
It is important to leave your job gracefully, bragging about your new job can make others feel bad. Never do anything that makes other people feel bad and make things awkward for you in any way. This is one of the most common mistakes we all make when we are happy thereby making things awkward for everyone around us.
Don't make it public on social media
Never ever announce all this on social media as it is highly unprofessional and damaging to your image for long run. Keep it personal and subtle. Announcing things like this on social networking websites is beyond damage.
Don't forget to clean your computer
Never ever forget to clean your system. Before leaving make sure that you have removed all your files and data from the computer you have been using at your workplace. Transfer your personal data and make things clean for a fresh start.
Don't be negative
Every organization has some negative things but talking about them when you are leaving the job is not the right time and especially if you are being negative instead of being constructive. If you cannot be positive, it is better to be quiet.
Don't refuse to work for notice period
If it is in your contract then you must serve the notice period without making it a topic for discussion. There is no harm in serving for the notice period to keep things simple and sorted. In fact, always keep your joining keeping in mind the notice period as it will never spoil your relationship with your present or future company.
Use these points to make your resignation comfortable and hassle free. With these dos and don'ts, you will never spoil your association with your employer.
Career is of utmost importance to all of us and to make it shine bright, we work hard to have a well developed country. But sometimes we might just ending up ruining it all with one wrong move. Every move that we make, we make with an intention to take our career to next level but sometimes unknowingly or knowingly, we end up making a mistake which hampers our career.
This post highlights the top 10 unprofessional activities that we must all avoid in order to keep your career on the right track.
1. Stop Doing Your Work
No matter what the reason is, you cannot simply stop doing your work when you are at office. In case, you are not happy with your boss or with the working culture and you have mentioned this to your management. In such a scenario, you are expected to keep working rather than sitting idle and waiting for the decision to come. If you stop doing your work, then it is an unprofessional thing to do which shows your negligence towards your job.
2. Unprofessional Conduct
While at work, you are expected to behave professionally as this is a rule of the corporate world and you must never break it. Never ever get stuck in a situation wherein someone has to come up to you and warn you about your misconduct. Always be professional when you are at work, no matter where you come from.
3. Work From Home
Companies do offer the comfort of work from home to their employees but making stupid excuses to work from home is the worst thing to do. This is just a comfort and you must use it when it is actually necessary. Do not simply opt for it so that you can relax at home. It is unprofessional.
4. Miss on Meetings
If you have a meeting scheduled an hour before your usual official timings and you skip it, it is seriously damaging to you. It is very important that you take all your meeting requests seriously. Making excuses for skipping it gives a wrong message.
5. Participating in Unimportant Programs
Sometimes we end up participating in events of no importance like a dance class or yoga session or a cultural event. These programs are good to attend, only if you are doing complete justice to your professional roles and responsibilities. Never miss on your work because of these programs which are not connected with your profession.
6. Not Being Serious
If you are not serious about your work, nothing can save your career. Being very casual with things is not good for your professional growth. If you will take everything lightly, then you will head nowhere.  Work demands seriousness and commitment.
7. Take 5 Meal Breaks Instead of 3
Most of us love to take breaks as and when we want and we end up going for breaks for more than 3 times. We go for tea breaks, coffee breaks and meal breaks because of which we are actually spending more time in food and talks than at our desk, working for the job for which we have been appointed. Do not be a part of those groups who happen to do these things.
8. Taking All Types of Leaves
Companies offer different kinds of leaves and you aim to utilize all these leaves, whether they are needed to not. You want to use all the sick leaves and casual leaves. And for this you will make all possible excuses which will surely mean that you are creating stories than reporting the real problem. So never do such a thing which can ruin your reputation.
9. Strong Focus on Grooming
It has often seen in offices that female employees spend too long in washrooms grooming themselves. You need to understand that you need to groom yourself on the technical front rather than on your looks. Likewise, male employees spend good amount of time in gyms to work on their body. There has to be a limit to everything.
10. Fall Sick Every Few Days
If you are taking too many leaves saying that you are sick then this is going to ruin your reputation because your boss would always feel that you are always unwell. And in such a scenario, you can never expect your boss of give you a task of high priority or to give you appraisal because you are never well to perform your duties.
Communication is extremely important in the professional scenario as it sets the flow of information so that the work is carried on with smoothness. If you are the HR Manager of your company and you have received resumes of the candidates for different profiles then as a professional company, you must send resume received email to all those who have applied for the job. This is important so that the candidate is informed that the resume that he had sent has been received and acknowledged by the company so that there is no room for uncertainty.
If you don't know how to write such a letter then here are some steps which will make this job a lot easier for you. Follow these guidelines and you would be able to draft a perfect formal resume received email.
Start with Acknowledgement
Always start with acknowledging that you have received the resume and the application of the candidate. This should include the name of the organization along with the profile name for which the resume has been sent.
After this you must include a few lines on the process, on the last date of application and other related things. The idea is to bring clarity about the process in the mind of the candidate. For instance, you can mention that "We will screen all applicants and select candidates whose qualifications seem to meet our needs. We will select the best 5 who will be called for the interview."
If you can then you must include a tentative date in your letter which is the date by which the candidates will be informed about the decision concerning interview.
End your email with a good luck note on behalf of your company. Keep it short and simple.
Use these simple steps to frame a personalized resume received email on behalf of your company with all the important points. Keep this email short and informative as it is just an acknowledgement of resume received.
We all want to be successful in our career and we work really hard for it but despite everything we do, we feel that something is missing and something is not going right. Well, unknowingly we end up making certain mistakes that indirectly adversely impact our career. These are some of our bad habit or behavioral issues because of which all our hard work to be successful in our professional life get affected.
This post talks about the most commonly made 5 mistakes that damage our career. So read on and find out what actions impact your professional life so that you can avoid them in order to be successful.
1. Giving Money Importance Over Opportunity
Money is important but it is surely not everything. When your focus shifts to monetary gains, you end up looking at other intangible things which are more important than financial benefits. Sometimes we rank money over the opportunity to learn or chance to perform and as a result we damage our career. It is very important to always rate opportunity over money as it will help you gain experience, knowledge and confidence to perform a job. This in turn will bring you happiness and contentment. All of things are very important for a bright and shiny career.
2. Not Giving Importance to Relationships
Some of us think that work is everything and focusing on our work is the only thing which we need but this is not true. You also need to give importance to professional relationships. You need to pay attention to your association with your co-workers and team as no job can be accomplished in isolation. If you have healthy relationship with your colleagues, there are chances that your performance levels get better due to synergy. You would be able to communicate and coordinate more effectively.
3. Not Taking Initiatives
Companies always love employees who are prompt. They want their employees to take initiatives. And if you think that opportunities are going to come to you then you are sadly mistaken. With this mindset, you can never be rise high in your career and you will always wait for things to come to you. Practically, you should always go and grab the opportunity in order to be moving ahead in your career.
4. Dressing Way Too Casual
It is a fact that your appearance matters and you must focus on the way you dress, your clothes, accessories etc. to make sure that you look impressive and smart. Going to work in casual clothing, not paying attention to your hair or style is another big mistake you are making because constantly you are creating a bad impression. There is nothing good about not being serious about how you look. You should always be dressed nicely. Do not over dress but do not be casual as well. Strike the right balance and it will definitely get you more success.
5. Focusing More on Personal than Professional
We all know that our job choice, negotiations and everything else is always affected by our personal life but mentioning this point again and again is not a professional thing to do. In fact, while making any negotiations for salary or flexi timings, you should also bring in notice the ways in which it will positively affect your company. You must keep your company before your personal needs as this is always counted as a good gesture. So make sure you avoid talking about your personal choices and convenience over that of your company.
All of these common mistakes are committed by all of us as some point in time in our career and it is very important that we must avoid these blunders as they damage our career. So if you have been making such mistakes, it is time to correct them in order to have more benefits of your hard work in your professional life.