Posts tagged "Employee"
The old style of recording employee time sheet was using a sheet of paper and a pen. There was a time when employees were asked to record their entry, exit and break times. There was an old school of thought where punch card system was used. But the point is, are the employees recording their time accurately and honestly. Also the challenge is to turn this data into reports to use them for business decisions. Employee time clocks have resolved this issue for small businesses.
Five good reasons why a small business should have Employee time clocks are:
Time saving: The employee time tracking software automates thereby saving a lot of time for employees and for the HR department.
Human error: There are chances of under paying or over paying to an employee when time sheets are not calculated properly. There will be re-work which is a waste of time.
Save money: Time is money. If you save your business hours doing a productive job, you indirectly save a lot of money. You will also see a dollar reduction by using Time clock.
Reduce fraud: The manipulations involved in calculation of time either by employer or employee is eliminated.
Burden shift: The burden of calculation of the time sheet will be shifted from the employer to employer who will have to take the responsibility of entering individual data.
1. Employee Time Clocks Help You Save Time and Money
The employee time clock helps to save money and time by reduction of work. The data collection and calculations are automated. Elimination of human errors is possible with Time clocks. The employee fraudulent entries in time sheet calculation is eliminated. The employer need no keep running behind employees to fill the data. The responsibility shifts on the employee as he will be concerned with his salary. It is easy for management to identify issues relating to time in and time out calculations very soon.
2. Employee Time Clocks Are Fairer
The Time Clock & Employee Scheduling calculations are fairer than human calculations. The human element of bias, sympathy. The employee time clock does not have any feelings and it just follows the process. A sense of justice and responsibility also confers on the employees as they know they won't be paid if they won't work. They have to be physically present in the office to enter the data. The automated employee time clock can calculate better and also resolve issues like rounding off to the nearest while calculation. Rounding off to the nearest when done manually, has a human bias. But Time clock does it with precision and accuracy.
3. Employee Time Clocks Alert You to Attendance Issues
The time clock will generate reports, which will help you to identify timely issues in attendance before you take a business decision. When absenteeism increase at work place it impacts the employee morale. The employees who are present have to take the burden of additional work which creates resentment. When there is absenteeism, and there are ongoing projects, the productivity gets impacted. This will have impact on the cost factor too.
4. Employee Time Clocks Show You Real-Time Labor Costs
When you want to calculate the cost of labor, employee time clocks will give you accurate information. Hand written data can be inaccurate will have impact on cost of labor. You can have employee data to analyze the portion of labor which is costing more to the company. It is easy to identify the unproductive employees, and the employees who are doing over time. Labor tie and cost of labor can be compared with industry standards. The time clock helps to identify which employee time sheet is showing high despite of low production.
5. Employee Time Clocks Keep Payroll Accurate
The time clock will generate accurate payroll. This software takes into account the payroll policies while calculating the time sheet. The damage of costly errors is reduced with the help of this software. The time clock can integrate well into the existing payroll system, which reduces paper cost, processing cost, printing cost etc. These days the law has become more complex, it makes more sense to have an automated system than going through a tedious process.
 The normal work schedule for all employees is 8 hours a day, Sunday to Thursday.
Canteen in a company premises have been part of formal as well as informal discussions over coffee, tea or snacks. Employees get to spend a casual time in the premises, which is good for the enhancement of cognitive power. As known, the food quality of canteen is always delectable.  In fact, the circular put on the notice board is meant to inform employees about the increased rates of varied food items available in the canteen. The increased rates are a resultant of GST taxes over the purchase of raw materials used to cook a meal. Though, the rates are increased; they have been decided in conjunction with the authoritative permission of the company heads. Under mentioned is the circular format for employees informing about increased rates of canteen food products.
Dated: December 23th, 2017
Notice / Circular
This circular for change in canteen rates is meant to inform the employees that the food items in the canteen menu have been slightly increased. Such a decision has been taken by the canteen manager and administrative authorities by keeping in mind increased prices of raw materials and other products used for cooking meals in the canteen. The new rates for food items are subject to change from December 26, 2017. Along with this, every bill will have CGST and SGST levied on the total price.
We hope that the company employees will be supportive in the decision because of the hike in prices of vegetables and materials. For the updated rates, the employees can consult with the canteen manager and check the new menu that will be available in the canteen premises from day after tomorrow onwards.
Thank you very much in advance for your co-operation and taking the administrative decision in a favorable manner.
Regards,
Rajesh Khandelwal
Admin Head
Click Here to Download Company Canteen Rates Hike Circular to Employee in Word Format
Other Related Formats
Sample of Circular for No Smoking in Office
Sample of Circular for Staff meeting
Sample of a Late Coming Warning Letter
Warning Letter to Employees Refusing to Work
Sample of Circular for Office Timings
Sample of Circular for Leave
Sample of Circular for Public Holiday
Team Building Meeting Invitation Email Sample
Formal Apology Letter for Cancellation of Business Meeting
How to Write Formal Confirmation Email for Attending Meeting
Meeting Confirmation Email Sample
Search Sample Formats:
Usually companies include the clause of notice period in their offer letters. The purpose of including notice period is to get some transition time so that when the employee leaves, the work that was handled by him could be handed over to someone else. If the employee is really good then companies try to retain them by writing a formal employee retention letter with notice period. The idea is to have an extra time to find a better substitute and have important things accomplished during this duration.
We have come up with sample retention letter for notice period which can be used for writing a personalized letter.
Sample Format for Employee Retention Letter For Notice Period
From
Samantha Brown
HR Manager
Global Investments Ltd
New York
Date: 18.10.17
To,
Robert Smith
45, Gold Oak Apartments
New York
Dear Robert,
This is in response to your resignation letter received on 28th September, 2017. We would like to bring to your notice that as per your offer letter, you cannot leave your job before serving the notice period of one month. And in case you do so then as per the policy of the Company, salary of one month will be deducted from your remuneration.
We would like you to stay with us for another one month and train Mr. Adam Jack for your profile. This would help him learn all the duties and responsibilities during this while and then you can move ahead with your new job.
For any further discussions, please feel free to write me a hr@global.com.
Looking forward for your response.
Regards,
Samantha Brown
HR Manager
Global Investments Ltd
Click Here to Download Employee Retention Letter For Notice Period
Other Related Post of Resignation Letter Examples
Employee Death Benefits Letter Sample
Relieving Letter From Group Company
Relieving Letter Format For Employee
Example of Resignation Letter Acceptance
Sample Resignation Letter with Complaint
Employee Documents Joining to Leaving
Acceptance of Resignation Letter Format
Acknowledgement Resignation Letter Template
Acceptance of Resignation Letter of Director
How to reply a Resignation Letter
Acceptance of Resignation Letter from Board Member
Requesting for Resignation Acceptance Letter
Acceptance of Resignation Letter without Notice
Sample Resignation Letter Due to Relocation of Spouse
Employee Resignation Letter Template
Formal Resignation Letter Template With One Month Notice
Part-Time Job Resignation Letter Sample
Sample Resignation Email Or Letter Example
Employee Resignation Letter
Sample Resignation Letter Format
Letter to Employee for Recovering Training Expenses of Company
Search Sample Formats:
Companies which involve jobs with risky nature need to have tie ups with hospitals to address to the medical emergencies that might surface on a regular basis. In such a scenario, it is important to have a formal tie up the hospital to keep the process smoother and faster. You can do so by writing a proposal letter for tie up with hospital. With this kind of request letter to hospital, you can explain the need of tie up and go ahead with agreement format.
We have come up with tie up letter sample proposal which you can use to request first aid treatment for employees in a formal manner.
Sample Tie Up Letter with Hospital for Employee First Aid Treatment
From:
Aaryahi Goyal
Manager,
Zenith Constructions Pvt. Ltd.
A – 791, Bandra Reclamation, Mumbai
Date: 17th July, 2017
To,
Advika Agarwal
Manager,
Green World Hospitals
M. L. Dahanukar Marg
Mumbai
Dear Mr. Mars,
I would like to submit my request for tie up with your hospital for first aid treatment of our employees.
I would like to introduce my company Zenith Constructions Pvt. Ltd. We are into the construction business and we have over hundred workers working with us. Due to the nature of the business, we require first aid treatment for our employees time and again.
You are a prestigious name in the health industry and you have various setups across the city. Therefore, we would like to have a corporate tie up with your hospital to handle all the first aid treatments for our company.
If you are interested then please feel free to get in touch with me at 9898989898 so that we can discuss further on this subject.
Looking forward for your response.
Regards
Aaryahi Goyal
Manager,
Zenith Constructions Pvt. Ltd.
Click Here to Download Format for Tie Up Letter with Hospital for Employee First Aid Treatment
Search Sample Formats: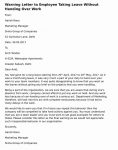 Organizations often face problems when employees go on leaves without handing over their work to their co-workers. In this case, it becomes extremely difficult for others to work as they have no idea of the work in progress. In such a scenario, writing a warning letter to the concerned employee on this issue is the professional thing to do.
Given below is a sample draft of warning letter to the employee who has gone on leaves without work handover. Use this template to create your letter.
Warning Letter to Employee Gone on Leaves Without Work Handover
From:
Harish Rana
Marketing Manager
Sinha Group of Companies
52 Gulmohar Lane
Delhi
Date: 30.05.2017
To,
Amit Tandon
H-52/A, Welengkar Apartments
Greater Kailash
Delhi
Dear Amit,
You had gone for a long leave starting from 20th April, 2017 to 20th May, 2017. As it was a month-long leave, it was very much a part of your duty to hand over your work to your team members. It was quite disappointing to know that you went on the leaves without giving any brief on the projects that you were handling.
Being a part of the organization, we are sure that you are aware that during one's absence from work, company cannot afford to put any work on hold. And any work loss because of non-handing over of work is a serious act. Department of Marketing, therefore, will look into this act with complete seriousness because it had led to many delays in the work.
We would like to warn you that if in future you repeat this behavior then the company will be compelled to take hard actions against you. You must understand that you are a team leader and you must work to set good examples for others to follow. Please consider this letter as the final warning as we would not appreciate such irresponsible behavior in our organization.
Sincerely,
Harish Rana
Marketing Manager
Sinha Group of Companies
Other Related Formats
Handover Job to Colleague Email Sample
Writing a Warning Letter to Employee for Poor Attendance
Every employer educates his employees about the HR policies, leave policy, and attendance letter at the time of on boarding.
Search Sample Formats:
There are various reasons for which an employee might require the proof of his address to submit as an important document for official purpose. Being the HR of the company, you might need to frame a formal address proof letter for an employee of your company.
Here is a sample address proof letter for employee which you can use for creating a personalized letter. This example contains all the essential details that should be a part of a perfect letter.
Sample Address Proof Letter for Employee
ADDRESS PROOF LETTER FOR EMPLOYEE
To Whomsoever it may concern
This is to confirm that ­­­­Mr. Richard Brown is working with ABD Bank Pvt. Ltd as Relationship Manager. According to the records of the company, he has been associated with the organization since 25th November, 2012. We would also like to confirm that the present address of ­­­­Mr. Richard Brown is "15 A, IX Block, Harrison Residence Society, New York" as per the Employee Records of the company.
Sincerely
Samantha Smith
HR Manager
Search Sample Formats:
Every company has some employees which fail to adhere to the rules and regulations of the organization and in order to control this deviation, company has to write formal warning letters to such employees highlighting this mistake and warning them for correcting their actions.
If being the manager of your company you also have to write professional warning letters or memo to your employee then use this sample template to create a customized formal letter with important details.
Format for Warning Letter or Memo To Employee
Julia Mars
HR Manager
ABC Corporation Pvt. Ltd.
11, Park Avenue,
New York
Date: 18th April, 2016
To,
Mathew Jacob
42 Richmond Street,
New York
Sub: Warning Letter
Dear Mathew,
This is to bring to your notice that the last month you have proceeded on leave without any prior permission from your supervisor. Such an action is considered as gross negligence of duties and is completely unprofessional in capacity of your profile.
As per company's policy, remaining absent from duties without prior information is a misconduct and attracts strict action. You are advised to take this warning seriously and make sure that such an action is not repeated in future.
You are advised to submit a formal written explanation on your uninformed and unauthorized leaves on receiving this letter or once you resume your work.
Consider this letter as urgent and respond as soon as possible.
Regards
Julia Mars
HR Manager
ABC Corporation Pvt. Ltd.
Other Related Letter Formats
Writing a Warning Letter to Employee for Poor Attendance
Every employer educates his employees about the HR policies, leave policy, and attendance letter at the time of on boarding.
Announcement Letter Format For Half Day Leave For Staffs
Letter format for writing a perfect half day leave application for office, school, college or university, internship.
Warning Letter To Employee Who Visited Client's Premises Without Permission
Employees have to follow the discipline in whatever job they do as they are the face of the company.
Search Sample Formats:
At some point in time, every company comes across a moment when some of their employee is leaving the company. Professionally, the company should write a formal farewell letter to the employee who is leaving the company. As the HR manager of your company or as the owner of your firm, you must wish your employee a successful future by writing a farewell letter to him.
Here is a sample farewell letter to employee who is leaving your company. Use this example to write a formal letter to your employee by customizing it as per your need. It is always good to say good bye in a professional way.
Sample farewell letter to employee leaving company
John Smith,
HR Manager
ABC Corporation Pvt. Ltd.
52 Richmond Street
New York
Date: 9th November, 2015
To,
Andrew Reynolds
12 Stella Apartments,
St. Anthony's Street,
New York
Dear John,
It came as a great shock to us when we received your resignation letter stating that you are going to leave ABC Corporation Pvt. Ltd. at the end of November. However, we are very happy for you are leaving us for good and we are hopeful that this opportunity to relocate to California is going to be helpful for your career.
You have been associated with us for five long years and it was great working with you. You have been a great employee and a wonderful team worker. You have always supported and helped your co-workers and juniors. Your dedication towards the organization has been exceptional. We are surely going to miss your great work and your strong plans which have helped our company grow. You have strongly contributed to the organization by working hard with complete focus.
We wish you all the best for your future endeavors. We hope prosperity and growth for you.
Sincerely,
John Smith
HR Manager
ABC Corporation Pvt. Ltd.
Search Sample Formats:
It is extremely important to understand for any organization that acknowledging the good work of your employee and appreciating him for the same is very important to ensure long lasting performance from the valuable staff and to have an organization that grows and prospers. If you also have an employee in your firm who has handled some project too well or who has delivered remarkable performance then you must write an appreciation letter appreciating his good work. This will make him happy that his efforts have not gone waste.
If you don't know how to frame such a letter then here is a sample example given below. This is a professionally written formal appreciation letter appreciating and motivating the employee for good work. Use it to customize as per your need and draft your own letter.
Sample appreciation letter to employee for good work
Julie Robinson
Marketing Manager
Avon Technologies
1234 Basil Street
New York
Date: 04.9.15
Adam Smith
23 Herald Apartments
New York
Dear Mr. Adam Smith,
I would like to congratulate you on behalf of Marketing Department of Avon Technologies on successfully completing the S-65 project. I would like to appreciate you for your marvelous performance. The endless hours that you have put in working on this project and the level of professionals that you have exhibited have made the entire team feel proud. We are extremely happy and honored to have you as the Project Manager.
We have been keeping a close watch on every stage of this project and we have seen that you have been a great planner, executor and leader. You have worked with utmost commitment, diligence and enthusiasm and the same was observed in your team as well. You have always worked with a positive approach because of which you have been able to manage and complete such a difficult project that too within the promised time frames.
We have another project in the pipeline which also demands same kind of dedication and commitment. We would be happy to appoint you as the head of it because seeing your working the company is sure that you have the ability to accomplish it. We would like to appreciate you for all the efforts you have put in to make this project come live.
We hope that you would impress us with your amazing performance in future as well.
With best wishes
Sincerely,
Julie Robinson
Marketing Manager
Avon Technologies
To motivate the employees to work better and to retain their services, you must always appreciate them for their good work. It is the sweetest gesture that infuses new energy in the employee by acknowledging all the efforts he has put in. If you feel that an employee has made a remarkable contribution to your organization then you must write an appreciation email to him appreciating his good work.
Here is an example sample appreciation email which is the perfect blend of appreciation and motivation. Use this format in a customized manner to create your own personalized email to acknowledge, appreciate and motivate the work of your employee.
Sample appreciation Email to employee for good work
Sub: Appreciation Letter
Dear Mr. Sam Brown,
The purpose for writing this email to you is to congratulate you on successfully completing the New York Marketing Project. ABC Corporation Pvt. Ltd. is proud to have an extraordinary hard working and committed employee like you. You have always been a star performed and you have always completed all your projects on time with best results.
I would also like to share that we have received many compliments for you from our clients who have praised your working style. We are extremely delighted to have a wonderful and valuable person like you in our organization. You have always traveled an extra mile to meet your targets. With your dedication and professional approach, you have been able to take our company to a higher rank by working really hard on the New York Marketing Project which in turn has brought lots of fame to the company. Because of your contribution, we are able to have increased sales and a pool of happy and satisfied clients.
You have not only been a remarkable performer but you have also been an impressive leader. It is the result of your guidance and leadership that your team has been able to deliver such an enticing performance. With your commitment and diligence, you have taken ABC Corporation Pvt. Ltd. to new levels. On behalf of ABC Corporation Pvt. Ltd., I take this opportunity to express gratitude towards your hard work. I would also like to wish you all the best for all future endeavors. May you keep performing better in years to come.
Sincerely,
Samantha Gibs
Asst. Manager
ABC Corporation Pvt. Ltd.
Search Sample Formats: