Announcement Letter Format For Half Day Leave For Staffs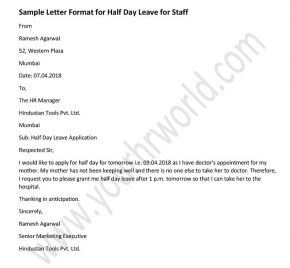 Sometimes you have an important work to do and for that you need to take some hours off from work or your classes. There is an urgent work on personal front or illness or any other reason at work, school, college or internship. In that scenario, writing a formal half day leave application is the right thing to do. Such holiday declaration letters are very short and include the reason for absence along with the duration for which you want to apply for the leave.
Given below is a sample letter format for writing a perfect half day leave application for office, school, college or university, internship. Use this template to write your own half day leave letter.
Useful Tips to Write Half Day Leave Application
Given below are some helpful tips to write a flawless half day leave application.:
The format of the letter should be formal
Keep the tone of the letter polite
Clearly state the reason for half day leave in your application
Don't forget to include the date on which you want half day off
Always check for grammar and spelling mistakes before submitting your letter
Make sure that the reason is genuine
Sample Letter Format for Half Day Leave for Staff
From
Ramesh Agarwal
52, Western Plaza
Mumbai
Date: 07.04.2018
To,
The HR Manager
Hindustan Tools Pvt. Ltd.
Mumbai
Sub: Half Day Leave Application
Respected Sir,
I would like to apply for half day for tomorrow i.e. 09.04.2018 as I have doctor's appointment for my mother. My mother has not been keeping well and there is no one else to take her to doctor. Therefore, I request you to please grant me half day leave after 1 p.m. tomorrow so that I can take her to the hospital.
Thanking in anticipation.
Sincerely,
Ramesh Agarwal
Senior Marketing Executive
Hindustan Tools Pvt. Ltd.
Click Here to Download Half Day Leave Application Format in Word
Other Related Letter Formats
Leave Email Due to Mother and Father Death
Leave Extension Application for Family Problems
Sick Leave Email to Boss for One Day
Maternity Leave Expenses Disbursement Letter
Annual Outing Announcement Letter
Letter Announce Annual Holiday Luncheon for Employees
Leave Application Format for Own Marriage to HR
Earned Leave Application Format for Employees
Sample Letter to Announce a Job Retreat
Letter to Announce a Bad News to Employees
Warning Letter for Unauthorized Absenteeism
Permission Letter to Leave Office Early
Sample Warning Letter For Absenteeism Without Intimation
Warning Letter for Employee Regarding Attendance
Letter for Announcement Of New Employee Joining
Thank You Letter for Leave Approval Sample
Warning Letter or Memo To Employee
Easy Format of Half Day Leave Application Email
Sample of Circular for Leave/Leave Request Procedure