Posts tagged "Letter Format"
There are some kinds of jobs in India which require police verification which confirm that the candidate doesn't have a criminal background. In order to get police verification certificate letter, one has to submit a formal request for the same. You can do that by simply writing a letter for police verification certificate for job purpose. You can follow a police clearance certificate letter format for job to write a perfect one.
Shared below is a letter format for police verification certificate for job in India. You can use this template to draft your customized letter.
Read Also: How to Get Police Verification Certificate for Job in India
Letter Format for Police Verification Certificate for Job in India
From:
Ravi Sharma
54, Elite Apartments
Karol Bagh
New Delhi
Date: 21st August, 2019
To,
The Inspector of Police
Karol Bagh Police Station
Delhi
Sub: Regarding Letter of Police Verification for Job
Respected Sir,
I, Ravi Sharma, s/o Mr. Dinesh Sharma, residing at 54, Elite Apartments, Karol Bagh, Delhi, want to submit my request for police verification. I need this certificate as I have applied for the job of Security Guard with CNS Securities Pvt. Ltd. and the company wants to ensure that I don't have any criminal record.
Therefore, I request you to please check your database and issue me the clearance certificate from your side as it is extremely important for me to get this job. I shall be very thankful to you if you could issue this certificate as soon as possible as I require it on an urgent basis. For any further details, please contact me at +91-9898989898.
Thanking in anticipation.
Sincerely,
Ravi Sharma
Click here to Download Letter Format to Police Verification Certificate for Job in Word
You May Also Like
Bonafide Certificate Format for Employee
Letter Format For a Police Complaint
Police Permission Letter for Official Event
How to Write a Letter for Verification of Employment
Warning Letter for not submitting documents for Employee Verification
Format for Employee Verification Email to HR
Difference Between Experience Letter and Service Certificate
If there is bad news to be announced to your employees then it has to be done in a formal manner. You can write a letter announcing bad news to employees to officially share the news. For writing a bad news letter, you can use the bad news business letter template or a simple sample announcement letter to share the news with all the employees in one go.
In this post, we have come up with a sample letter to announce bad news to employees. You can use this bad news business letter example to create a personalized letter with all details.
Sample Bad News Announcement Letter to Employees
Date: 31st May, 2019
Sub: Discontinuing Work From Home Format
Dear Employees,
This is to inform you all that the Management at AZ Technologies has decided to discontinue the work from home format at the company. From now on, all the employees will need to come to office at their respective working days to work as work done from home will not be counted.
We are hopeful that we will be able to implement this change in our company without disgruntlement. It is the need of the hour that we have to bring in this significant change in our working pattern. In case the decision is revoked, you will be informed in writing.
Regards,
Rita Sharma
Manager
AZ Technologies.
Other Related Announcement Letter
Public Holiday Announcement Mail/Notice/Memo Format to Staff
Email for New Employee Joining Announcement to Related Departments
Format Letter for Announcements for the Company Received an Award
Announcement Letter Format For Half Day Leave For Staffs
Announcement Letter Format for Discontinuing Special Leave
Letter for Announcement Of New Employee Joining
Search Sample Formats:
If your loved one has passed away then you have other things to deal with other than paperwork. But it is sometimes important. One such document is Employee Death Benefits Letter which is an easy way to get information from former employer about the benefits of the deceased employee's beneficiaries. The purpose of an Employee Death Benefit Letter is to formally request about the benefits you may be entitled to.
In this post, we have come up with Employee Death Benefits Letter sample to help you have an easy to use death claim letter format. Use this sample death benefits letter to employees to create your own to seek benefit details from employer.
Situations Under Which Employee Death Benefits Letter Can Be Used:
Here are some situations when you can use Employee Death Benefits Letter:
When you want to check about the possible benefits with the former employers
In case when you need information on benefits from employer of the person who has passed away.
Sometimes you are unaware of the insurance policy and other benefits offered by the company to your loved ones and when the person is no more, by writing a death claim letter to the former employer, you can get complete information on it.
Employee Death Benefits Letter Template
From:
Richa Sharma
54 Gordon Apartments
New Delhi
Date: 12.02.19
To,
Suresh Sinha
Manager
SBC Bank
New Delhi
Sub: Employee Death Benefits of Mr. Adarsh Sharma (Employee Id: 123456)
Dear Sir,
As the beneficiary of your former employee, Lt. Mr. Adarsh Sharma, I am writing this letter to request you please enlighten me about the employee death benefits I am entitled for as the beneficiary of the decedent of an employee of your company.
In these difficult times, I would appreciate you to please cooperate and share all the benefits that a beneficiary is entitled to in case of death of an employee of your organization. I also request to please share details on any documents that I need to share with you for the same.
Please feel to get in touch with me at 9898989898 in case of any details.
Thanking in anticipation
Sincerely,
Richa Sharma
Other Related Formats
Search Sample Formats: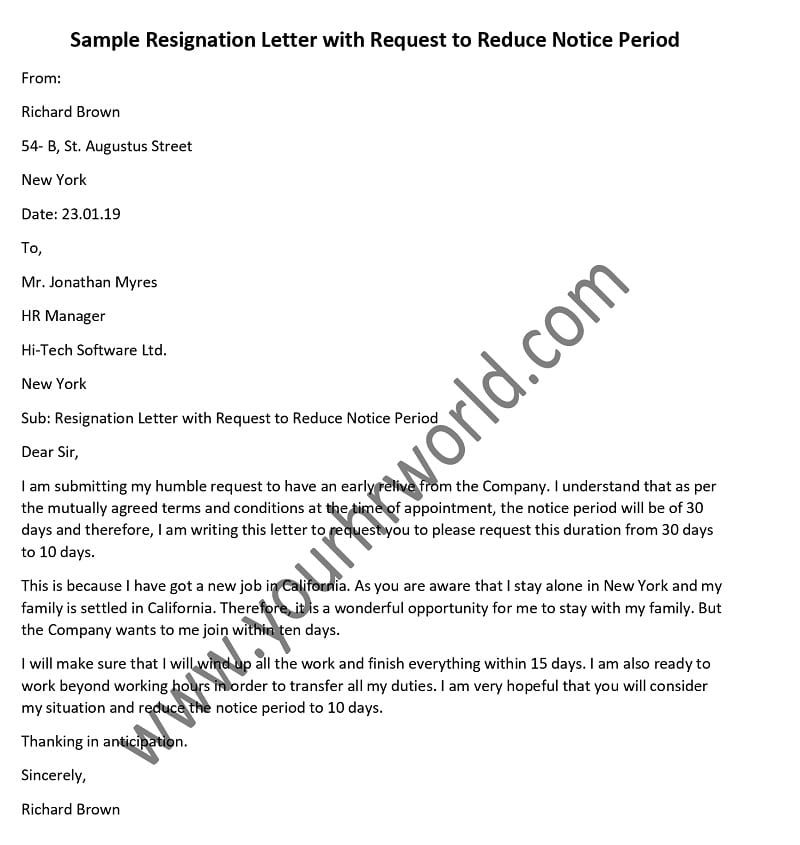 If you have got a better job opportunity but then there is long notice period at work which can be a big obstacle for you. In such a situation, writing a formal letter requesting early release from notice period can be of good help. Short notice resignation letters can surely turn the tables for you if written right.
In this post, we have come up with small resignation letter sample along with various details that can help you with writing an impeccable sudden resignation letter.
Ways to Request Early Release from Notice Period
If you wish an early release then here are the ways:
You can buy out your notice period from your present employer
You can engage in having negotiations with your present employer to have an early relieve.
What is Buyout of Notice Period
Every company has different rules when an employee resigns and all of these policies are shared at the time of the appointment of the employee in the appointment letter.
Buyout of Notice Period gives the employee a change to pay a certain amount to the company in order to buy an early relieve from the employer. So by giving this amount, the notice period can be bought.
What is Having Negotiations for Early Relieve
You can sit on the table to have negotiations with your present employer to earn an early relieve but the success would mostly depend upon your terms with the management of your company. You can have various discussions with your manager and also the HR department to submit your request for having an early relieving.
Short Resignation Letter Samples with Request to Reduce Notice Period
From:
Richard Brown
54- B, St. Augustus Street
New York
Date: 23.01.19
To,
Mr. Jonathan Myres
HR Manager
Hi-Tech Software Ltd.
New York
Sub: Resignation Letter with Request to Reduce Notice Period
Dear Sir,
I am submitting my humble request to have an early relive from the Company. I understand that as per the mutually agreed terms and conditions at the time of appointment, the notice period will be of 30 days and therefore, I am writing this letter to request you to please request this duration from 30 days to 10 days.
This is because I have got a new job in California. As you are aware that I stay alone in New York and my family is settled in California. Therefore, it is a wonderful opportunity for me to stay with my family. But the Company wants to me join within ten days.
I will make sure that I will wind up all the work and finish everything within 15 days. I am also ready to work beyond working hours in order to transfer all my duties. I am very hopeful that you will consider my situation and reduce the notice period to 10 days.
Thanking in anticipation.
Sincerely,
Richard Brown
Sample Resignation Letter 2 Weeks Notice
From:
Richard Brown
54- B, St. Augustus Street
New York
Date: 23.01.19
To,
Mr. Jonathan Myres
HR Manager
Hi-Tech Software Ltd.
New York
Sub: Resignation Letter with Two Weeks Notice
Dear Sir,
I am writing this letter to submit my resignation and request an early relive from the Company. I am aware that the standard notice period for employees is of 30 days. I request you to please reduce the notice period of 30 days to two weeks as have got a new job in Chicago and the Company wants to me join within a span of two weeks.
I have had a wonderful time working in this Company for five years. These five years have been full of new opportunities and progress for me. I strongly feel that this new opportunity will help me move ahead in my career and achieve my goals and I am positive that you will be supportive in this decision.
I completely understand that the duration of 30 days notice period is for completing all the pending work and for transferring all my duties to the other employee. I promise to devote extra time to complete all my work and also pass on my duties within two weeks. I am hopeful that you will be kind enough to consider my request and approve it.
Thanking in anticipation.
Sincerely,
Richard Brown
Resignation Email Format Sample – Short Notice
Date: 23.01.19
Dear Sir,
Sub: Resignation Letter with Two Weeks Notice
Dear Sir,
Please accept this email as formal resignation letter as I am resigning from my position of Asst. Manager (Marketing) with New York Bank on January 23rd, 2019. I am aware that as per the Company's policy, the standard notice period is two months.
I would like to request the Management to consider my request for a shorter notice period because my personal circumstances require me to leave the job at the earliest. Therefore, I would be glad if you could consider my request and reduce the notice period to 15 days.
I thank you for all the opportunities and guidance you have provided me in the span of last four years that have helped me grow. And it has been a wonderful experience working for such a reputed company. I will be happy to provide all possible assistance during this transition.
Thanking in anticipation.
Sincerely,
Richard Brown
Other Related Post of Resignation Letter Examples
Relieving Letter From Group Company
Relieving Letter Format For Employee
Example of Resignation Letter Acceptance
Sample Resignation Letter with Complaint
Employee Documents Joining to Leaving
Acceptance of Resignation Letter Format
Acknowledgement Resignation Letter Template
Acceptance of Resignation Letter of Director
How to reply a Resignation Letter
Acceptance of Resignation Letter from Board Member
Requesting for Resignation Acceptance Letter
Acceptance of Resignation Letter without Notice
Sample Resignation Letter Due to Relocation of Spouse
Employee Resignation Letter Template
Formal Resignation Letter Template With One Month Notice
Part-Time Job Resignation Letter Sample
Sample Resignation Email Or Letter Example
Employee Resignation Letter
Sample Resignation Letter Format
Search Sample Formats:
If you have lost your company ID card then you must inform your company about the missing ID card formally by writing an email. If you don't know how to white explanation letter for lost company ID then you can find answers to all your questions here with us.
We bring a format for ID card missing letter. With the sample mail of lost company ID, you can also request form for new ID card. Use this ID card missing letter along with replacement of lost card to write your own letter.
Sample Explanation Letter for Lost Company ID
From:
Rakesh Gupta
52A, Gandhi Nagar
New Delhi
Date: 16.08.18
To,
Adarsh Swami
Human Resource Manager
Fullerton Software Ltd.
New Delhi
Sub: Regarding Loss of Company ID
Dear Mr. Gupta,
I would like to report the loss of my company ID, as of August 20th, 2018. While going back home from work day before yesterday, a pick-pocket stole my wallet which also had my Company ID card. Though I have filed a FIR for the same but I am not very sure whether I will be getting it back or not.
It was a mere accident and therefore, I request you to please issue a replacement of the same to me.
Thanking in anticipation for your assistance.
Yours sincerely,
Rakesh Gupta
Marketing Executive
Click here to download Letter for Lost Company id Card in Word Format
Search Sample Formats:
A letter format for intimating the workers that Sunday is a working day is issued when the workers are asked to work for some important reasons. If any working day was declared as a holiday due to political reasons, weather reasons or any other reason, and there is an important task or work or project that has to be completed within a strict deadline, then the workers will be asked to work on a Sunday. We have given a sample letter below asking the workers to work on a Sunday. You can use this sample and customize it accordingly.
Dear workers,
We are all working on a critical project very hard to make it a success. The project completion date is coming soon. All of you are doing a great job on the job. Unfortunately, our office had to remain closed due to national bandh called by a national political party which caused hindrance in our operations and our work on last Tuesday.
We had to adhere to the government and close the office premise. But as you all know, we cannot go back on our deadline of project completion with our client. Keeping all these factors in mind, we have decided to work on this Sunday to compensate for the Tuesday holiday. This might upset your weekend plans. Lease bear with us. Hope to receive your support on work this Sunday.
Regards,
Madhavi
HR Department
Click here download Letter for Intimating the Workers that Sunday is a Working Day in PDF Format
Other Related Letter Formats
Circular About Office Timing
Public Holiday Announcement Mail/Notice/Memo Format to Staff
Terms and Conditions in Job Offer Letter
How to Draft Character Reference Letter for Job
Application Format for Shift Change in Office
Search Sample Formats:
Often we come through many queries seeking the proper way of changing the employee name in ESIC portal. However, these queries are always left unanswered due to lack of knowledge about the correct process. To help those people, here we are providing detailed descriptions about the proper process of changing or correcting the employee name in an ESIC portal. Some of the guidelines to remember before the process:
The ESIC name change process can only be done in offline mode. There is no online platform or process for changing employee name in ESIC portal. However, an employer can change the nominee details, details of family members and other additional details in ESIC employer portal.
Before knowing the process to change employee name in ESIC portal, one should sought out the reasons for wrong names in ESIC portal. Wrong names generally happen when the employer misspells an employee name during the registration process in the portal.
How To Edit Employee Name In ESIC Portal
In order to successfully change the IP name in ESIC portal, the employee needs to submit a proper request letter seeking correction of his/her name in the regional ESIC office. The request letter, however, should be attested effectively by the employer. Without any attestation, the Employee State Insurance Corporation would never change the name of the employee. Kindly refer the sample ESIC name correction letter format for application.
ESIC Name Change Letter Format
To                                                                                                                                                     Date: 05-03-2018
The Branch Manager,
ESIC Office Address.
Sub: Change Of IP name RAHUL CHAWLA bearing insurance number 7422xxx469
This to draw your attention to that the name of the above employee RAHUL CHAWLA, ESIC No: 7422xxx469 has been entered wrongly during the registration process. The correct name of the person is RAHUL CHAWLA, but in ESIC portal it has entered as RAHUL CHAWLA. As such, we kindly request you to please correct and enter the name properly to RAHUL CHAWLA.
Thanking you in advance.
For Maheshwari Tea Co. Pvt. Ltd.
Authorized Signatory
Establishment Code: 7422005xxx469748
Note: This letter and esic correction form should be taken a printout on company letter head. After preparing the letter, either the employee or employer needs to submit it in the nearest regional ESIC office. The ESCI would make the necessary corrections to employee name within a span of 15-30 days.
Click Here to Download ESIC Name Change Letter In Word and PDF Format.
How to get a UAN number through a PAN/ Aadhar/ PF Account number
Search Sample Formats:
Every employer educates his employees about the HR policies, leave policy, and attendance letter at the time of on boarding. The number of leaves he can avail will be mentioned to every employee explicitly. There is a process to apply for leave so that the management is aware of employee absenteeism. However rules are meant to be broken. Some employees take leaves as an when they like without any prior intimation or leave application. This will impact the work schedule and productivity of the company resulting in loss. Lack of punctuality will not get any success to an employee. Management warns and tries reprimand to bring discipline and punctuality in the employees in case of excess absenteeism. You can find a sample warning letter for irregular attendance here to warn the employee.

Sample Warning Letter to Employee for Poor/Excessive Attendance
To,                                                                                                                           Date: 21/02/2018
Pradeep Seth,
Employee ID: 7337556,
Designation: Production Supervisor,
Department: Production.
Sub: Warning Letter for Poor Attendance
Dear Mr. Pradeep Seth,
There has been an observation that you have taken leaves exceeding your casual, sick and paid leaves in the past Six months without any prior intimation to your manager. Despite of your manager warning you in the past, there is no change in your behavior.
Your behavior is a clear indication of negligence in performing your duty. You are hereby asked to submit an explanation on your absenteeism lateness to office within 2 days. Treat this as a final warning letter and any further in disciplinary action may lead to the serious action on you which may lead to termination.
Treat this issue as urgent and important. A copy of this letter will be kept in office file for future reference.
For Samyukta Company Pvt. Ltd
Authorized Signatory.
Search Sample Formats:
Canteen in a company premises have been part of formal as well as informal discussions over coffee, tea or snacks. Employees get to spend a casual time in the premises, which is good for the enhancement of cognitive power. As known, the food quality of canteen is always delectable.  In fact, the circular put on the notice board is meant to inform employees about the increased rates of varied food items available in the canteen. The increased rates are a resultant of GST taxes over the purchase of raw materials used to cook a meal. Though, the rates are increased; they have been decided in conjunction with the authoritative permission of the company heads. Under mentioned is the circular format for employees informing about increased rates of canteen food products.
Dated: December 23th, 2017
Notice / Circular
This circular for change in canteen rates is meant to inform the employees that the food items in the canteen menu have been slightly increased. Such a decision has been taken by the canteen manager and administrative authorities by keeping in mind increased prices of raw materials and other products used for cooking meals in the canteen. The new rates for food items are subject to change from December 26, 2017. Along with this, every bill will have CGST and SGST levied on the total price.
We hope that the company employees will be supportive in the decision because of the hike in prices of vegetables and materials. For the updated rates, the employees can consult with the canteen manager and check the new menu that will be available in the canteen premises from day after tomorrow onwards.
Thank you very much in advance for your co-operation and taking the administrative decision in a favorable manner.
Regards,
Rajesh Khandelwal
Admin Head
Click Here to Download Company Canteen Rates Hike Circular to Employee in Word Format
Other Related Formats
Sample of Circular for No Smoking in Office
Sample of Circular for Staff meeting
Sample of a Late Coming Warning Letter
Warning Letter to Employees Refusing to Work
Sample of Circular for Office Timings
Sample of Circular for Leave
Sample of Circular for Public Holiday
Team Building Meeting Invitation Email Sample
Formal Apology Letter for Cancellation of Business Meeting
How to Write Formal Confirmation Email for Attending Meeting
Meeting Confirmation Email Sample
Search Sample Formats:
We all are keen on knowing the status of the application once we are done with the interview. But not all of us take pains to write to the company for a follow up thinking it to be a waste of time or we are not confident enough to enquire about it. Remember writing a letter inquiring about hiring decision leaves a positive impression on the employer as it shows your seriousness towards the job.
Here is an example template to help you frame a professional letter addressing the HR department to ask about the status of your hiring. Personalize it as per your need and find out about the hiring decision.
Sample Letter Inquiring About Hiring Decision
Adam Smith
22, Nicholas Street
California
Ph: 1234-5678
Date: 25.09.15
To,
Andrew Joseph,
HR Manager,
ABC Technology Pvt. Ltd.,
52 Park Street
California
Dear Mr. Joseph,
The purpose of writing this letter is to find out about the status of my job application. I have applied for the position of Marketing Manager at ABC Technology Pvt. Ltd. My interview was scheduled on 15th September, 2015. I had the chance to meet you in person and know more about the company which made me more interested in joining your prestigious organization.
I would like to express my interest in this job opening as I am quite sure that my qualifications and experience are going to suit the profile. As discussed during the interview, I have wonderful organizational skills that are essential for planning, managing and executing. I have profound knowledge of complete procedures that are needed to carry out marketing projects of all possible lengths. As now I am more informed about ABC Technologies Pvt. Ltd., I feel I can come up with wonderful marketing plans which will help the organization grow. Not only that, I already have so many ideas coming up which just need right planning to come up with wonderful results.
I would like to thank you for taking out time from your hectic schedule to interview me. I am really very excited and hopeful for joining your esteemed organization. Looking forward for a positive response from your side. You can contact me at 1234-5678or email me at adam@gmail.com.
Yours sincerely,
Adam Smith
Search Sample Formats: