Posts tagged "Promotion"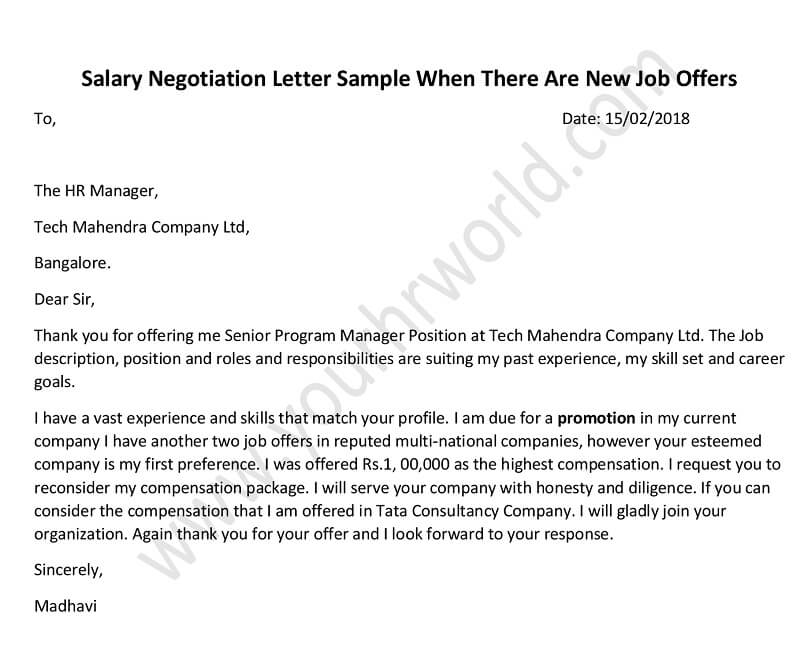 Salary negotiation is a crucial aspect in interview process, and commences almost at the last stage. After impressing the employer with your skill sets, and receiving the job offer, salary negotiation has to be done. For the negotiation to be successful it is important to understand the job role, the number of years of experience, industry standards, and the technical skills required to perform the job. The employer would offer a salary, based on your current job salary, expected salary increment and promotion. You can write a salary negotiation letter based on the template mentioned, stating your reasons for asking additional salary. You have to justify well about your skill sets, your previous experience and other job offers. You can write a letter or send e-mail after receiving job offer.
Salary Negotiation Letter Sample When There Are New Job Offers
To,                                                                                                                                                                                             Date: 15/02/2018
The HR Manager,
Tech Mahendra Company Ltd,
Bangalore.
Dear Sir,
Thank you for offering me Senior Program Manager Position at Tech Mahendra Company Ltd. The Job description, position and roles and responsibilities are suiting my past experience, my skill set and career goals.
I have a vast experience and skills that match your profile. I am due for a promotion in my current company I have another two job offers in reputed multi-national companies, however your esteemed company is my first preference. I was offered Rs.1, 00,000 as the highest compensation. I request you to reconsider my compensation package. I will serve your company with honesty and diligence. If you can consider the compensation that I am offered in Tata Consultancy Company. I will gladly join your organization. Again thank you for your offer and I look forward to your response.
Sincerely,
Madhavi
Click Here to Download Salary Negotiation Letter after New Job Offer in PDF Format
Search Sample Formats:
Switching to a new job will surely open doors of new opportunities for you. But if you think that you really need to make the best use of the new job then you can make some efforts to earn a promotion which can surely help you climb the ladder at faster pace. This post brings to you the 5 useful tips, which if followed with perfection, can actually help you earn a faster promotion at your new job. So read on and find out these guidelines for quick promotion.
Don't Go with Easy Projects: Pick Projects with Impact
Whenever you are picking any task or project then never go with something that is way too easy and simple. Remember that the opportunity to succeed lies in what is difficult. It is very important to pick projects that are challenging and come with maximum impact. Hence, it is very important for you to analyze a project from different angles while picking it to make sure that what you select can actually help you create a strong impression in your company. It is a wonderful opportunity which you must never let go.
Always Know What Your Boss Likes
You have to impress your boss if you are aiming for a promotion. One trick that is very essential in this respect is to know what your boss likes. You have to be observant and understanding to find out about the likings of your boss. This will surely help you become proactive so that you are prepared with suggestions to impress him. When you know what your aim is, stay prepared for the performance.
Always Make Your Boss Look Great
If you will help your boss look good by helping him get recognized for his job then he is surely going to return you the favor when it is your turn for promotion. For this, you need to know how is your boss judged and what points can help him get a hike or bonus. Once you have the basic information, you can always work upon helping boss build his image.
Be Important
You really need to learn the right trick to make yourself look important to your company. And for doing this, you work hard to reach on to a position in which your company cannot afford to lose you because you are one who deals with an important client or you are the one who has made a strong impact on clients as the face of the company. You do not need to brag about it but you silently have to float this message that you are important to the company and you should always be a part of it for greater success.
Know Your Team and Colleagues
Do not make friends on the very first day at your new job. Be slow with it and take your time to know each and everyone you are working with. This is important to know who is what. You need to understand that you have to develop healthy and strong association with your boss and also your colleagues. So become friends with your colleagues, once you know about them. Do not simply be friends with just one person on the first day and forget the rest. Developing relationships is very important.
Keep all of these 5 simple and very effective tips in mind so that you can bag a promotion at your new job and rise high in your career.
To
Mr. /Ms. (name)
Sir/ Ma'am,
Sub: Change of designation and Increment of salary –Reg.
As a token of appreciation of your service in the organization, the management has decided to designate you as (position) and make an increment to your monthly salary by Rs. (amount) i.e. from Rs. (present salary) to Rs. (increased salary).
However, as a result of the change in salary and designation, you are expected to execute a bond for three years.
We wish of the same zeal and better performance from you in the future.
Best Regards,
Yours faithfully,
For (Organization),
PRESIDENT
                                                        Letter of Promotion
October 13, 2013
<Name>
<Company>
<Employee Number>
Dear _______,
Congratulations!
We have been thoroughly impressed by your performance in the company. We feel that you are ready to take up higher responsibilities and therefore have decided to promote you as (new position) of our company.
Your compensation is hence revised as w.e.f. ______ and your new CTC will be ________. It will include the following:
1. Rs.________ as a fixed component of the pay plan
2. Rs. _______ as a variable component of the pay plan (this will depend on your performance)
3. Rs. ______ as a one time performance award due to your excellent performance in the company
We are confident about your potentialities and trust you completely with the new responsibilities.
We take this opportunity to thank your family for their support to help you deliver the best.
Best Regards,
<Name of the Business Leader>
<Designation>
<Company>
I have Attached Sample Promotion Letter. However I feel that the Management should make the promotion letter little bit sentimental as it is a moment of joy in the life of employee.
June 06, 2012
Mr. xxxxxxx
Xxxxxxx
xxxxxxx,
xxxxxxxxxx
Subject : Promotion as Area Sales Manager.
Dear M. rxxxxx
We would like to express our appreciation and commendation for all the passion and commitment you have been exhibiting in your existing role.
In recognition of your contribution, it is our pleasure to inform you that you have been promoted as "Area Sales Manager" for National Capital Region and your gross salary has been revised to Rs. 20,000/- p.m.(Rupees Twenty Thousand Only) from Rs.13,000/- p.m.(Rupees Thirteen Thousand Only w.e.f. June 01, 2012.
We hope with this, you will come up as a leader, who can lead the team with great spirit and zeal and excel in the near future with great success.
With Warm Regards,
for xxxxxxxxxxxx
xxxxxxx
xxxxxxxxxxxx
Cc : Mr. xxxxxxxxxx – FYI please
: Mr. xxxxxxxxxx – FYI and N.A. please
: Mr. xxxxxxxx – FYI and record
 I have Attached Format of Promotion Letter
"We would like to express our appreciation and commendation for all the passion and commitment you have been exhibiting in your existing role.
In recognition of your contribution, it is our pleasure to inform you that you have been promoted as …."
Regards
Please find attach herewith Promotion Letter Format. 
Format of Transfer Letter with Promotion

____/HRD/_____ Date _______________
Mr/ Ms. ____________
___________________
___________________
___________________
Dear Mr./ Ms. _____________,
We are pleased to Promote you as ___________ and transfer you to our Branch at __________________________ with immediate effect.
In your new assignment you will report to _____________________ (Name & Designation of the person), who will explain to you nature of your responsibilities and guide you from time to time.
With a change in your responsibilities as aforesaid we are pleased to revise your compensation from _________________. Details of the revised compensation structure will be discussed and finalized in consultation with HR.
We are sure you will make the best use of the opportunity offered to you and contribute substantially to the success of our new store as you have always been doing and fully justify the confidence and faith placed in you by the management.
A communication advising your revision in your salary is being sent to you separately.
Wish you all the best.
For, Company name
Name:
Designation:
Click Here To Download Format of Transfer Letter with Promotion
Dear xxxxxxxx
It is our great pleasure to inform you that you have been promoted to the challenging and demanding position of [position]
This promotion is in recognition of the fine work you have done for this firm.  We are very confident that you will meet the new responsibilities which accompany the position of   [position]  with the same level of enthusiasm and enterprise which you have exhibited since you came to work with our firm.
Please accept our congratulations on your new promotion.
Dear
It was with great pleasure that I read of your promotion to the position of  [position]  with   [name of firm] I am sure your firm has made a very wise choice and that you will excel in your new role as   [position]Please accept my congratulation on your promotion and my very best wishes for your continuing success.