Posts tagged "No Promotion Letter"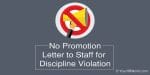 We all look forward for getting promoted but sometimes companies stop promotions for various reasons and in such a situation writing a no promotion letter to the employees is the right thing to go. Just like a new promotion letter to employee, a no promotion letter intends to inform the reason for which there will be no promotion.
This post includes a sample for No Promotion Letter to Staff for Discipline Violation. You can use this no job promotion letter example, format and template to create a customized letter to inform your employees in a formal manner.
No Promotion Letter Example to Staff
From:
Andrew Black
Human Resource Manager
Zenith Technologies
New York
Date: March 14, 2022
To,
Members of Staff
Sales Department
Zenith Technologies
Sub: No promotion due to violation of discipline
Dear Staff Members,
I have been informed that the because of the violation of discipline by the sales department, the promotion of the complete department has been cancelled. On March 5th, 2022, a heated argument followed by a clash between two sales teams created a lot of ruckus in the office.
After this kind of behavior, the company has decided to not promote any of the staff members of the sales team because violation of discipline is the last thing that will be tolerated at Zenith Technologies. This kind of behavior is not expected out of any of our employees and two teams getting into a fight at work is the least expected and unprofessional thing to happen and that's the reason the management is compelled to take such a harsh action against the department.
As per the policy of the company, any issue must be resolved by sitting on the table and not getting involved into any kind of fights and what happened that day exhibits a very unprofessional and unacceptable conduct from our employees. We are hopeful that all the staff members are going to ponder on their actions and will show improvement in their conduct.
If things improve then the company can think of revoking their decision. In case of any queries, please get in touch with the HR Department.
Regards,
Andrew Black
Human Resource Manager
Zenith Technologies
Other Related Promotion Letter Format
Reprimanding Officer Letter for Being Angry On Not Getting Promoted
Promotion Letter from Employer to Employee
Promotion Letter for HR Manager
Professional Employee Promotion Letter with Salary Increase
Letter of Interest for a Promotion
Job Promotion Cover Letter for a Retail Job
Promotion Letter & Increment Letter Format
Thank You Letter to a Boss for a Promotion
Tips and Advice on Getting a Promotion
Cover Letter for Promotion to Management Position