Author Archive
The internship appointment letter template is used for formally confirming the position of internship. The idea behind using a paid internship appointment letter format is not only to confirm the internship but also share the other information with the intern in relation with the program. There are all kinds of paid internship offer letter samples that can be used for the purpose.
In this post, we have come up with internship offer letter template, example for paid internship. You can use this paid internship offer letter sample for your company.
Paid Internship Offer Letter Format, Example
From:
Andrew Gibbs
Human Resource Manager
HZL Health and Wellness Ltd.
New York
Date: February 12, 2021
To:
Sandy Bullock
54, 5th Avenue
New York
Sub: Internship Offer Letter
Dear Ms. Sandy,
On behalf of HZL Health and Wellness Ltd., we are happy to inform you that you have been selected for temporary employment as an Intern. If you accept this internship offer then you will be joining the company from March 1st, 2021 and you will be reporting to Mr. John Black.
The duration of this paid internship will be 6 months and during this time, you will be entitled for the payment of $ 300 per month. During this time, your status will be that of a temporary employee and therefore, you will not be entitled for any of the employee benefits.
Your internship is going to end on August 31st, 2021. However, the company holds all the rights to terminate your internship with or without any reason or notice at any time during this period.
While working with the company, you will have access to various company records and lots of confidential information. By accepting this appointment, you agree that you will maintain the confidentiality of all the information and you will not be using it by any means for personal benefits or other reasons other than job related work. Once you will complete your internship with the company, you will handover all the documents and other company possessions to the company.
Having accepted this offer, you agree that during the course of your internship, you will be following all the rules and regulations at the company and will be observing all the practices and policies that define the working and conduct at the company.
We are hopeful that this association will be mutually beneficial and you will enjoy working with us. If you have any other queries, please feel free to write at [email protected] You will need to express your acceptance to the appointment as trainee with our company by signing the copy of this document and sharing it with us by post.
Congratulations and welcome aboard.
Sincerely,
Andrew Gibbs
Human Resource Manager
HZL Health and Wellness Ltd.
New Delhi
Click here to Download Paid Internship Offer Letter in Word Format
Other Related Internship Letter Format
Internship Offer Letter Format from Company to Students
Appointment Letter for Internship Trainee
Terms and Conditions in Job Offer Letter
Tips for Writing Summer Internship Programme Offer Letter
Appointment Letter for Commission Based Agent
How to ask for Offer Letter by Email
How to Write an Email While Giving Appointment Letter
Bond For Freshers Appointment Letter
Job Appointment Letter for New Employee
Search Sample Formats:
There are many instances wherein candidates have submitted fake experience certificates for job. This has certainly given the HR personnel a tough time to find out whether it is a real or fake experience certificate. But no matter how difficult or easy it is, it is one of the most important things to find out whether it is a genuine or fake experience certificate a candidate is submitting as you cannot afford to hire someone fake in your company, someone who doesn't deserve to get selected.
In this post, we have made an attempt to find if is it a fake experience certificate. You can use these simple guidelines to find if it is fake experience certificate online or not.
Get more details during the interview
It is always a good idea to try and seek some more details about the company in which the candidate is working or has worked in the past. Ask questions in relation with the name of the supervisor, the size of the team, the role in the team etc. as this will bring more clarity about the kind of work the candidate has done along with some extra information about the working.
Do the background check
This is the first and the foremost thing an HR personnel must do while checking for the fake experience certificate company. You can always call at the concerned company or drop an email to them asking about the candidate you wish to enquire about to get a clear picture.
Ask for a blank email from company's email id
The simple and quick way to know whether a candidate is genuinely employed with the company or not is to simply ask him to send a blank email from his company's email id and this would certainly clear a lot of air.
Find out the reason for job change
You can always ask that why the candidate is looking for a job change. This answer can again reveal a lot of details as to why the candidate is here for the interview and what makes him unhappy at his present job.
Contact the references
Most of the companies ask for references which can be also be checked to know what kind of an employee the candidate has been and how experienced has he been at the job he has been doing.
You can follow all of these points to know how authentic or fake the experience certificate is. This will surely help you take a better decision in relation with his or her recruitment.
In recent times, digital marketing has taken a very special place in the field of marketing. If you are from the same field and have to face an interview for a profile related with digital marketing then it is always beneficial to be prepared with popular digital marketing interview questions.
In this post, we have compiled the important interview questions for digital marketing. These are a mix of interview questions for freshers as well as interview questions for experienced. So if you have a interview call for digital marketing profile, make sure you include these important questions in your preparations.
Below are the list of Best Digital Marketing Interview Questions pdf download.
Digital Marketing Interview Questions
Shared below are the digital marketing interview questions that must not be missed at any cost to make sure that you are well prepared for your interview. So brighten up your chances to get selected with these questions:
What made you come into the field of digital marketing?
What do you understand by the term keyword?
How important is digital marketing for a business in present times?
In what situation do your think online marketing is more important than offline marketing?
If you have to design a digital marketing plan then how would you do about it?
What is it that you find really interesting about this field?
SEO Interview Questions
Under this category, we have come up specifically with a set of important Search Engine Optimization Interview Questions. Make sure that you prepare answers for these common questions that have quite high probability of being asked in the interview:
What is your strategy for performing a keyword search?
Can you share a situation in which your SEO campaign did not go well? And now what changes would you want to make to it?
Highlight some of the newest and important changes that have been made by Google in recent times in their search algorithm?
While doing an SEO audit for any website, what are the steps that you follow?
How important is SEO for a website?
Pay Per Click Or Google AdWords Interview Questions
Browse through the set of the most common Pay Per Click (PPC) Interview Questions and Google AdWords Interview Questions that you are advised to prepare for your interview. Here are some of these important PPC Interview questions that must not be missed:
What do you understand by PPC?
Explain the working of the Google Display Network.
What do you think is the number of keywords one should have per ad group?
Throw some light on the primary models that are used for determining the value for Pay Per Click.
Share your idea of creating a rewarding PPC campaign.
Tell us about some of the important features of a good PPC landing page.
What do you understand by the term responsive website?
Social Media Marketing (SEM) Interview Questions
With the list of Social Media Marketing Interview Questions, you don't have to look for SEM interview questions. Just prepare these few questions and you will be sorted for your interview as they cover the important points around this topic:
If you are asked to create one social media calendar, share with us the process of doing so.
What are the different metrics that you can use in order to measure how successful your social media campaign has been?
How important is SME in present times for a business?
Throw some light on allocating your social media budget.
Comment on the growth of SME in years to come.
Content marketing and Email Marketing Interview Questions
It is important to establish regular connection with your customer and clients and that's what makes these content marketing and email marketing interview questions so important in an interview. We have come up with a list of content marketing interviews that make common picks during an interview and therefore, must be prepared.
How important is content marketing for a company?
How can email marketing make a difference to the digital marketing campaign?
Highlight the difference between B2C and B2B content marketing?
Define a long-form content.
What kind of emails you should be sending in order to move a customer down the funnel?
You May Also Like Other Interview Questions
HR Round Interview Question Answers
MBA HR Interview Questions and Answers for Freshers
Leadership Interview Questions
Management Job Interview Questions
HR Interview Questions
Purchasing Interview Questions
Project Interview Questions
CEO Interview Questions
Accounting Interview Questions
Brand Manager Interview Questions
Marketing Manager Interview Questions
Microsoft Interview Questions about Applications
Training Manager Interview Questions
Telecom Sales Interview Questions and Answers
Though there is a lot of ambiguity and debate surrounding the availability of COVID-19 vaccine for the common people but whenever, it happens, we must be prepared for it.
If you are an organization and if you are thinking about getting your employees vaccinated then you must develop a COVID-19 vaccination plan. It is extremely important that we have done all the ground work before the vaccine has finally become public.
In this post, come up few points that will help you create your plan for COVID-19 vaccine in your company.
Whether to make vaccination compulsory for employees?
This is the very first question that pops up that whether to mandate the COVID-19 vaccine for all the employees or not. It not only depends upon the kind of industry your company belongs to about also state laws and religious concerns that play an important part in taking this important decision.
Points to Keep in Mind While Planning COVID-19 Vaccine for a Company
Communicating with employees: It is important to communicate the reasons to your employees if you are planning to make the vaccinate mandatory for the staff. For instance, if your employees are involved in interaction with customers or travel then that should be presented as the reason.
Costs involved: In case the vaccine is not completely funded by insurance then you must work out how you should be bearing the cost of vaccines if you are making them mandatory.
Managing medical records: All the medical information of all the employees must be handled separately and must be kept confidential.
Maintaining safety: Having your employees vaccinated is not enough. It is important to make sure that the working environment is completely safe for your staff.
Place of vaccination: You must also take into consideration the location where the employees will get vaccinated.
Choice of vaccine: If there is more than one vaccine available in the market then you must know which one should be finalized for your staff.
Efficacy: It is important to know the effectiveness of the vaccine and make sure that all the guidelines are followed.
Priority of vaccination: In case there is limited supply or shortage of vaccine, you must have a list of priority employees made who must get vaccinated first based on valid and unbiased grounds.
Compensation to workers: In case of side effects from vaccine, can the staff be compensated also needs to be decided.
Consider religious and medical objections: You must clearly define cases where requests for accommodations can be accepted under religious and medical concerns.
In situation where employee refuses for vaccine
Evaluate if the employee's refusal for the vaccine is a threat to other employees or customers.
Take into consideration the safety measures to control the spread of COVID-19
Making the use of gloves, masks and PPE kits along with social distancing for employees who refuse to take the vaccination.
Planning encouraging vaccination
Offering incentives to employees who take flu shots.
Offering vaccines at subsidized rates is also a big motivation
Encouraging vaccination over making it mandatory always receives fewer issues.
It is very important to follow the right people to have the right direction in your career. Though there are many HR leaders on LinkedIn but which one to follow is an important thing to consider.
In this post, we bring to you the top HR professionals to follow on LinkedIn. There HR (Human Resources) thought leaders make a great inspiration and the best ones to follow to have a bright and inspiring career. Have a look at these top HR LinkedIn profiles that can certainly help you rise above in your career and create your mark in the professional world out there.
Here is the complete List of top HR Leaders/ Professionals to follow on LinkedIn
1. Denise Moulton
LinkedIn Profile: https://www.linkedin.com/in/denisem1/
A well known HR and also a talent research leader at Bersin, she has been in the business of talent acquisition for over two decades and possesses rich experience in HR administration.
2. David Kuhl
LinkedIn Profile: https://www.linkedin.com/in/davidkuhl/
He is associated with Goldman Sachs and has worked in four different divisions in the florida with the organization that include team and organizational performance in complex, global organizations.
3. Jacqueline Welch
LinkedIn Profile: https://www.linkedin.com/in/jmmwelch/
She is the CHRO, SVP and chief diversity officer with Freddie Mac. Her expertise lies in human capital management and she has the talent of uniting leaders with employees for bigger good.
4. Ellyn Shook
LinkedIn Profile: https://www.linkedin.com/in/ellyn-shook-1b51127/
Heading a global HR team at Accenture, she is a renowned Human Resource office who has played in important role in the lives of many people for having a bright and shiny career.
5. Jan Becker
LinkedIn Profile: https://www.linkedin.com/in/jan-becker-a59a833/
She has worked at the position of Autodesk CHRO for almost 15 years where she was responsible for running globe CRE and HR functions along with safety, security and travel.
6. Mandy Sebel
LinkedIn Profile: https://www.linkedin.com/in/mandy-sebel/
She is based in New York and is the SVP of people with UiPath which has been awarded to be the best workplace in 2019 for the employee engagement, benefits and culture.
7. Leena Nair
LinkedIn Profile: https://www.linkedin.com/in/nairleena/
She is the first woman at Unilever to hold the position of CHRO. Based in London, she is responsible for leading over 160,000 employees across 100 countries.
8. Marcia Morales-Jaffe
LinkedIn Profile: https://www.linkedin.com/in/marcia-morales-jaffe-2a230174/
Having an impressive background, she has managed different fronts like people and culture, business strategy and technology and has built scalable enterprises with her hard work.
9. Margaret- Ann Cole
LinkedIn Profile: https://www.linkedin.com/in/margaretanncole/
She is a well known global talent leader and executive vice president at Porter Novelli. She has been responsible for change management, organizational development, developing talent and employee experience.
10. Marcus Buckingham
LinkedIn Profile: https://www.linkedin.com/in/marcus-buckingham-86516414/
She is the head of the research, people and performance at ADP Research Institute who focuses on managing the people to bring out their best performance and productivity.
11. Josh Bersin
LinkedIn Profile: https://www.linkedin.com/in/bersin/
He is the principal and founder of Bersin by Deloitte. He is also known for his research work that is considered to be of gold standards around the world.
12. Laszlo Bock
LinkedIn Profile: https://www.linkedin.com/in/laszlobock/
He worked hard to become the top executive and Google and has been awarded numerous times for his good work. He is one of the most dynamic and creative HR thought leaders to follow.
13. Meghan Biro
LinkedIn Profile: https://www.linkedin.com/in/meghanmbiro/
She has worked with various global brands but she is popular as the founder and CEO of TalentCulture. She is also a known speaker and writer who features in many radio shows and online formus as guest.
14. Kris Dunn
LinkedIn Profile: https://www.linkedin.com/in/krisdunn/
He is the CHRO at Kinetix and also a blogger behind Fistful of Talen and HR Capitalist. He strongly believes that the key to a successful business is to get the best people working for it.
15. Steve Boese
LinkedIn Profile: https://www.linkedin.com/in/steveboese/
He is an award-winning speaker, author, HR blogger, master moderator and also a co-host of the famous weekly HR Happy Hour podcast who is followed by HR leaders around the globe.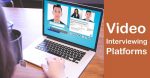 Technology has impacted every facet of our lives. With changing times, the face-to-face interviews are not replaced by interviews on videos. Seeing the high demand, in a short span of time many video interview websites using different video interview tools have made a name in the market.
Whether you are looking for the best free video interviewing software or best virtual interview platforms in India, you have come to the right place. We bring to you the best options for video interview recruitment in India. Browse through these best video interviewing platforms in India that make recruiting so much easier and convenient.
Top Video Interviewing Platforms in India
Skype.com
Skype is a popular software that is designed to enable online conversations beyond boundaries. Used by millions of businesses and individuals, this is one of the best video interview software that allows us to make group calls, one-to-one voice calls, video calls and also share files and send instant messages with the other people present on Skype using our mobile phones or computers.
Zoom: Video Conferencing, Web Conferencing, interview
In 2020, Zoom has become the most popular software apps for video conferencing. Known for its user-friendliness and features, this is a platform which allows you to interact virtually with co-workers and clients and the good thing is that it is not just limited to the professional world but off late, it is widely used for social events. Designed to have meetings and chats with clients, conduct video webinars and online conferences; it makes a one-stop solution of video interviewing.
Google Hangout
Google Hangouts is a communication service designed to allow members to communicate over text chat, video chat or video call with an individual or with a group. This cross platform messaging app was developed by Google and makes one of the most popular choices. It is available on both Android as well as iOS devices.
Work from home may not be a popular work format for many companies but there are many situations under which an employment can submit request letter for work from home. There are all kinds of work from home request letter to boss like request letter for work from home due to COVID 19 (lockdown), illness, pregnancy, health issues. Whatever be the reason, you are required to write a work from home request email to boss.
In this post, we have come up with different letter and employee email examples asking to work from home. You can use the email templates for asking boss to work from home. You can write your own request for home sample email.
Format 1. Request Letter to Boss to Work from Home
To,
Rakesh Sharma
54, Alaknanda Apartments
New Delhi
Date: 13th November, 2020
From,
Anirudh Gupta
Project Manager
Infinity Technology Pvt. Ltd.
New Delhi
Sub: Request Letter to Work from Home
Respected Sir,
I am writing this letter to request you to please allow me to work from home for a month.
My mother has undergone a spine surgery recently and as post-surgery precautions, she has been asked by the doctor to take complete bed rest for a month. During these times, I have to be with her to take care of her and at the same time, I don't want my work to suffer. Therefore, I am writing this letter to request you to please grant me the permission to work from home for a month.
I guarantee that my work does not suffer because of working from home. I will be putting in extra time and effort to meet all the deadlines. I am hopeful that you will consider my request and will grant me the permission.
Thanking in anticipation.
Sincerely,
Rakesh Sharma
Format 2. Request Letter for work from home due to covid 19
Dear Sir,
I am writing this letter to request to you allow work from home considering the ongoing situation of COVID 19. In present times when coronavirus has been declared the biggest pandemic of all the times, I believe that working from home is the way to stay safe for all of us.
In order to control the widespread of this disease, experts have been recommending everyone to not leave home until and unless it is extremely urgent and follow social distancing. Most of the companies within India as well abroad have asked their employees to work from home. Because our work format already gives us the convenience to work from anywhere, I would be a great step to have all the employees working from home so that all our employees are safe and are always there to contribute towards the company.
Looking forward to hear from you. Thanking in anticipation.
Sincerely,
Gaurav Sharma
Format 3. Request Email to Boss to Work from Home
Dear Sir,
The purpose of writing this email is to request you to please approve work from home format for a week for me. Because of the immense rainfall, the road conditions have worsened and problem of water logging has made it extremely different to commute. Moreover, considering the weather forecast from the department, it is expected to rain for few more days.
In order to avoid the inconvenience caused in commuting to office, I would really appreciate if you could allow me to work from home until the rains stop and it is convenient to commute to office. I guarantee that there will be no loss or delay in work from my end.
Looking forward to hear from you. Thanking in anticipation.
Sincerely,
Gaurav Sharma
Format 4. Work from Home Email to boss due to illness
Dear Sir,
I am writing this letter to request you to allow me work from home as I am not feeling well. I am suffering from a viral infection and I want to make sure that I stay from people, in case the infection is contagious.
I would be really thankful if you could accept this request and allow me to work from home until I recover. I have also enclosed my medical report for your reference.
Looking forward to hear from you. Thanking in anticipation.
Sincerely,
Gaurav Sharma
Other Related Letter Formats
Letter for Allowing an Employee to Work from Home
Work from Home Policy Template
Excuse Letter for Being Late at Work due to Traffic