Posts tagged "Sample Resignation Letter"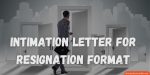 An immediate letter of resignation is a letter that is written by an employee to inform his or her employer for his or her immediate exit from the company. Usually there is a notice period that an employee is required to serve and writing an Immediate Letter of Resignation can create complete chaos for the employer. There writing a perfectly drafted Resignation intimation mail to manager becomes very important.
We have come up with a Sample Resignation Letter in this post. This is a Intimation Letter Format for immediate resignation that you can use for creating your own letter.
Immediate Letter of Resignation Template & Sample
From:
Ana Brown
54, Henry Hills
New York
Date: July 19, 2023
To,
Mr. Richard Smith
Marketing Manager
Zenith Technologies
New York
Sub: Immediate resignation letter
Dear Mr. Richard,
I am writing this letter to request you to kindly accept this letter as a formal notice for my immediate resignation from the post of Senior Marketing Executive at Zenith Technologies, effective June 10th, 2023. I will not be able to report to work past that date.
Being associated with a progressive company like Zenith Technologies for two years has given me a platform where I could learn and work in a space where new ideas are always welcome. I am very grateful to you and to everyone else in the organization who has been so supportive and inspiring. The cordial working environment and the positive approach towards every work that we do has certainly made me a better person. I have not grown just professionally in these two years but I find myself become a progressive individual.
I would appreciate if you could send me my employment records along with any outstanding wages at my residence before July 25th, 2023.
I am going to miss working with you and the rest of my team and co-workers. In case you wish to speak with me then please don't hesitate to connect.
Thanking you for all your support and guidance.
Sincerely,
Ana Brown