Letters
Internship Offer Letter from company to students is a formal offer made by the company to the internees which has complete information about their internship i.e. the date, duration, department etc. Companies sometimes send internship offer letter to college or sometimes send appointment letter for internship trainee to the candidate himself. Just like terms and conditions in job offer letter, this summer internship programme offer letter also contains this information.
If you have to send an appointment letter for internship trainee then we bring to you a professional Internship Offer Letter in Word format. Use this internship offer letter sample in India by personalizing it as per your need.
Internship Offer Letter Format from Company to Students
Date: 12.09.18
Radika Sharma
Apex Management Institute
Delhi
Subject: Summer Internship
Dear Ms. Radika,
This is in response to your application for summer internship with Pinnacle Technologies Pvt. Ltd. We would like to extent heartiest congratulations on your selection for internship with Pinnacle Technologies Pvt. Ltd. based at New Delhi for a duration of three months. Your internship will start from May 1st, 2018 and will complete on July 31st, 2018. You will be required to report to Mr. Sumanth Singh on your date of joining. Our team at Pinnacle Technologies Pvt. Ltd. is looking forward to have you work with us.
During your internship, the concentration will be on helping you understand the theoretical concepts with their practicality and implications to help you connect your classroom knowledge and on-field experience. We will be happy to train you to learn new skills which are extremely helpful in the professional setting.
Complete details on project will be shared with you before the start of the internship.
Given below is the address where you have to report for internship:
Pinnacle Technologies Pvt. Ltd.
M.G. Road
New Delhi
Once again, congratulations to you on your selection and all the best for your endeavors.
Regards,
Geeta Bakshi
HR Manager
Pinnacle Technologies Pvt. Ltd.
Check here download Internship Offer Letter Format from Company to Students in Word Doc Format
Search Sample Formats: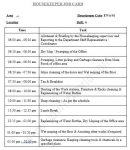 When you have a good number of housekeeping staff working for you, it is extremely important to manage their working in which housekeeping job card format plays a significant role. With job card format for housekeeping staff, you can manage, monitor and control their working in an organized manner. This is a comprehensive format which has complete description of the duties along with the time slots that clearly define the jobs that have to be done by clearing all the confusion.
We have a ready to download Housekeeping Job Card template drafted in Word format. Use this easy to print and customize sample to create a perfect format for your own company as per your requirements.
If you have lost your company ID card then you must inform your company about the missing ID card formally by writing an email. If you don't know how to white explanation letter for lost company ID then you can find answers to all your questions here with us.
We bring a format for ID card missing letter. With the sample mail of lost company ID, you can also request form for new ID card. Use this ID card missing letter along with replacement of lost card to write your own letter.
Sample Explanation Letter for Lost Company ID
From:
Rakesh Gupta
52A, Gandhi Nagar
New Delhi
Date: 16.08.18
To,
Adarsh Swami
Human Resource Manager
Fullerton Software Ltd.
New Delhi
Sub: Regarding Loss of Company ID
Dear Mr. Gupta,
I would like to report the loss of my company ID, as of August 20th, 2018. While going back home from work day before yesterday, a pick-pocket stole my wallet which also had my Company ID card. Though I have filed a FIR for the same but I am not very sure whether I will be getting it back or not.
It was a mere accident and therefore, I request you to please issue a replacement of the same to me.
Thanking in anticipation for your assistance.
Yours sincerely,
Rakesh Gupta
Marketing Executive
Click here to download Letter for Lost Company id Card in Word Format
Search Sample Formats:
A gift always makes you feel special. If you have received a gift from some company then writing a business thank you letter is a sweet gesture. Formal thank you letter for gift received not only expresses gratitude but also informs the sender that his present has reached the receiver. Sometimes there is a letter to accompany corporate gift as well. So if you also happen to receive gift from some business associate then make sure you take out some time to write a short thank you letter. Not only that Thank You Letter From Supervisor to Employee is a kind of Employee Thank You Letter. Even companies write Thank You Letter to Employees for Hard Work. Thank You letters surely build a stronger bond!!!
To help you with it, we have come up with a sample template for Thank You letter for gift from boss, client or co-workers. Use this format to write your own Thank You Letter for Gift from Company.
Business Thank You Letter for Gift Received from Company
From:
Adarsh Swami
Manager
Fullerton Software Ltd.
New Delhi
Date: 10.08.2018
To:
Mr. Rakesh Gupta
Chairman
Romania Technology Ltd.
New Delhi
Dear Mr. Gupta,
It was an extreme delight to receive such a beautiful painting for our new office in Delhi in honour of our inauguration of Delhi branch. We are extremely thankful for this amazing piece of art and we shall have it placed in our reception as a sweet welcome gift from our special business associate to the capital city.
I would again like to thank you for such a priceless present on this special occasion.
Regards,
Adarsh Swami
Manager
Fullerton Software Ltd.
Click here to download Thank you Letter for Gift from Company in Word Format
Other Related Thank You Letter
Thank You Letter from Supervisor to Employee
Supervisor is the person who knows the best about the performance of the employee. But it is not an easy job to gauge the performance. Supervisor has to be very smart at measuring the performance.
Thank You Letter for Leave Approval Sample
When an employee joins an organization, he is given a certain designation to perform his role. Over a period of time, if he is performing well and additional responsibilities are given, he may be given a change of designation.
10 Things To Keep Out of An Interview Thank You Letter
Once you are done with a job interview, it is time to send a formal Thank You email or letter. But you can actually hamper your performance if you include certain things in your letter which should be avoided.
Thank you Letter to Employees for Hard Work
Writing a letter has become old fashioned style of communication. It is still a good practice to express a token of gratitude and appreciation for a good work done or an achievement
Search Sample Formats:
Offer letter is a formal confirmation that you have received the job and it always makes you happy. If you have received an offer letter then your appointment letter will soon follow it. But sometimes we receive a confirmation of employment over phone and there are delays in offer letter. In that scenario, you end up thinking how to ask for a written job offer. Put an end to all the worries with offer letter not received email. With professionally drafted waiting for offer letter mail, you can request the recruiter to please send you the offer letter by writing an email. We also have answer to How to Write an Email While Giving Appointment Letter With Sample.
Given below is an offer letter delay email. Use waiting for offer letter sample format to create a personalized email.
How to write an email to HR asking for offer letter
Here are some simple steps which you can follow contact HR by writing waiting for offer letter mail:
It has to be a short and sweet email
Explain the situation. This would include about your offer and the delay in offer letter
Request for sending another offer letter
End it with a thank you
Include your contact details
Check for grammatical errors and spelling mistakes before sending.
How to ask for offer letter by email Format
Date: 02.08.18
Dear Sir/ Ma'am,
I received a call from your company the last week in context of the interview that took place on 25.07.2018 stating that I have been selected for the profile of Senior Sales Executive. I was also told over the call that my offer letter for the same has been dispatched and I shall receive it in within 2-3 working days. Looks like there has been a delay in offer letter as I still haven't received it.
I am quite excited to receive my offer letter. Therefore, I am writing this email to request you to please send me a fresh offer letter so that I can move ahead with other formalities. In case you require any other details, please feel free to ask.
Thanking You.
Yours sincerely,
Ankit Palawat
When a company is facing financial difficult times, it has to cut its cost and laying off employees is one of the ways for cost cutting. In such a scenario, issuing termination letter to employees is the most important thing as an employer. There are various types of termination letters such as termination letter due to budget cuts or termination letter due to company loss. Sometimes companies are have to give Termination Letter for Abandonment and Insubordination. And when employees fail to deliver expected outputs, termination letter for poor performance are issued.
We bring to you sample Termination Letter to Employee due to Cost Cutting. Use this format template to create your own letter.
Example Format for Termination Letter Due to Cost Cutting
From:
R.K. Sharma
Human Resource Manager,
Advent Medicines Ltd.
New Delhi
Date: 28.07.2018
To,
Vinod Khatri
54, Sahara Enclave,
Goregaon (E),
Mumbai
Dear Mr. Khatri,
With deep regret, we are writing to notify you of job termination with Advent Medicines Ltd., effective from August 14th, 2018 as the company no longer requires your service.
The company is shifting all its operation to the headquarters in New Delhi branch as the company is suffering serious losses and therefore, the Management has decided to downsize all other branches in India. We highly appreciate your services and we are confident that an efficient employee like you will not find any difficulties in finding a better job.
This termination is not because of your poor performance and your relieving letter will include words of appreciation for your dedication and efficiency. We will always have your contact details in our database and will surely get back to you in future if there is a suitable profile for you. The company will compensate you for the inconvenience caused while settling down all your dues at the time of relieving. You will have our HR Team help you with the complete process.
Wishing you good luck for all your future endeavors.
Best Regards,
R.K. Sharma
Human Resource Manager,
Advent Medicines Ltd.
Click here to download Termination Letter to Employee Due to Cost Cutting in Word Doc Format
Search Sample Formats:
Good employees are like assets for organizations and they don't let them leave so easily. So, if you also in need of change of place of working then all you need to do is write a request letter for transfer to another branch or city. There are different kinds of job transfer letters for personal reasons depending upon the subjective situations of employees. Some people seek transfer due to family problem and some because of marriage. In India, request letter for job transfer due to marriage are quite common because these days most of the women are working.
Therefore, we bring to you sample letter request for job transfer due to marriage. Use this example for temporary job transfer to write a personalized letter that fits well in your situation.
Sample Format For Request Letter for Job Transfer Due to Marriage
From:
Anisha Gupta
54, Bhagat Singh Enclave
Mumbai
Date: 21.07.2018
To,
Vinod Khatri
Human Resource Manager
HSFS Bank
Mumbai
Sub: Request for Job Transfer
Dear Sir,
I have been working with HSFS Bank from last one and a half years as Relationship Manager at Goregaon branch, Mumbai. The purpose of writing this letter is to request a job transfer to New Delhi.
I have thoroughly enjoyed working at this branch in these eighteen months. I had lots of opportunities to learn and grow and I believe that my services have been beneficial to the company as well.
But now I will soon be getting married on October 12th, 2018 and my would-be-husband is settled in Karol Bagh, New Delhi. He is into business of hardware and therefore, there is no possibility for him to relocate to Mumbai. Therefore, I am interested in relocating to the New Delhi's branch of our bank. Moreover, I would prefer if I can get transferred to the Karol Bagh branch as a fresh start in Delhi.
I am very much keen on continuing my career with your esteem bank and that's why I would like to again request you to please consider my request and have it processed by the month of October so that I can resume working after marriage in Delhi. I will also be happy to train my replacement in Mumbai before moving ahead with the transfer.
I will get in touch with you in September start to know the status of my request. For any more information, please call me at 9898989898.
Thanking in anticipation.
Yours sincerely,
Anisha Gupta
Click here to Download Sample Job Transfer Request Letter Format due to Marriage in Word Format
Search Sample Formats:
Sometimes due to personal reasons, you have to manage your office timings. But to do that, you have to write a formal duty time change letter to your boss. Writing a properly drafted request letter to change working hours including the reason for this change is highly recommended. With this kind of an application, you can conveniently have your timings revised with your boss. There are various other request letters employee need to write to their bosses like request for change in designation letter.
We bring to you sample letter of request to change work schedule. Use this easy to customize sample request letter to create your own personalized letter.
Sample Request Letter to Change Work Schedule
From:
Amit Gupta
54, Bhagat Singh Enclave
Mumbai
Date: 09.07.2018
To,
Vinod Khatri
Marketing Manager
Novel Publishing House
Mumbai
Sub: Request for Change in Work Timings
Dear Sir,
I am working as a Marketing Executive in the marketing department of our company from last 9 months. I would like to submit my request for change in office timings because of the recent changes made in the metro timings.
I stay in the Mumbai suburbs and my residence is located at a distance of around 25 kms from our office and the last train to my residence leaves at 6 p.m. and there is no other convenient way to reach. Therefore, I request you to please consider my request for time change. At present, my working hours are from 10.30 a.m. to 6 p.m. and I would like you to please reschedule them from 9 a.m. to 5.30 p.m. so that I can conveniently board my train.
I will ensure that my work doesn't get affected because of this slight change in time. I shall be highly obliged if you consider this small request.
Thanking in anticipation.
Yours sincerely,
Amit Gupta
Click Here to Download Request Letter for Approval of Change in Office Timing in Word Doc Format
Search Sample Formats: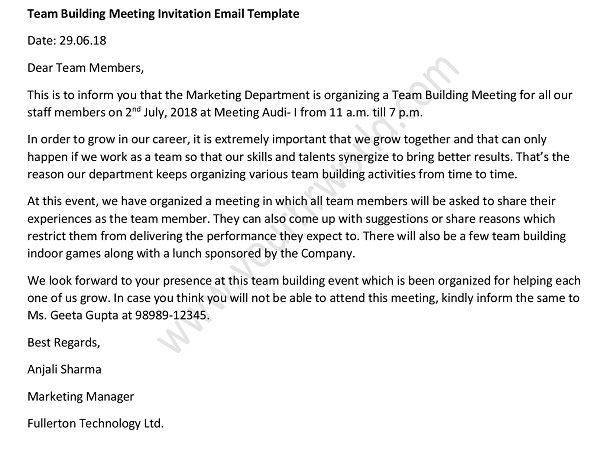 For any company to be successful, team building is a must. That's the reason companies organize team lunch, dinner parties, cricket match, holidays etc. to bring the team closer. We have already shared Sample invitation letter for Annual staff party, Annual dinner invitation email to staff etc. to help you invite your staff for company get-togethers. Now, we have a team invitation email sample designed for you. Using this official meeting invitation email, you can formally invite all the team members to attend the event.
Team Building Meeting Invitation Template
Date: 29.06.18
Dear Team Members,
This is to inform you that the Marketing Department is organizing a Team Building Meeting for all our staff members on 2nd July, 2018 at Meeting Audi- I from 11 a.m. till 7 p.m.
In order to grow in our career, it is extremely important that we grow together and that can only happen if we work as a team so that our skills and talents synergize to bring better results. That's the reason our department keeps organizing various team building activities from time to time.
At this event, we have organized a meeting in which all team members will be asked to share their experiences as the team member. They can also come up with suggestions or share reasons which restrict them from delivering the performance they expect to. There will also be a few team building indoor games along with a lunch sponsored by the Company.
We look forward to your presence at this team building event which is been organized for helping each one of us grow. In case you think you will not be able to attend this meeting, kindly inform the same to Ms. Geeta Gupta at 98989-12345.
Best Regards,
Anjali Sharma
Marketing Manager
Fullerton Technology Ltd.
Download quick and easy Team Building Meeting Invitation Email template in Word format. You can have it customized to suit your subjective requirement.
Search Sample Formats:
Companies organize regular office parties as a part of team building. Some companies call for annual formal parties to bring close the colleagues, management and other staff. To formally invite the employees, companies send annual dinner invitation letter to staff. There are different kinds of invitation letters like Office New Year Party Invitation Letter to Employees and Invitation Letter to Employees of Company for Friendly Cricket or Football Match. An invitation letter to employees to inform them about the get-together with all the details of the event is quite simple. This company party invitation letter to the event has to be short and sweet.
Download for FREE sample invitation letter for annual staff party addressing the employees. Use this format for party invitation to colleagues created in Word format to help you create your own.
Format for Invitation Letter for Annual Staff Party
From:
Adarsh Swami
Human Resource Manager
Fullerton Software Ltd.
New Delhi
Date: 18.06.2018
To:
Mr. Rakesh Gupta
Deputy Marketing Manager
Fullerton Software Ltd.
New Delhi
Dear Mr. Gupta,
I am writing this personal invitation letter to you to formally invite you to the Annual Company's Employees Dinner Meet which has been scheduled on 25th June, 2018, Saturday at Hotel Radisson Blu from 8.00 pm to 11 p.m.
As you must be aware that the Company organizes every year a dinner meet for all the employees of the company. This event is attended by employees along with the Board of Directors and Management. The meeting starts with the Director addressing the employees and applauding them for their good work followed by drinks and dinner. This is indeed a wonderful opportunity for all the employees to meet their Management and Board of Directors in a setting other than work and enjoy a great time interacting with them and sharing their experiences with everyone.
The dress code for the event is formal as it is an organizational get-together. Also make sure that you carry Company's Ids along.
We will be happy to have you at this party. Just in case, if you are unable to attend this event then please make sure that you inform about your absence to Mr. Ram Banerji by emailing him at ram@fullerton.com.
Warm Regards,
Adarsh Swami
Human Resource Manager
Fullerton Software Ltd.
Click here to download Invitation Letter for Annual Staff Party in word Document Format
Other Related Invitation Letter
Search Sample Formats: