Posts tagged "application letter"
If you are looking for job and you have no work experience then starting your career with any position is fine as it will support you financially until you are able to get a job that you desire. The Application letter Sample for any position is a very simple letter that highlights your strength. The Sample Cover Letter With No Experience in Field is important as it introduces you and your skills to the person reading the letter.
In this post, we bring to you an Application Letter For Any Position. You can use this Application Letter format for Any Position With no Work Experience to create a personalized letter.
Application Letter for any Position without Experience Example
From:
Andrew Reynolds
59, Richmond Apartments
New York
Date: June 20, 2022
To,
Ms. Amy Brown
HR Manager
Zenith Technologies
New York
Dear Mr. Amy,
My name is Andrew Reynolds and I have completed my Bachelors in Management from California University. I am look for any job opportunity in your esteemed organization as I wish to begin my career with a prestigious company like yours.
I am a position holder in my college and I have won many competitions throughout my education. I was also a team lead of our Marketing segment of BMA group in college. I am a hardworking and determined individual. I always look for opportunities to learn and that's why I intend to work with your company as it offers its employees a healthy environment to learn and grow.
Kindly find my resume attached with this application. I will be really honored if you could give me an opportunity to work with Zenith Technologies.
Looking forward to hear from you.
Sincerely,
Andrew Reynolds
Other Related Post to Experience Letters
Experience or Relieving Letter Format
Cover Letter for Accounts Assistant with No Experience
Relieving Letter Format from Employee to Company
Work Experience Letter for Green Card
Cover Letter Sample for High School Student With No Experience
Sample Experience Certificate Format
Job Experience Certificate Format
Difference Between Experience Letter and Service Certificate
Relieving Cum Experience Letter
Simple Work Experience Letter
Cover Letter for Teaching Position with Experience
Letter to Employee for Recovering Training Expenses of Company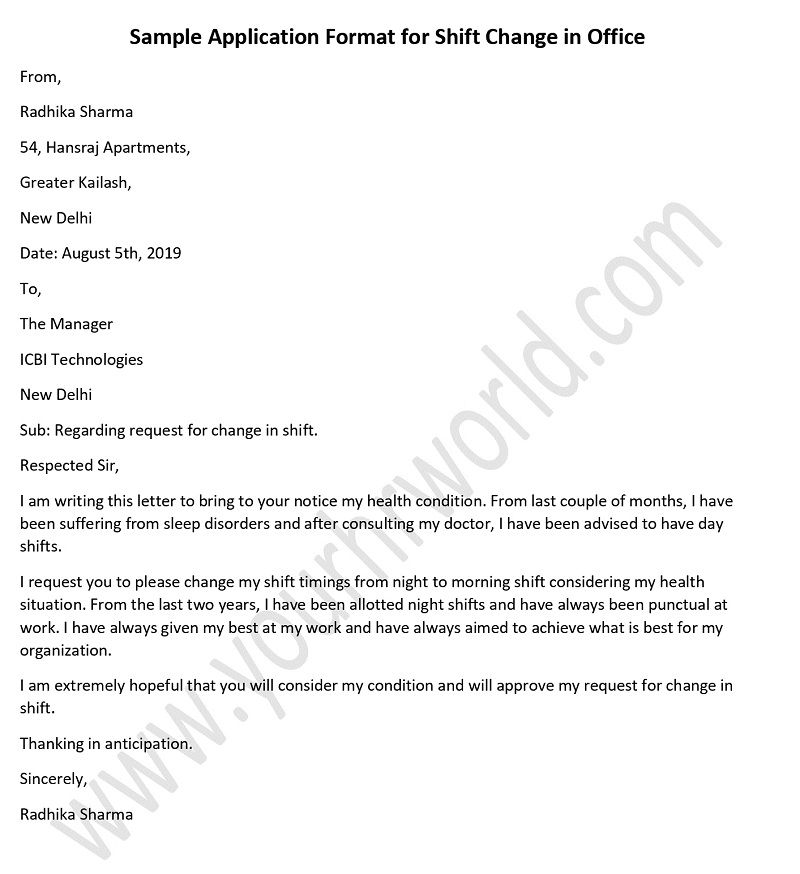 If you want to have your shift at office changed from morning to evening or vice-versa then you have to write a formal application for shift timing change in office. You can write shift change request letter due to health issues or due to some personal reasons. Application for changing shift from evening to morning in office or for any other reason has to be short and specific.
In this post, we have drafted two sample request letters for change of office time. Use these shift change request letter formats to create your own application format for shift timing change in office in a professional way.
Application Format for Shift Change in Office
From,
Radhika Sharma
54, Hansraj Apartments,
Greater Kailash,
New Delhi
Date: August 5th, 2019
To,
The Manager
ICBI Technologies
New Delhi
Sub: Regarding request for change in shift.
Respected Sir,
I am writing this letter to bring to your notice my health condition. From last couple of months, I have been suffering from sleep disorders and after consulting my doctor, I have been advised to have day shifts.
I request you to please change my shift timings from night to morning shift considering my health situation. From the last two years, I have been allotted night shifts and have always been punctual at work. I have always given my best at my work and have always aimed to achieve what is best for my organization.
I am extremely hopeful that you will consider my condition and will approve my request for change in shift.
Thanking in anticipation.
Sincerely,
Radhika Sharma
2. Sample Application format for Shift Timing Change in Office
From,
Radhika Sharma
54, Hansraj Apartments,
Greater Kailash, New Delhi
Date: August 2nd, 2019
To,
The Manager
ICBI Technologies
New Delhi
Sub: Regarding request for shift timing change.
Respected Sir,
I am writing this letter to request you to please change my shift time from morning to night because of some personal reasons. I want to bring to your notice that my grandfather has not been keeping well and therefore, I need to be around him during morning hours to take care of him.
I will assure you that I will not give you any chance to complaint and will fulfil all my responsibilities and duties to the best of my levels. I am hopeful that you will understand my situation and will approve my request for shift timing change.
Thanking in anticipation.
Sincerely,
Radhika Sharma
Related Other Application Format
Circular About Office Timing
Request Letter for Approval of Change in Office Timing
Office Timings Email to Employees
Search Sample Formats:
Application Letter for Apprenticeship is written in order to apply for apprenticeship to a company. Apprenticeship cover letter is a document using which you can put across your intention to join as an apprentice and also create a serious and focused image for yourself.
In this post, we have come up with Apprenticeship application example along with all the steps required for writing a formal cover letter for Apprenticeship mechanic, electrician, engineering or any other profession.
How to Write an Application Cover Letter for an Apprenticeship Training
Here are some important steps which must be kept in mind while drafting a proficient Apprenticeship application letter. So before referring to Apprenticeship letter format, learn about these steps which ensure a perfect application letter for Apprenticeship sample.
Length: Your apprenticeship letter ideally should be 3 to 4 paragraphs long.
Role: Clearly mention the role for which you wish to apply for apprenticeship.
Address and Date: Include your address followed by date on the top left corner of your letter.
Employer's Name: The next thing should be the name of the employer along with his job title, designation, address of the company and any contact details.
1st Paragraph: Express your interest in the apprenticeship program along with why you want to join it. Be expressive and zealous is showing your interest. Also include why you are a good choice for the apprenticeship.
2nd and 3rd Paragraph: You must explain all the relevant experience, training or education you possess which will be important addition to the company.
4th Paragraph: End your letter by expressing your keen interest on joining the apprenticeship program.
Sign and End: Sign you letter in the end.
Check for error: Before submitting your letter, make sure that your letter is free of any kind of errors.
Sample Application Letter Format for Apprenticeship Training
Ashok Sharma
54, Gandhi Apartments
New Delhi
Date: May 2nd, 2019
Mr. Raghav Gupta
Human Resource Manager
HZL Health and Wellness Ltd.
New Delhi
Dear Sir,
My name is Ashok Sharma. I have just finished with my exams for 12th standard from Bal Bharti School, CBSE Board. I am writing this letter to express my keen interest for the apprenticeship program for Marketing Executives which was advertised in TOI on April 25th, 2019.
I would like to share that I have worked with Mc. Donald's. My job required me to take orders from customers, process these orders and manage the cash. I was also awarded the badge of "Employee of the Week" because of my impressive performance. This gave me an exposure to the industry and also an experience to deal with different kinds of customers and situations.
I am very sure that if given a chance, I can be an asset to your organization. I am hard working, committed and positive in approach. I am also a good team player and fast learner. I am extremely focused and passionate to shape up my career with my hard work and dedication.
Please find attached my resume which has complete details on my qualification and work experience. You can reach me at +919898989898 or [email protected] I look forward to meet you in person and discuss the opportunity with you.
Looking forward to hear from you.
Thanking in anticipation.
Sincerely,
Ashok Sharma
Check here to download Application Letter for Apprenticeship Training in Word format
Other Related Application Letter
Application Letter For Leaving Certificate
Sample Application to Withdraw PF
Request Letter to First Aid Training for Staff
Search Sample Formats: