Hourly Employee (Non-Exempt) Offer Letter Template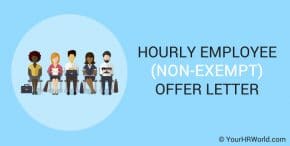 If you wish to create an offer letter in order to hire an hourly employee for your company then you must know who to draft an employment offer letter. You can conveniently create a customized non-exempt position offer letter using the sample offer letters.
In this post, we bring to you the hourly employee job offer letter template. Use this proficient non-exempt offer letter template to create a personalized letter that rightly fits into your subjective needs.
Sample Hourly Employee Offer Letter Template
From,
Simon Smith
HR Manager
Zenith Technologies
London
Date: August 24th, 2021
To,
Mr. Andy Jacob
54, Richmond Villas
London
Dear Andrew,
We are writing this letter to offer you the position of Senior Marketing Executive at Zenith Technologies, London effective September 1st, 2021. You will be required to report to Ms. Samantha Brown.
For this full-time profile, you will be compensated at the hourly rate of $20 and you will be entitled for overtime beyond 42 hours of weekly working at the rate of $25. In addition to this, you will also be eligible for the employer benefits that will be discussed at the time of your induction.
We would like you submit your original documents related with your prior employment, education and citizenship with the HR department required for the paperwork done at the time of new recruitment.
We feel that you will be a significant addition to our company and your experience will help the company grow. At Zenith Technologies, we work in synergy to create a strong and reputed organization and we are hopeful that you also be working in the same direction with us.
Regards,
Simon Smith
HR Manager
Zenith Technologies
London
Other Related Formats
Revised Job Offer Email Accommodating Demand by Candidate
Request for Change in Offer Letter
Rescind Job Offer Letter Due to Background Check
Offer Letter Format Terms and Conditions in Job Offer Letter
Letter to Withdraw from a Job Offer
How to ask for Offer Letter by Email
Offer Letter for Marketing Executive Format
Request to Change Joining Date on Job Offer
Salary Negotiation Email in Response to Job Offer
How to Write a Counter Offer Letter for a Salary
Sample Letter of Initial Job Offer and Notice of Appointment