Posts tagged "Interview Questions"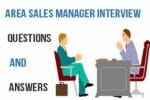 Area Sales Manager interview questions are mostly related to the job area. It is necessary to do some preparations before appearing in the interview. The questions asked during the interview are all managerial level questions as per the job designation. Here you will find some frequently asked Area Sales Manager interview questions with answers.
Q: What is your reason for working in a sales job?
A: While answering this question one should never say that it is easy to get a job in sales or the pay is good etc. Interviewers are not expecting such kind of answers. Sales job is a challenging kind of a job and you can mention that you like challenges and hence want to be in a sales job or you can say that you always wanted to enter this area of work to utilize your skills. Sales job also enables personal growth because you are always learning something new in a sales job by interacting with people. You can also give examples about how you started liking sales job because of your internship or your liking etc.
Q: Tell me about your sales process, if you are given a qualified lead and how many contacts can you make from the qualified lead?
A: Building a good relationship with the customer and finding out his needs are the first important steps. On an average 12 contacts can be made from a qualified lead.
Q:. Is cold calling dead or alive?
A: Cold calling is definitely not dead. When sales are not achieved through other ways, cold calling is always there. The effectiveness of cold calling depends on who you call, product or service on offer and at what frequency the call is made. In today's way of marketing, social selling has changed things but there is still the need to pick up the phone and have a conversation with a prospect.
Q: Explain the relationship between sales and marketing
A: Even though sales and marketing are two very different functions, both are important for each other. They both share a common goal which is increasing revenue of the organization. The marketers generate leads and sales executives close the lead. Since sales and marketing complement each other, they should adopt means which help them achieve their mutual objective. There should be open communication between both the departments so as to benefit the organization as a whole.
Q:. Do you think sales reps should be paid commission?
A: Yes, sales reps should be paid a commission as it will provide a boost to sell more in order to get more commission. Commissions are incentive for the sales reps and hence such commissions are beneficial for every sales company.
Q:. According to you, what is the importance of listening skills in a sales job?
A: In order to sell products to the customer, it is important to listen about the needs of the customer. Building a good rapport with the customer is only possible if you listen to him. You may miss out something important or lose your sale if you don't listen properly. In order to make sales, speaking skills is important but listening skill is also equally important.
Q:. While making a sales call, what should be the outcome?
A: The outcome is always to make a sale during the sales call. But in case if it doesn't happen immediately, a meeting or a follow up call is the outcome.
Q:. What has been your achievement of your sales career till date?
A: A good record in sales is an achievement when you are applying for a sales manager post. Highlighting some sales achievements in your previous companies will help in depicting your achievement more clearly.
Q:. Do you prefer to work independently or in a team?
A: A team environment is common in sales. However, you should make clear that you are able to work individually as well as in a team. You should show that you will be comfortable in both ways.
Q: What will be your way of selling an unpopular idea to an individual?
A: Selling an unpopular idea to an individual can be difficult. But it all depends on the way you go about it. Warming up with the individual is important before talking about the product and why the customer needs it. It may happen that you may be able to sell or you may not.
Q:. According to you, out of the two 'managing' and 'leading' , which one is more important?
A: Managers are the brains of the business whereas leaders are the heart of business. Managers establish systems and rules whereas leaders set the direction and provide motivation to achieve a common goal. Managers do things right . Leaders do the right things. Every manager cannot be a leader. As the core activities of both the managers and leaders are different. But there are few individuals who can be both good managers as well as leaders. Thus, both managing and leading are important.
Q. In case of a conflict within your sales team, how will you resolve?
A: Conflict within the sales team can be resolved through communication and working out a solution together. I would first find out the real problem and then work out for a possible solution.
Q. Do you set sale targets for your staff?
A: Yes, it is important to set sales target for sales staff as it will help them in working towards the set goal more efficiently. Such targets define what is expected from them.
Q. What are the key responsibilities of a sales manager?
A: The key responsibilities of a sales manager include meeting the sales targets of the organization, devising strategies and techniques to achieve the sales targets, motivating the team members, monitor customer preferences , review the operational records, control expenses and develop promotional ideas and material.
Q. Suggest some selling techniques.
A: While selling the product, transparency, honesty and integrity is of utmost importance for the customers. Maintaining a good relation with customers is one of the most effective sales techniques. Every sales person has his or her own strategy for closing the lead. Listening and confidently answering the questions of the customers, convincing the need for the product to the customer are some ways which can lead to a sale. It is not difficult to sell a product, it's the strategy adopted that makes the difference.
Interviewers frequently ask some common questions in an accounts executive interview. So it is important to be prepared with answers to some of the questions. Below you will find some interview questions with answers that are generally asked for an accounts executive job. Make yourself ready and confident for your interview.
Q: What made you apply for an accounts executive job?
A: You should say that this job matches with your skills and abilities and it's the area where you have studied in and see a future in this job. This job will also enhance your professional experience.
You can also add that the job description suits your knowledge and skill and you will be able to add value to the responsibilities mentioned in the job description.
Q: Tell me what do you know about this job position.
A: To answer this question, you should read properly the job description provided by the company in the advertisement. A description of the duties to be performed regarding the accounts executive position and mentioning the skills you possess to fulfill the requirements of the position is what you have to say.
Q: What are the major tasks for an account executive?
A: For answering this question, you have to be clear with the job description. Your answer should be specific and to the point. You need to outline the major tasks you have to undertake as an accounts executive. Different companies have different tasks for an accounts executive. It is better to give an answer based on the job description.
Q: What qualifications do you have that relate to this position?
A: This is a critical question for a fresher. You only have academic qualification and have no experience as an accounts executive. Be honest in your answer. Academic Qualification from a recognized and reputed University is not that important for an accounts executive. Being a fresher, you can add your skills and interest apart from your academic qualification in your answer.
Q: What are your weaknesses?
A: The weaknesses that you mention here should not affect how you fit for this accounts executive position. An honest assessment of your weaknesses should be done before appearing for your interview. Your answer should include only work related and not anything related to personal weakness. While saying about your weaknesses, it is important to mention what you are doing to overcome your weakness.
Q. What is your greatest weakness?
A: This question is the most difficult and a potential question for interviewers. You should never say something which will make you unfit for the job. For example, calculation mistakes are a wrong weakness for accounting jobs. The weakness should be either an irrelevant weakness or a weakness can be shown as a strength by working on it. Whatever weakness you say, it should not be a criteria for your rejection for the position. Lastly, the most important thing to remember is that the weakness should be a true weakness and you should not lie about it.
Q. Tell me what you know about this organization.
A: Before appearing for your interview, have thorough knowledge about the organization. Your level of knowledge about the organization is what is judged by the interviewer's. Check out the organization's website, annual reports, newspaper articles, press releases etc. You should give a confident answer showing the interviewer that you have interest in the organization where you want to work.
Top 10 Stay Interview Questions Employers Ask
Stay interviews are normally conducted between a manager and a highly valued employee that is on the verge of leaving the company. It is a persuasion interview to make him/her stay. The purpose of this interview is to get to the reason behind employee's such decision and come up with some damage control. Most companies refer to it as pre-exit interview as the term indicates the possibility of the personnel leaving the firm.
Big shot companies conduct stay interviews to understand the potentialities of the high-performing employees and motivate them to stick on to the company for long term. This retention strategy thus comes handy with people you do not want to let off and create the most beautiful work environment.
Below are a few stay interview questions most employees normally ask during such sessions:
Best Stay Interview Questions
Is there any feedback you have in mind that you would you like to known about than the current ones?
Do you feel the need of opportunities for self-improvement that you do not see in your current work profile?
Is there any kind of flexibility that will come handy to help you balance your work and personal life?
What talents, interests or skills do you have that we haven't made the most of?
What are the different feel good experiences you have gathered in this job?
What would be the one thing you would like to change about your job, team or company?
What is it the turns you on about this company?
What are you passionate about and tell us about your dream job?
If you won the lottery and didn't have to work, what would you miss?
What you do not like about your job?
Benefits of Stay Interview
Stay interviews help employees understand their worth and standing in the company. Below are a few of the benefits yield:
Employers get a chance to recognize and appreciate their loyalty.
It makes employees understand the fact that you care about more than just their performance.
It makes them aware of the fact that you are okay with making changes to keep the employee.
It will be a small budgeted change to reaffirm your employees' commitment and engagement.
It is a way to support your favorite employee and get back the worth upon the investment you have made.
14 Microsoft interview questions about thinkers
I. Introduction about thinkers Microsoft interview
Questions below will help you interview candidates about thinkers elements.
II. Interview questions of thinkers
1. Suppose you go home, enter your house/apartment, hit the light switch, and nothing happens – no light floods the room. What exactly, in order, are the steps you would take in determining what the problem was?
2. Interviewer hands you a black pen and says nothing but "This pen is red."
3. If you had to learn a new computer language, how would you go about doing it?
4. You have been assigned to design Bill Gates bathroom. Naturally, cost is not a consideration. You may not speak to Bill.
5. What was the hardest question asked of you so far today?
6. If MS told you we were willing to invest $5 million in a start up of your choice, what business would you start? Why?
7. If you could gather all of the computer manufacturers in the world together into one room and then tell them one thing that they would be compelled to do, what would it be?
8. Explain a scenario for testing a salt shaker.
9. How are M&Ms made?
10. If you had a clock with lots of moving mechanical parts, you took it apart piece by piece without keeping track of the method of how it was disassembled, then you put it back together and discovered that 3 important parts were not included; how would you go about reassembling the clock?
11. Why do you want to work at Microsoft?
12. If you are going to receive an award in 5 years, what is it for and who is the audience?
13. How would you explain how to use Microsoft Excel to your grandma?
14. Why is it that when you turn on the hot water in any hotel, for example, the hot water comes pouring out almost instantaneously?
Click Here To Download Microsoft Interview Questions about Thinkers
18 Microsoft interview questions about riddles
I. Introduction about Microsoft riddles questions
Questions below will help you interview candidates about riddles elements.
II. Interview questions of riddles
1. Why is a manhole cover round?
2. How many cars are there in the USA?
3. How many manhole covers are there in the USA?
4. Imagine a disk spinning like a record player turn table. Half of the disk is black and the other is white. Assume you have an unlimited number of color sensors. How many sensors would you have to place around the disk to determine the direction the disk is spinning? Where would they be placed?
5. Imagine an analog clock set to 12 o'clock. Note that the hour and minute hands overlap. How many times each day do both the hour and minute hands overlap? How would you determine the exact times of the day that this occurs?
6. You have two jars, 50 red marbles and 50 blue marbles. A jar will be picked at random, and then a marble will be picked from the jar. Placing all of the marbles in the jars, how can you maximize the chances of a red marble being picked? What are the exact odds of getting a red marble using your scheme?
7. Pairs of primes separated by a single number are called prime pairs. Examples are 17 and 19. Prove that the number between a prime pair is always divisible by 6 (assuming both numbers in the pair are greater than 6). Now prove that there are no 'prime triples.'?
8. You've got someone working for you for seven days and a gold bar to pay them. The gold bar is segmented into seven connected pieces. You must give them a piece of gold at the end of every day. If you are only allowed to make two breaks in the gold bar, how do you pay your worker?
9. One train leaves Los Angeles at 15mph heading for New York. Another train leaves from New York at 20mph heading for Los Angeles on the same track. If a bird, flying at 25mph, leaves from Los Angeles at the same time as the train and flies back and forth between the two trains until they collide, how far will the bird have traveled?
10. There is a room with a door (closed) and three light bulbs. Outside the room there are three switches, connected to the bulbs. You may manipulate the switches as you wish, but once you open the door you can't change them. Identify each switch with its bulb?
11. The SF Chronicle has a word game where all the letters are scrambled up and you have to figure out what the word is. Imagine that a scrambled word is 5 characters long:
a. How many possible solutions are there?
b. What if we know which 5 letters are being used?
c. Develop an algorithm to solve the word?
12. There are 4 women who want to cross a bridge. They all begin on the same side. You have 17 minutes to get all of them across to the other side. It is night. There is one flashlight. A maximum of two people can cross at one time. Any party who crosses, either 1 or 2 people, must have the flashlight with them. The flashlight must be walked back and forth, it cannot be thrown, etc. Each woman walks at a different speed. A pair must walk together at the rate of the slower woman's pace.
Woman 1: 1 minute to cross
Woman 2: 2 minutes to cross
Woman 3: 5 minutes to cross
Woman 4: 10 minutes to cross
For example if Woman 1 and Woman 4 walk across first, 10 minutes have elapsed when they get to the other side of the bridge. If Woman 4 then returns with the flashlight, a total of 20 minutes have passed and you have failed the mission. What is the order required to get all women across in 17 minutes? Now, what's the other way?
13. If you had an infinite supply of water and a 5 quart and 3 quart pail, how would you measure exactly 4 quarts?
14. You have a bucket of jelly beans. Some are red, some are blue, and some green. With your eyes closed, pick out 2 of a like color. How many do you have to grab to be sure you have 2 of the same?
15. If you have two buckets, one with red paint and the other with blue paint, and you take one cup from the blue bucket and poor it into the red bucket. Then you take one cup from the red bucket and poor it into the blue bucket. Which bucket has the highest ratio between red and blue? Prove it mathematically?
16. Suppose you had 8 billiard balls, and one of them was slightly heavier, but the only way to tell was by putting it on a scale against another. What's the fewest number of times you'd have to use the scale to find the heavier ball?
17. Imagine you are standing in front of a mirror, facing it. Raise your left hand. Raise your right hand. Look at your reflection. When you raise your left hand your reflection raises what appears to be his right hand. But when you tilt your head up, your reflection does too, and does not appear to tilt his/her head down. Why is it that the mirror appears to reverse left and right, but not up and down?
18. You have 4 jars of pills. Each pill is a certain weight, except for contaminated pills contained in one jar, where each pill is weight + 1. How could you tell which jar had the contaminated pills in just one measurement?
Click Here To Download Microsoft Interview Questions about Riddles