Invitation Letter Sample – How to Write Invitation letter for Visa?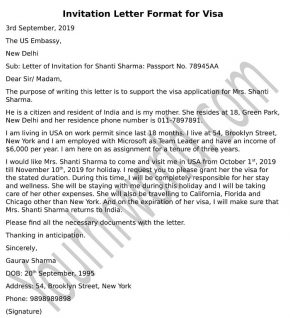 Invitation Letter for Visa Application is a formal letter required to submit by the applicant to the embassy or consulate of the country to which they are applying for a visa. This kind of letter has to be drafted by the host of the applicant and addresses to the applicant or the officer at the consulate. This can be a sample invitation letter for business visa or an invitation letter for tourist visa for family and must include complete information like the name, address, date of birth, telephone number, place of stay, supporting bank details etc. This letter works as an important document while applying for visas for UK, USA, Canada, China and many other countries.
In this post, we have come up with important points to keep in mind along with sample invitation letter for visitor visa for sister, brother, parents etc. Read on and follow the sample invitation letter for visa application.
How to Write invitation letter for Visa?
If you want to create an invitation letter for Schengen Visa or US Visa, then here are some useful steps to write a perfect invitation letter for visa application.
The letter should be very specific.
All the required details of the host as well as the guest must be mentioned. This includes the name, address, telephone number, date of birth, occupation, type of home-rented or owned, status of the host in the visiting country etc.
The purpose of the visit has to be made clear.
Make sure you include the name of places the person plans to visit.
Include information on arrangements of stay in that country.
Invitation Letter Format for Visa
3rd September, 2019
The US Embassy,
New Delhi
Sub: Letter of Invitation for Shanti Sharma: Passport No. 78945AA
Dear Sir/ Madam,
The purpose of writing this letter is to support the visa application for Mrs. Shanti Sharma.
He is a citizen and resident of India and is my mother. She resides at 18, Green Park, New Delhi and her residence phone number is 011-7897891.
I am living in USA on work permit since last 18 months. I live at 54, Brooklyn Street, New York and I am employed with Microsoft as Team Leader and have an income of $6,000 per year. I am here on as assignment for a tenure of three years.
I would like Mrs. Shanti Sharma to come and visit me in USA from October 1st, 2019 till November 10th, 2019 for holiday. I request you to please grant her the visa for the stated duration. During this time, I will be completely responsible for her stay and wellness. She will be staying with me during this holiday and I will be taking care of her other expenses. She will also be travelling to California, Florida and Chicago other than New York. And on the expiration of her visa, I will make sure that Mrs. Shanti Sharma returns to India.
Please find all the necessary documents with the letter.
Thanking in anticipation.
Sincerely,
Gaurav Sharma
DOB: 20th September, 1995
Address: 54, Brooklyn Street, New York
Phone: 9898989898
Other Related Invitation Letter
Invitation Letter for Tourist Visa for Sister
Invitation Letter for Tourist Visa for Brother
Invitation letter for Visitor Visa for Parents
Letter from Employer for Visa Purpose
B1 VISA Invitation Letter Format
2nd Interview Invitation Letter
Annual Dinner Invitation Email to Staff
Employee Get Together Invitation Letter
Invitation Letter to Employees of Company for Friendly Cricket Match
Office New Year Party Invitation Letter to Employees