Posts tagged "Accountant"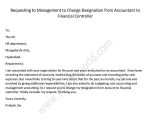 When an employee joins an organization, he is given a certain designation to perform his role. Over a period of time, if he is performing well and additional responsibilities are given, he may be given a change of designation. This change of designation may or may not result in a hike in salary or a promotion. It could be for the convenience of management or the employee because he is performing more roles than previously decided. This change in designation could make his role more clearly understood by him, and bring more clarity to the management, and to others who are working with him.
Request For Change In Designation Letter Format
To,
The VP,
HR department,
Margadarshi chits,
Hyderabad.
Respected sir,
I am associated with your organization for the past two years and joined as an accountant. I have been recording the statement of accounts, maintaining the books of accounts and recording petty cash expenses. But I would like to bring to your kind notice that for the past six months, my job role was enriched by giving additional responsibilities. I am also asked to do budgeting, cost accounting and management accounting. So I request you to change my designation from Account to financial controller. Kindly consider my request. Thanking you,
Yours sincerely,
Prakash Jha
Click here to Download Request For Change In Designation Letter Format in Word