Sample Letter of Appreciation for Years of Service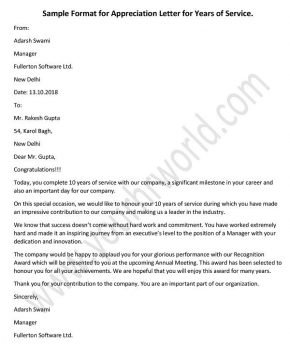 Employees are the assets for organization. If you have hard working, loyal and committed employees in your company then you must make effort to appreciate them. If you have an employee who has served your company for a good number of years then again writing appreciation letter for years of service is a good gesture. You can always pen Thank You for years of service to such gems. Just like these letters, there are also 25 years of service speech or 5 year service award speech. A formal Letter of Appreciation on Completing Years of Service always makes the employee happy as his contribution is acknowledged and appreciated.
We bring a 10 years of service speech sample for your reference. Use this Sample Employee Appreciation letter for Years of Service to write your own customized years of service letter for employees in a professional way.
Sample Format for Appreciation Letter for Years of Service.
From:
Adarsh Swami
Manager
Fullerton Software Ltd.
New Delhi
Date: 13.10.2018
To:
Mr. Rakesh Gupta
54, Karol Bagh,
New Delhi
Dear Mr. Gupta,
Congratulations!!!
Today, you complete 10 years of service with our company, a significant milestone in your career and also an important day for our company.
On this special occasion, we would like to honour your 10 years of service during which you have made an impressive contribution to our company and making us a leader in the industry.
We know that success doesn't come without hard work and commitment. You have worked extremely hard and made it an inspiring journey from an executive's level to the position of a Manager with your dedication and innovation.
The company would be happy to applaud you for your glorious performance with our Recognition Award which will be presented to you at the upcoming Annual Meeting. This award has been selected to honour you for all your achievements. We are hopeful that you will enjoy this award for many years.
Thank you for your contribution to the company. You are an important part of our organization.
Sincerely,
Adarsh Swami
Manager
Fullerton Software Ltd.
Click here to download Letter of Appreciation for Years of Service in Word format
Search Sample Formats: