Permission Letter to Leave Office Early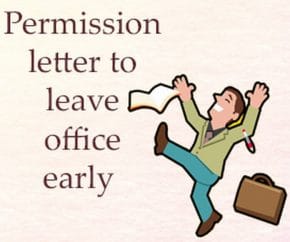 There are times when you need to leave the office early. For instance, it is your wife's birthday or you have to attend some function. In such a case, you must write a professional permission letter addressing your HR Manager or immediate senior or team leader asking permission for leaving the office earlier than usual.
For writing a perfect permission letter, it is important to include few important things in your draft like the reason for which you need to leave early, how early you wish to leave etc. If you are still not clear about framing a formal letter then refer to the template example below which will help you frame a perfect letter with all the needful information.
Format Permission Letter to Leave Office Early
Mathew Brown
A-42, Park Avenue Street
New York
Date:23th February 2015
To,
Sheila John
HR Manager
Amazing Technologies
1234 Park Avenue Road
New York
Dear Mrs. Sheila John,
I would like to request you to please allow me to leave 3 hours earlier on Thursday, 19th February, 2015, because I have to attend my brother's engagement, something that I cannot afford to miss. But I promise that I will finish my job early so that nothing is left incomplete or unattended. And I also assure that I will compensate this time by staying an hour extra on Friday, Saturday and Monday so that there is no work loss to the company.
Thanks for considering my request. Thanking in anticipation
Yours sincerely,
Mathew Brown
Description
Other Related Post to Permission Letters
Leave Extension Application for Family Problems
Sick Leave Email to Boss for One Day
Compassionate Military Leave Letter
Paternity Leave Application for Central Government Employees
Request Copyright Permission Letter
Sick Leave Email to Boss for One Day
Compassionate Military Leave Letter
Paternity Leave Application for Central Government Employees
Request Copyright Permission Letter
How to Write a Letter to My Boss for Permission
Police Permission Letter for Official Event
Sample Copyright Permission Letter
Sample Request Letter for Permission to Interview
Sample Employee Termination Letter for Theft
Half Day Leave Application for Employees
Format of Half Day Leave Application Email
Search Sample Formats: