Resignation Letter for Leaving Job for Personal or Family Reasons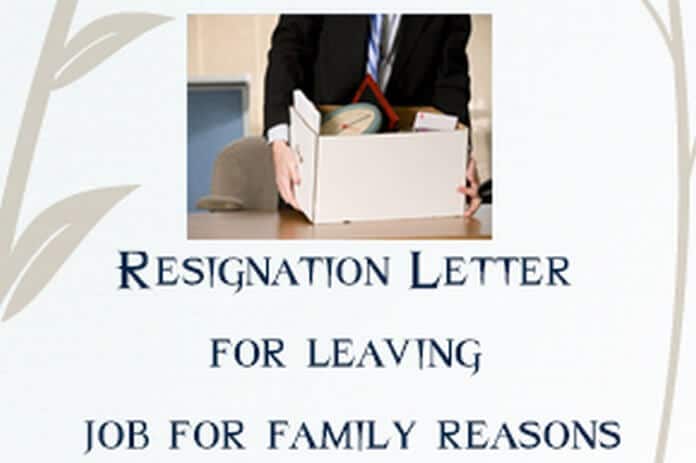 Sometimes it just so happens that you are compelled to leave your job all of a sudden because of sudden circumstances. Some emergencies at personal front or family front force you to quit your job because of which you are unable to meet the guidelines set by the company.
If you are also facing the similar situation and falling short of words to write a professional resignation letter for leaving your job because of some personal of family reasons then given below is a formal example sample of such a letter consisting of all the important details that you are required to put forth in your letter.
Sample of Resignation Letter for Leaving Job for Personal or Family Reasons
Adam Smith
23 Herald Apartments
New York
Phone: 123-45678
Date: 10th January, 2014
Julie Robinson
Human Resources
Avon Technologies
1234 Basil Street
New York
Dear Ms. Julie:
This is to inform you that I am resigning from the position of Marketing Manager immediately due to some personal reasons. Hence, my last working day will be tomorrow. I know it is quite sudden but I will be more than happy to help you with the transition and replacement process to help make the process smoother.
I am extremely thankful to the company for providing me with wonderful opportunities that have helped me rise high in my career. This association of seven long years has been really important and beneficial for the growth of my career and personality. I will never be able to forget the bond that I share with my colleagues and friends in the company. I will also miss my dear customers and company as a whole.
Please do let me know if I can do anything to make this transition easier. I never intended to leave my job like this but because of some major issue at personal front; I am compelled to take such a difficult decision. Please accept my most sincere apologies in making December 27th 2014 as my last working day in the company. I will be available on email and phone for a few more days before I depart for my native place in case you have any inquiries.
Thank you so much for your understanding my situation and being supportive in this matter. I have always loved my job and I will surely miss the best years of my life that I got to spent with such an amazing company.
Sincerely,
Adam Smith
Letter to Employee for Recovering Training Expenses of Company