Posts tagged "Job Resignation"
Resignations happen for different reasons and poor salary is one of the reasons. If you are resigning from your job for the same reason then you can always write a resignation letter due to low salary problem, poor salary, salary issue. The resignation letter with reason of low salary is going to be a short and precise letter. The resignation letter due to no salary increment to the company to keep it simple.
In this post, we have come up with a resignation letter format for salary issue. You can use the Resign letter sample to create a personalized letter for this situation in a formal manner.
Sample Resign Letter Format Due to Salary Issues and Low Salary Problems
From:
Robin Smith
54, Richmond Towers
New York
Date: February 10th, 2022
To,
Mr. Adam Jacob
Human Resource Manager
Zenith Technologies
New York
Dear Mr. Adam,
I am writing this letter to submit my resignation from the post of Marketing Executive. I have been associated with Zenith Technologies from last three years and have thoroughly enjoyed working with the company and learning new things.
The reason because of which I have been compelled to resign from my job is that I have been working on a poor salary since the time I have joined the company. There have been various commitments made to me on my salary increment which have not been fulfilled and therefore, I have finally taken a call on resigning from my job.
I, therefore, request you to please my resignation and accelerate the process so that all the formalities can end soon as I have taken up a new job in the other city. It was a wonderful experience working with Zenith Technologies and if the salary issues had not been there, I would have continued with the association.
Thanking you in anticipation.
Sincerely,
Robin Smith
Other Related Post of Resignation Letter Format
Application of Advance Salary for Urgent Basis
Salary Advance Request Letter for Family Problems
Advance Salary Application Letter Format
Bulk Salary Transfer Letter Format to Bank from Company
Salary Increment Letter After Completing One Year
HR Revision Policy Regarding Salary Increment Letter
Relieving Letter from Employee to Company
Relieving Letter Format For Employee
Example of Resignation Letter Acceptance
Sample Resignation Letter with Complaint
Employee Documents Joining to Leaving
Acceptance of Resignation Letter Format
Acknowledgement Resignation Letter Template
Acceptance of Resignation Letter of Director
Acceptance of Resignation Letter from Board Member
Requesting for Resignation Acceptance Letter
Acceptance of Resignation Letter without Notice
Sample Resignation Letter Due to Relocation of Spouse
Resignation Letter Template With One Month Notice
Part-Time Job Resignation Letter Sample
Sample Resignation Email Or Letter Example
Employee Resignation Letter
Resigning from your job is as important as applying for a new job. You cannot simply leave a note at the desk of your boss saying that you are resigning or you cannot even have a heated argument with me and simply walk out. There has to be a proper and graceful resignation. It is important because you are leaving your last impression with the organization you have worked and it is recommended that you do it in a professional and pleasant manner.
This article talks about the 10 important dos and don'ts that you must follow while resigning from your job. Keeping these tips in mind can help you leave a positive impression on your employer and will always be helpful in your career directly or indirectly.
Dos To Follow While Resigning
Here are some of the most important dos that you must follow to make it a pleasant experience for you and your employer…
Inform to your boss personally
Make sure you inform your boss about your intention to resign face to face. Sending him an email or leaving a note on his desk is not the right way. Be confident of sharing your decision with him without any fail. Keeping him informed is following the right protocol and will never put you in any kind of tension.
Be prepared
On sharing this information, your boss might propose some offer to you in order to motivate you to stay back. Be prepared with your answer and know how much you are worth. Stay strong and stay practical.
Keep it constructive
While giving reasons for resignation, be positive in criticizing. You have talk with facts and figures in mind as this will make your stand powerful and logical. Keeping it vague will never be a good justification to your decision.
Be helpful
While handing over your work to your colleagues always be helpful. Be ready to guide them as and when it is needed.
Focus on references
During this process, be sure about the people you would want a job reference. This will help you get a better job.
Don'ts To Follow While Resigning
Now we have the list of things you must never do while resigning from your job…..
Don't make things awkward
It is important to leave your job gracefully, bragging about your new job can make others feel bad. Never do anything that makes other people feel bad and make things awkward for you in any way. This is one of the most common mistakes we all make when we are happy thereby making things awkward for everyone around us.
Don't make it public on social media
Never ever announce all this on social media as it is highly unprofessional and damaging to your image for long run. Keep it personal and subtle. Announcing things like this on social networking websites is beyond damage.
Don't forget to clean your computer
Never ever forget to clean your system. Before leaving make sure that you have removed all your files and data from the computer you have been using at your workplace. Transfer your personal data and make things clean for a fresh start.
Don't be negative
Every organization has some negative things but talking about them when you are leaving the job is not the right time and especially if you are being negative instead of being constructive. If you cannot be positive, it is better to be quiet.
Don't refuse to work for notice period
If it is in your contract then you must serve the notice period without making it a topic for discussion. There is no harm in serving for the notice period to keep things simple and sorted. In fact, always keep your joining keeping in mind the notice period as it will never spoil your relationship with your present or future company.
Use these points to make your resignation comfortable and hassle free. With these dos and don'ts, you will never spoil your association with your employer.
Once you have decided that you are quitting your job, the next step to follow is to write a formal resignation letter. It might simple to write a resignation letter but it is actually not so simple as you need to be very particular about what information your letter must contain in it and what details you must never include in such letters.
When you write down to pen your resignation letter, make sure you sit with a calm mind and gather all your thoughts. You can note down the points you wish to include on a piece of paper and begin writing your letter in a professional and polite tone. You need to write a letter which marks an end to your job with the company but doesn't affect your association with the people with whom you have worked during this tenure.
Given below are the 10 things that must never be included in your resignation letter.
Hated Working Here
You might have not enjoyed working with the company and you might want to tell them that you hated every minute you spent with the company but this is one thing that you must never include in your letter. You can keep this to your close friends only. Never mention such a thing.
Why Was I Treated Unfair
You might have not been treated fairly but asking such a question is just not right, especially when you are leaving the company. This kind of a question hints that you have hired a lawyer. So completely avoid this kind of a question in your letter.
You Are the Worst Boss
Most of the people quit because of their bosses and it might be true that your boss is the worst of all but putting it in your resignation is just not the right thing to do. You should never make any personal remark in your letter.
I Will Sort It Out One Day
Always be careful of using a threatening language in your letter. You must know that whatever you are writing will be documented for life and therefore, it has to be framed using the right words in a positive manner. A written threat can be very damaging to you and to your association with the company and it might add some legal edge to it.
Tell Me About Openings in Future
You think that when you are quitting the job today, the employer would be interested in hiring you for any other job in future. Well, certainly no!!! So, do not include such a stupid statement in your letter as it will not make you look sweet but definitely foolish.
I Know What's The Problem With Your Company
Even if you know what the problem is, you must not talk about it in your resignation letter. This is not a letter of suggestion stating points of improvement for the company but a simple formal letter informing about your intention to leave. So keep it limited to that area only.
XYZ Sabotaged My Work
Even if there is some person who actually destroyed your work, you are not suppose to be naming that person in your resignation letter. This is neither the right time nor the right place to do that.
My Next Job Will Be…..
For sure, your present employer is just not interested in your next job and he doesn't even care. Your resignation letter is not the right document in which you should be stating all of this. In case your supervisor asks you this question then you can answer him. And if you are joining the rival firm or competitor of your present company, you must not be very specific.
I Will Miss This Company and My Team A Lot
You must not be over expressive in stating your feelings. Even if you are going to miss your team, do not use this letter to express your feelings to loud.
I Know You Will Miss Me Too
Never ever include such kind of lines in your resignation letter as it is rude and unprofessional. And this is not place to boast about your good work.
Your resignation letter is the last impression that you leave on your employer. Just like your first impression, it is also very important as it can hamper your professional image with the company. While writing a two weeks' notice resignation letter, there is not much information that you are suppose to include. You must gracefully inform the employer about your resignation and also mention the last date of your working. As gratitude, you can always end your letter with a thank you note.
Here is a sample of resignation letter with two weeks' notice to help you frame a professional letter with balanced information. Customize it and use it as per your need to make it a perfect letter.
Two Weeks Notice Resignation Letter Sample
Henry Jack
112, Richmond Apartments
New York 456 123
Date: 23th October, 2015
To,
Mr. Adam Simon,
Human Resource Manager
ABC Corporation Ltd.
123, Genuine Street
New York 123 456
Sub: Resignation Letter
Dear Mr. Simon,
Please accept my resignation letter from the position of Marketing Manager, effective two weeks from today. My last day at ABC Corporation Ltd. will be on 28th October, 2015.
I am relocating to California as my wife has not been keeping well and from now on her treatment will be conducted by a specialist based in California. This has surely not been an easy decision to make, especially when I have given ten years of my professional life to this organization. I have thoroughly enjoyed working with ABC Corporation Ltd. and I am going to miss my team, my co-workers and the management.
During the next two weeks, I will be there to help you in every possible way to make sure that the working of the company doesn't get affected and this transition happens in a smooth manner. I will also be helping with hiring and training my replacement. Please inform me if there is anything specific that you would like me to do.
I wish you and the company all the best for future endeavors. It has been a pleasure working as a part of ABC Corporation Ltd.
Best regards,
Henry Jack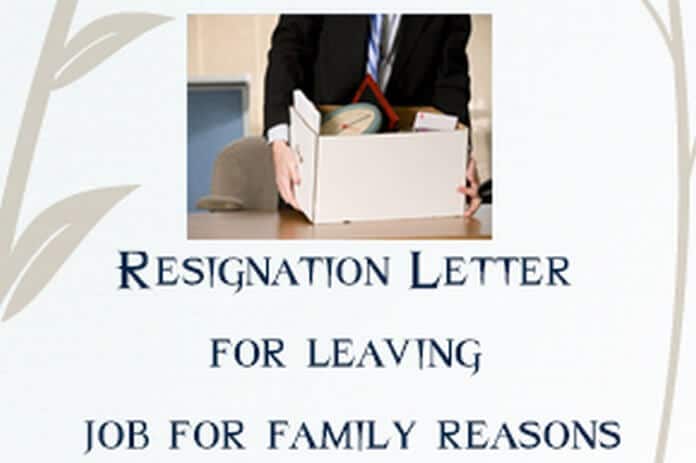 Sometimes it just so happens that you are compelled to leave your job all of a sudden because of sudden circumstances. Some emergencies at personal front or family front force you to quit your job because of which you are unable to meet the guidelines set by the company.
If you are also facing the similar situation and falling short of words to write a professional resignation letter for leaving your job because of some personal of family reasons then given below is a formal example sample of such a letter consisting of all the important details that you are required to put forth in your letter.
Sample of Resignation Letter for Leaving Job for Personal or Family Reasons
Adam Smith
23 Herald Apartments
New York
Phone: 123-45678
Date: 10th January, 2014
Julie Robinson
Human Resources
Avon Technologies
1234 Basil Street
New York
Dear Ms. Julie:
This is to inform you that I am resigning from the position of Marketing Manager immediately due to some personal reasons. Hence, my last working day will be tomorrow. I know it is quite sudden but I will be more than happy to help you with the transition and replacement process to help make the process smoother.
I am extremely thankful to the company for providing me with wonderful opportunities that have helped me rise high in my career. This association of seven long years has been really important and beneficial for the growth of my career and personality. I will never be able to forget the bond that I share with my colleagues and friends in the company. I will also miss my dear customers and company as a whole.
Please do let me know if I can do anything to make this transition easier. I never intended to leave my job like this but because of some major issue at personal front; I am compelled to take such a difficult decision. Please accept my most sincere apologies in making December 27th 2014 as my last working day in the company. I will be available on email and phone for a few more days before I depart for my native place in case you have any inquiries.
Thank you so much for your understanding my situation and being supportive in this matter. I have always loved my job and I will surely miss the best years of my life that I got to spent with such an amazing company.
Sincerely,
Adam Smith
Letter to Employee for Recovering Training Expenses of Company
If you are associated with a company on part-time basis and you have found another job then it is your professional responsibility to inform your company by writing a professionally drafted resignation letter in a formal manner. It has to be a concise letter talking about your resignation from your current role and responsibility.
If you are in such a condition and don't know how to begin writing an informative and formal letter resigning from job then refer to the sample format of part time job resignation letter designed by professionals. Use it as the basis for creating your customized draft with complete ease.
Format Example of Part-Time Job Resignation Letter
Ana George
12, Herald Apartments
California
1st January 2015
Mr. Henry Cullen
ABC Investments
Hilton Street
California
Dear Mr. Cullen,
I request you to please accept this letter as my formal resignation from the part time position of Accountant in your company.
The reason for resigning from my current part time role of Accountant is that I am moving to New York City with my family as my father has been transferred. He has got an amazing opportunity which will benefit him greatly on the professional front. I have also decided to look for a new full time job in that city once I shift there.
I completely understand that my notice period as per the contract is 15 days and based on that my last working day will be on 10th January 2015.
I would be really very grateful to you if you would forward my final pay slip to the above mentioned address.
It was a wonderful experience working with ABC Investments as I got amazing opportunities to learn new things. It would be my pleasure to help you with transaction of my responsibilities to the new candidate. Please inform me in case you need any help from my side.
I wish you and the company all the best for the future.
Best Wishes.
Yours sincerely,
Ana George
Other Related Post to Resignation Letters
Resignation Letter Due to Low Salary
Employee Resignation Letter Template
Sample Resignation Letter Due to Relocation of Spouse
Example of Resignation Letter Acceptance
Formal Resignation Letter Template With One Month Notice
Sample Resignation Email Or Letter Example
Sample Resignation Letter Format
Sample Resignation Letter with Request to Reduce Notice Period