Gazetted Officer Address & Identity Proof Format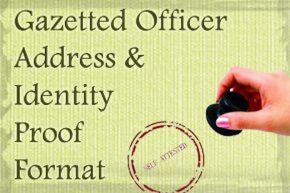 ID proofs and address proofs are very important in day to day routine. Government has given the gazetted officers the responsibility of writing letter to authorities for different purposes mentioning the address and identification details in a sorted format.
Here is a sample example for your reference to help you frame a format which contains all the necessary details concerning the candidate in order to miss no information.
Format for Letter
This is to certify that Mr. Adam Smith S/o Mr. Robert Smith is residing at H. No. 12, Greenfield Apartments, Richmond Street, New York and he is working with ABC Insurance Corporation Ltd., 52 Andrew Street, New York. His personal particulars as given in this letter as correct to the best of my knowledge.
This letter is to be used for the purpose of obtaining PAN Card.