HR Letter of Complaint About Employee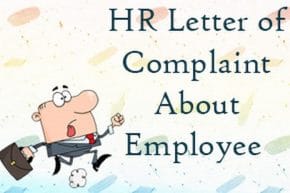 It is very common to experience misbehavior when you work in big corporate houses. They are so many people of different kinds which interact with you and work with you. Coming across an unhealthy behavior is not a big thing. But it must be reported to the Human Resource department when you feel it is exceeding the limits.
Here is an example format of HR letter of complain about employee which has been mentioned below. Use it as a base for drafting a personalized but professional letter to the manager while clearly reporting the issue.
Example of HR Letter of Complaint About Employee
Date: November 20th, 2014
Sam Wright
Elite Technologies
HR Manager
Dear Mr. Wright,
I hold a position of marketing manager at the company. I want to file a formal complaint for discrimination to which my teammate Ms. Anan Christ has been a subject, and I request that you investigate our allegations and take appropriate action to stop it or remedy it. The harasser, Mr. Tony Gates is a marketing executive from my department. The following are the events which I believe constitute discrimination:
On November 10th, 2014, Mr. Gates approached her during the lunch break in the mess and said that blacks are not allowed to have their lunch in the same premises which I feel constitutes discrimination.
Likewise on November 12th, 2014, when she enquired about how she can apply for the promotion in the company, Mr. Gates told her that people with dark skin do not deserve to be promoted.
On November 13th, 2014, Mr. Gates approached her on her desk and said that the company requires fresh blood and that she is not fit for the job and should consider taking up an early retirement.
All these instances constitute discrimination at work. I would really appreciate to meet with you in person so that we can discuss this situation and decide on how it can be resolved. Mr. Gates has been a loyal and hard working employee of our company and has never shown such a conduct. I think with proper guidance, we can help him become a better person.
Thank you.
Yours sincerely,
Mary James
Manager, Marketing Department