Job Interview
Sometimes you want to change your job but you don't wish to change your employer. There are various reasons because of which we look forward for transferring jobs instead or quitting and finding a new company.
Transferring job is an interesting option for giving your career a new direction. You can easily design a new career path without changing your present employer. If you are also planning to change your job within your present company then this post brings to you various tips that can be of great help to you.
Tips on Transferring Jobs with Same Employer
If there is some internal opening in your company at the same branch or at a different branch then use these tips for going for transferring jobs. You will surely have more chances of getting selected during the hiring process because you understand the working of the company but this doesn't mean that you don't have to follow the application process.
You will have to be a part of the process of recruitment just like any other fresh candidate, whether it is relocation or change in functional area. Use the below mentioned tips and guidelines which are very much needed in order to make your internal transfer request fruitful.
Start with Discussing it With Your Manager
The first and the foremost thing that you need to do is to discuss it with your present manager. This is the right step to begin with so that your manager doesn't feel that you are not making him a part of your transfer. It is always important to take him in confidence because his guidance and support is important for you.
In case you feel your manager is a difficult personality to deal with then you will have to connect with prospective managers, your manager's supervisor and any other person of the same or higher level. Make sure that you intelligently and carefully weigh all the options you have before moving ahead with your choice because once you have moved ahead, you cannot take a u-turn. So take time to decide and discuss.
Do Not Compromise with Your Performance
Once you have decided to move ahead with your new profile, do not be irresponsible at your present job. You are advised to keep performing with excellence in your present job so that your behavior or performance doesn't reflect that you were unhappy or dissatisfied with your current profile. Keep doing your job until transfer with high energies and positive attitude. Remember that companies love their employees but they would never like any of their workers to feel discontented with their present working. So be cautious about your productivity.
Functional Transfer Demands Interaction
If you are looking for opportunities in some other functional area then it is important that you interact with staff from that particular department. Involving yourself in projects and activities that bring out your skills and talent is a good thing to do. Volunteer yourself so that more and more people know you. It is very important to have strong visibility and increased interaction so that you are popular also outside your department. So be proactive and participate.
Seek Help From Current Manager
It is extremely important for you to discuss your career path and development with your present manager. This will not only highlight things you need to work on but will also bring out a clear picture to you to plan your career in a more effective manner. Moreover, your manager is also going to feel happy because you are seeking his guidance. Ask for his help in planning your career; sit with him and discuss the available options and move ahead with his support and you will surely make it big.
Do Not Compromise on Resume
Most of the times we think that because we are applying for the job internally, so we can be casual with presenting our resume or highlighting our qualifications and skills, but this is the wrong approach. You have to be very serious in following the application process. Submit your updated resume by including all your achievements, qualifications and everything else that you think can help you score higher points. Including references can be an interesting addition. You have to market yourself with all your efforts and because it is an internal recruitment, you surely have higher chances to get selected.
So if you are interested in transferring job within the same company, follow these points and you will get selected for sure.
Once you have applied for the job, you are not sure when you are going to receive the call for interview or your application has been rejected or selected. Sometimes employers received hundreds of applications for a job because of which they fail to inform the rejected candidates and we all keep waiting for the response from their end. In some cases, companies mention that they will get in touch with only those candidates who have been selected for the interview and in other cases, companies do not state anything.
This post talks about different ways in which companies notify applicants about the interviews. It is important that you stay active and aware about these notification mediums so that you do not miss on being contacted.
You can het either emails or voicemail's or messages from the employer, informing you about the interview. It is important that you keep checking your email and voicemail from time to time to ensure that you have not missed on any of these messages.
These messages will contain the pre-scheduled time and venue of the interview along with confirmation from your end. In case, the company wants you to be present with some preparations then you will be informed for the same in advance. The company will also inform you about the format of the interview so that you are prepared accordingly.
Various formats used by employers to invite job applicants include the letters and messages mentioned below:
General interview invitation
Panel interview invitation
Interview invitation with reimbursement
Second round of interview invitation
Interview invitation asking applicants to pick the interview date
Email interview invitation asking what to bring
Phone call invitation with a date of interview
Phone call invitation asking candidates to select interview date
Phone call invitation with options for interview dates
Once you have received an invitation for the interview, you must respond to it either by confirming it or by rejecting it.
These are different ways of notifying the applicants about interview opted by the companies.
Other Related Job Interview Formats
Innovative Recruitment ideas
Reschedule Job Interview Email Sample
Job Inquiry Email After Interview
Sample Job Interview Evaluation Form
Ways to Make Worst Impression at Your Job Interview
Job Refusal Letter after Interview
Invitation Letter to Interview Panel
Interview Call Letter Format for Job
Sample Job Interview Call Letter Format
Sample Interview Call Letter in Doc Format
Sample Request Letter for Permission to Interview
Whenever we come out of the interview room, we always think about things we could have said that would have helped us earn more points. We always repent for not being able to express our ideas or thoughts in a more impressive manner. We always have something that could have helped us deliver a stronger performance.
Well, once the time is gone, it is gone forever. You can surely not alter your actions but you can definitely work on the interviews that you are to face in future.
Prepare for the Interview
Whether it is your very first interview or you have faced a couple of them in your career, the one thing that you must keep in mind is that you must always prepare for the interview. Remember that every interview is distinct and has something unique about it. Telephonic interviews are different from panel interviews or other face to face interviews. Therefore, you must do complete homework before the final day in order to make sure that no stone is left upturned. Preparation is a must so that you can crack the interview without any hassles.
Looks Do Matter
Thinking that looks don't matter is not the wise thing when we talk about interviews. You have to dress right for the interview. Being over dressed or under-dressed might not be the right thing to do. Right clothes are important to create the right impression on the interviewer. It is a reflection that you are serious and well prepared for the meeting. The best thing to do is to simply ask the recruiter about the dress code. Never presume about the code but simply seek information about it. Whatever is the dress code, keep it subtle and simple. Do not wear anything loud or heavy.
Be Prepared with Your Questions
Once the interviewer is done with asking questions, he will ask you if you have any questions to ask. The idea behind this act is to find out how serious you are about this job, about the company and about this interview. The questions that you are going to pose will reflect your awareness about the job for which you are applying and the efforts you have put in finding about the profile. So prepare a few questions about the company or about the job which you can ask if you are given an opportunity to ask. This will surely help you earn extra points.
Be Confident in Your Replies
Whenever you are answering the questions, it is very important that you answer it with complete eye contact. If you are not able to keep up with the eye contact and struggle while answering the questions. If you are not able to do that then it will be considered that you lack confidence and are not sure of what you are saying because you have not prepared well for the interview. This will be taken as you have not done enough research about the company. Make sure that you have prepared well. Rehearse for the answers in advance so that you don't miss out on anything important. This will give you stronger confidence to answer the questions which will help you have a firm eye contact.
Always Send a Thank You Note
Gratitude never hurts rather it always creates a beautiful association. When you are done with your interview, never forget to send a thank you note to the hiring manager who had interviewed you thanking you for taking his time out to interview you. This is very important to stand out in the list of finalists and create a strong impression on him. But make sure that you don't take too long to send it.
These are the 5 things which can help you deliver a wonderful performance at the interview thereby increasing your chances of selection.
Whenever you are taking up a new job, there are many things you consider out of which salary is one such important thing. It may not top your list of priority but it is surely one of the points that you must consider before accepting the offer. In case you are not satisfied with the offer, you can always reject it by writing a formal email or letter to the company stating the low pay.
This post talks about the guidelines that you must follow while framing a professional email to the company. Keep these points in mind to avoid committing any mistake.
Complete Analysis of Offer
Make sure that you thoroughly analyze the offer before taking a final decision on it and writing an email. It is always good to write the advantages and disadvantages to weight how beneficial the offer is for you. Never take a decision in hurry rather take enough time to make sure that you are making the best choice. Here are some factors that you must consider other than just the salary:
Health insurance
Paid holidays
Stock options
Location
Working Hours etc.
All of these benefits offered by the company compensate for the low pay. Even if the pay is below your expectations but you are getting wonderful benefits other than the salary then you must not reject the offer.
1st Paragraph of Letter or Email
The first paragraph of the letter should have a straightforward and clean starting. When you are rejecting the offer then make sure that the email starts formally by thanking the company for the offer. You have to keep it precise and also polite. Share your intention and also mention the reasons because of which you have been compelled to decline the offer. Make sure that the reasons you mention are genuine and reasonable. You must effectively express gratitude towards the company for selecting you for the job. Keep your letter specific without including any unnecessary information.
Offer for Negotiation
You can always mention that you are open for negotiation and if the manager is keen on hiring you then he will surely get in touch with you. If you have decided to negotiate then make sure that you have a desired salary clear in your mind which is a reasonable amount based on your qualifications and experience. If you wish then you can mention that in the letter.
Concluding Paragraph
As stated above, such letters are short and specific because of which the second paragraph is the final paragraph. You must end this email by thanking the hiring manager for meeting you and giving you such a wonderful offer to join the company. You can also add a few lines wishing them good luck for future ventures. Make sure that you end the email with a line which keeps the lines of communication open for you and also prompts the manager to get in touch with you in future.
These are the few guidelines which are very important to keep in mind while writing an email rejecting the offer because of low salary. Including these points in your email can help you frame a professional letter without any flaws.
Once your interview has been conducted and you are still waiting for the results to come up, dropping a job inquiry email is a good idea. The purpose of writing such an email is to take the follow up and also to thank the interviewer for his time. This kind of behavior shows that you are particular, organized and professional approach.
If you have also faced an interview recently and you also wish to write a job enquiry email to the interviewer to know about your status then here is a sample email to help you write your own letter. Such emails are very short but they give you all the room to impress the interviewer with your professional conduct.
Template of Job inquiry email after interview
Subject: Thank you for an inspiring meeting
Dear Mr. Smith,
I would like to thank you for taking out time to interview me on 07th November, 2015 for the position of Marketing Executive. After meeting you, I got to learn lots of new things about the goals and mission of ABC Corporation Pvt. Ltd. which has infused me with more interest and excitement to join such a reputed company.
Based on the information that you shared with me, I strongly feel that I can make positive contribution in growth and success of your organization. After discussing the requirements of the position, I feel that my skills, experience and strength will perfectly match with it. With my prior experience at AAA Technologies, I can meet up with your expectations.
I look forward to your response. In case you need any additional information then please contact me at [email protected]
Thank you for your time and consideration.
Yours sincerely,
John Jacob
Other Related Job Interview Formats
Follow up Email for Job Application Status After Interview
Reschedule Job Interview Email Sample
Sample Job Interview Evaluation Form
Ways to Make Worst Impression at Your Job Interview
Job Refusal Letter after Interview
Invitation Letter to Interview Panel
Interview Call Letter Format for Job
Sample Job Interview Call Letter Format
Sample Interview Call Letter in Doc Format
Sample Request Letter for Permission to Interview
Ways in Which Employers Notify Applicants About Interviews
The profile of a head bank teller is a job of responsibility. As a head teller you need to be responsible for all kinds of typical duties as a teller along with monitoring the work of other tellers to make sure that all the operations go on smoothly. If you are planning to apply for this job profile then this article brings to you some of the important points that you must keep in mind in order to get selected for this position. As a head teller at a bank, you need to have be aware of all these points which can help you land with this amazing job.
Educational Qualifications
Well there are no such precise degrees requirements which a person need to fulfill to get selected for this job profile. It is totally up to the choice of the employer to set such parameters. Sometimes bank promote people from within the organization for this profile. If you are applying for this job in some big bank then you need to possess some kind of degree in accounting or business. A bachelor's or a master's degree in either of the subjects is considered good. You can also have an associate's degree in accounting for this position.
Required Skills
Some of the most essential qualities and skills that a head teller should posses have been mentioned below. All these skills are very much important for delivering all the duties with precision and keep up with all the responsibilities.
Skills to attend to customers with pleasant and polite behavior. Listen to their queries and answer them.
Skills to perform mathematical calculations with ease. It is the most important skill without which you can just not perform your job. You need to be really very quick and correct with your calculations.
Skill to pay attention to details so that you are able to check that all details have been included at every point without missing on anything important.
Skill to monitor the performance of other tellers. To be able to guide them to work with precision.
Strong moral ethics to be able to handle big sum of money without any wrong intention. It is very important to perform your duty with complete loyalty.
Leadership quality to be able to lead the team, motivate them and boost their morale to work harder and with greater efficiency.
Remuneration for Head Teller
Before applying for this position, it is important that you are aware of the compensation that you are going to get. There are various factors on which the salary of a head teller in a bank depends. All these factors have been mentioned below:
Location where you have been employed
Your education qualifications
Your experience in handling the same kind of duty
Your skills and potential
Personal discretion of the employer
All these factors determine the salary of a person who applies for this position. For those who are employed at some big bank at some metropolitan city, they are paid higher than those who are working in some small town with some not so big bank. But as it is a job with high responsibility, candidates are given good salaries.
All these points are very much important for you to keep in mind to make sure that when you are applying for this profile, you are well aware about every detail which can influence your selection. By being more aware about the qualifications, experience, skills required and salary, you can be prepared in a much better way thereby increasing your chances of getting selected.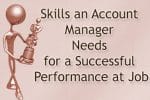 An account manager has an important role to play in a company. He is the one who is responsible for handing customer queries and also assisting them with the services they require and also introduce them with the new services. This profile includes all the tasks involved in responsibly setting up the accounts for the customers and clients and manage their complete accounts on regular basis. Not only this, you are also needed to keep all the schedules organized and also meet all the financial management needs of the post. Not only this, there are various other qualities that you require to possess to deliver the best performance at this post.
This article talks about all the special skills that you must possess as an account manager at some company so that you are able to impress your management and clients with your smart services. Let us have a look at each of these special skills that need to be a part of your personality in order to be successful in your career.
Good Listener: To be able to listen to clients patiently, understand their needs, know their suggestions in order to develop best action plans.
Multi-task Performer: To be able to perform various things at the same time by prioritizing them as per their importance.
Time Management Skills: To be able to allot time to different things.
Deliver Good Customer Service: By satisfying their queries and doubts with ease.
Quality Centric Approach: Should not make compromises of any kinds in delivering best quality of work, despite urgency.
Ability to Form Relationship: To be able to build a strong relationship with clients and co-workers to work with coordination.
Effective Communication Skills: To convey complicated financial problems to the clients in the simplest language possible. He should be good at speaking, writing and expressing things in the best way.
Adaptable and Flexible: Ability to deal with complex situations with flexibility in working and adapting to the changes needs.
Proactive Approach: To have a proactive approach towards problems.
Problem Solver: To be able to solve problems by taking in account all the situational factors.
Feeling of Empathy: Should be able to empathize with clients by understanding the severity of their problems.
Planning Skills: To be able to create short term and long term plans to deal with problems in an effective manner.
Inquisitiveness: To learn new things and to pose questions on things which don't seem clear.
Client Development Skills: To be able to develop a prospect into client and then be able to build a strong and long-term relationship with him.
Trainer: Ability to train other co-workers to become competent.
Awareness: About the products and services offered by the company along with knowledge about the happenings in the market. He should also be aware about the competition in the industry.
Project Management Skills: To plan and execute the project in the most effective way.
Sales Techniques: He should be able to market and sale the company products in the smart manner.
Passion: He needs to be passionate about his subject.
All these skills are equally essential along with educational qualifications and experience to become a skilled account manager. This will help you deliver your services with greater effectiveness and become successful in your career.
Teacher assistants have an important role to plan when we talk about schools. But despite the fact that schools are always in need of good teacher assistants, there are not enough candidates in the market which can suffice this demand. Even the individuals who have a good academic background are not able to make it because they miss out on small things which can really help them have a good career.
Your resume has a significant role to play when you are applying for the post of teacher assistant. While designing your CV, it is important that you go through a few good teacher assistant objectives so that you can write an impressive one for your resume and make it look rich and attractive. This is the best way of creating a very good first impression on the hiring manager. This is a smart trick which will help you stand out from the masses. But this doesn't mean that you don't need a decent educational background.
No matter where do you wish to reach- become a full time teaching professional or become a long tern substitute teacher; one thing that your resume objective should reflect is that you want to work hard to improve the lives of children. This article brings some of the samples of teacher assistant resume objectives which you can use to make your CV impressive. These objectives reflect the skills of the candidate along with highlighting the experience and the aims in professional lives. No matter what reasons have made you choose this job, a good resume objective can really do the magic for you.
Teacher Assistant Resume Objectives:
To win a position as a teacher assistant at Blue Heaven School which will give me the opportunity to learn more about the teaching profession and will also give me the best chance to contribute to the lives of the children who are in need.
To secure a job of teacher assistant with Blue Heaven Elementary School which will allow me to have frequent interactions with young children which are in need and also have a chance to have more knowledge about teaching by having interactions with the faculty.
To help in improving the quality levels of education that are provided in the classrooms by using my skills as the teacher assistant by making sure that all the needs of classroom teachers are taken care of children who have difficulty in studying are given personal attention for better learning.
Use all these objectives for making your resume look stronger and impressive. These objectives are able to deliver a promising message to the hiring manager by reflecting your vision in the most beautiful way.
When you are preparing yourself for the interview of UNIX administrator, you need to focus on the core ideas of UNIX that involves some commands. Making yourself perfect for an interview is always a tough thing as you don't know what you are going to face in the interview hall. It is always better to get an idea about the possible questions that you might be asked to keep yourself ahead in the competition. Those who are applying for the UNIX administrator should have the sound knowledge in the technical concept. Here a set of questions is given to help you out of your doubts.
1 Q: what is the definition of UNIX?
A: UNIX is an operating system (OS) which is designed for both Multitasking and Multi-user functions. This portable OS can efficiently perform on different hardware platforms, which brings a great advantage for the user. The programs are written In C and it allows a user to process the data.
2 Q: Explain the BIOS.
A:   BIOS is the acronym of Basic Input and Output system, which mainly performs the task at the time of booting that includes searching, loading and executing of the boot programs. It is also searching for the boot loader such as CD-ROM, floppy and hard drive. One can also change the boot sequence while it starts up by pressing the F1 or F key depends on your computer.
3 Q: What are filters?
A: The term of filter is used to refer program that takes input from the standard input point and then perform some tasks on that input to bring the exact result to the standard output. This program can be used in two other programs.
4 Q: Explain the Kernel.
A: Kernel works as the master program in the UNIX operating system that controls the computer resources by allocating them to different users and to the different tasks. It interacts with the user through a shell while logging. The shell is the interface between the user and the system, which works as a command interpreter.
5 Q: Explain the differences between cmp and diff commands.
A: cmp command is used to compare the two files by byte to byte and also presents what changes one needs to do to make the file unique from each other. It helps to check the differences in the files. Whereas, diff command is used to denote the differences in the text format and it lists down all the differences between the two files.
6 Q: Explain the multi-user and multi-tasking process.
A: Multi-user means a machine can be used by more than one person at the same without having any problem to access the data and the multitasking means a machine can be used for performing the multiple task at the same time. UNIX is made based on the multi-tasking and multi-user process.
7 Q: What is incode in the Unix system?
A: an incode is the data structure, which is used for the file system. It contains the details regarding a file that includes the location of the file on a disk, its size, the date of using the file, information about the changes, the owner of the file and other details. Generally, it carries the information of a file.
8 Q: Explain the NFS and its task.
A: The Network File System (NFS) enables one to access the data of remote computer within a network. The file system can appear as another local disk in the computer. A command is used for exporting NFS directories. The soft and hard mount is used for sending the file when it is mounted with soft option that means if the server does not respond, it returns an error whereas the hard mounts uses the retry manner to send the file.
9 Q: What are the responsibilities a shell looks after?
A: A shell looks after lots of responsibilities such as program execution, variable substitution (PATH, TERM, and HOME), interpret the programming language, pipeline hookup and many other things. It also works as an interface between the user and the system.
10 Q: Give an example of the network command used in UNIX system?
A: For the remote log in, the command is telenet. su used for the user switching command in the UNIX system. For transferring the files, one should use ftp and finger is used for the information gathering.
11 Q: Explain VLAN.
A: VLAN is the acronym for the Virtual LAN used in improving the network performance. It is mainly a broadcast domain works in separating the large domain into small ones. Such kind of domain is produced by the switches and by separating its domain, it improves the network.