Importance of Good Resume Objectives to Win Software Developer Position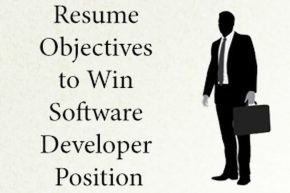 There is no doubt in the growth and expansion of software industry. This is all because of increasing demand of efficient professionals who can develop customized software as per the need of the clients to make their working easier and more comfortable. Because of the increasing demand, more and more people are trying to enter this professional which has made the competition all the more intense.
Lots of colleges are offering professional degrees in software but there are not many candidates who are able to fit these positions. To be able to make it successfully to the software development position, you need strong educational background along with an impressive resume which contains interesting objectives to impress the hiring manage and help you get your dream job.
Education Qualification for Software Developer
If you want to become a software developer then the first and foremost requirement is to have a
bachelor's degree in any computer-related field. You can either have a degree in computer science or have one in computer engineering, or software development.
To make your resume more impressive, you can include various other complementing skills and talents that you possess that can be helpful in your profile or something general which can make you look a worthy candidate for the job.
Objective: The Soul of Your Resume
Well the punch of your resume lies in the objective that you mention in it. Your approach and caliber, both reflect in the objective that you mention. Make sure you make the most interesting and impressive statement; something that is on the same lines of your resume. Also ensure that it reflects your personal goals, your experience and your skills; all in one statement which is short, sweet and strong. Remember good employers always read the objective, so don't miss on it.
Objective is the best way to deliver your intention, attitude and experience to the hiring manager in the smallest number of words. It is your opportunity to create a strong base for making that first impression about yourself, especially when you have not even met the manager in person. So it is very important that you make the best use of this opportunity.
Smart Resume Objectives for Software Developer Position
Well there are many objectives which you can use for bringing that punch in your resume but here are some amazingly smart and impressive objectives which have been compiled for you for quick reference. Use them for adding that extra appeal to your resume.
Dream to become a full-time creative software developer for ABC Corporation Pvt. Ltd by making the best use of my experience in this industry to be able to meet the new challenges that I face doing my job and developing the most interactive and efficient software.
To win a long-term position of software developer in ABC Corporation Pvt. Ltd. so that I can face the toughest of the challenges and come up with the most innovative and smart software solutions while putting my technical experience and skills to the best use.
To come up with the most creative and exquisite software development strategies that can be used for delivering modern IT solutions to clients of ABC Corporation Pvt. Ltd by using my abilities to handle various projects at one time and making optimum utilization of my experience.
All these objectives can help you make sure resume look more interesting and impressive thereby helping you win a job.