Build Your Team with Games and Fun Activities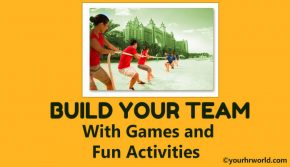 No organization can negate the importance of an effective team and to build that companies organize various team building programs. Having a strong team is good for organizations in more than one ways. Not just it results in stronger performance but it also ensures that employees stay associated with the company for longer.
How Games Help Build Teams
Well, there are various ways of building a strong team and games and fun activities one of them.
Engaging in any kind of playful activity makes a person happy from within.
Not only this, it helps in inculcating relationships, abilities to solve problem and come up with new ideas.
Compared to other ways, games are never boring and promise a good break from work.
Help in establishing stronger bond with co-workers, team leaders etc.
Help strike a balance between different strengths and weaknesses to get optimum results.
Help people relax and have a break from monotonous life.
How to Incorporate Games into Work
To make meetings at work more interesting, you can plan to induce some games or fun activities into it. As a manager, you can even decide your team members to gather post working hours and have one of the team members do all the planning in context of the meeting, but make sure he keeps it short without losing on the main point.
Do not miss on arranging some refreshment and maintain the element of surprise to keep all the team members excited to know what is going to happen.
Guidelines on Including Fun Activities to Build Team
Attending meetings every now and then surely becomes boring and monotonous. And games at work are a great way of inducing some fun time. Here are some tips that can be of great help to you.
Arrange team building activities at least once a year. You can go for more such activities as they help connect people.
Planning outings is definitely a great idea. Focus completely on the games and say a big no to work on that day.
If possible then you can arrange for some outdoor activity that is a different experience. For instance, a cooking competition seems to be a great thing.
In case you don't have the budget or the time then you can include some fun activities during or after the meeting on a regular day.
So don't just let your employees work, allow them to have some relaxation time which will help them bond better, go beyond their targets to work as a stronger team. A little play time can charge up their bodies and brains and will them focus better and perform better.
Don't wait and start planning some playful activities to build stronger teams and have a stronger organization.