Letter to Neighbor for Good Moral Character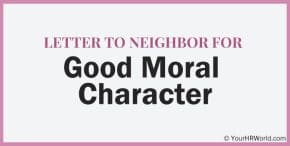 Good Moral Character Letter for a Neighbor: A character letter is one of the most important documents in certain situations and if you are planning to buy an apartment or any other property, the good moral character letter for a neighbor can turn out to be an essential document. The sample letter of good character is a simple document which talks about the conduct of the neighbor. The sample request letter for good moral character can be used as a base for creating one such letter.
In this post, we have come up with a sample letter of good moral character. You can use this format for creating a customized letter that fits well in your situation and solves your purpose.
Sample Good Moral Character Letter Format for a Neighbor
From:
Robin Smith
54, Richmond Towers
New York
Date: February 25th, 2022
To Whomsoever It May Concern
Sir/ Madam,
I, Robin Smith, reside at 54, Richmond Towers, New York and I am writing to state that I am neighbours with Mr. Anthony Gibbs from last three years.
I would like to mention that Mr. Anthony exhibits a good moral character. As far as I am aware, he is not involved in any kind of suspicious or illegal activities and is a responsible man. Moreover, he has been a very active member of our committee and has contributed in various ways towards development of the community. He has also been an office bearer the last year and has successfully shouldered all the responsibilities that were a part of his profile.
Mr. Anthony is a jovial and happy person. He has never seen to have any kind of arguments or fights with anyone till date.
I strongly believe him to be a good person and I request you to consider this as my genuine opinion and letter.
In case you have any queries then please get in touch with me at 9898989898.
Regards,
Robin Smith