Posts tagged "Job"
Leaving a job is surely not an easy decision to make. Your job is the source of your income and is vital for your existence. It provides you resources to cater your family needs and if you leave your job then finding a better one is not easy. Moreover, there are chances that your employer might give you a bad reference which will affect your probability of finding a good job. By leaving a job, you also have to leave behind all the fringe benefits that your job brings along.
Quitting a job at the right time is very important in order to make sure that there are least numbers of odds against you. This post unveils some very interesting points which are helpful in helping you know that when the right time to quit your job is. By walking away from your present job at the right time, you get to minimize the damages.
Find out time put in by you in your job every week
You must keep a track of the amount of time you are giving to your job on weekly basis. This is important as it will help you have exact hours you have been working for your employer to know how balanced or unbalanced your professional and personal life is. You need to understand that you cannot keep missing your family events, compromise with your health and your loved ones because of your job. If you feel that you need to bring in a change in your work schedule then you can always speak with your boss in this context so that you are able to enjoy your work and also spend time with your family.
Analyze projects, achievements and credits
It is extremely important that you grow professionally. And to know that you must prepare a list of all the projects on which you have worked in the last year. Also note down the outcomes of each. Find out the kind of projects you have been getting and the credit you have been given by your boss for your work. In case, you are not appreciated for your good work then you must speak with your boss and ask for different kinds of projects that help you grow professionally. And if you feel that there is saturation with no growth opportunities then it is a serious thing.
Look for change in profile, roles and responsibilities
Sometimes new management takes the charges and brings about changes in the organization thereby leaving you with an undefined profile. In such a scenario, you must meet your supervisor and discuss your profile. You can ask for a new profile or have new responsibilities added to your previous profile. You can even negotiate on a transfer to a different department or branch. These are a few steps which you must take before finally deciding about leaving your job.
Try hard before making a final decision
You must make all possible efforts before taking a final decision. If all your efforts have failed to make things better at work front then only decide on leaving your job.
 In case you are facing some serious problem at work like harassment or you get to know about some unethical activity going on at office then you can always decide to leave without wasting any time. At any point in time, when you feel uncomfortable working at your office, for any reason, then the best move is to quit your job right away. You can also report about the illegal practices, if any, to the HR department along with the related documents so that the right action can be taken.
So once you have analyzed your job on all of the points mentioned above, then it is the right time to decide whether you want to stay or move ahead. This kind of decision will be a well planned decision as you have taken all possible steps.
The profile of a head bank teller is a job of responsibility. As a head teller you need to be responsible for all kinds of typical duties as a teller along with monitoring the work of other tellers to make sure that all the operations go on smoothly. If you are planning to apply for this job profile then this article brings to you some of the important points that you must keep in mind in order to get selected for this position. As a head teller at a bank, you need to have be aware of all these points which can help you land with this amazing job.
Educational Qualifications
Well there are no such precise degrees requirements which a person need to fulfill to get selected for this job profile. It is totally up to the choice of the employer to set such parameters. Sometimes bank promote people from within the organization for this profile. If you are applying for this job in some big bank then you need to possess some kind of degree in accounting or business. A bachelor's or a master's degree in either of the subjects is considered good. You can also have an associate's degree in accounting for this position.
Required Skills
Some of the most essential qualities and skills that a head teller should posses have been mentioned below. All these skills are very much important for delivering all the duties with precision and keep up with all the responsibilities.
Skills to attend to customers with pleasant and polite behavior. Listen to their queries and answer them.
Skills to perform mathematical calculations with ease. It is the most important skill without which you can just not perform your job. You need to be really very quick and correct with your calculations.
Skill to pay attention to details so that you are able to check that all details have been included at every point without missing on anything important.
Skill to monitor the performance of other tellers. To be able to guide them to work with precision.
Strong moral ethics to be able to handle big sum of money without any wrong intention. It is very important to perform your duty with complete loyalty.
Leadership quality to be able to lead the team, motivate them and boost their morale to work harder and with greater efficiency.
Remuneration for Head Teller
Before applying for this position, it is important that you are aware of the compensation that you are going to get. There are various factors on which the salary of a head teller in a bank depends. All these factors have been mentioned below:
Location where you have been employed
Your education qualifications
Your experience in handling the same kind of duty
Your skills and potential
Personal discretion of the employer
All these factors determine the salary of a person who applies for this position. For those who are employed at some big bank at some metropolitan city, they are paid higher than those who are working in some small town with some not so big bank. But as it is a job with high responsibility, candidates are given good salaries.
All these points are very much important for you to keep in mind to make sure that when you are applying for this profile, you are well aware about every detail which can influence your selection. By being more aware about the qualifications, experience, skills required and salary, you can be prepared in a much better way thereby increasing your chances of getting selected.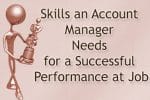 An account manager has an important role to play in a company. He is the one who is responsible for handing customer queries and also assisting them with the services they require and also introduce them with the new services. This profile includes all the tasks involved in responsibly setting up the accounts for the customers and clients and manage their complete accounts on regular basis. Not only this, you are also needed to keep all the schedules organized and also meet all the financial management needs of the post. Not only this, there are various other qualities that you require to possess to deliver the best performance at this post.
This article talks about all the special skills that you must possess as an account manager at some company so that you are able to impress your management and clients with your smart services. Let us have a look at each of these special skills that need to be a part of your personality in order to be successful in your career.
Good Listener: To be able to listen to clients patiently, understand their needs, know their suggestions in order to develop best action plans.
Multi-task Performer: To be able to perform various things at the same time by prioritizing them as per their importance.
Time Management Skills: To be able to allot time to different things.
Deliver Good Customer Service: By satisfying their queries and doubts with ease.
Quality Centric Approach: Should not make compromises of any kinds in delivering best quality of work, despite urgency.
Ability to Form Relationship: To be able to build a strong relationship with clients and co-workers to work with coordination.
Effective Communication Skills: To convey complicated financial problems to the clients in the simplest language possible. He should be good at speaking, writing and expressing things in the best way.
Adaptable and Flexible: Ability to deal with complex situations with flexibility in working and adapting to the changes needs.
Proactive Approach: To have a proactive approach towards problems.
Problem Solver: To be able to solve problems by taking in account all the situational factors.
Feeling of Empathy: Should be able to empathize with clients by understanding the severity of their problems.
Planning Skills: To be able to create short term and long term plans to deal with problems in an effective manner.
Inquisitiveness: To learn new things and to pose questions on things which don't seem clear.
Client Development Skills: To be able to develop a prospect into client and then be able to build a strong and long-term relationship with him.
Trainer: Ability to train other co-workers to become competent.
Awareness: About the products and services offered by the company along with knowledge about the happenings in the market. He should also be aware about the competition in the industry.
Project Management Skills: To plan and execute the project in the most effective way.
Sales Techniques: He should be able to market and sale the company products in the smart manner.
Passion: He needs to be passionate about his subject.
All these skills are equally essential along with educational qualifications and experience to become a skilled account manager. This will help you deliver your services with greater effectiveness and become successful in your career.
Teacher assistants have an important role to plan when we talk about schools. But despite the fact that schools are always in need of good teacher assistants, there are not enough candidates in the market which can suffice this demand. Even the individuals who have a good academic background are not able to make it because they miss out on small things which can really help them have a good career.
Your resume has a significant role to play when you are applying for the post of teacher assistant. While designing your CV, it is important that you go through a few good teacher assistant objectives so that you can write an impressive one for your resume and make it look rich and attractive. This is the best way of creating a very good first impression on the hiring manager. This is a smart trick which will help you stand out from the masses. But this doesn't mean that you don't need a decent educational background.
No matter where do you wish to reach- become a full time teaching professional or become a long tern substitute teacher; one thing that your resume objective should reflect is that you want to work hard to improve the lives of children. This article brings some of the samples of teacher assistant resume objectives which you can use to make your CV impressive. These objectives reflect the skills of the candidate along with highlighting the experience and the aims in professional lives. No matter what reasons have made you choose this job, a good resume objective can really do the magic for you.
Teacher Assistant Resume Objectives:
To win a position as a teacher assistant at Blue Heaven School which will give me the opportunity to learn more about the teaching profession and will also give me the best chance to contribute to the lives of the children who are in need.
To secure a job of teacher assistant with Blue Heaven Elementary School which will allow me to have frequent interactions with young children which are in need and also have a chance to have more knowledge about teaching by having interactions with the faculty.
To help in improving the quality levels of education that are provided in the classrooms by using my skills as the teacher assistant by making sure that all the needs of classroom teachers are taken care of children who have difficulty in studying are given personal attention for better learning.
Use all these objectives for making your resume look stronger and impressive. These objectives are able to deliver a promising message to the hiring manager by reflecting your vision in the most beautiful way.
Search Sample Formats:
It is not always right to assume that your job application has been rejected if you haven't heard from the potential employer from some time. It can also be that there has been a delay in the recruitment process due to various factors. In such a scenario, writing a professional still interested in job letter is a smart move. This creates a positive impression on the minds of the potential employer who will acknowledge the fact that you consider yourself as a strong contender for the job and will be happy to join the company if you get the job offer.
This still interested in job letter is quite a short and crisp letter which contains all the important information like the position title, reference of the interview you faced in the company or any kind of call or letter you received from them. If you are still not very clear about how to go about it then refer to the template given below and use it to frame your own letter with ease.
Sample Still Interested in Job Letter
Mr. Sam Brown
52 Richmond Street
New York
Date: January 31st, 2015
To,
Mr. Andrew Jackson
Human Resource Manager
ABC Corporation Pvt. Ltd.
12 Park Avenue
New York
Dear Mr. Jackson,
The purpose of this letter is to reiterate my interesting in the position of Marketing Manager with ABC Corporation Pvt. Ltd. I have an experience of 5 years of Assistant Marketing Manager which makes me equipped with the management functions of the department. Hence, I believe that I can be a valuable asset to your organization.
On December 10, 2014, we had spoken during an interview. It was my first round of personal interview after having cleared the telephonic round earlier in the end of November 2014. As per my analysis, the interview went quite nice and I felt that I am the right candidate you are looking for this job. I genuinely feel that your organization offers the opportunities I am looking for.
I hope that I am still a part of the list of contenders for this profile and will remain to be there throughout the decision making process. You can contact me at 123-45678 or you can email me at sambrown@abc.com. I would be really happy to speak with you.
Thanking in anticipation. Looking forward to be a part of your team.
Sincerely,
Sam Brown
Search Sample Formats:
It so happens in every organization that employees fail to report to work and also fails to follow the guidelines mentioned in the company policy regarding absence from work. Some companies are easy with such an attitude, while some take strict actions against it as they understand how it hampers the productivity of the company. Job abandonment termination letter is the formal way of ending the association between the employee and the company as the employee is unwilling to work. It is generally written by an HR manager, owner of the company or employee's manager. It contains all the related facts and information which state the reasons for taking such an action.
If you are confused about framing such a formal letter then refer to the template format given below and write your personalized letter to the employee in the best way.
Sample Job Abandonment Termination Letter
Date: January 27, 2015
Mr. Andrew Jackson
Human Resource Manager
ABC Corporation Pvt. Ltd.
12 Park Avenue
New York
To,
Mr. Sam Brown
52 Richmond Street
New York
Dear Mr. Brown,
The purpose of this letter is to inform you that as of January 17, 2015 your employment with ABC Corporation Pvt. Ltd. is being terminated for cause. It has been reported by your manager, Mr. Ray Smith, that you have not reported to work from last 6 days and there has been no information from your side to explain your absence. Mr. Smith tried contacting you on the phone number submitted in your employee file on January 12, January 13 and January 14, 2015 but he could not get in touch with you. Hence, based on this kind of absence we have determined that you have abandoned your job with our company.
Please contact me at 123-45678 so that I can make arrangements for return of all the company property from your end. The company records reflect that the following company items are under your possession: company laptop, company desktop and company mobile phone. If you fail to return all these items within seven days of receiving this letter, we shall consider them stolen and we will have to take a legal action. We also expect you to return your employee ID badge and other documents and stationery that belong to the company.
All the information concerning your final paycheck and all the other benefits will be mailed to you in the coming days along with information of unused and accrued PTO days. You are not entitled for a severance package. In case, you have queries or questions, you can always refer to the contact details mentioned within the information packages.
We understand that under emergency circumstances, an employee is unable to report to work to inform the management about his absence. In case, you fall in such a category then you can always file a letter of appeal addressing to the human resource department. Make sure you provide all the related proofs and evidences in form of documents from reliable sources to present your part.
Regards,
Andrew Jackson
Other Related Post to Termination Letters
Termination Letter to Employee Due to Cost Cutting
Voluntary Termination Letter to Employee
Letter of Termination for Cause
Employment Contract Termination Letter
Sample Early Probation Termination Letter
Sample Wrongful Termination Letter To Employer
Employee Termination Letter Due to Poor Performance
Sample Employee Termination Letter for Theft
Sample Termination Letter for Insubordination
Search Sample Formats:
Most of the times you are not even aware of the fact that soon you will be fired because you miss on the warning signs at work. Sometimes it is not just your performance but situational factors that lead to such a scene. Hence, you must always be vigilant of warning signs which tell that you could lose your job.
It is really important to know in advance if you feature in that list on not because that gives you some extra time so that you can improve your performance or standing which can help you save yourself. This also gives you a longer reaction time so that you can keep a control over your impulsive behavior and let it happen at a smooth phase and simultaneously start looking for new options.
Here is a list of 6 important warning signs that can help you reach on to a conclusion. Find out what these points are…
1. Special One to One Meetings with Immediate Boss
In case you are having lots of one to one meetings with your immediate boss and you are been asked questions like what is your take on your performance or how do you rate your performance then it is an alarming situation as the management is planning to rule you out. In such a case, you can always ask your boss to help you join a training program which will enhance your performance.
2. Excessive Criticism
If you find management critiquing everything you do then you must gear up as the company is planning to fire you because of budget cuts. Whenever a boss starts to look for negatives in anything and everything then it is very much obvious that he doesn't want you in his team. So you must start to prepare.
3. Look for Negative Body Language
If your boss prevents any kind of eye contact with you or he doesn't like speaking to you or answering your questions then again it is one of the warnings telling you that you will soon be fired. This is quite a disturbing and negative behavior as he wishes to avoid you at every possible level.
4. There is No Much Work on Your Desk
If you find yourself free sitting at your desk looking at others doing their job then this is another very important sign telling you that you will no longer be the part of the system. This is a way of not involving you in work and letting you sit and kill your time.
5. No Invitations for Meetings
If you find all your coworkers attending the meetings about which you have not been informed then it is again an indication that the company doesn't want you. This shows that everyone is avoiding you and they are increasing pressure on you to resign all by yourself.
6. Coworkers Start to Avoid
Another very important warning is when your coworkers and colleagues start to avoid you. They stop talking when you join them, they don't hang out with you during lunch breaks, they don't speak with you. All these behaviors hint that you might be fired at any point in time and everyone knows about it.
These are 6 very obvious warning signs which indicate that you could lose your job.
It is not easy to face a situation when you are forced to resign from your job. There are various reasons because of which the employer may plan such a move. It can be the low performance of the employee or no more requirements of the services of the employee or it can also be a result of corporate issues and budget cuts. But in all the cases, it is the most difficult situation for an employee, both financially and emotionally.
It is also the time when the person must not lose his confidence and calm. It is the time to act wisely and smartly so that you can minimize the loss of job with your actions. Though there are not many options left when a person is forced to resign but still there are a few options that can be helpful in such tough circumstance.
Fight With The Management
This is one of the options which can be followed. Management pressurizes the employees to resign on their own to sideline the hassles of termination process which includes issuing of notice followed by holding an inquiry to find out reasons for termination followed by final termination. In such a scenario, most of the times, employee becomes eligible for compensation. The grounds of termination can always be challenged if they are weak.
Resign in Exchange of a Good Reference
The employee can resign with ease in exchange of a good reference from the company. It is important to have a positive feedback from the last employer in order to get a good job. Thus, you can negotiate this deal with the management and reduce the risks of finding a new job.
Agree on New Working Terms
Sometimes the reasons for forced resignation can be recession or financial constraints of the company because of a bad phase. In such a scenario, you can express your desire to continue your job with the same company by agreeing to work on new conditions like lesser salary or delayed salary or lower designation. This will give you a good time to look for a better option.
Negotiate Severance Pay Package
Severance pay package includes a combination of several months of salary along with various health benefits and various perks. This is one of the best options when you are being forced to submit your resignation as the company cannot fire you. Hence, to keep yourself secure from financial problems, you can negotiate with the management for a handsome severance pay package which will help you survive for a few months during which you can find a good job with some other company.
Termination v/s Resignation
For those who strongly feel that the company is forcing them to resign without a reason can stick on their decision of not resigning by waiting for the company to terminate them. This will obviously give them some extra time to look around for a new job but at the same time termination can bring a stain on the reputation. But it is also one of the options.
Just Resign With Grace
When you don't have much of a choice left then it is always better to resign with grace and professionalism. It is a good way of accepting the situation as it comes. It is a positive way of looking at life and gearing up for a new change in life.
These were the different options which can be opted to make the situation little easier. Follow any of these options which suit your liking.
Description:
Know different options to take into consideration when you are forced to resign from your company to reduce the risks and minimize the financial constraints.
HR plays a vital role in the development of the organization. HR is the role concerned with handling and managing people in an organization. So, we can say that HR is all about tackling the issues related to organization and its employees. Learning is a continuous process and is good if we want to improve on our skills. But improving on current skills requires proper planning.
First we should know the qualities of a good HR:
Organized: The most essential quality that HRs should possess is organized behavior. They are expected to manage time efficiently. They are expected to know the time-frame of completing a particular time and should be able to complete the task within that time.
Multitasking: Good HR professionals have many things to do. Recruitments, employee relations, talent management, career development, employee retention and lots of other things, each of which is critical and takes lot of time to finish. So to be a good HR, you should be capable of performing different tasks as the same time.
Communication skill: HR is the one professional who needs to communicate with all employees at all levels. To be an effective HR one should have both verbal and written communication skills and should be able to share ideas and information in an understandable manner. The ability to form strong internal and external business relationships is also an important part of his role.
Leadership: A successful HR manager must possess the qualities of a true leader. One should be confident, alert, positive and optimistic. HR should be able to motivate employees in improving their performances through rewards and appreciation. He should be able to develop the skills of the employees to help them grow professionally and personally.
Problem solving skills: HR should have the ability to address and resolve issues with the least amount of conflict. Problem solving skill is an important part of the HR role.
The qualities mentioned above are very important for an HR in his/her profession. Besides these there are other characteristics that are also important, for example, ethical behavior, emotional intelligence, ability to build and maintain confidentiality, etc. A good HR should possess all the above mentioned qualities in order to perform better. We have talked about the qualities of an HR and now in the topic given below we will discuss how to grow in HR career.
Here we are suggesting you some tips to follow by which you can enhance your skills.
Goal: Identify your next goal which you want to achieve in your career plan. Where you want to see yourself and things you would like to achieve with reference to your skill improvement and development.
Know your strength: Once you have a clear vision about your career, the next most important thing which keeps you going is your strength. So you should be well aware of the things at which you are good, this will instill more confidence in you.
Identify your weakness: Once you become aware bout your strength, now it's time to look for your weaknesses. Indentify the area in which you need improvement or the skills on which you need to work on to get ahead in your career. While improving on your weakness you also need to learn new things in your surroundings like changes in existing policies and procedures, latest changes in employment law, government's new rules and regulation for employees, etc.
Make a plan: Once you have worked on setting a goal, knowing strengths and weaknesses, now it's time to make a plan to achieve the desired target and to face the challenges. For this, you can also take help and suggestions from senior HRs in your company who can help you find out what staff development and training schemes exist in your company. Or you can search for post-graduate level qualifications to enhance your skills and overall HR knowledge. There are many institutes which provide distance education in related field.
Evaluate your progress: Give yourself a deadline to achieve you goal. You have to evaluate your growth and improvement from time to time to gauge your achievements. Evaluation will help you improve upon the plan you have prepared to achieve your goal. Taking time to check what you have learnt with each step is an essential part to ensure that you are putting your efforts in right direction.
We hope that the above tips will help you improve your skills and move forward towards your career plan.
Search Sample Formats: