Posts tagged "Maternity"
In many companies, female employees are entitled for maternity leave and in some companies, companies take care of the maternity expenses of that employee. In case, you also work for such a company then you can always write a maternity leave expenses disbursement letter to the management. Just like the maternity leave application, this letter has to be small and precise.
In this post, we have come up with a format for Maternity Leave Expenses Disbursement Letter. You can use this maternity leave letter format in order to ask for disbursement from your company for the expenses that have incurred during the maternity phase.
Sample Format For Maternity Leave Expense Disbursement Letter
From:
Samantha Brown
54, Richville Apartments
California
Date: March 29, 2022
To,
Mr. Robin Smith
HR Manager
Zenith Technologies
Subject: Regarding disbursement of maternity leave expense
Dear Mr. Smith,
The purpose of writing this letter is to request you for the disbursement of all the maternity expenses that I have undergone during my maternity leave. According to our company's policy, each and every female employee is entitled for a paid maternity leave for a total of nine months which can be used during pregnancy or after delivery. I have also been given the maternity leave but all the expenses were made from my own pocket.
Therefore, I am writing this letter in order to request you to kindly compensate all the expenses that have taken place during the maternity leave as I am witnessing some financial issues at my end. Please find attached the receipts of all the expenses that are required to be disbursed.
Thanking you.
Sincerely,
Samantha Brown
Other Related Post to Permission Letters
Sample Leave Extension Email Format
Leave Extension Application for Personal Reason
Leave Extension for Mother/ Father Medical Treatment
Leave Email Due to Mother and Father Death
Leave Extension Application for Family Problems
Sample Letter to HR Regarding Maternity Leave
Maternity Leave Letter to Employer
Compassionate Military Leave Letter
Paternity Leave Application for Central Government Employees
Half Day Leave Application for Employees
Format of Half Day Leave Application Email
Employee Leave Policy Overview Purpose Scope Policy
Warning Letter to Employee Taking Leave Without Over Work
Family Emergency Leave Request Letter
Sample of Circular for Leave request Procedure
Leave Application Format for Own Marriage to HR
Thank You Letter for Leave Approval Sample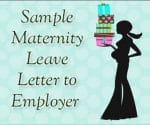 Maternity leave from work is a right of every pregnant woman which gives her enough time to recover from birth and also develop a bond with her baby without worrying about her professional life. Under FMLA (Family and Medical Act) of 1993, it is a protected right an expecting woman.
If you are a working lady and you are expecting a baby then you can also take break from work by writing a formal maternity letter to employer announcing your pregnancy and mentioning the dates and duration when you will be taking the leave along with the time when you intend to return to work. It is important to inform your employer about your condition and your need for leave well in advance so that you can enjoy a tension-free and stress-free pregnancy. Here is a format template given for your reference.
Sample Maternity Leave Letter to Employer
Angela Jones
Marketing Executive,
Marketing Department,
123 Jackson Lane
New York
Date: 28th February, 2015
John Smith
HR Manager
ABC Corporation Pvt. Ltd.
123 Red Rock Road
New York
Dear Mr. Smith,
The purpose of writing this letter is to inform you of the news of my pregnancy and the due date of my baby is 15th May 2015. Hence, I would like to apply for maternity leave from work for 12 weeks starting from 10 weeks from now i.e. from 25th April 2015 till 25th July 2015, barring any unforeseen complications. Please find all the necessary documents attached with the letter consisting of my doctor's confirmation of my pregnancy. I would like to avail my complete maternity leave along with all the benefits for which I request you to please guide me through the process.
I will keep you informed about any changes in my plan due to unforeseen circumstances. I will also make sure that I am able to complete all the unfinished work before I go on my leave so that there is no confusion or loss to the company because of my absence.
I appreciate your consideration as I really need the benefits of maternity leave so that I am able to recover from birth, bond with my baby and take good care of his health along with regular visits to the doctor and other necessary medical check-ups. During this time, if in case you need any help from my side then I will be available on telephone 123-456-78 and you can also get in touch with me via mail at [email protected]. Please feel free to call me if you need any clarification in this matter.
Thanking in anticipation
Angela Jones
Marketing Executive,
Marketing Department,
ABC Corporation Pvt. Ltd.
Ph: 123-456-78
Email: [email protected]
Other Related Transfer Letter Format
Maternity Leave Expenses Disbursement Letter
Compassionate Military Leave Letter
Marriage Leave Application Format
Job Transfer Request Letter Based on Medical, Family Grounds
If you are working and you are expecting a baby then to enjoy a well-arranged pregnancy, you must pen a maternity leave letter to your boss or HR manager so that there is no hassle when your due date is approaching or when you plan to resume your work. But if you are confused about how to frame your letter then this article unfolds all the important steps that one must keep in mind while writing a professional and informative maternity leave letter. Follow these steps to create a perfect letter so that you can enjoy your pregnancy with ease.
Steps in Writing Professional Maternity Leave Letter
Addressing the Letter to the Right Person
The first and the foremost point is to address your letter to the right person. Mostly, it is either your boss or the HR manager to which you should be addressing your request letter. Make sure you start with the left hand corner on top, mentioning the name, designation and contact details of the person to whom you are addressing your letter to.
Always Include the Subject
The next important point is to mention the subject to bring clarity on the subject even before the person has opened the letter. Keep it short, sweet and informative. For instance, "Application for maternity leave" is a well framed subject which makes everything clear and easy to understand.
It is always the best way to begin your letter. Start with greeting the person to whom the letter is addressed to. For example, if you are addressing it your HR Manager, Mr. Adam Cullen, then you must start with "Dear Mr. Cullen," and end it with a comma. It is good to be specific.
Focus on the Body of the Letter
Body of the letter has to be nicely framed. It has to be informative and complete in every sense so that there is no confusion in stating your condition or your requests. In the very first paragraph, you must begin with stating that you are pregnant. Do not miss on mentioning it thinking that it is obvious.
Then the second paragraph must talk about your application for maternity leave and full maternity benefits. You must also mention the date from which you wish to start your leave and the duration for which you will be absent from work. Do mention your planned return date. But keep your dates flexible as you really don't know about the situation once you have delivered the baby. Make sure you mention that you will confirm your return date.
It is good manners to thank the reader for taking out time to read your application and also express your gratitude towards considering your request.
In the end you must write "Sincerely" and sign it after you have written your name.
Mention Your Contact Details
Do not forget to mention your contact number, email id and address once you have signed the letter.
Points to Remember
Save a copy of your leave application
Submit the letter to the concerned person 10 weeks before you plan to go on leave so that things can be managed accordingly.
Make sure that you have read your company policy about maternity leave before submitting the request for leave.
Please find attached the Form A & annual return Form KLMN as per Haryana government rules.
FORM "A"
(See rule 3)
Muster Roll
Name of the Establishment M/S
Serial Number
Name of the women and her father's Mrs. W/o Mr. Arun Bajaj
(or if married husband's name)
Date of appointment 03/04/20
Nature of work ??/
Date with month and year in which
Month
No. of days employed
No. of days laid off
No. of days not employed
remarks
JAN
31
FEB
28
MAR
31
APR
30
MAY
31
JUN
30
JUL
31
20 (on MaternityLeave w.e.f31 12nd July 07

30 to 9th Oct07)

09

AUG
31
SEP
30
OCT
31
NOV
30
DEC
31
6. Date on which women gives notice under section 6
7. Date of discharge or dismissal, if any
8. Date of production of proof of pregnancy under section 6
9. Date of Birth of child : 18/07/2007
10. Date of production of proof of delivery of miscarriage
of death
11. Date of production of proof of illness referred to in
section 10
12. Date with the amount of maternity benefit paid in
advance of expected delivery
13. Date with the amount of subsequent payment of
maternity benefit .
14. Date with the amount of medical bonus, if paid under
section 8.
15. Date with the amount of wages paid on account of
leave under section 9.
16. Date with the amount of wages paid on account of
leave under section 10 and period of leave granted.
17. Name of the person nominated by the women under
section 6.
18. If the women dies, the date of her death, the name of the
person to whom maternity benefit and or other amount
was paid , the amount thereof and the date of payment.
19. If the women dies and the child survive the name of the
person to whom the amount of maternity benefit was
paid on behalf of the child and the period for which
if was paid
20. Signature of the employer of the establishment
authenticating the entries in the must Roll.
21. Remarks Column for the use of inspector;
Click Here To download annual return form KLMN