Posts tagged "Skills"
Whenever we go for an interview, we are always keen on knowing the skills that are important for getting selected. These are some of the skills which every employer looks for in the candidates, no matter what position you are applying for.
Types of Skills
There are two kinds of skills:
They take into account your attributes and inter-personal skills that are helpful in working and being successful in your professional life.
They take into account all the abilities and knowledge you need to possess in order to do a particular job. They are more tangible and are must in order to accomplish your task with effectiveness.
Top 7 Skills Employers Look For
Here is the list of the topmost 7 skills that every employer looks for while recruiting a candidate. These skills do not depend upon the profile or package and are must for every candidate to possess in order to get selected.
Communication Skills
When you are in an organization, you need to communicate effectively. Whether it is written communication or verbal communication, you need to be able to communicate with effectiveness and confidence with people above and below you. This would surely help you share your views without any confusion and would help others understand you better. Only knowledge is not sufficient, if you cannot communicate it right.
Optimistic Approach
Employers always want to hire those candidates who are positive in their approach. This is important because they have the courage to work under challenging situations. They have the capability to work with flexibility and utmost dedication in order to accomplish their task.
Analytical Skill
You should also be able to analyze the situation and figure out things independently. Analytical skills vary according to your profile and responsibilities you shoulder but are always important in order to work in a planned and organized manner. If you cannot think and analyze, you cannot work independently.
Interpersonal Skills
It is very important for you to have interpersonal skills which help you interact with people around you. It is of extreme importance that you are able to engage with people with confidence and comfort and this is judged during your interview because no company wants an employee who is lost in his own thoughts.
Skills to Work in Team
Companies look for candidates who are good team workers. They want employees who are cooperative and coordinating as they can achieve better targets and help organization grow. You must make sure that you share some experience which reflects your ability to work with team effectively. A team worker is always an asset to the organization.
Technical Skills
These skills are very much subjective to your job profile. But nevertheless, every profile requires some or the other technical skills. For instance, these days every candidate is expected to use computers. You are expected to know MS Office which is considered one of the basics. Make sure you are friendly with basic technical skills, if you are going for a job which doesn't require specific technical skills.
Leadership Skills
If the company is hiring for a position which includes leadership role then they want a candidate who can confidently interact with people, listen to their problems, motivate them to work and bring out the best out of everyone in the group. In case you are applying for a job which doesn't require leadership skills then also this is an important skill to have if you want to climb high in the ladder.
With these top 7 skills, you will always have brighter chances of getting selected in the interview. So when you are going for the interview, make sure you are able to put forward these skills directly or indirectly.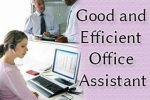 People generally think that becoming an office assistant is no tough thing as you don't need to have some specific educational qualification and all you need to do is follow the instructions given by your boss. But the reality is way too different. You need to know that to be an efficient and smart office assistant; you need to possess lots of skills so that you can manage your work without errors. Some of these skills have been mentioned in the article below and others you can only learn once you are in the real setting, handling the real stuff. So, to be really good at it, you need experience which can really help you impress your employer.
For the post of office assistant, you don't need any specific educational qualification. But there are various skills that you are required to possess to make your daily working easier and more rewarding. Let us have a look at some of these skills which will help you have a rocking performance at job.
Skills Required by an Office Assistant
Technical Skills: To be able to work with greater efficiency using the latest technology. He needs to be technology friendly person to be able to absorb the recent trends in technology when it comes to managing work. He should be able to use internet and various other digital equipments for effective working.
Skills to Help: He should be prompt at helping people. Be there to support the top management with assistance required by them. Be ready to supervise the juniors to ensure everything goes right.
Skills to Multitask: He should be able to do many things at the same time. Receiving the phone call while working on the computer and simultaneously doing some third task. He really needs to know how to handle different tasks with efficiency.
Filing and Record Keeping: He should know how to manage and maintain different files and records. Update them from time to time and keep them fresh, ready to use.
Calendar Maintenance: He should know how to manage the calendar for different employees to ensure that there is no work loss in case of absence of an employee and work doesn't get held up.
Communication Skills: He should know how to maintain smooth relationships between employee and the client. He should be very pleasant at handling different kinds of phone calls, transferring them and taking their messages. He should also know how to conduct public communications.
Skills to Coordinate: Should be smart at establishing coordination between different things happening in the office.
Data Entry Skills: He should be quick and correct with data entry on the system. He should know how to use computer to effectively accomplish the task. He should be able to scan the documents, store them at the right place on the system, send mails to clients and read their responses to the employer along with replying them at the earliest.
Mail Delivery and Screening: Should be able to send mails to clients and keep a track of their delivery.
Skills to Maintain Confidentiality: It is important for him to know how to maintain confidentiality on certain procedures and deals.
All these skills make you a good and efficient office assistant. To be able to have a smooth working, you really need to work hard on strengthening each of these skills.
Making a sale is not easy and hence the job of sale associate demands lots of skills to make sale happen. If you are planning to apply for job for the profile of sale associate then you must know all the skills that you need to possess in order to fulfill all the roles and responsibilities that are expected out of you. A perfect candidate for the profile of sale associate will be the one who can provide support on sales floor, communicate with the customers, resolve their problems, clear their doubts and also provide required assistance at the point of sale. A person who can resolve all the obstacles that are interfering in the sale is a great choice for such kind of a job.
There is no particular educational qualification requirement for this job but having being trained as sales personnel can really help you have an extra edge. Moreover, if you possess experience in the same field then you surely have better chances of getting selected.
This article brings to you all the important skills that you must possess as sale associate in order to perform all your duties with perfection.
Communication Skills: In order to communicate with the customers and satisfy all their queries and doubts in the most pleasant and easy to understand language. To be able to persuade them to buy your products. To be able to communicate your goals to your team for better performance. To be able to have clear and regular communication with seniors and juniors for better working.
Networking Skills: To be able to work with co-workers, juniors and seniors in coordination by sharing information and establishing a strong network.
Multi-tasking Skills: In order to perform different tasks at the same time. It is important for a sale associate to handle different things at the same time and perform each one of them with perfection. Be it making the bills, talking to customers, resolving their questions or anything else; they need to know how to deal with all of them simultaneously.
Mathematical Skills: To be able to deal with all kinds of calculations without committing any errors.
Inventory Management Skills: To be able to derive the requirements and to be able to receive the inventory. Manage the inventory and placing it at the right place for effective and organized working.
Customer Handling Skills: In order to listen to customers with patience and provide solutions to their problems. Resolve their queries and respond to their needs with efficiency. Work hard to establish strong association with customers.
Skills to Sell: It is very important for a sale associate to know how to make sale happen in a professional way.
Ability to Attain Knowledge: He should have the desire to learn new things. Stay updated about the markets. Be aware of the products and services offered by the company to be able to tell about them to the customers. Be aware of visual merchandizing techniques. Be aware of marketing techniques and different styles of selling to ensure the best of the sales.
Administrative Skills: To be able to manage the show single handedly with perfection in case there is shortage of staff.
Record Keeping Skills: Ability to manage and maintain all the records without missing on anything.
All these skills together make a potential sale associate. If you don't have any of these skills then you must work hard in order to increase your performance and impress your employer.
Sales representative is one profile in which a candidate is given a set target for the month to provide customer services to different kinds of customers. This job requires you to interact with customers and motivate them to make purchase. It can be an interaction with a customer you already know or with a potential prospect with whom you have never interacted in past. Sometimes you are even required to make a cold call. During all this process, you will come across different kinds of personalities, some of which will be warm, some of which will be resistant in talking to you and some will need a little extra efforts to get convinced.
If you are planning to apply for a post of Sales Representative, then you must have all the essential skills that can really help you deliver amazing performance. This article talks about the important skills which you must possess if you are applying for the post of sales representative. These skills will take your performance to a higher level all together.
Planning Skills: To be able to chalk out a good plan by organizing different aspects of working, by managing meetings with different prospects etc. You need to be a good planner as you need to have good skills to plan and manage for smooth functioning on daily basis and also for long term.
Skills to stay aware: You must also stay informed about the current happenings in the market. It is essential that you are aware about the competition, market trends and various other things that can affect your working. You should also be informed about the literature of the competitors and what they are offering to the customers.
Foresightedness: To be able to predict the market trends in future and stay abreast with the modern trends in the market.
Reporting skills: To be able to create detailed reports which consist of all important points. You should also be able to summarize on daily basis along with concluding performance on monthly and yearly basis.
Investigational skills: To be able to deal with all kinds of customer complaints and resolve them at the earliest by taking into account all the essential points.
Participative skills: To be able to participate regularly in different educational workshops, attend networking events and stay abreast with all the latest market news and changes by participating in all sorts of events and sessions.
Recordkeeping skills: To be able to record data in an organized manner and being able to produce it as and when required by quickly tracking it.
Team worker: To be able to work in team by having healthy and productive interactive sessions which can increase productivity.
Communication skills: To be able to interact in the most appropriate way with the customers and prospects and to be able to convince them in a smart way.
Customer Relationship building skills: To be able to form relations with new customers and to be able to nurture and nourish the old ones.
Knowledge about products and services: To have command over all the information concerning different products and services that are offered by the company. Not only this, he should also be well aware of the products and services offered by other companies.
Goal oriented: To be able to work with the target in mind to ensure that all goals are met within the defined time.
Territory management skills: To be able to manage the defined territory. To be able to travel with ease and proper planning as and when required.
Confidence: In order to conduct himself with pride and smartness which is important to impress the prospect and convert him into a customer.
Negotiation skills: To be able to negotiate smartly by convincing the customer and striking the deal this is mutually beneficial. To be able to convince customers to try new products and services.
An eye for detail: Should be able to observe and explain everything in detail, keeping in mind all the minute details.
Training skills: To be able to train his co-workers or teammates from time to time in order to enhance their performance.
Presentation skills: To be able to present his ideas and projects using the technology in the most interactive and interesting presentations.
All these skills are very much essential for every sales representative to possess otherwise he will not be able to deliver a good performance and meet his targets. So if you are applying for this profile, make sure that you have some of these skills or you are a hiring manager then make sure that the candidates that you have shortlisted possess these skills.
HR plays a vital role in the development of the organization. HR is the role concerned with handling and managing people in an organization. So, we can say that HR is all about tackling the issues related to organization and its employees. Learning is a continuous process and is good if we want to improve on our skills. But improving on current skills requires proper planning.
First we should know the qualities of a good HR:
Organized: The most essential quality that HRs should possess is organized behavior. They are expected to manage time efficiently. They are expected to know the time-frame of completing a particular time and should be able to complete the task within that time.
Multitasking: Good HR professionals have many things to do. Recruitments, employee relations, talent management, career development, employee retention and lots of other things, each of which is critical and takes lot of time to finish. So to be a good HR, you should be capable of performing different tasks as the same time.
Communication skill: HR is the one professional who needs to communicate with all employees at all levels. To be an effective HR one should have both verbal and written communication skills and should be able to share ideas and information in an understandable manner. The ability to form strong internal and external business relationships is also an important part of his role.
Leadership: A successful HR manager must possess the qualities of a true leader. One should be confident, alert, positive and optimistic. HR should be able to motivate employees in improving their performances through rewards and appreciation. He should be able to develop the skills of the employees to help them grow professionally and personally.
Problem solving skills: HR should have the ability to address and resolve issues with the least amount of conflict. Problem solving skill is an important part of the HR role.
The qualities mentioned above are very important for an HR in his/her profession. Besides these there are other characteristics that are also important, for example, ethical behavior, emotional intelligence, ability to build and maintain confidentiality, etc. A good HR should possess all the above mentioned qualities in order to perform better. We have talked about the qualities of an HR and now in the topic given below we will discuss how to grow in HR career.
Here we are suggesting you some tips to follow by which you can enhance your skills.
Goal: Identify your next goal which you want to achieve in your career plan. Where you want to see yourself and things you would like to achieve with reference to your skill improvement and development.
Know your strength: Once you have a clear vision about your career, the next most important thing which keeps you going is your strength. So you should be well aware of the things at which you are good, this will instill more confidence in you.
Identify your weakness: Once you become aware bout your strength, now it's time to look for your weaknesses. Indentify the area in which you need improvement or the skills on which you need to work on to get ahead in your career. While improving on your weakness you also need to learn new things in your surroundings like changes in existing policies and procedures, latest changes in employment law, government's new rules and regulation for employees, etc.
Make a plan: Once you have worked on setting a goal, knowing strengths and weaknesses, now it's time to make a plan to achieve the desired target and to face the challenges. For this, you can also take help and suggestions from senior HRs in your company who can help you find out what staff development and training schemes exist in your company. Or you can search for post-graduate level qualifications to enhance your skills and overall HR knowledge. There are many institutes which provide distance education in related field.
Evaluate your progress: Give yourself a deadline to achieve you goal. You have to evaluate your growth and improvement from time to time to gauge your achievements. Evaluation will help you improve upon the plan you have prepared to achieve your goal. Taking time to check what you have learnt with each step is an essential part to ensure that you are putting your efforts in right direction.
We hope that the above tips will help you improve your skills and move forward towards your career plan.
The key skills required for the HR practitioner
Introduction
Before considering what the key skills for HR practitioners in the future will be, it is essential to identify the future challenges for the HR service.
The role of HR is changing as a result of many influences. These include: globalization resulting in increased competition; a change from a large manufacturing base in the UK to service-related industries such as finance; demographic trends evidenced by falling birth rates and extended life expectancy. These trends affect the labor market and have resulted in skill shortages in specific areas. The HR practitioner needs to understand the impact of these factors on their organization.
In considering key skills, much will depend on the functionality of HR in the particular organization.  The function may deliver a mainly transactional service or may have moved towards the strategic business partner role, but certain factors will remain the same regardless of model of delivery. In many organizations the administrative function of HR has already been outsourced, for example payroll and pension administration.
There can be confusion about the role of HR as it moves from one model to another, and HR practitioners can find that they are still heavily involved in the operational role, handling grievances and discipline while new demands are made of them. The expectations of the service and individuals need to be clearly articulated and managers need to be clear about their role in managing people.
The challenges for the future include:
1. Added value
HR needs to be able to demonstrate clearly how it impacts on the business. However, measuring the effectiveness of HR is not easy. Much research has been conducted on whether there is a link between good HR management practice and increased productivity.  In a study by the Centre for Economic Performance, London School of Economics and the Institute of Work Psychology. one of the questions was: "Do HRM practices predict change in company performance?" The results of this survey found a 19% change in profitability and an 18% change in productivity. The report states: "This is a clear demonstration of the link between the management of people and the performance of companies."
However, increased monitoring and collection of data can be administratively cumbersome and tie up a lot of time for HR practitioners.  This needs to be carefully implemented or it does not add value but becomes simply another administrative burden.
2. Recruitment and retention
In view of the global and sector changes outlined above, there is a tightening labour market in certain areas. It is important that HR understands the labour market it is recruiting from and also the need to retain key talent in the organisation.
3. Succession planning
There needs to be a clear workforce development plan, identifying areas which could be affected by turnover or changes to the business. By planning in advance, the organisation is not left trying to cover gaps in key areas. This can also inform the organisation in terms of identifying future managers and leaders. Career routes can be identified and linked to an individual's career aspirations. This development plan will also inform the learning and development function of HR.
4. Motivation/engagement
If HR is to make an impact and demonstrate that people make a difference, there is a challenge with employee motivation and engagement. There is evidence to suggest that motivation and engagement are linked to certain factors. Some of these are listed below.
5. Employer of Choice
To engage the best talent and keep these people motivated and engaged, many organisations now invest in their image as an employer of choice.  The Sunday Times undertakes a year survey of the 100 Best Companies to work for in conjunction with the Department of Trade and Industry and Investors in People.
In the 2005 survey it states: "This research clearly demonstrates that a person's experience of their workplace is a result of their feelings and perceptions in the following areas: leadership (the leadership and senior management of the company): my manager (the local management on a day-to-day basis); personal growth (opportunities to learn, grow and be challenged); wellbeing (balancing work-life issues); my team (immediate colleagues); giving something back (giving back to society and to the local community); my company (the company and the way it treats staff); and fair deal (pay and benefits)."
Key Skills
In view of the areas identified above the key skills for HR practitioners for the future are:
1. Communication
Clear, concise communication – both verbal and written – is essential. Without these skills, the practitioners cannot engage productively with individuals, nor with the top table.
2. Business understanding and influencing skills
I have linked these two skills together as in my opinion the HR practitioner needs to be able to influence the organisation by using examples and information from other organisations in the sector of activity they support.  This requires not only a sound understanding of their own organisation but also wider knowledge of how other organisations have approached similar problems.
3. Data literacy/analytical skills
The HR practitioner of the future needs to be data literate and be able to question the figures and reports which they read.  The data needs to be interpreted and an understanding of the wider picture is necessary to identify underlying factors which may be influencing what they read.  For example, during a time of change there may be an increased level of sickness absence, in considering employee turnover are there peak periods or is it steady throughout the time period?
4. Coaching and inter-personal skills
HR has a role in enabling managers to be confident in people management, and this should be supported by individual coaching. Inter-personal skills feature in most of the work of an HR practitioner but these skills are paramount in giving feedback to the people being coached.
There is also a need for HR professionals to be able to access coaching for themselves to identify their own development needs.
When interviewing a potential new hire, it's standard procedure for a Human Resources professional to assess the candidate as compared to a list of key skills and personal characteristics needed for the job.
In considering ideas to start our new HR Daily Advisor service, some at BLR thought it might be interesting to turn the tables on the profession, and come up with a list of such attributes for Human Resources professionals themselves.
That said, here goes:
Skill #1: Organization
Human Resources management requires an orderly approach. Organized files, strong time management skills and personal efficiency are key to the Human Resources function. You're dealing with people's lives and careers here, and when a manager requests a personnel file or a compensation recommendation that lines up with both the organization and the industry, it won't do to say, "Hold on. I'll see if I can find it."
Skill #2: Multitasking
On any day, an HR professional will deal with an employee's personal issue one minute, a benefit claim the next and a recruiting strategy for a hard-to-fill job the minute after. Priorities and business needs move fast and change fast, and colleague A who needs something doesn't much care if you're already helping colleague B. You need to be able to handle it all, all at once.
Skill #3: Discretion and Business Ethics
Human Resources professionals are the conscience of the company, as well as the keepers of confidential information. As you serve the needs of top management, you also monitor officers' approaches to employees to ensure proper ethics are observed. You need to be able to push back when they aren't, to keep the firm on the straight and narrow. Not an easy responsibility! Of course, you always handle appropriately, and never divulge to any unauthorized person, confidential information about anyone in the organization.
Skill #4: Dual Focus
HR professionals need to consider the needs of both employees and management. There are times you must make decisions to protect the individual, and other times when you protect the organization, its culture, and values. These decisions may be misunderstood by some, and you may catch flak because of it, but you know that explaining your choices might compromise confidential information. That's something you would never do.
Skill #5: Employee Trust
Employees expect Human Resources professionals to advocate for their concerns, yet you must also enforce top management's policies. The HR professional who can pull off this delicate balancing act wins trust from all concerned.
Skill #6: Fairness
Successful HR professionals demonstrate fairness. This means that communication is clear, that peoples' voices are heard, that laws and policies are followed, and that privacy and respect is maintained.
Skill #7: Dedication to Continuous Improvement
HR professionals need to help managers coach and develop their employees. The goal is continued improvement and innovation as well as remediation. And looking to their own houses, the HR professional also uses technology and other means to continuously improve the HR function itself.
Skill #8: Strategic Orientation
Forward-thinking HR professionals take a leadership role and influence management's strategic path. In gauging and filling the labor needs of the company, devising compensation schemes, and bringing on board new skill sets leading to business growth, they provide the proof for the often-heard management comment, "People are our most important asset."
Skill #9: Team Orientation
Once, companies were organized into hierarchies of workers headed by supervisors. Today, the team is king. HR managers must consequently understand team dynamics and find ways to bring disparate personalities together and make the team work.
Click Here To Download 9 Essential Skills of Human Resources Management
Sharing a document IT Technologies Skills Every Recruiter must know.