HR Executive Interview Questions and Answers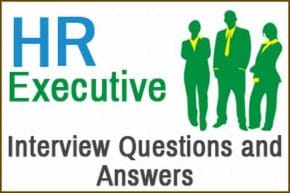 Human resources executives manage the administrative tasks that involve employee compensation, benefits and motivation. HR executives are often involved in determining the staffing needs, study submitted resumes and setting up interviews. They have various other duties apart from these functions. Below you will find some frequently asked HR Executive interview questions and answers. Be prepared with these questions as well as prepare yourself for other questions as well. Whatever you say, be positive and answer with confidence.
1 Q: What are the key tasks of an HR Executive?
A: An HR executive performs the basic functions of the HR department. The areas include personnel management, social welfare and maintenance of HR records. HR executive plays a key role in HR functions. You can also refer to the job description before appearing for your interview.
2 Q: Mention the skills required for an HR Executive.
A: The skills required for an HR Executive include analytical skill, decision making skill, good communication skills, and negotiation and leadership skills. An Hr Executive has to possess these skills so as to perform their responsibilities. Give examples where you have shown these skills in your previous job or if you are fresher give examples from your internship programs.
3 Q:. What do you know about the position of HR Executive?
A: HR Executive provides HR administrative functions in the areas of recruitment, training and development of people and updating and maintaining HR records. It is also advisable to read the job description before appearing for the interview so as to answer this question. Keep your answer brief and task oriented.
4 Q: How long would you stay with us?
A: Say that you are interested in a long term commitment with the organization but also add that as long as the company provides learning, growth and challenging opportunities you will remain with the organization. The interviewer is judging your seriousness about the job.
5 Q: What does an HR Executive look for while hiring people?
A: Hiring people needs certain skills and an Hr Executive is responsible for hiring the right employees. Describe your strategy of deciding in favor of a particular candidate. Mention the skills you look for apart from education and experience. The personality of the candidate should match with the job role that has to be performed. After taking into account different factors, an HR executive can hire people.
6 Q:. What do you think is the most difficult thing about being an HR Executive?
A: Give an honest answer and also mention how you will overcome the difficulty. You can say that the most difficult thing is to motivate employees. Describe what steps you will take to not make this a difficulty and accept it as a challenge. You can mention some other things also which you think will be challenging for you.
7 Q:. Why do you want to work for us?
A: You have to speak in terms of the company's needs while answering this question. You can say that you want to be involved in the work which the company is doing as it interests you a lot. You should mention that you would like to be a part of the team and contribute to the organization. It is very essential to know about the company so as to relate with your motive of working with the company.
8 Q:. Why is employee training important to an organization?
A: Employee training is important to organizations. Training programs enables employees to know about company policies, work culture and management. The employees through these training programs feel comfortable in the new environment. However, many times training programs are held with different purposes. You can describe other reasons as well.
9 Q:. What motivates you?
A: The interviewer is trying to see whether you are motivated or not. It is also a way to find out if you are compatible for the job. Describe the interviewer what motivates you. Say what is true. Do not impress them as once you are selected then this answer will not help you in the long run. You should also not deny that you do not need motivation. Motivation is important for HR executive as they are further responsible for motivating for employees.
10 Q: In what ways can you contribute to our company?
A: You need to impress the interviewer with your answer. Say about your skills, personality and experience which will help you in contributing to the company. You need to prepare this answer before appearing for your interview. The answer should be such that the interviewer feels that you will be the best fit for the company as you will be going to contribute to the company.
11 Q:. What is your biggest weakness?
A: Be realistic in your answer and mention one weakness which is not directly related to the job. Emphasize what you have done to overcome it and improve it. You cannot deny that you don't have any weakness. Everyone has a weakness. You can also show your weakness in a positive way.
12 Q: Are you applying for other jobs as well?
A: You need to give an honest answer to this question. If you are leaving your previous job, it is obvious that you are applying for other jobs as well. Do not get into too much detail. You are not required to name the companies you have applied to.
13Q: How do you handle stressful situations?
A: You can answer this question in several ways. You have to give specific examples of stressful situations and how you deal with them. You can also add that you work best under such situations or you can say that if the situation goes out of your hand you will consult your boss for the resolution of the issue.