Posts tagged "Office"
Many companies follow the policy of mobile phones not allowed in office as it is a serious distraction. If your company also prohibits use of mobile phones in office then it is important to send warning letter to employees who don't follow the rules. The purpose of warning letter for cell phone use at work is to communicate to the employee that any further negligence in this regard can attract serious charges. A warning letter for not using mobile phone in office is a formal way of communicating the warning to the defaulter. With a warning letter format, you can highlight all the ways in which the employee has broken rules in relation with using phone at work.
Shared below is a Warning Letter for Usage of Mobile Phone on Workplace. You can use the warning letter sample which can be customized as per your need.
Sample Warning Letter for Usage Of Mobile Phone On Workplace or Office
From:
Adarsh Sharma
Human Resource Manager
Zenith Technologies
Delhi
Date: July 23, 2020
To,
Akul Singh
54, Alaknanda Apartments
New Delhi
Sub: Warning Letter for Mobile Usage at Workplace
Dear Mr. Adarsh,
It has been observed that despite various warnings given by your team leader, Mr. Satish Gupta, you are still using your mobile phone in the office. Time and again, it has been brought to your notice that using mobile phones at workplace is strictly not allowed at Zenith Technologies.
The purpose of writing this letter is to issue a final warning against use of phone at office. If, after this warning letter, you continue to use your mobile phone at work then the management will be compelled to take a strict action against you.
Regards,
Adarsh Sharma
Human Resource Manager
Zenith Technologies
Delhi
Resources Related To Warning Letter Formats
Warning Letter to Employee for not following Uniform Dress Code
Letter to Employee for Misbehaving at Workplace
Warning Letter to Employee for Cigarette Smell
Warning Letter to Employee for Negligence of Duty
Sample Letter of Penalty Charge to Employee
Warning Letter to Employee for Careless Attitude That Caused Financial Loss
First Warning Letter to Employee
Warning Letters for not attending Office regularly
Warning Letter to Employee for Salary Deduction
Writing Warning Letter to Employee
Warning Letter to Employee for Poor Performance
Warning Letter For Alcohol Consumption During Working Hours
Warning Letter for Misbehavior with Senior
Warning Mail on Resignation Without Notice Period Completion
Warning Letter to Employee Taking Leave Without Handing Over Work
Warning Letter to Employees Refusing to Work
Writing a Warning Letter to Employee for Poor Attendance
Warning Letter or Memo To Employee
Poor Performance Warning Letter Format
When you are leaving our present company, it is an emotional moment. After spending a long time working for an organization, it becomes your second home. You are attached with your coworkers and it is surely not easy for you to say goodbye. At such a point, you must leave by writing your mail to all the people who have been a part of your professional journey at your office.
If you are not sure of how to begin writing a mail on your last working day then here is a formal sample format to help you deal with the situation. Use this example as reference and create a draft that expresses your feelings on this important day.
Sample Format for Last day mail in office
Dear All,
15th July, 2015 is going to mark the last day of my working with ABC Corporation Pvt. Ltd. It has been a wonderful association of five long years. All these years, I have had the opportunity to work with the most amazing people like you and learn so many new things which have been very helpful in expanding my horizons.
I would like to thank each one of you for your support, appreciation and criticism. You all have helped me perform and be an achiever. ABC Corporation Pvt. Ltd. will always be an integral part of my professional life. I have learnt so many new things and risen so high in my career because of the time, efforts and energy this company invests in its people. I am always going to remember you all and cherish the memories of the good and bad times that we had seen together.
I have to relocate to California because of some personal issues otherwise I would have never such a marvelous company. But as we know the world is a very small place and we shall meet again. Please feel free to call me, in case you need any help. My email id is [email protected].
I wish you all the very best for your future endeavors. May you keep doing the amazing work and keep shining.
Good Luck
Jacob Smith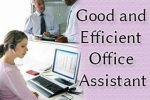 People generally think that becoming an office assistant is no tough thing as you don't need to have some specific educational qualification and all you need to do is follow the instructions given by your boss. But the reality is way too different. You need to know that to be an efficient and smart office assistant; you need to possess lots of skills so that you can manage your work without errors. Some of these skills have been mentioned in the article below and others you can only learn once you are in the real setting, handling the real stuff. So, to be really good at it, you need experience which can really help you impress your employer.
For the post of office assistant, you don't need any specific educational qualification. But there are various skills that you are required to possess to make your daily working easier and more rewarding. Let us have a look at some of these skills which will help you have a rocking performance at job.
Skills Required by an Office Assistant
Technical Skills: To be able to work with greater efficiency using the latest technology. He needs to be technology friendly person to be able to absorb the recent trends in technology when it comes to managing work. He should be able to use internet and various other digital equipments for effective working.
Skills to Help: He should be prompt at helping people. Be there to support the top management with assistance required by them. Be ready to supervise the juniors to ensure everything goes right.
Skills to Multitask: He should be able to do many things at the same time. Receiving the phone call while working on the computer and simultaneously doing some third task. He really needs to know how to handle different tasks with efficiency.
Filing and Record Keeping: He should know how to manage and maintain different files and records. Update them from time to time and keep them fresh, ready to use.
Calendar Maintenance: He should know how to manage the calendar for different employees to ensure that there is no work loss in case of absence of an employee and work doesn't get held up.
Communication Skills: He should know how to maintain smooth relationships between employee and the client. He should be very pleasant at handling different kinds of phone calls, transferring them and taking their messages. He should also know how to conduct public communications.
Skills to Coordinate: Should be smart at establishing coordination between different things happening in the office.
Data Entry Skills: He should be quick and correct with data entry on the system. He should know how to use computer to effectively accomplish the task. He should be able to scan the documents, store them at the right place on the system, send mails to clients and read their responses to the employer along with replying them at the earliest.
Mail Delivery and Screening: Should be able to send mails to clients and keep a track of their delivery.
Skills to Maintain Confidentiality: It is important for him to know how to maintain confidentiality on certain procedures and deals.
All these skills make you a good and efficient office assistant. To be able to have a smooth working, you really need to work hard on strengthening each of these skills.
I have Attached Employee Office in And Out Time Excel Sheet 
Note –  when employee come office, put cursor in related employee office in time cell and click on  red "office in time button" when employee left office , put cursor in related employee office out time cell and click on  blue "office out time button"
Sr No Name Of Employee Office In Time   Office Out Time 1 PATEL JITENDRA 10:37:34 PM   10:39:09 PM 2 PATEL NIRAJ 10:43:39 PM   10:44:08 PM 3 RAVAL JAIVIK 10:47:56 PM   10:48:13 PM 4 SONI SACHIN       5         6         7
Click Here To Download Employee Office in And Out Time Excel Sheet
I have attached a Format of "Office Note" wherein an employee's salary hike is proposed. The format has been made such that the COMPANY NAME (Mother concern) has been mentioned at the top with the address, followed with the payroll (sister concern) of the employee.
Office Note
       XYZ Group of Company (Mother Concern)
       Address:
                                                                                                                                                                                                                                    Date:
Office Note
We propose to revise the salary of the following employee under the payroll of ABC Pvt. Ltd. (sister concern) to be effective from 01st December 2010.
| | | | | |
| --- | --- | --- | --- | --- |
| Sr. No | NAME | DESIGNATION | PRESENT GROSS SALARY | PROPOSED GROSS SALARY |
| 1. | Ms. Bhattacharya | Analyst | Rs. 40, 000 | Rs. 60, 000 |
Submitted for your necessary approval.
Himani Agarwal
(HR Dept.)
Mr. Sengupta
(CMD)
Please find attached a format of Inter Office Memo.