Housekeeping Job Card Format Sample – Job Card Template Word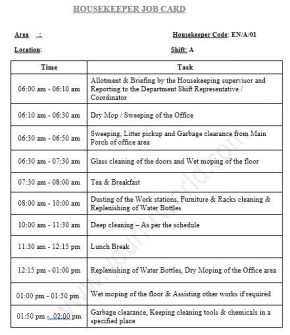 When you have a good number of housekeeping staff working for you, it is extremely important to manage their working in which housekeeping job card format plays a significant role. With job card format for housekeeping staff, you can manage, monitor and control their working in an organized manner. This is a comprehensive format which has complete description of the duties along with the time slots that clearly define the jobs that have to be done by clearing all the confusion.
We have a ready to download Housekeeping Job Card template drafted in Word format. Use this easy to print and customize sample to create a perfect format for your own company as per your requirements.
Search Sample Formats: